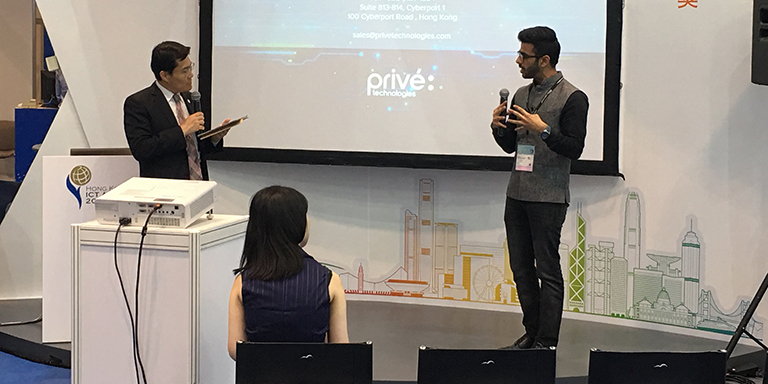 https://hkmb.hktdc.com/en/1X0AE5NY
Fintech Goes Bionic
A Hong Kong-based fintech start-up aims to scale up through an accelerator programme.
Fintech firm Prive Technologies has developed an award-winning software solution for wealth planning, powered by a bionic advisory engine. But it wants to go further – by joining an accelerator programme organised by a major bank.

The DBS Accelerator programme, organised in partnership with early-stage investment firm Nest, has provided support to numerous fintech start-ups since its inception in 2015. Open for applications throughout the year to start-ups globally, it selected Hong Kong's Prive Technologies alongside five other fintech companies to join this year's iteration.

When reviewing applications, they question if the solution fits DBS's business needs and its potential to transform banking practices, says Programme Manager Tiffany Wong.

Leveraging Nest's experience in investing in fintech start-ups, the accelerator provides advice on everything from pitch refinement to the positioning of the solution, says Ms Wong. Participants are encouraged to collaborate where possible, she adds. "We can connect them with alumni from past programmes, which maximises the potential synergies among the 120 plus companies in our alumni network."

The 12-week programme ends in late June with a demo day, which will feature companies from the November 2017 programme in addition to current participants. From now until then, the start-ups will continue to engage with business units in the bank with the ultimate aim of establishing a commercial relationship with DBS, adds Ms Wong.
Bionic advising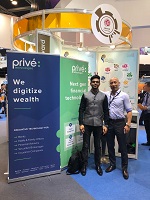 One of the firms hoping to work with DBS long-term is Hong Kong-based fintech firm Prive Technologies, which has developed an award-winning software solution that delivers wealth planning, risk profiling, investment exploration, algorithmic optimisation and personal reporting. The platform integrates advisors, wealth managers and clients.

Its modular solution is powered by a bionic advisory engine, which combines human intelligence and customer preference while leveraging on robo advisory, which creates portfolios through automation and algorithms. In 2016, it rolled out its first digitalised portfolio management module in Asia for use on Citibank's Citigold Private Client platform in multiple Asian markets including Hong Kong.

Established in 2011, Prive Technologies currently services 60 institutional clients and employs 55 people globally, with offices in Singapore, Korea, Taiwan, Germany and Austria in addition to its Hong Kong headquarters. An Indonesian office is currently being set up and the company plans to enter the Latin and Central American markets next.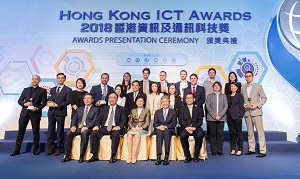 Last year, the firm made it onto Deloitte's Technology Fast 20 2017 Hong Kong list and it just scooped silver at the Hong Kong ICT Awards, which promotes outstanding information and communications technology inventions and applications. "We're the only Hong Kong company to have won silver at the ICT Awards twice, and it provided us with a grant to patent our services in Europe, Japan, the US and Singapore," says David Lee, one of the company's four partners.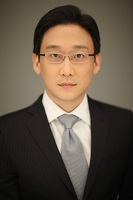 Mr Lee says it's been important to stay humble during the DBS accelerator. "We've come across some amazing start-ups and are constantly learning from them and DBS, which has given us access to its think tank and back office." Two weeks into the programme, Mr Lee says it had learnt enough to feel like a different company. "There's a new digital innovation head at DBS who's so enthusiastic, and the entire board of directors and chairman came to the accelerator building to meet us all. They know digitalisation is the key to success with the bank."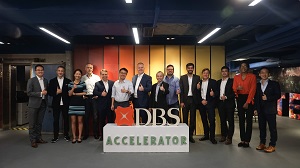 To elaborate on its own solution, Mr Lee says Prive is trying to digitise the wealth management journey for advisors and customers in a way that's not disruptive to the sales journey. "Our business model is a little bit different than most fintech companies, which normally have a certain niche. To attract global banks, we offer a breadth of services and that's what makes us different: it's infrastructure as a service." While it used to be taboo for banks to say they used third party providers, that is no longer the case, says Mr Lee. "Fintech is more prevalent and more cooperative. [Many of us] aren't disruptors."

The biggest challenge of developing Prive Technologies was to anticipate and persuade people that change was coming, he says. "Back in 2011 when we set it up, fintech wasn't even a word. Now we're looking at robo advisory, and getting AI [artificial intelligence] to rebalance your portfolio with automatic stock pickers and so on. People had a hard time accepting they had to digitise but regulations have helped us – the financial industry wants to protect consumers, so there's more transparency around wealth management. You must do something more than product push and instead ensure the client is getting the best service possible."

Having its headquarters in Hong Kong makes sense, given that the firm expects to see major growth for its platform in Asia over the next few years. In terms of private wealth, Asia is enjoying double-digit growth, and according to McKinsey, the region will exceed the total wealth of North America by 2022. Around 75 per cent of its business currently originates in Asia with the remainder from Europe, but Mr Lee expects Asian clients to represent 85 per cent of its business within the next two to three years.
Robo advising at the forefront
In terms of fintech trends, Mr Lee thinks this will be the year of the robo advisor, with many consumers already utilising digital financial solutions such as online banking and trading shares digitally. However, he is keen to stress that this doesn't mean the end of traditional banking methods. "[Utilising robo advisors] isn't about replacing human beings; it's just another channel. E-learning didn't mean end of schools, and it's the same with robo advisors."

The Prive Technologies partner urges prospective clients to think of them as an app store. "We're launching more and more apps as we speak, which is why we call ourselves a platform. We already have chat bots and want to improve AI so it's more genuine." In the long-term, it hopes to connect banks and create a data hub. "That's a big impetus for us this year, to create something like an Amazon or Alibaba [for the financial world] where everywhere's connected."


Related Links
DBS Accelerator
Prive Technologies
Nest
Banking Services
Finance & Investment