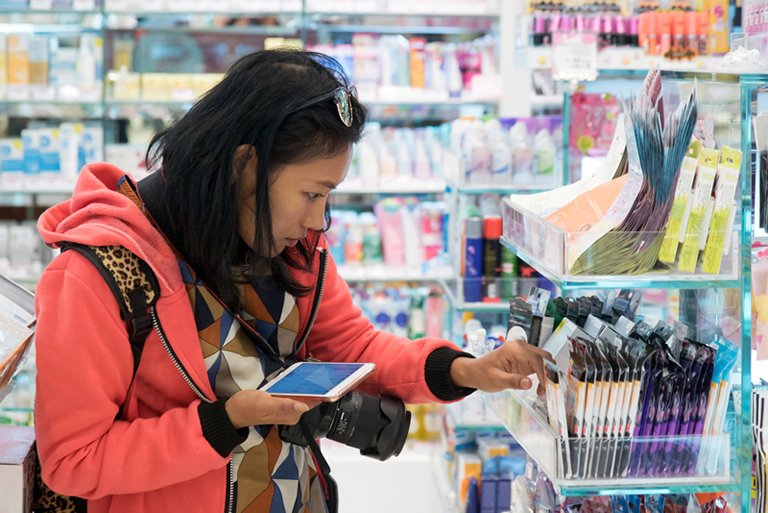 https://hkmb.hktdc.com/en/1X0AE3SZ
China's Social Media Marketing (5): One Hong Kong Cosmetics Company's e-Tailing Venture
Interview with Yung Leung Wai Tony, Senior Vice President of e-Commerce, Sasa.com
"The mainland online shopping market has a great future. Hong Kong companies targeting to tap into this business should learn from fellow competitors and try to integrate with the mainland ecosystem as quickly as possible." These experience sharing from Yung Leung Wai Tony, Senior Vice President of e-Commerce, Sasa.com should act as an essential guide to any industry players looking to take advantage of the growth in online consumption.
"Our Beauty of Authenticity"
Sasa.com is the e-business platform of Sa Sa International Holdings, Asia's leading cosmetics retail group. Founded in 1978 and listed on The Stock Exchange of Hong Kong since 1997, the company currently employs about 5,000 staff and sells more than 700 beauty brands in about 280 retail stores across Hong Kong, Macau, the Chinese mainland, Singapore and Malaysia. Sasa.com, which was launched in 2000, sells more than 6,000 beauty products from leading international brands. Orders are dispatched directly from Hong Kong to all over the world.
All the products Sasa.com sells are 100% authentic, and the company markets itself with what it calls the concept of the "beauty of authenticity". It offers a one-stop retail service with a wide range of high-quality health and beauty products covering skincare, fragrance, make-up, slimming, hair care, nail care, and bath and body care, along with health supplements and men's products.
Balance of Website and e-Commerce Platforms
Although Sasa.com has a global customer base, the majority of its customers are, according to Yung, from the Chinese mainland, US, Canada and Australia. Many of its Chinese customers are from first- and second-tier cities, predominantly in south China. Most are well-off consumers who have high expectations on quality and are willing to spend time trying to find products they can trust. They have high spending power and the average price they are willing to pay per transaction is several times higher than that normally found on typical online shopping platforms for beauty products.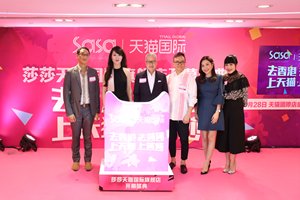 Apart from sasa.com, Sa Sa also sells products through other online platforms, such as JD.com, Tmall Global and Kaola.com. These mega e-commerce platforms sell a wide range of products and operate like online department stores where consumers can browse at leisure without having a fixed target in mind. Opening flagship stores on these platforms is similar to opening a retail shop in a department store. Explaining why Sa Sa uses these platforms, Yung said: "The large e-commerce operators have a stable customer base as well as good supporting facilities to ensure rapid delivery and diversified publicity. Maintaining high exposure on these platforms is very important."
With more than 6,000 diversified products, sasa.com is now offering an abundant and comprehensive product selection. Yung explained: "Customers who know our brands well or know exactly what they want tend to prefer buying from our official website because they can find what they want quickly." He added that Sa Sa hopes to use its website to secure a bigger share of the overseas market and tap the strong spending power of overseas consumers, especially in South-east Asian countries.
In Yung's opinion, successful online selling has little to do with how many different kinds of products you are offering. He says it is more important to understand how your customers do their shopping. Every order placed by a customer is a specific point of interaction with a brand which helps Sa Sa collect and analyse data and deepen its understanding of its customers. In this way, it can provide more personalised products and services to customers at the right time and better satisfy their needs.
The Promising Mainland Online Shopping Market
Yung is upbeat about the prospects for the mainland's online shopping market, pointing to the ample room he thinks it has for growth. He said: "Judging from the existing sales figures, customers in the first- and second-tier cities are becoming more mature. They are looking for a better lifestyle and have a great demand for good quality products. Meanwhile, the markets in the third- and fourth-tier cities are developing rapidly and, in the last few years, we have begun to discover more about the needs of people in these cities. We have a wide range of products which can satisfy the different needs of different customers and we are optimistic about the future."
According to Yung, Sasa.com tries to make continual adjustments and improvements to its product range and how it interacts with its customers. For example, it uses its sales data to discover which leading fragrance brands and additive-free organic products are preferred by customers in first- and second-tier cities and then strives to make these its core products. In terms of customer interaction, Sasa.com is increasing its media budget and planning to use UGC [1], PGC [2] and other means, such as interactive games and short videos, to enhance customer engagement when they use the Sasa.com platform. In short, he maintains, there are still plenty of opportunities out there. What matters is whether or not you can seize the opportunity when it comes and increase customers' knowledge of and loyalty to your product brands.
Impact of Social Media and KOLs to Consumers
Social media (such as WeChat) are platforms that consumers use and browse every day, which is why all companies intending to exploit the mainland online shopping market should be looking to use them to market "hot items" and increase user exposure to their brands.
Social media sites are widely connected to payment platforms these days and consumers are already accustomed to this convenient mode of communication and consumption. People make payments using QR code and WeChat whether they are eating in restaurants or buying from street vendors. Social media has become part of daily life and it goes without saying how influential it is.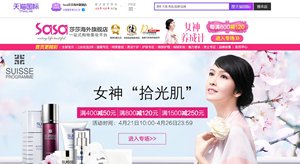 Promoting brands and selling products through social media also allows a business to collect effective consumer feedback. If it can monitor consumer response on social media or use big data analysis when carrying out brand or product promotion, a company can get an in-depth understanding of its consumers' needs and preferences. This should allow it to tailor its marketing tactics and even its merchandising more successfully. However, there is a risk of privacy intrusion when using tools such as big data analysis. Businesses should be aware of handling their big data and strike a balance between protection of privacy and the effective use of commercial data.
The influence of key opinion leaders (KOLs) on consumers should not be overlooked. Many people read product reviews from KOLs before the purchase. For example, Xiaohongshu (little red book) [3] is considered as the online platform which is "sincere and trustworthy in its sharing of opinions with users". Through this channel, KOLs can establish a solid fan base and play a key role in customer choices. Some consumers are even willing to pay more for purchases through Xiaohongshu, in order to get what they see as the best shopping experience and product guarantee. Word-of-mouth advertising on Xiaohongshu can help build brand attention. A brand can also collect data on consumers' views and needs through KOLs.
Giving Suppliers Greater Confidence
As a retail brand for beauty and health products, Sa Sa needs to work closely with suppliers and distribution channel operators. There are different forms of co-operation when working with different partners and no single method can apply to all.
Yung said that when dealing with suppliers, the most important thing is to choose ones you can trust, and work closely with them in order to build a long-term relationship. He also explained how Sa Sa linking with large e-commerce platforms helps to reinforce the suppliers' confidence towards Sa Sa and makes them more willing to choose the company as their sole distributor.
"When we were negotiating with a certain overseas brand, it expressed great interest in co-operating with us after it discovered that we had already set up a store on Tmall. This shows that our presence on large e-commerce platforms can indeed increase our attraction and boost our chances of developing a relationship with a brand."
"With our leading position in the market, one of the most important clients of the large e-commerce platforms, our rich distribution resources give product brands great confidence in us and make them willing to be our exclusive brands."
Recommendations for Hong Kong Companies
Yung has three recommendations for Hong Kong businesses interested in venturing into the mainland e-tailing market:
Firstly, he suggests making use of local talent to develop the mainland market. Mainland specialists know more about local spending habits and understand the preferences, as well as the needs of local consumers. They can use a common language with consumers when conducting publicity through social media, and thus help to narrow the gap between sellers and mainland consumers. However, they may not be familiar with the way Hong Kong companies work, so mutual understanding and tolerance is needed. Hong Kong companies should, though, try to encourage them to adapt to the Hong Kong-style working culture.
Secondly, Yung reiterates that companies must pay attention to customer engagement on online platforms. More games and short videos should be used where technically feasible in order to increase the opportunities and contact points for interaction with customers and integrate with the mainland online shopping ecosystem.
Thirdly, he recommends that they choose KOLs and social media outlets carefully. Hong Kong companies usually pay greater attention to operational benefits. When direct results or response do not materialise as anticipated, they should review their tactics as quickly as possible and learn from experience.
---
[1] UGC (user-generated content) is any form of content created by users and shown or made available to other users on the internet. Users are free to upload the content to enrich the content of their own website.
[2] PGC (professionally-generated content) is content created and edited by specialists. The quality of the content is guaranteed when the production and dissemination of content, building of brand image and the gathering of fans are all done by seasoned professionals.
[3] Xiaohongshu is an online community platform for word-of-mouth sharing. It is also a cross-border e-commerce platform.
Health & Beauty
Advertising Services
Information Technology
Mainland China
Mainland China