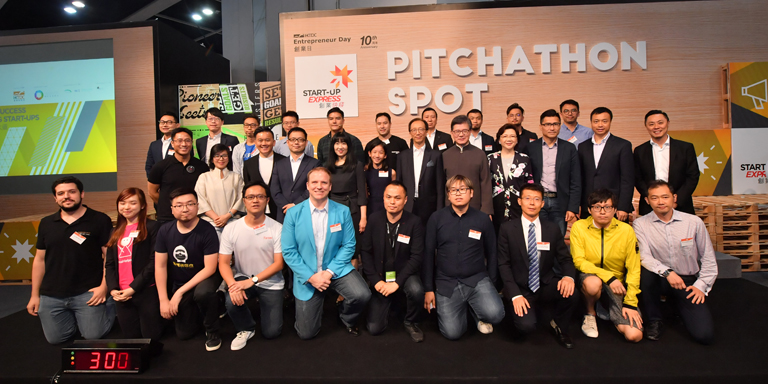 https://hkmb.hktdc.com/en/1X0AE16R
Scaling up through Hong Kong
Start-ups in Entrepreneur Day are capitalising on Hong Kong's robust start-up ecosystem to innovate and launch solutions that aim to change the world.
With a business-friendly environment, the city serves as a melting pot of knowledge and experience for start-up founders to gather and connect. They can also tap into the region's advanced manufacturing capabilities and seek funds from a global investor community.

Not only are indigenous start-ups forging ahead, but a growing number of young and talented entrepreneurs from overseas are jumping on the bandwagon, to capture the vast amount of opportunities through Hong Kong.
Using the Hong Kong platform
Carolina Amorim, Founder & CEO of EmotAI, is one of those young founders venturing out to pitch to potential investors and partners in Hong Kong with her headband device that is designed to help gamers improve skills and unlock their full potential. The Portuguese start-up made its debut at Entrepreneur Day (or E-Day), which was organised by the Hong Kong Trade Development Council (HKTDC) in May.

"Hong Kong is a perfect place for start-ups to build business and explore opportunities. We are able to connect with various international IT talents here while getting in touch with investors and potential clients at the same time," Ms Amorim says.

"Everything is moving very fast in Hong Kong. In particular, investors we've encountered in Hong Kong appear to be very open-minded to innovative ideas. We find the city's start-up environment rather favourable with a substantial amount of government support to enhance easy and efficient business development."

EmotAI has just established a Hong Kong-incorporated entity to take business forward. Ms Amorim is looking for a suitable manufacturing partner through Hong Kong and anticipates to launch its unique headband in 2019. The wearable device measures gamers' brainwaves as well as blood pressure and heart rate variability with a view to boosting their performance in playing video games.

Keno Law, Director of Hong Kong start-up Innoplay Limited, says there is plenty of venture capital in the market and investors have become even more forthcoming since 2017 in parking funds with start-ups that present good potential for growth.

"It's great to see Hong Kong's start-up ecosystem thrive further to promote the deployment of innovative products and fuel business development. Young entrepreneurs are working hard to innovate. I expect more start-ups to emerge, thus creating more jobs and driving future economic growth."
Bright ideas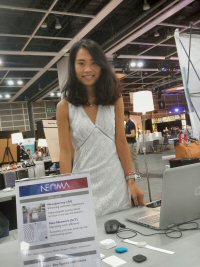 Under the HKTDC's new Start-up Express incubation programme, Innoplay showcased its newly-developed Selfie Robotic Stick equipped with face tracing sensor at Entrepreneur Day. Another highlight product of the company was the Manfrotto PIXI Pano360 rotating head designed to work with cameras and smartphones to take creative images and videos.

Innoplay, which has successfully secured investors' funds, strives to come up with automated and functional devices to enhance the experience of everyday image and video shooting so that people can capture their moment in a more delightful way, according to Mr Law. Besides adopting a design-oriented approach, he points out that the key is to blend creativity seamlessly with engineering and marketability to produce something intuitive for customers. He also says the HKSAR Government offers various funds in support of business start-ups.

Rebekah Shek, Regional Project Manager, Neoma Limited, says Israel and Singapore are among the world's forward-looking countries providing a significant amount of support in a top-down approach to promote the development of business start-ups. "The HKSAR Government has been launching a series of initiatives in recent years to engage innovators and develop Hong Kong's start-up ecosystem," she says.

Entrepreneur Day is the HKTDC's flagship event for start-ups to promote innovations, gather market information, seek funding, build connections and gain exposure. Noema was one of the start-ups recruited by Advantage Austria Hong Kong to promote its latest services at Entrepreneur Day 2018. Ms Shek says the event allows the company to showcase its cloud-based solutions that help businesses deploy sensing devices to deliver customised and interactive experiences to customers, thereby enhancing customer engagement and space management. She says Noema are happy to seize the opportunity to raise its profile and network with investors and industry players.
The Hong Kong advantage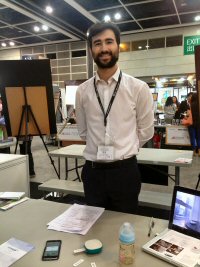 A start-up founded by two Britons and a mainland Chinese with a mix of medical, engineering and biosensor expertise, ZIO Health participated in Entrepreneur Day for the first time in 2018 to promote its first product Milk Safe, a home-use device for mothers to analyse the molecular content of their breast milk for babies.

Rory W. Ryan, Founder & COO of ZIO Health, says they have established connections with a number of contacts including potential investors and partners through various activities in Hong Kong.

"We've attended various pitching events worldwide such as those in the United States and Europe in the past," he says. "The responses to our pitching in Hong Kong are very positive as we've met with the right kinds of people. They really appreciate our product. Besides investors, some people are exploring cooperation in mobile application, TV promotion and IP-related issues. Some customers even want to buy our product on the spot."

Mr Ryan says ZIO has developed a technology that senses particular molecules in different bodily fluids such as saliva, urine, breast milk and blood using electrochemical-based mechanisms. The start-up envisages this novel technology to revolutionise personal healthcare with a home-use health hub that enables continuous monitoring at a molecular level. The Milk Safe device is due to be launched in March 2019.

Hong Kong has a vibrant start-up community with many co-working spaces, accelerators, incubators and innovation hubs. Hong Kong-based technology start-ups have attracted investments from overseas and the Chinese mainland while a growing number of overseas founders choose Hong Kong as the preferred destination to grow their business.

Looking ahead, Mr Ryan says: "Hong Kong is a fast-growing start-up centre in the world that really encourages entrepreneurship. The city has a vibrant start-up scene offering tremendous opportunities with different kinds of stakeholders, which is truly reflective of the multiculturalism of Hong Kong. With a strategic location in Asia, it's an excellent place to launch products and grow business."
Related Link
HKTDC Entrepreneur Day
Computer & Peripherals
Toys & Games