https://hkmb.hktdc.com/en/1X0AE0GK
HKTDC Hong Kong Electronics Fair Survey Spring 2018: Promising Market Despite Lingering Trade Friction Concerns
Despite the shadow cast by the ongoing trade friction between China and the US, many in the electronics industry remain cautiously optimistic about the market's prospects over the near term, according to a survey conducted by HKTDC Research during the four-day spring edition of the 2018 Hong Kong Electronics Fair. With the majority confident that the trade friction will have only a limited impact on exports, there was a widespread expectation that sales would only increase throughout the course of 2018.
In terms of increased demand for particular products, many survey participants backed electronics and electrical accessories as likely to be much sought after. There was also a generally-held view that sales of audio-visual and digital entertainment products would hold up well over the next two years.
As to how to boost sales, there was pretty much a consensus that electronic products that incorporated smart features would have a high level of consumer appeal, while also commanding a premium price. In fact, some respondents maintained that consumers would pay up to 20% more for smart electronics products and household appliances than they would for their more conventional counterparts. In line with this, it was also anticipated that Internet of Things (IoT) compatible devices would come very much to the forefront over the next two years.
Cautious Optimism under China-US Trade Friction
The confidence of many in the electronics sector remained largely undiminished by the prospect of a continuing China-US trade friction. Overall, 59% of respondents believed that the friction would have no negative impact on exports. Some 31%, however, were more pessimistic, while 10% maintained that export levels could actually rise.
The limited concern showed over the trade friction aside, the overall market sentiment in the electronics industry remained largely unchanged from that determined by the October 2017 Electronics Fair survey. More specifically, while 53% of respondents in the Spring 2018 survey were confident that sales would increase in 2018, the corresponding figure for Autumn 2017 was 55%. Similarly, while only 3% of 2018 respondents indicated that they expected sales to decline, the corresponding figure for 2017 was 5%.
In term of how the major markets are expected to perform, Asia was most highly-rated 2018 electronics products export destination overall. Breaking this down by country, South Korea was seen as likely to outperform the other traditional markets, with of score of 3.96, up from 3.82 in October 2017 (the maximum score of "5" indicates a "very promising" market, while a "1" equates to the expectation of a very poor performance). Second to South Korea was Japan, which recorded a very commendable 3.83.
Among the emerging markets, mainland China was seen as the most promising market, with a score of 3.94. Next in line was Russia (3.8) and Eastern Europe as a whole (3.78). Overall, the Middle East (3.56) and South Africa (3.55) were seen as the markets holding the least promise.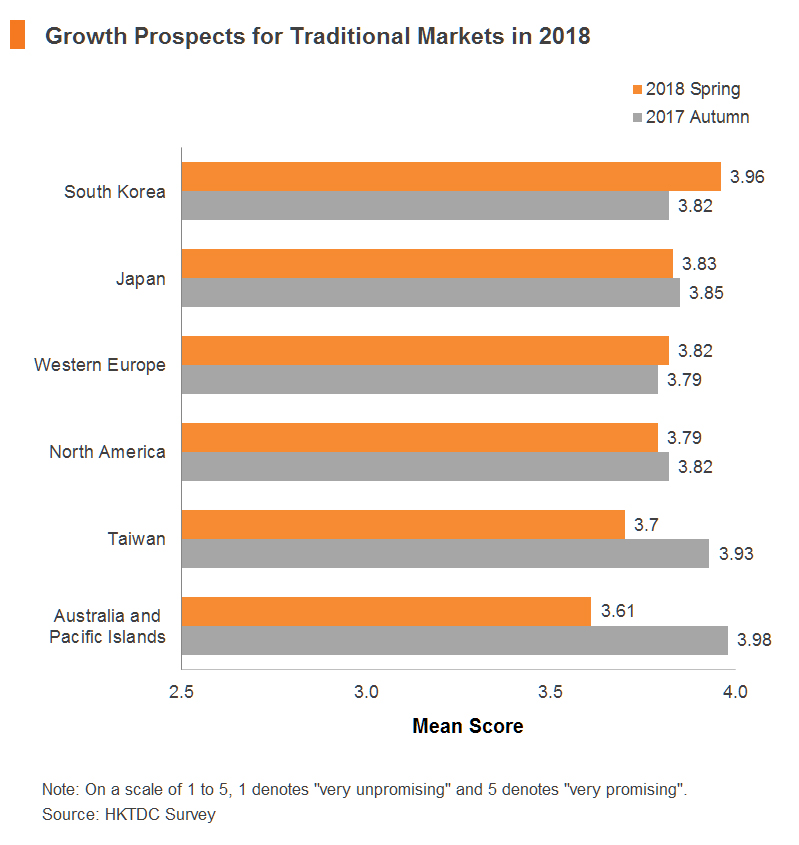 Most Promising Product Categories
Although endorsed by 27% of all respondents as the category with the highest 2018 growth potential, this was a slight drop from the 30% of respondents who backed it in October 2017. The prospects of digital imaging, however, were seen to have improved, with 13% of respondents expecting the category to grow the most this year, up from 10% autumn last year. Audio-visual products was seen as the third most likely category to see an increase in sales in 2018, with 12% of respondents backing it, the same percentage recorded in the previous survey.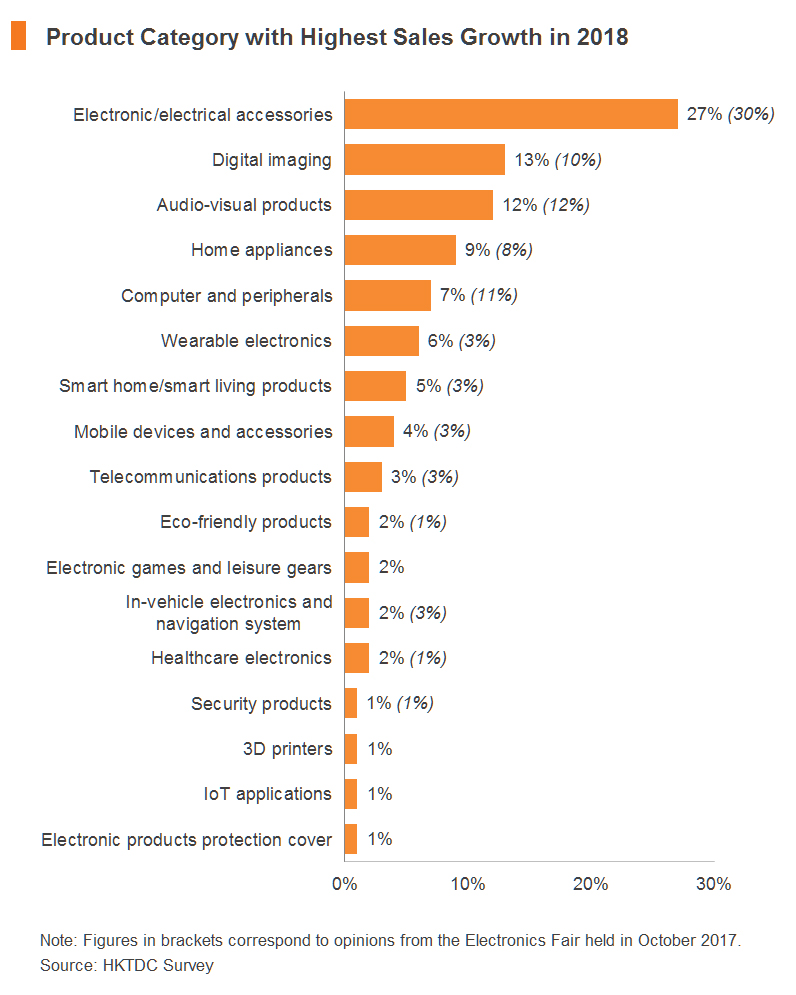 Audio-visual and Digital Entertainment
While audio-visual products are likely to be among the best-selling items in 2018, the vast majority of respondents (89%) expected consumers to be focused on the new-generation of audio-visual and digital entertainment items, a 7% increase on the figure recorded for the 2017 spring fair. Tellingly, 75% of respondents were confident that sales in this particular category would continue to grow for at least the next two years.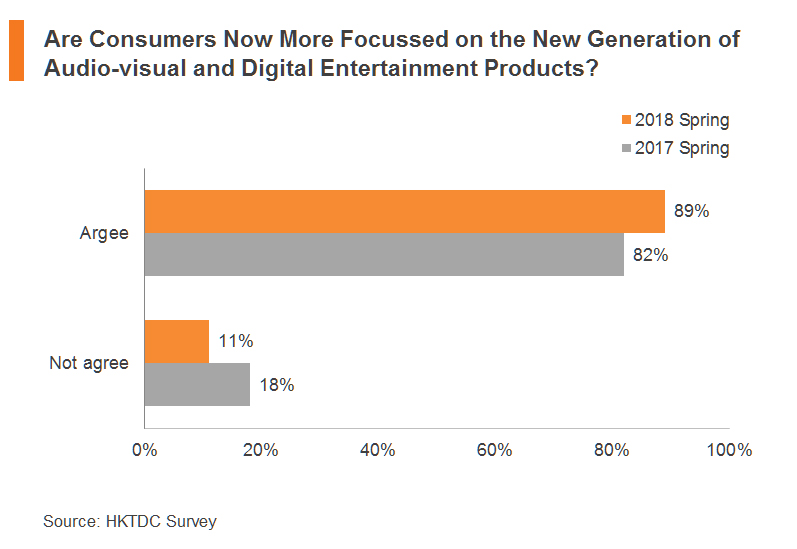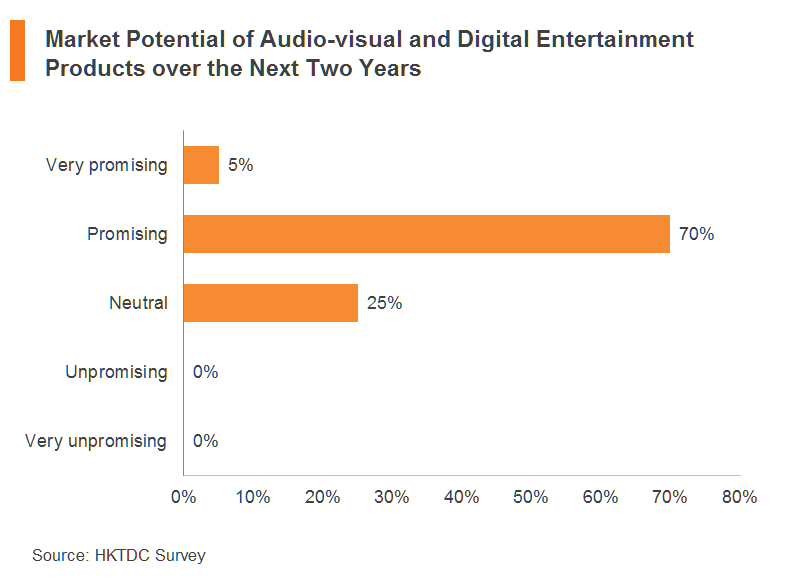 In terms of the audio-visual and digital entertainment items with the greatest market potential, VR/AR equipment and headsets remained at the top of the list, with 35% of respondents singling them out. In second place were smart / IoT enabled audio-visual products, which attracted the backing of 30% of respondents. TVs with smart features were particularly popular.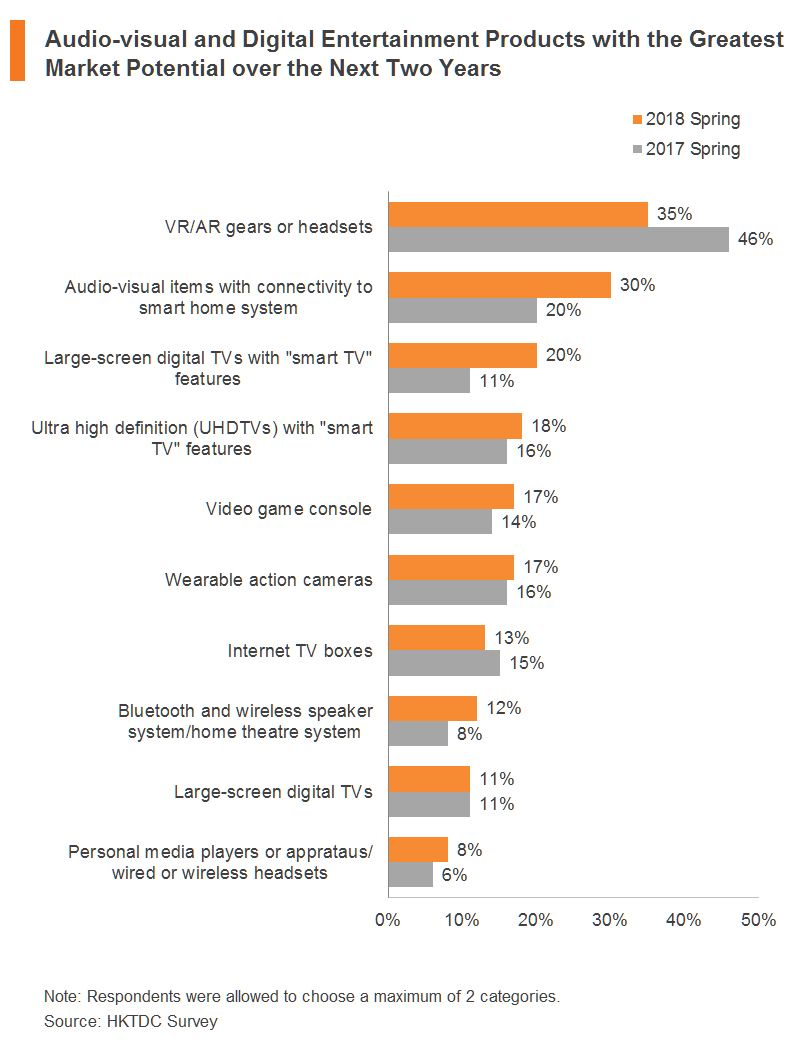 Smart Appeal
Given the growing preference for smart living, it was perhaps unsurprising that products that incorporated smart features were seen as those most likely to sell well. In order to further evaluate the perceived market appeal of a variety of smart home devices / systems, respondents were invited to rate all such products on a scale of one to five, with "one" indicating "very unpromising" and "five" indicating "very promising". As a result, items with the facility to wirelessly connect with the internet /mobile networks were seen as the most promising, with a rating of 3.9. Next in line were smart energy management / saving devices (3.82) and then smart-enabled audio-visual items (3.81).
With regard to the price premium consumers could be expected to pay for smart-enabled electronic products and household appliances, 83% of respondents expected the mark-up to be somewhere between 1-20%. Very few (1%), however, believed that a premium of 40% or more would be viable.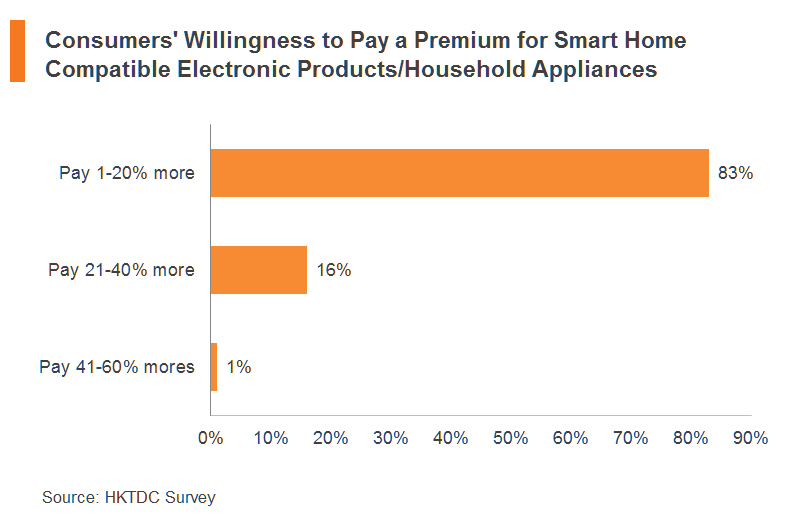 Respondents' Profile
The HKTDC Hong Kong Electronics Fair 2018 (Spring Edition) took place from 13-16 April. During the course of the event, HKTDC Research canvassed opinions from 872 industry players (586 buyers and 286 exhibitors).
Of the 586 buyers canvassed, 39% were based in Hong Kong, while the remainder were based overseas. Their primary sales markets for respondents were mainland China (48%), Asia outside the mainland China (37%), North America (25%) and Western Europe (22%).
Of the 286 exhibitors polled, 35% were based in Hong Kong, while the remainder were based overseas. Their primary export markets were Western Europe (47%), Asia outside the mainland China (38%), North America (37%) and mainland China (30%).
Electronics & Electrical Appliances