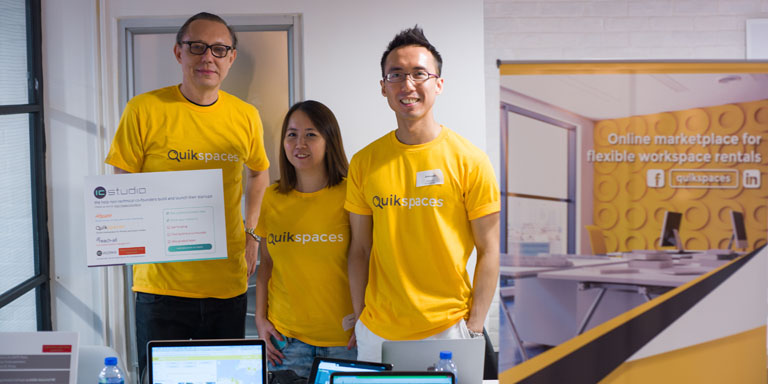 https://hkmb.hktdc.com/en/1X0ADZMH
Optimising Spaces
The shared economy idea has moved to the office rental market in a city that seems to be always short of space.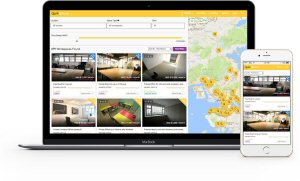 Entrepreneurial ex-lawyers Jacky Lo and Eunice Wong saw for themselves how frustrating it can be for a start-up or smaller SME to find flexible and affordable office space in Hong Kong.
This led to their second venture, Quikspaces, a disruptive office leasing model launched in January 2017.

Akin to "the Airbnb of office space," Quikspaces is an online platform enabling landlords and tenants who sublet their unused space to significantly increase their income, while allowing others who rent such spaces to do so at below-average market rates.

The partners' solution was a "win-win for both sides," Ms Wong explained. "By creating a sharing economy for office space, we're able to reallocate underutilised supply and match it with demand, ensuring that no excess floor space is wasted," she said.

Ms Wong and Mr Lo hit on the idea in 2016 while running their first start-up, MunchBox, a healthy snack box subscription company later acquired by a Malaysian competitor.

"Our office/warehouse back then was located in Kwun Tong, yet we found ourselves constantly travelling to Hong Kong Island for meetings, which became inconvenient," Ms Wong said. "We wanted to look for an additional affordable space on the island side with a shorter lease term but didn't know where to go - hence the idea for Quikspaces was born."
Disruptive Business Model
Commercial real estate in Hong Kong remains a largely traditional process that relies on agents, face-to-face meetings, negotiation and paperwork, Ms Wong continued. Quikspaces was established to disrupt that market by using an online platform to offer affordable and flexible office space.

"We aim to be a one-stop shop for anyone looking to rent an office, from the initial search all the way to contract signing and rental payments," she said. Further simplifying the process, the Quikspaces platform aggregates all possible options with specific filters allowing users to efficiently shortlist suitable options.

The business model met an immediate need in an economy where people want flexible office space that can be dynamically scaled according to business needs, Ms Wong said.

"While co-working spaces are great for collaboration, not all companies are suited for that type of open-layout environment," she said. "Flexible lease terms and affordable rent, on the other hand, are two key things that all businesses look for. There is so much untapped supply out there in the market, valuable square footage is often locked up and underutilised. Quikspaces' aim is to empower businesses to monetise their unused office space." Such rental agreements comply with all Hong Kong regulations, Ms Wong said.


Meeting Various Needs
On the supply side, Quikspaces targets companies with under-utilised space, such as serviced offices, co-working hubs, and subdivided office units in industrial buildings. On the demand side, it meets a need among SMEs, start-ups, freelancers, business travellers and companies either "testing the waters", or setting up local branches in Hong Kong.

Spaces on the database range from meeting rooms rentable by the hour, to offices available for up to two years. A typical lease term is six months, Ms Wong said.

To ensure quality control, the partners and their growing team aim to visit and vet all premises prior to listing. "We have a high quality control," she continued.

The site is free for users to access, while people listing a property pay a 10 per cent commission. In a B2B model, the renter deals directly with the landlord, although customer service is available if users need help selecting a suitable space to meet their requirements, or a landlord wishing to seek advice on how to present their property.

Leveraging available technology, the site also offers live chat, online payment, and downloadable leasing documents.
Investor Backing
Building-up an online business from scratch, without a physical presence, proved challenging at first, but the founders had the backing of a successful entrepreneur, Rafal Czerniawski , founder of start-up incubator IC Studio, whom they met at an event run by Startup Weekend. "He believed in us, and became our first investor," Ms Wong said.

Online marketing and word-of-mouth referrals saw the business grow incrementally in its first 12 months, and in April 2018, nearly HK$1 million in gross rental value (GMV) was achieved. "Our Facebook page targeting local SMEs has almost 18,000 followers," Ms Wong said.

The company caught the eye of NASDAQ-listed Sharing Economy International (SEII), which has entered into an exclusivity agreement with Quik Ventures Limited (Quikspaces' parent company) regarding potential acquisition.

"Although not finalised yet, we hope that joining the SEII family would enable us to tap into the large network of partners and resources offered by their portfolio companies, including everything from marketing companies to 3D viewers," Ms Wong said. "We also hope to leverage the SEII brand to attract even more prospective partners, so that we can truly share the sharing economy concept to even more people around the world."

Regional expansion was always the vision of the founding partners, who are planning an Asia-Pacific roll-out starting with Singapore later this year.
HK Gives Head Start
Quikspaces hit the mark because commercial real estate in Hong Kong is expensive, at a time when the same the city is experiencing explosive growth of start-ups and SMEs. Indeed, it was Hong Kong's robust start-up ecosystem that gave these two partners' a head start.

"The energy here is amazing," said Ms Wong. "Even if you don't have a concrete idea, just go to an event, get a feel for things, and meet interesting people. In Hong Kong, you never know who might end up being your business partner."
Related Link
Quikspaces