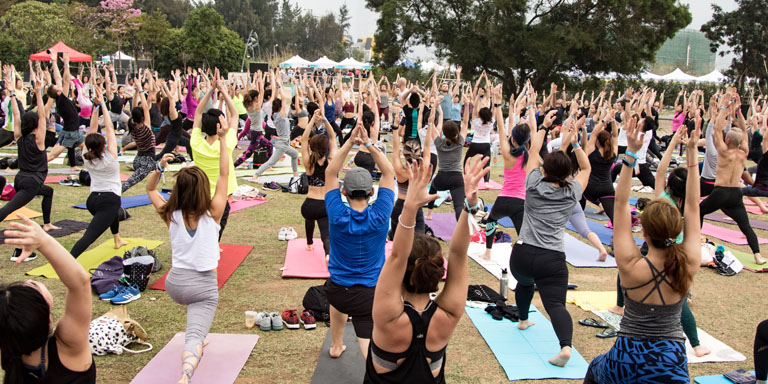 https://hkmb.hktdc.com/en/1X0ADYIO
Unwind the Body and Mind
More and more Hong Kongers are embracing the restorative benefits of yoga.
In a bid to combat stress and tune out the fast pace of city living, Hong Kong is turning to the time-honoured practice of yoga to calm the mind and strengthen the body. According to yoga studio chain Pure Yoga, its appeal is becoming more widespread: more athletes, males and millennials are signing up for classes, be it a 150-minute early morning Mysore session or a half-hour-long Yoga Nindra (meditation) session at lunch time.
A hub for yoga events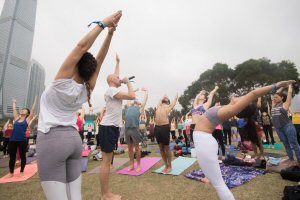 As the home of the Evolution Asia Yoga Conference, the largest event of its kind in Asia, Hong Kong has become a regional hub for all things yoga. Now in its 11th year, the four-day event will host some of yoga's eminent global presenters including David Swenson and Ana Forrest from 7-10 June, serving as the largest teaching platform for yoga teachers in Asia.

Held at the Hong Kong Convention & Exhibition Centre in Wan Chai, this year's programme includes everything from lectures on the yogic diet and the key to genuine happiness to a day-long yoga retreat. "Yoga therapy is also gaining huge interest – this year we have workshops on Gong Sound Therapy, Thai Yoga Therapy, Sound Healing and Reiki Healing alongside therapeutic and restorative yoga workshops," says Alda Lo, Conference Manager of Evolution Asia Yoga.

The conference's community is mostly made up of people that have practised yoga for more than three years and are looking to go deeper, says Lo. "Almost 40 to 50 per cent of our attendees are yoga teachers compared to 20 per cent when the event began. This leads to a higher preference of diversity for teacher-inspired programmes and continuing education for teachers."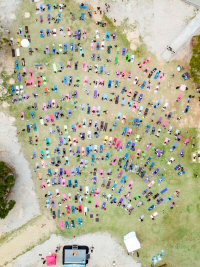 The offering of an education-based event with premium teachers in Asia happened when yoga was just starting to reach a tipping point, Ms Lo said. "There was a need for quality trainers for the region, as before we'd see teachers taking long travels to train with a teacher, where now we offer that one access point for the region."

Another popular yoga-related event in the city is IRIS: Your Escape at West Kowloon Nursery Park, a two-day experiential health, wellness and fitness festival held annually that aims to encourage people to overcome their fears, connect with others and inspire participants to become a better version of themselves through practices such as yoga, meditation, fitness, according to Charlz Ng, CEO of Hybrid Group, which organises the event.

This March, the event hosted more than 80 classes and welcomed some of Hong Kong's best-known yoga gurus including Margaret Chung, Rosemary Vandenbroucke, Chaukei Ngai, May Nogoy and Victor Chau.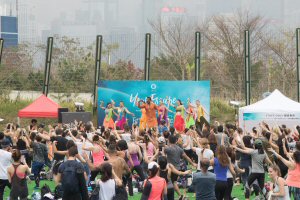 Mr Ng says people are actively seeking out different ways to improve their physical and mental health in Hong Kong. "Besides more traditional physical exercises like yoga and meditation, there is increased interest in newer forms of yoga and activities such as aerial yoga and trampoline workouts, which we included in our last instalment of IRIS along with silent disco, Bollywood dancing and Zumba," he says.

While the festival is growing each year, Mr Ng admits that Hong Kong people often struggle to make time for outdoor activities or even to just get out of the house besides for work. "Another challenge is people in Hong Kong often get bored easily, so it's fundamental that we offer a wide variety of activities and new features to keep audiences entertained."

Hosting an event in a vibrant city like Hong Kong has many advantages, says Mr Ng. "Because of the large population of people from different cultures and backgrounds, the crowd in Hong Kong are more willing to step out of their comfort zone," he says, adding that he hopes to host the festival biannually.
Diversified offerings
Since opening its first studio 15 years ago in Hong Kong, Pure Yoga has witnessed impressive growth, and it opened new studios in Kwun Tong, Mong Kok and Causeway Bay this March. "It's more than just about yoga – people are looking for a change in lifestyle and complete mind-body well-being," says Colin Grant, Pure Group Co-founder and CEO.

Like Pure Yoga, independent studios are also benefitting from the increased interest in yoga in the city. Samantha Sin, founder of Samantha Yoga in Tsim Sha Tsui, opened her second studio, One Yoga, in Wan Chai, at the end of last year. The two studios share the same vision and mission: to promote yoga and provide quality yoga experiences for everyone. "I'm a firm believer that yoga is for all, as it helps people connect to their inner self and find inner balance," she says.

As IRIS's Mr Ng points out, many Hong Kongers have to squeeze their schedules to incorporate exercise, or yoga, into their daily routine, and this is something Ms Sin is also mindful of. "We try to arrange our class time and length to try to make it easy for people to come. The stretching class is definitely the most popular kind of class as most people look to relieve stress or muscle pain through yoga," she says.

One of the biggest challenges is converting occasional attendees into regulars, says Ms Sin. "We try to give our students more individual attention compared to other bigger yoga chains. We also offer two trial classes for new students, which not only encourages them to try something different but also help them find something that suits them in terms of ambience and style," she says, adding that she hopes to introduce more ad hoc workshops relating to specific topics, such as mastering headstands or better arm balance.

Ms Sin believes the success of the Pure Yoga chain in Hong Kong has helped promote yoga awareness, which is ultimately good for the industry. "We've seen an increasing number of people interested in not only the conventional yoga practice like Hatha and Vinyasa but also Ariel Yoga, Wheel classes, hot yoga and others. We believe this trend will continue and look forward to seeing more innovation [in terms of classes offered]."

For Ms Sin, the power of incorporating yoga into our lives cannot be overstated. "Yoga helps people live longer and happier lives," she says.
Related Links
Asia Yoga Conference
IRIS
One Yoga
Pure Yoga
Health & Beauty
Sports Goods
Event Organisation