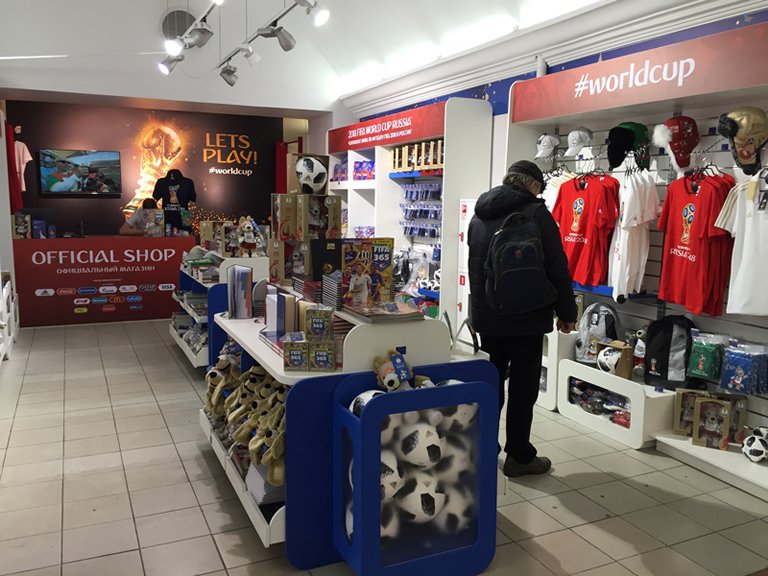 https://hkmb.hktdc.com/en/1X0ADWUI
Russia: World Cup, International Sanctions
Russia is preparing to host the 2018 FIFA World Cup by pouring investment worth billions of US dollars into improving its infrastructure. While it is still unclear whether the international football tournament will ultimately provide the country with substantial economic benefits, it is expected to have a positive effect on Russia's international image and raise the global profile of some of the less well-known cities hosting the tournament's matches.
In what may become the most expensive World Cup ever, the Russian government has encouraged and assisted generous investment into newly-built and upgraded infrastructure such as training facilities, stadiums, hotels, roads and airports. This has become part of Russia's effort to diversify its economy from its traditional pillars such as fuel and mining products; and at the same time has helped it offset the impact of Western sanctions and the caution those sanctions have caused among foreign investors and the international financing sector.
The Oil and Gas Price Crash and Western Sanctions
The crash in oil and gas prices, which began around mid-2014, had a marked negative impact on the value of Russian exports. The average export price of crude oil fell sharply from more than US$100 per barrel in 2013 to slightly below US$40 per barrel in 2016; while the export price of natural gas dropped from about US$335 per 1,000 cubic metres (cbm) to less than US$160 per 1,000 cbm.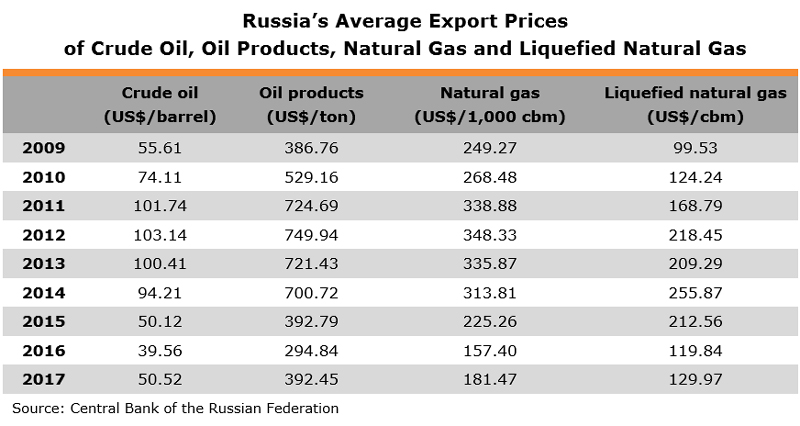 Russia, with its high dependence on oil and gas exports, was without doubt one of the oil-exporting countries most badly affected by the price crash. Increasing that economic pain was the effect of the international economic sanctions imposed by the West, mainly the US and the EU, in response to Russia's annexation of Crimea and military intervention in Ukraine in early 2014.
The double blow sparked a crisis in confidence in the Russian economy on international finance markets, leading to a huge sell-off of Russian assets, a staggering depreciation of the Russian ruble and a subsequent recession in which real GDP growth fell from a yearly average of more than 3.5% between 2011 and 2013 to -2.8% in 2015 and -0.2% in 2016. However, while the oil and gas price crash and western sanctions have had the effect of bringing the Russian economy to a shuddering halt and ending the country's five year-long economic boom, they have also led to an acceleration of the pace of economic diversification and reforms such as the development of high-tech industries.
The share of Russia's exports accounted for by oil and gas products has fallen from 65% in 2014 to 55% in 2017. At the same time, the Russian government has seen its dependence on oil and gas revenues drop dramatically. They accounted for more than half of the federal budget revenue in 2014 but only 39% in 2017, and are expected to fall further to about 33% in the coming three years.
The impact of Western sanctions on the Russian economy is generally considered to be far less significant than that of the oil and gas price crash. There are no specific tariff-line trade sanctions, other than on arms, although there are measures prohibiting the importation of any goods from Crimea and Sevastopol, unless such goods have Ukrainian certificates. For certain sensitive technologies and services that can be used for oil and gas production and exploration, however, the sanctions can cover a wide range of merchandise such as line pipes, drill pipes and rock-drilling tools[1].
The changes in Russia's trade with the US and the EU since the sanctions were implemented have so far largely mirrored those of Russia's global trading pattern. For example, while there was an average 8-9% decline in imports from Russia to the US and EU between 2015 and 2017, Russia's overall exports experienced an average 8% slide in the same period.
While the share of Russia's imports in the EU's extra-EU imports fell to a historic low of 6.9% in 2016, due largely to the high concentration of primary products such as fuels and mining products, that figure has already bounced back to 7.8% in 2017. And the share of US imports coming from Russia has remained stable at around 1%. Indeed, some product categories such as machinery and transport equipment, wood products and food manufactures have even seen a rise in imports to the US and the EU since the sanctions were imposed.
The impact of sanctions on investment has been more significant, with asset freezes and travel bans being slapped on senior Russian officials and oligarchs with ties to President Vladimir Putin. These have targeted the country's energy, defence and financial sectors. Of particular relevance to international investors are the sanctions which limit access to capital markets for certain Russian banks and companies, including major Russian majority state-owned financial institutions such as Sberbank, VTB Bank, Gazprombank, Vnesheconombank, Rosselkhozbank and their subsidiaries.
Given the relatively small amount of FDI in Russia coming from the US-led NAFTA, most of the fall in FDI came from the EU, particularly between the second half of 2014 and the first quarter of 2016. This downward trend has, however, been somewhat reversed since then, thanks in part to the stabilisation of international energy prices and the Russian ruble. Meanwhile, FDI inflows from ASEAN countries, which soared from US$127 million in 2014 to US$16.3 billion in 2016, have helped Russia bridge the funding gap.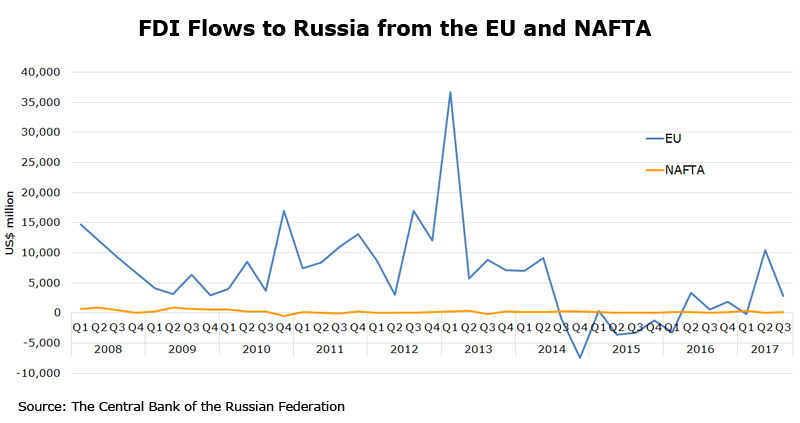 Diversification and Reform
To offset the effect of low energy prices and Western sanctions, the Russian government has put in place new measures to restore investor confidence and lower its oil and gas dependence. These should ensure that the country is better prepared for future economic challenges. Major reforms planned include privatising state-owned businesses such as banks, cutting poverty by half in the next six years, providing cheap bank credit to SMEs, improving government bodies by digitising and streamlining their services and boosting strategic state-assisted investment in sectors such as high-tech industries by developing new and upgrading existing techno and industrial parks. Russia is also supporting the Belt and Road Initiative (BRI), and is ready to actively participate in its implementation.
In the light of these developments, Russia's staging of the 2018 FIFA World Cup in June/July 2018 is not only a chance for the country to improve its international image and raise global awareness of different investment destinations outside the major cities of Moscow and St. Petersburg. It is also a golden opportunity to harmonise regional development by investing in mega infrastructure projects in the 11 cities across Russia hosting the tournament.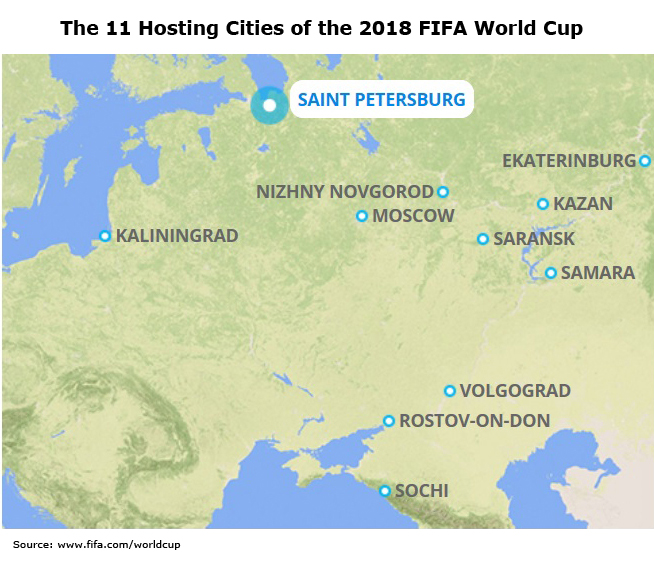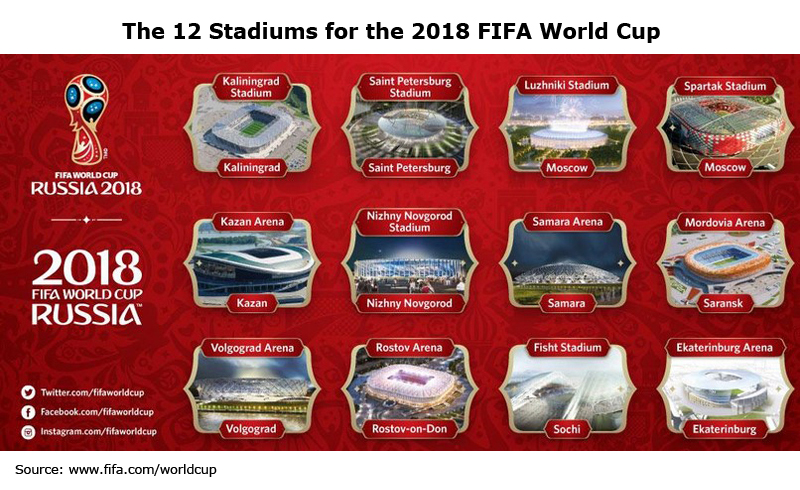 The World Cup Effect
According to the latest cost estimates, Russia has already invested some US$13 billion in the preparation for the month-long football tournament, and may well surpass the record US$15 billion spent by Brazil in 2014 to become the most expensive World Cup ever held. Along with the 113 training grounds and 12 stadiums being built or renovated (including the St. Petersburg Stadium that is thought to have alone cost about US$1.5 billion), about 60 new hotels are being constructed, providing more than 10,000 rooms to football fans and tourists.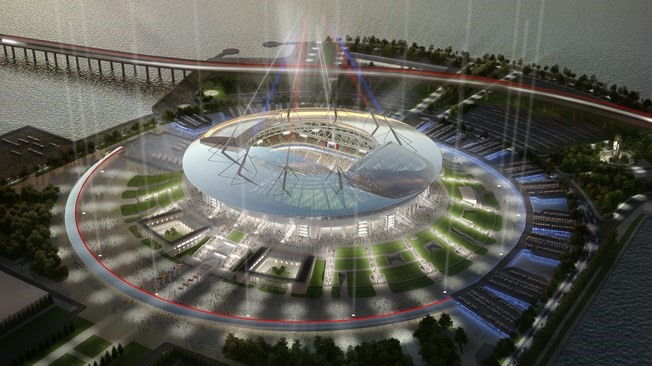 Only time will tell if the investment is worthwhile in economic terms, even with more than 1.5 million tourists expected to pour into Russia during the tournament, spending an estimated US$3 billion on accommodation, tickets, souvenirs and transportation.
However, the World Cup will give visitors and investors from all over the world a chance to discover more about some of the lesser-known cities and regions in Russia, and allow the nine host cities outside Moscow and St. Petersburg to promote themselves and seek foreign business co-operation and investment.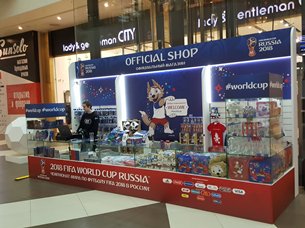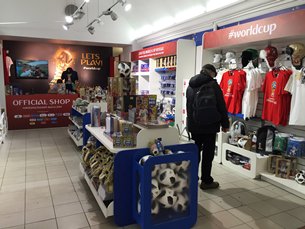 With the investment on World Cup infrastructure mostly being co-financed by the federal/regional/municipality governments and the private sector[2], the success of such public-private partnerships in infrastructure development should not only help to harmonise the pace of development in different regions across Russia, but should also increase the confidence of international consortiums about returning to the Russian market.
Russian Recovery
Given the recent mild inflation figures (2.3% in the first quarter of 2018, compared to an annual inflation target of 4%) and the Russian Central Bank's continued efforts to keep the benchmark interest rate at a low level to promote credit growth and expand domestic demand, the Russian economy is forecast to post an improving real GDP growth of 1.7% in 2018.
Following the rebound of the Russian economy last year after two years of recession, the country's per-capita income (US$27,800 based on purchasing power parity, or PPP) is now on a par with European countries like Portugal, Poland and Hungary, and far ahead of the other BRICS economies, Brazil, India, China and South Africa.
This recovery in the Russian economy is good news for Hong Kong. In 2017, Russia was Hong Kong's eighth most important European trading partner, having bought a record US$2.8 billion worth of goods. As the Russian recovery continues and World Cup-related spending really takes off, Hong Kong-Russia trade is likely to reach an even higher level. This has already been reflected in the figures for the first quarter of 2018, which showed a growth of 89%, consisting of a 97% rise in Hong Kong's exports to Russia and a 66% increase in imports from Russia.
Furthermore, given the Western sanctions, it seems likely that Russian project owners will make wider use of Hong Kong as a fund-raising and deal-marking platform to tap the Asian capital pool and BRI opportunities. Greater support is also likely to be sought from Hong Kong's professional service providers in the field of infrastructure, finance, logistics, information technology, environment protection and urban planning to advise, execute and manage future projects across Russia.
---
[1] Full lists of such products with their respective tariff codes are available from EU and US.
[2] Out of the total estimated cost of US$13 billion, 30% is said to have been covered by private investors.