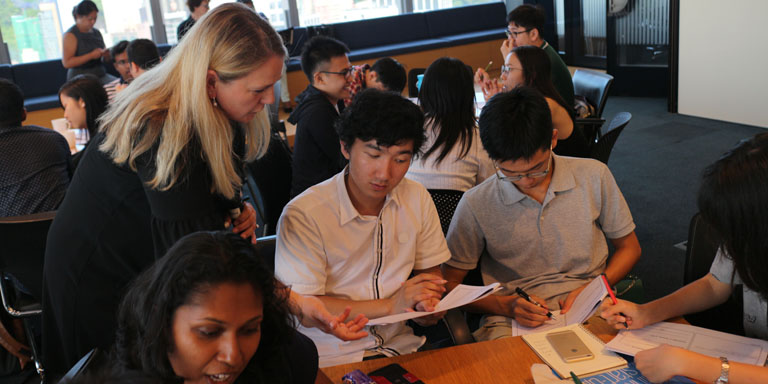 https://hkmb.hktdc.com/en/1X0ADVC3
Digital and Different
Mathematician, author and business coach Sabine Reppert wants to prepare companies for "the era of the 4th industrial revolution."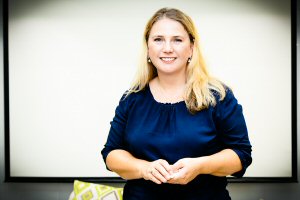 What brought you to Hong Kong?
I founded my first coaching and consulting company in Germany in 2011 and I moved my business to Hong Kong in 2014. I was convinced that Hong Kong, as a dynamic business and financial centre, needs to adapt quickly to its next great challenge – the disruptive digital revolution. I believed I could provide my expertise effectively.

One of Hong Kong's organisational strengths is getting things done and precise execution. We have to continue finding ways to channel that strength into driving innovation. Hong Kong is very good in pursuing ventures when it is very clear how to make money. But becoming a "smart city" is more complicated because it needs the collaboration of multiple stakeholders; it needs systems and from which angle to bring about change. In fact, Hong Kong with its geographical density and diversity of talent reminds me of Silicon Valley and turned out to be much richer and more exciting than I thought. You could say I 'disrupted' myself in coming to Hong Kong.

Actually, technology is not the big issue; it is about opening up to co-creation, collaboration and competition. Hong Kong is getting there with examples in Fintech but in other areas like Smart City it needs to go faster.

How does your consultancy, Internet-X, differentiate itself?
To take part in the exponential explosion of opportunities such as Artificial Intelligence (AI), Blockchain and drone technologies you have to adapt. What I bring is how to do this: it has to do with selecting what technologies can do for your business, which business models come with the new technologies to build a competitive advantage. I look at my services as a three-legged tripod that can't fall. First, I have a technology background; secondly, I focus on how to inject innovation into a corporate business. Thirdly, I observe and advise on "people change" – adapting skills and mindsets in adapting to change. Part of this is about adapting leadership to the digital era, economies of scale and a different way of managing growth.

'Market share' is not a guarantee for success any more because there are many disrupters appearing from nowhere, so companies need the ability to sense what's coming on the horizon. I personally don't like the expression 'disruption', which suggests a negative aspect, destroying something. It is more like a clever shift, closing the skills gap.

So is there an example of how you can succeed?
A classic example was a project I did in New York. The client was a software supplier that discovered it was not able to hold its deadlines. By the end of the day the team was able to shorten its schedule from six months to two months: the trick was to take the team members out of their 'problem world' of software packages and replace that with a domain delivering not software but motor vehicles on a 'just in time' production line. The delivery problem was how to order, re-order and re-structure for the auto assembly line; the team had to find a solution and then transfer that back to the business of software supply. It was a case of "tricking" the mind to find a solution.

We had the team "play through the process" to deliver the correct supply chain answers. There was an occasion when the boss came into the room to check what everyone was doing and ask when he would get his new schedule. Everyone was engrossed in the play so the boss quickly left, realising everyone was transacting within the group – and in fact they were developing a coherent way of thinking, which had a 'flow effect' on the entire team. They were developing a connected web of thinking and at the end they agreed: "wow! We never thought we could do this!' All of a sudden everything came together.

Do you detect that kind of thinking emerging in Hong Kong?
Several companies are on the digital revolutionary path in Hong Kong. I really admire Rosanna Wong for her business and public service commitment and then we have Allan Zeman, 'father' of [Hong Kong's restaurant district] Lan Kwai Fong, people who I admire for their ability to adapt, be proactive and shape the future.

I have been associated with the Hong Kong Polytechnic University's executive programmes promoting digital leadership. That's very important, in training leaders of the future.

What is your impression of Hong Kong as a centre for major initiatives like the Belt and Road and Guangdong-Hong Kong-Macao Bay Area?
The development and use of technology and data mining will be major factors for developing Hong Kong's advantages in these initiatives. There is a new shift coming and that will help clarify Hong Kong's role in the Bay Area.

Interestingly, the Frauenhofer Study from Germany considered the re-industrialisation of Hong Kong and so with the setting aside of the Lok Ma Chau Loop adjacent to Shenzhen this will be partially dedicated to re-industrialisation. This process could include highly automated manufacturing to replace labour-intensive models and bring back aspects of the industrial value chain to Hong Kong.

For the Belt and Road Initiative, Hong Kong's advantages are in the flow of people, goods and money. In the future, there is something else to add to the flow and that is data, including data on customers, the flow of goods, flow of finance and control of assets. Data will be the new "gold".

You are taking part in a Blockchain Technology Conference in Hong Kong. Is Hong Kong an obvious place for Blockchain to develop?
I actually learned about Blockchain here in Hong Kong, as among its distributed database technology strengths are the opportunities for finance and digital Fintech in particular, [which are] of great interest to Hong Kong institutions and companies. Hong Kong has found ways to collaborate on these disrupters. I was very pleased to hear about Blockchain so early at a conference here. I have been able to understand how Blockchain tied into technology shaping and I found myself reflecting what I discovered back to teach other industries I was working with in Germany, particularly in the automotive sector, a more-than- 80-year-old industry which is now becoming disrupted by e-mobility – this is digital transformation in action!
Business Management & Consultancy
Education & Training
Information Technology
Germany
Hong Kong
Western Europe