https://hkmb.hktdc.com/en/1X0ADSK4
Leveraging CR Express to Tap "Belt and Road" Markets
Joint research series on Shanghai-Hong Kong Co-operation in Capturing Belt and Road Opportunities
The Yangtze River Delta (YRD) is one of the major economic engines of China, as well as the biggest source of China's outward direct investment (ODI). Enterprises in this region are making haste to open and develop markets along the Belt and Road routes in the hope of further boosting their business growth.
An important focus of these enterprises is to more effectively connect the YRD with the industry chains of other mainland regions and international markets through its gradually maturing network of transportation with the outside world. This includes sea and air transport as well as the China-Europe Railway Express line (or CR Express), which has seen rapid development lately, in order to better tap into new markets along the Belt and Road routes and other overseas markets.
CR Express Attracts Much Interest
Many companies have already established distribution channels in Belt and Road markets to sell their products. Their business is wide-ranging and needs the support of transportation networks in the YRD, South China and even Hong Kong in order to improve international logistics efficiency, while connecting their production system on the mainland with overseas business operations (For further details, see Devising "Belt and Road" Supply Chain Management System). Companies in the YRD are actively making use of the sea and air transportation and logistics networks in the region to connect with overseas markets, and more and more companies are beginning to pay attention to the transport of goods by train as an alternative.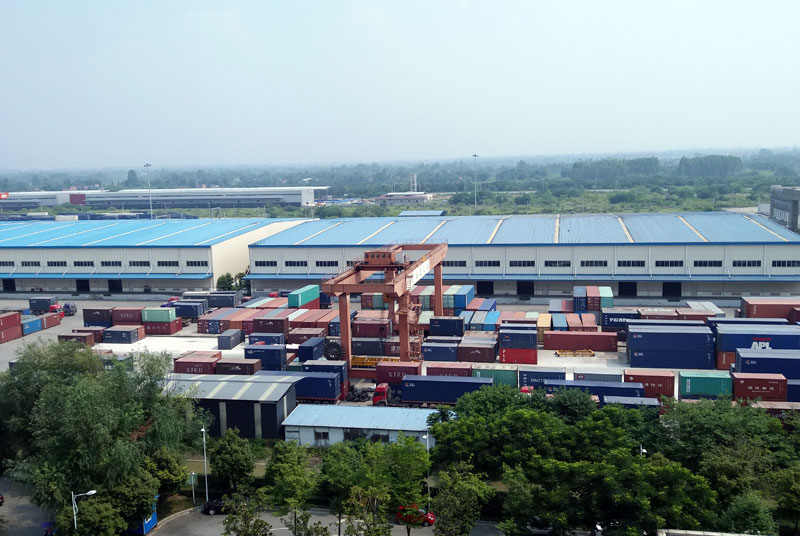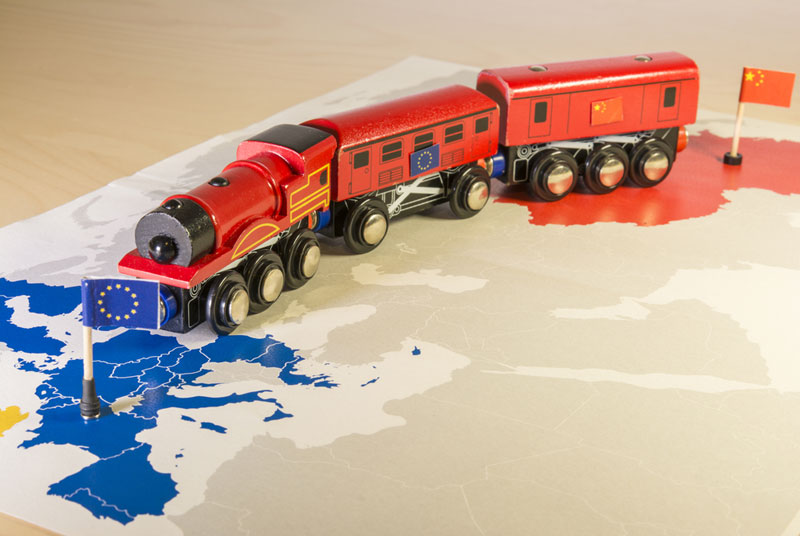 Compared with sea and air transport, the freight volume of rail transport is relatively small. In 2016, rail transport only accounted for about 2% of the total freight volume of Jiangsu and Zhejiang and less than 1% of Shanghai's [1]. Following the accelerated development of CR Express services, however, the service frequency of freight trains running between China and Europe has seen rapid growth in recent years.
Rail links have been extended from inland provinces in the western region to the YRD and other coastal cities. Many logistics service suppliers have come to see the potential of rail transport, and some of them have started to make active use of freight trains to ship goods sourced from coastal and western regions to Europe. A foreign-invested logistics company in the YRD even expressed the hope of leveraging the CR Express to further develop rail freight transport between Japan and Europe through the Chinese mainland. (For further details, see Planning for CR Express Connectivity to "Belt and Road" Logistics Network.)
Since the first CR Express train set off from Chongqing to Duisburg (or Yuxinou, the Chongqing-Xinjiang-Europe International Railway) in Germany in 2011, about 6,600 trains had been dispatched up to the end of 2017. [2] In particular, the frequency of such train service has increased significantly in 2017, exceeding the total trips made during the six years between 2011 and 2016. This reflects the fact that mainland companies are relying more and more on trains to deliver goods to Europe.
The service was mainly used to ship Chinese goods to Europe in the early days, but the situation is gradually changing as more companies use rail links to import goods from Europe. In 2017, the number of inbound trains amounted to over half of that of outbound trains [3], putting trade between China and Europe by rail on the path of two-way development.

CR Express Provides an Alternative for Freight Transport
The National Development and Reform Commission announced the Development Plan for CR Express (2016-2020) in October 2016 with the aim of forming a convenient and efficient CR Express service system with steady transport volume by 2020. At the time of the announcement the CR Express had operated a total of 1,881 trips, with 16 departure cities in China and 12 destination cities abroad. [4]
According to the National Development and Reform Commission, departure cities in China had increased to 38 by the end of 2017, and the service had expanded to 36 cities in 13 countries across Europe in just a year. The range of outbound goods has gradually expanded from information technology products in the early days, like mobile phones and computers, to clothing, footwear and headwear, automobiles and auto parts, grain, wine, coffee beans, timber, furniture, chemicals, machinery and equipment.
Development Plan for CR Express (2016-2020)
Aim: Increase frequency of freight train service to around 5,000 annually by 2020, with marked increase in freight volume on inbound trains.
Western corridor:
- Crossing the border at Alataw Pass (Khorgos) in Xinjiang, passing through Kazakhstan to connect to the Siberian Railway in Russia, crossing Belarus, Poland and Germany, and finally reaching other European countries.
- Crossing the border at Khorgos (Alataw Pass) and finally reaching Europe after passing through Kazakhstan, Turkmenistan, Iran and Turkey, or passing through Kazakhstan and crossing the Caspian Sea into Azerbaijan, Georgia and Bulgaria, finally reaching Europe.
- Connecting to the planned China-Kyrgyzstan-Uzbekistan Railway via the Torugart Pass (Irkeshtam), finally reaching Europe after crossing Kyrgyzstan, Uzbekistan, Turkmenistan, Iran and Turkey.
Central corridor:
- Crossing the border at Erenhot in Inner Mongolia to connect to the Siberian Railway after passing through Mongolia, finally reaching Europe.
Eastern corridor:
- Crossing the border at Manzhouli in Inner Mongolia (Suifenhe in Heilongjiang) and reaching Europe after connecting to the Siberian Railway in Russia.
Departure/destination cities in China:
- Chongqing, Zhengzhou, Chengdu, Wuhan, Suzhou, Yiwu, Shenyang, Changsha, Lanzhou, Beijing, Tianjin, Lianyungang, Yingkou, Qingdao, Urumqi, Xi'an, Hefei, Jinan and Dongguan.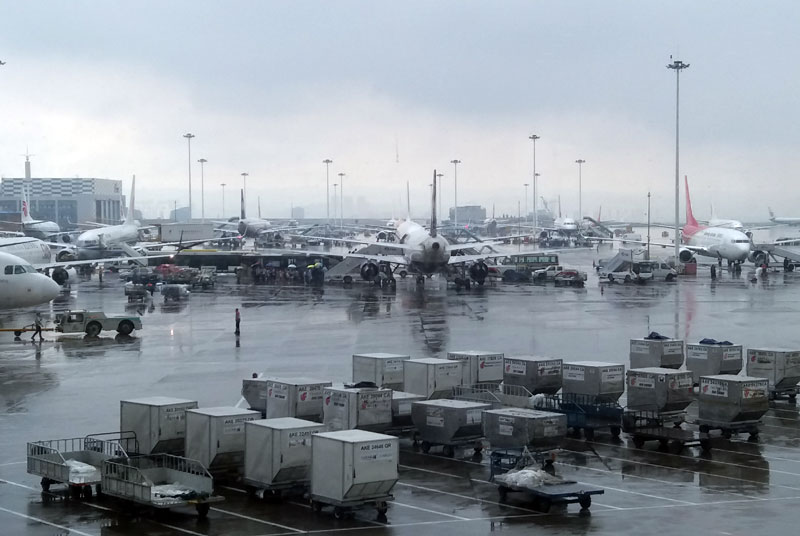 Besides Chengdu, Chongqing and other cities in western China, increasingly goods originating from production bases along the coastal region are exported through CR Express. For example, after the opening of the CR Express service between Yiwu in Zhejiang and the Spanish capital of Madrid in November 2014, small commodities from Yiwu were continually shipped to the European market via rail transport. On the other hand, goods imported from Europe on inbound trains are also becoming more diversified and cover a much wider range, including food and beverages like wine and olive oil, raw materials such as timber and pulp, and even electrical equipment, solar film, electronic components and machinery.
CR Express has also extended its service to South China. This includes the launch of the service from Shilong of Dongguan to Duisburg of Germany in April 2016 and another service from Guangzhou to Kaluga of Russia in August 2016. Clothing, footwear, computer accessories and electronic equipment produced in the Pearl River Delta (PRD) region can now be shipped by using standard 40-foot containers carried on CR Express. These developments help bring the YRD, PRD and other coastal regions closer to the European markets and suppliers.
It is worth noting that thanks to government support, CR Express can provide one-stop service in inspection, quarantine, customs declaration, customs clearance and other areas. Although trains bound for Russia, Central Asia (such as Kazakhstan) and even Eastern and Western Europe have to change tracks due to gauge differences, the technical problems have been resolved through the arrangement of railway and transportation companies. The logistic companies responsible for shipping the goods will also monitor the complete shipping process, provide the consignors with customs clearance service, and make sure that the goods are delivered to the required warehouses after reaching the respective railway terminals. These services contribute to the development of CR Express.
In April 2017, a collaboration agreement was signed by railway departments of seven countries involved in the operation of CR Express, including China, Belarus, Germany, Kazakhstan, Mongolia, Poland and Russia. A broad consensus was reached on rail connectivity, optimisation of transportation organisations, perfection of service safeguards, improvement of customs clearance efficiency, and other issues. CR Express can expect steady growth in future thanks to cross-border collaboration.
The recent rapid expansion and increasing frequency of Europe-bound rail services, and the significantly shorter lead time of 10-12 days for the fastest routes, means rail has gradually become a viable alternative to sea and air transport for export and import businesses. Generally, these freight trains can transport cargo to their European destinations three times faster than shipping by sea for one-fifth of the cost of transport by air. While rail freight is still more costly than sea freight [5], CR Express can work as an adjunct to sea and air transport and attract more and more companies to use rail services to expand China-Europe trade.
These developments will effectively enhance the transport links between China and countries in Asia and Europe and strengthen the capabilities of related logistics providers of cargo transportation and distribution. Under such circumstances, companies not just in the western regions but also along the coast may need to consider the feasibility of the further rail transport use to enhance their flexibility in expanding into Eurasian markets. Furthermore, logistics operators can also strengthen partnerships and co-operation with the relevant railways, helping to connect them to logistics and transport networks in the YRD, South China and even Hong Kong and so enhance their advantage in the international transportation and integrated logistics business.
Note: For details of the company interviews conducted jointly by HKTDC Research and the Shanghai Municipal Commission of Commerce, please refer to other articles in the research series on Shanghai-Hong Kong Co-operation in Capturing Belt and Road Opportunities.
---
[1] Source: Jiangsu Statistical Yearbook, Zhejiang Statistical Yearbook, Shanghai Statistical Yearbook.
[2] Estimates.
[3] Source: China Railway Corporation.
[4] June 2016 figures.
[5] Source: National Development and Reform Commission.
Hong Kong
Mainland China
Hong Kong
Mainland China