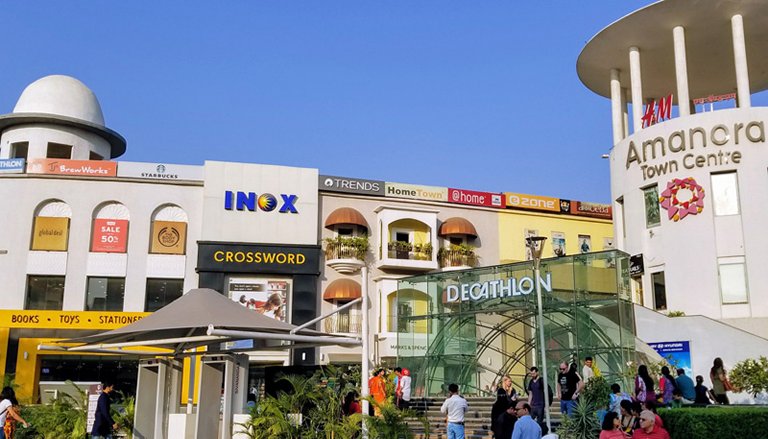 https://hkmb.hktdc.com/en/1X0ADP9O
Make in India: Phased Manufacturing Programme Fuels Demand for Electronic Parts (2)
The first part of this article looks at the drastic change in the composition of Hong Kong's electronic and electrical (E&E) exports to India over the past few years. The following sections examine the changes in Indian government policy and the implications of those changes for its import regime (and thus overseas suppliers) and its attempts to attract foreign companies to invest in local manufacturing and marketing.
Net Zero Imports of Electronics
In a bid to reverse the country's chronic deficit in electronics trade, the Indian government has set a target to bring its net import of electronics down to zero by 2020 under its Digital India programme[1]. It is banking on transforming its domestic electronics sector through increased investment, particularly from foreign investors. Incentives are being offered to invest in the electronic sector and the approval process for investment schemes has been streamlined. The incentives for investors are available across the entire value chain and include the manufacture of mobile devices and accessories, telecom equipment, IT hardware, set-top boxes, consumer and medical electronics, as well as automotive electronics. As an aside to this, the Indian government has ambitiously promised that by 2030 all cars sold in India will be electric.
India and the WTO Information Technology Agreement
India is a member of the World Trade Organisation (WTO) and a signatory to the WTO Information Technology Agreement (ITA). 82 countries are party to the agreement, which represents about 97% of world trade in IT products. Covering some 200 high technology products, including computers, mobile devices, monitors, displays, network equipment, set top boxes, disc storage units, telecom equipment, semiconductors, semiconductor manufacturing, and most parts and accessories of these products, the ITA requires each participant to eliminate and bind customs duties at zero for all products specified in the agreement on a most favoured nation (MFN) basis.
In recognition of new technological developments and IT product categories not covered by the ITA, an undertaking to expand its scope was initiated in 2012 and concluded in 2015. Nearly all the 54 WTO members which took part in the expansion negotiations formally accepted the revised product coverage list. Together, they account for about 90% of world trade in the 201 products proposed for inclusion in the expanded list ITA-2, which can be found here.
India did not participate in ITA-2, partly because of the discouraging experience it received under ITA and partly because the Modi government is trying to build a thriving domestic E&E/IT manufacturing sector under the Make in India and Digital India strategies. Nonetheless, India has reiterated its adherence to its existing ITA commitments, with the Basic Customs Duty (BCD) remaining zero-rated on 217 ITA tariff lines as well as on the raw materials and inputs required to manufacture these goods.[2]
Phased Manufacturing Programme
Rather than fix customs duty at zero for products covered under ITA-2[3] and expose its E&E/IT hardware sector to further competitive pressure, India believes the sector needs to be incubated and given time to allow the Make in India and Digital India initiatives to take effect. The government says that a zero customs duty regime would discourage local R&D and manufacturing, and lead to companies importing E&E goods instead of investing in local production.
As part of the efforts to promote manufacturing in India and revive its E&E hardware sector, the Indian government introduced the Phased Manufacturing Programme (PMP) in August 2015. The underlying rationale of PMP is that India-based manufacturers, whether they are indigenous or FDI-invested businesses, will be more inclined to increase the scale of local manufacturing if imported E&E components are subject to duties over a number of years. It should be noted that, until that expected increase in local production happens and the supply of domestically produced components increases, the Indian E&E sector will continue to rely on imported parts and components, some of which come from Hong Kong suppliers. Imposition of import duties on those parts and components will therefore mean higher costs for manufacturers in this interim period, and is likely to put upward pressure on final product prices over the short term.
The Indian government is hopeful, however, that PMP will boost local manufacturing of E&E products and the use of locally-produced components in as little as a few years. It will thus alleviate the country's overwhelming dependence on imports of E&E and substantially improve India's prospects of becoming an E&E manufacturing hub and exporter in the long term. The government also believes that, with the rapid advance of technology, it will be able to identify E&E products, parts and components that fall outside the scope of trade agreements like the ITA to which India is a signatory. It hopes to bring these products under the scope of PMP while remaining WTO-compliant.
Mobile phones, devices and related parts and accessories represent the largest segment of India's demand for E&E products. They are also, as discussed in the first part of this article, the leading E&E export to India from Hong Kong. According to the IDC Quarterly Mobile Phone Tracker report released in February 2018, shipments of mobile phones in India reached 288m in 2017, of which 124m units were smartphones. Sales of smartphones showed a year-on-year (YOY) growth of 14%. Samsung was the market leader among the smartphone brands in 2017 with a 24.7% share, followed by Chinese brands Xiaomi (24.2%), Vivo (6.5%), Lenovo (5.6%) and Oppo (4.9%). Apple assembles iPhone SE in India via its Taiwanese partner Wistron but imports higher-end models such as the iPhone8, which are subject to successive rounds of import duties (these will be discussed in forthcoming sections). In Q4 2017, according to the IDC, Xiaomi actually eclipsed Samsung (the market leader in the past 24 successive quarters) to become the number one smartphone brand in India. Xiaomi's quarterly smartphone shipments in India had stood at around 0.5 million units about three years back, but that rose to more than 8 million units in Q4 2017.

According to Counterpoint Research, about half of India's 1.3 billion population use mobile phones, but less than half of these mobile phone users have a smartphone. Many want to upgrade their phones, and the IDC forecasts that the Indian smartphone market will maintain double-digit growth for the next couple of years. About two-thirds of the smartphones sold in India are assembled domestically, although the value-added by this tends to be very low, given that many high-value components are already stuffed or soldered to the main printed circuit boards (i.e. populated PCBs).
PMP in Multiple Phases
The first phase of PMP was initiated in 2015, when a differential duty dispensation was made available to domestic manufacturers assembling mobile phone handsets, freeing them from a Countervailing Duty (CVD) of 12.5% on imported products and an Excise Duty of 1%.[4] In addition, parts, components and accessories for manufacturing mobile phones, along with sub-parts or inputs for making the parts and components, were exempted from Basic Customs Duty (BCD), CVD and Special Additional Duty (SAD). This created a cost advantage for locally assembled E&E products such as mobile phones. Moves to create duty differentials between imports and locally manufactured products were extended to chargers, adaptors and batteries, and wired headsets in 2016-17.[5]
In April 2017, the Ministry of Electronics and Information Technology (MeitY) issued another PMP notification, saying that the Indian government would take measures in 2017-18 aimed at progressively increasing the value added by domestic production, in order to establish a robust mobile handsets manufacturing ecosystem in India. This covers sub assembly items including mechanics, die cut parts[6], microphones and receivers, key pads and USB cables. Under PMP, India is not just trying to promote local manufacturing of mobile handsets, but also its sub assemblies and parts, including sub-parts and inputs to the sub assemblies. In the same vein, the Indian government aims to apply PMP to, and promote local manufacturing of, populated PCBs, camera modules and connectors in 2018 19, and display assembly, touch panels, vibrator motors and ringers in 2019-20.
By announcing a multi-year PMP strategy, the Indian government intends to steer the mobile handset and component industry towards planning their investments in the sector more effectively. It projects that the shares of locally-procured components in the manufacture of feature phones and smartphones will more than double (to 37% in feature phones and 26% in smartphones) in about five years. It expects this development to be accompanied by an exponential growth in the value added of India's domestic mobile handset manufacturing industry, forecasting that domestic value added, including local sourcing and assembly, will increase to more than 30%. The government also expects the number of locally manufactured mobile phone units to reach 520 million by 2019-20 due to the adoption of PMP, by which time it hopes that India will be exporting sizeable numbers of mobile phones.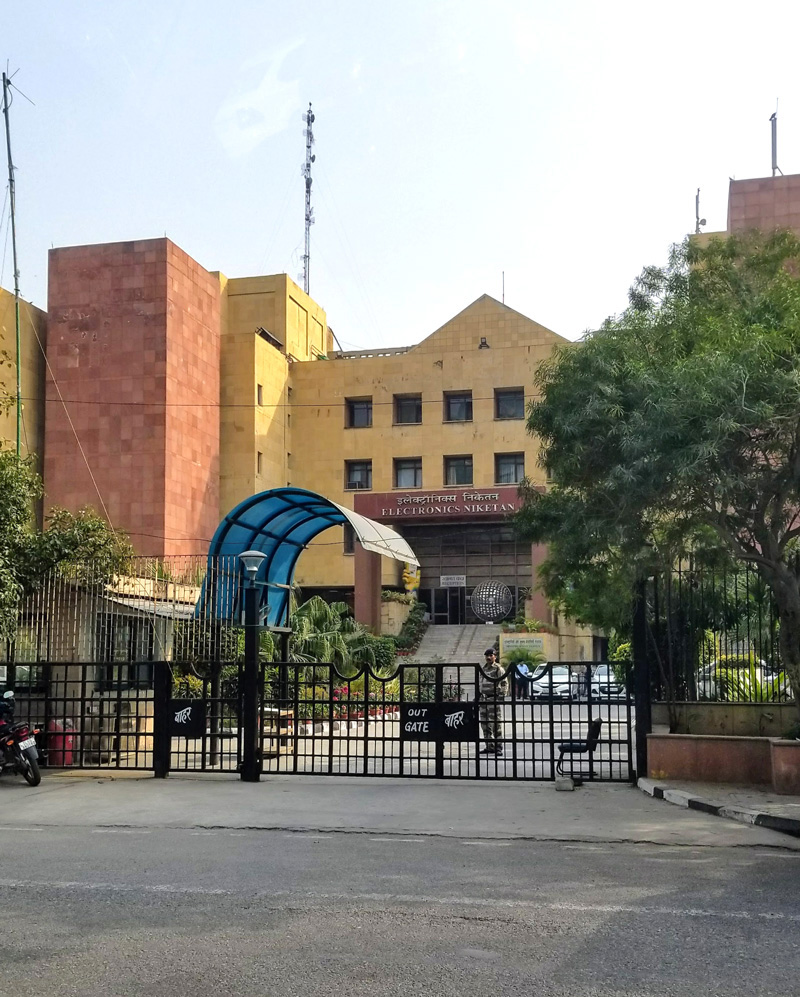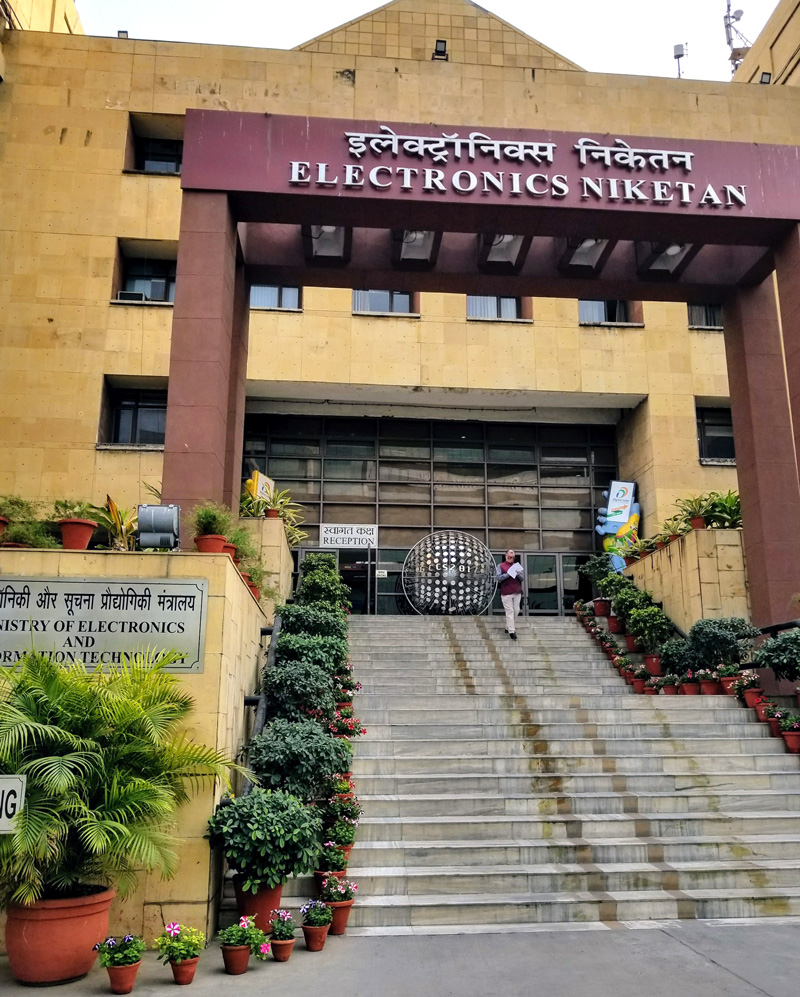 As mentioned above, both die cut parts and mechanics were included in the list of items covered by PMP in 2017-18. According to Hong Kong's trade statistics, exports of die cut parts from the city to India registered a YOY growth of 57% in 2017, and an average annual growth of 74% between 2014 and 2017. The value of these exports surged from just US$1 million to US$5 million during this period. Exports of mechanics from Hong Kong to India also rose significantly, registering an average annual growth of 20% in the three years to 2017 to reach US$19.8 million. Although the export value of these tariff lines was miniscule compared to the value of all mobile phones and related parts exported from Hong Kong to India in 2017 (a total of more than US$6.2 billion), their rise bears testimony to India's keen interest in nurturing the country's mobile phone manufacturing capacity and ecosystem. PMP is being deployed by the Indian government to facilitate a gradual transition away from a reliance on imports, but it may take several years to substantially raise the share of local sourcing in final product assembly.
Application of PMP amid the Shift to the GST regime
India's Goods and Services Tax (GST) reform, formally implemented in July 2017, was designed to remove layers of indirect central government and state taxes. GST did not bring about any drastic change in taxes on imports, with CVD and SAD replaced with the Integrated GST (IGST) and BCD being kept intact. Following the implementation of GST, BCD is the main levy still under the control of the central government.[7] In order to ensure that a duty differential would continue to exist as an incentive for local manufacturing, the Indian government slapped a 10% BCD on mobile phone imports for the first time from July 2017.[8] The government took the view that, as smartphones did not exist when the country became a signatory to the WTO-ITA back in 1996, the imposition of BCD on these imports was not a violation of its ITA obligations.[9]
With the government looking to accelerate its Make in India initiative, the BCD rate on mobile phones and parts including charger, headset, battery and USB cable was increased from 10% to 15% in December 2017. The BCD rate for mobile phones was again raised to 20% in the government's Budget in February 2018. This further increase was designed to address the issue of inverted duty structures, whereby finished goods might face lower duty than the inputs used in manufacturing them. Besides, it was also aimed at making the duty differential between imported and locally manufactured smartphones sufficiently wide to provide an incentive to domestic production. The Indian government also decided to impose BCD on E&E components such as populated PCBs, camera modules and connectors used in smartphone production.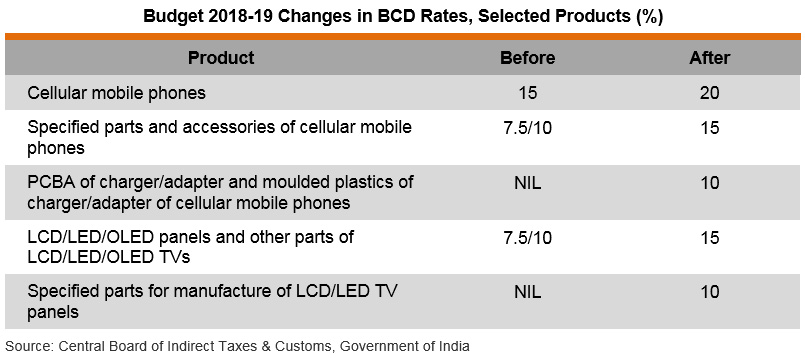 While the IGST rates for most E&E goods are set at 18%, mobile phone handsets are taxed at 12% with accessories at higher rates.[10][11] Despite the BCD rate for mobile phones being set at 20% and that for parts at slightly lower rates, the E&E industry believed that an IGST rate for mobile phones at 12% would create an additional price burden for consumers and be detrimental to India's aspiration to become an E&E export hub. It has asked the government to consider cutting the IGST rate down to 5%, in order to be consistent with the objectives of Digital India.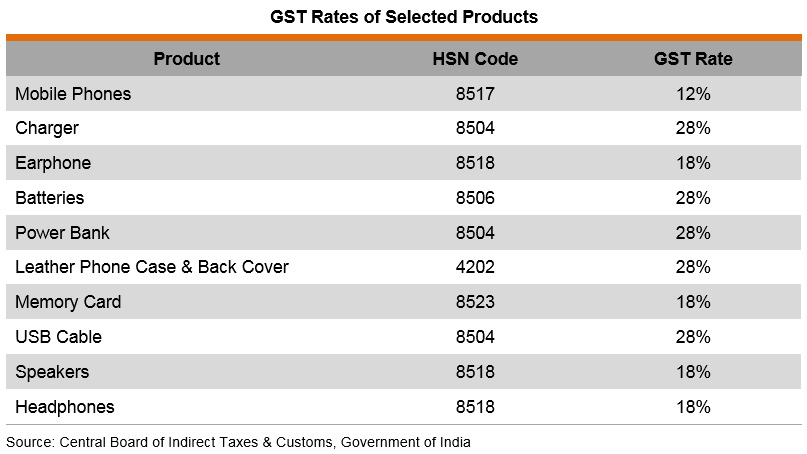 In addition to applying BCD on imports of fully built mobile phones, the Indian government also applied BCD at 10% on imports of rubber and metal items used for manufacturing mobile phones, including screws, under its revamped tax structure. It should be noted that the Indian government has increasingly resorted to taxing imported E&E components.
Enhancing the Ecosystem and Supply Chains
The Indian Cellular Association (ICA) believes that India is on the road to creating a robust mobile phone manufacturing ecosystem with a greater skill base and lower costs, which will eventually become an integral part of the global supply chain of these products. While enriching the ecosystem of mobile phone manufacturing specifically, or the E&E sector in general, is important, the Indian industry realises that it should not become narrowly focused on phone assembly or providing an Electronics Manufacturing Service (EMS) with relatively low levels of value creation or addition. Instead, it understands that it must set its sights on developing entire value chains, in which EMS companies move up the value chain by channeling investment into new technologies and upscaling manufacturing capability.
Thanks to the focused government initiatives and duty differential policies discussed above, there has been a tremendous growth in India's mobile handset industry in the last few years. The number of mobile phone manufacturers has risen from just 3 in 2014 to more than 50 currently, and there has been a similar increase in the number of parts and components suppliers. According to a joint study conducted by IIM Bangalore and Counterpoint Research in 2016, more than US$15 billion worth of components is expected to be sourced locally between 2016 and the end of 2020. This is expected to create more than a million jobs, immense foreign exchange savings, and a strong boost to the entire ESDM[12] ecosystem in India.
Under the PMP development roadmap, the Indian government is providing help to domestic companies by reinforcing the local supply of components, including PCB assembly (PCBA) capability. India needs to invest substantially in Surface Mount Technology (SMT), as SMT production lines are critical to helping local manufacturers become more efficient and add value. The government expects that, with PMP, India will be able to produce about 520 million phones by 2019-20 and 1.2 billion by 2025 (with more than half targeted for export). This would warrant investment in some 400 SMT lines, as well as SMT lines for making local components and accessories.
With PMP already proving to be an initial success, MeitY is also considering expanding it from its focus on locally-produced electronic components in mobile phones to other E&E product segments.
Increased ESDM investment
The rapid increase in the number of Indian mobile phone and parts manufacturers over the last few years has happened despite the fact that the country continues to suffer from a number of issues, including stringent labour laws, poor infrastructure and an inefficient supply chain. As China and the developed markets begin to witness slowing growth in mobile phone sales, India has become one of the major developing international markets. International and regional brands are looking to India to provide them with significant revenue growth, investing in phones and parts manufacturing on the one hand and market and channels development on the other. Some leading players are also launching targeted programmes to train plant operators, managers and maintenance engineers to upgrade their production efficiency and thus their product competitiveness.
Some mobile phone makers, including Japan's Panasonic and India's own Lava, were reportedly considering stepping up their investments in higher-scale local manufacturing to take advantage of PMP and the imposition of import duty on populated PCBs. Similarly, Finnish company HMD Global, which makes Nokia phones, indicated that it was preparing to begin PCB assembly through its partner Foxconn.
Meanwhile, Shenzhen-based mobile phone maker Transsion, not yet a major player in India, is charting an entry strategy to produce affordable mobile phones in several Indian states. And Apple, which has assembled its low-cost iPhone SE in Bengaluru since 2017 through its Taiwanese supplier Wistron, is expected to start producing some older generation models like iPhone 6S in Wistron's plant. This is expected to be expanded soon, following Wistron's recent acquisition of extra land plots in Bengaluru. Xiaomi, the number one smartphone brand in India, has three manufacturing plants in the country, two making phones in Andhra Pradesh, and one in Noida making power banks with an Indian partner.
The Indian government expects the country's handset manufacturing industry to grow exponentially in the next five to seven years, with PMP providing the incentives for local production and export. While BCD is currently the central government's primary tool for curbing imports of mobile phones, maintenance of a calibrated duty differential structure to aid components production under PMP is also seen as an integral part of the overall policy framework. Aside from this, it is likely that GST rates will be periodically adjusted in response to industry views to prevent imported components from being more highly taxed than finished goods, or to ensure Completely Built Units (CBUs) do not face higher rates than Completely Knocked Downs (CKDs) or Semi Knocked Downs (SKDs).
Summary
A drastic change in Hong Kong's E&E exports to India is already underway, driven in part by the desire to produce close to the market and also by the Indian government's objective of building a robust E&E ecosystem in India for high-value, fast moving products, including in particular mobile phones. In light of the incentives being offered in India to boost local production of finished goods and parts and components, it is likely that Hong Kong will see a continued and perhaps rapid decline in the export of finished mobile phones to India. This will be accompanied by a further adjustment in the mix of parts and components as well as accessories re-exported from the city to India, as India tries to enhance the skills and competencies of its domestic businesses while also employing a differential duty scheme against imported finished products, parts, components and sub-assemblies.
---
[1] Digital India has nine "pillars of growth": (1) Broadband Highways, (2) Universal Access to Mobile Connectivity, (3) Public Internet Access Programme, (4) e-Governance: Reforming Government through Technology, (5) e-Kranti - Electronic Delivery of Services, (6) Information for All, (7) Electronics Manufacturing, (8) IT for Jobs and (9) Early Harvest Programmes. Each of these pillars is a complex programme in itself and cuts across multiple Ministries and Departments.
[2] The exemption from BCD is subject to actual user condition, the purpose of which is to keep the traders as well as trading activities out of the import operations. The actual user is the person who utilises the imported goods for his or her own use.
[3] Under ITA-2, tariff barriers are to be removed in three stages. First, 65% of the new tariff lines representing 88% of imports were cut immediately on implementation of the new deal in July 2016. Second, additional cuts on 89% of tariff lines representing 95% of imports were to have been cut in the subsequent three years. The remainder of the tariffs will be eliminated by January 2024. Some important classes of products are not incorporated under ITA-2, including LED displays and lithium-ion batteries.
[4] The Excise Duty would be 1% where there was no input tax credit or 12.5% if input tax credit was otherwise given.
[5] Phased Manufacturing Programme notification, 28 April 2017
[6] Indicative List of Mechanics and Die Cut Parts, Annexure to the PMP notification, 28 April 2017.
[7] An importer in India is required to pay IGST at the time of customs clearance, the IGST credit of which will be used in claiming against output GST liability (for example, when selling the finished products to a distributor or retailer). All imports are deemed as inter-state supplies and accordingly IGST is levied in addition to the applicable BCD. Aside from IGST, India retains levies like Anti-dumping Duty and Safeguard Duty.
[8] The Indian government also withdrew the BCD exemption on LCD, LED and OLED panels for TV manufacturing and instead imposed a BCD at 7.5%.
[9] In the wake of India applying import duty to smartphones and related products, many WTO members responded by saying that it was not right to levy duty on ITA products. India could be challenged at the WTO by ITA participants, including those in Southeast Asia where smartphone component makers play a pivotal role in the global supply chain by exporting their products to final assembly hubs like China and Vietnam.
[10] India adopts a four-tier GST rates system, with most of the goods and services attracting rates at 5%, 12%, 18% and 28%. The IGST Act (2017) states that the integrated tax on goods imported into India shall be levied and collected in accordance with the provisions of the Customs Tariff Act (1975) on the value as determined under the said Act, while customs duties are levied under the Customs Act (1962). The IGST on goods is levied in addition to the applicable BCD as per the Customs Tariff Act.
[11] Before GST was introduced, VAT was levied on purchases of mobile phone with VAT rates varying between the states. Under GST, the IGST rate on mobile phones is standardized at 12% across India. The revenue is equally divided between the state in which the phone is bought (SGST) and the centre (CGST).
[12] The ESDM sector comprises electronics products, electronics components, semiconductor design and electronics manufacturing services.
Electronics & Electrical Appliances
India
Other Asian Countries