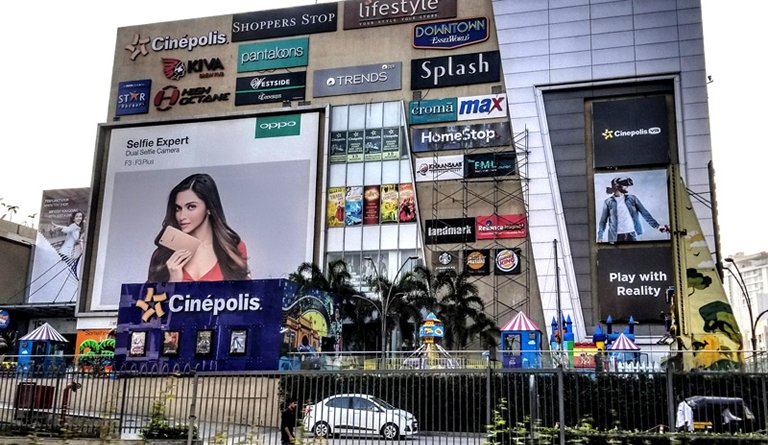 https://hkmb.hktdc.com/en/1X0ADOOC
Make in India: Phased Manufacturing Programme Fuels Demand for Electronic Parts (1)
In the last two years, the value of Hong Kong's imports to India has risen by more than a third, making India Hong Kong's third largest export market. It has also become the fourth most important destination for electronics and electrical goods (E&E) from Hong Kong, after the Chinese mainland, the US and Japan.
At the same time, however, Narendra Modi's Indian government – which came to power in 2014 – has adopted many policies designed to build up the country's economy and its manufacturing sector. Among these is Make in India, which aims at improving India's status as a global design and manufacturing hub, particularly in E&E products. This has been coupled with the implementation of focused measures to try to address the deficiencies in the Indian electronics ecosystem, and initiatives aimed at attracting FDI and boosting domestic manufacturing capability. This article examines these policy changes and market developments in India and their implications for Hong Kong.
Hong Kong's E&E sector is the city's most important export-earning sector, accounting for more than 60% of total exports in 2017. The Chinese mainland is the most important market for Hong Kong's E&E exports, which consist chiefly of parts, components and related inputs. Typically, finished goods produced on the mainland are either exported directly or re-exported via Hong Kong, which has the busiest airport for efficiently handing time sensitive merchandise including E&E products.
India's position as the third largest export market for Hong Kong's products is not as well recognised as it might be. In terms of the value of imports bought from Hong Kong, the country overtook Japan in 2017 and only trailed the Chinese mainland and the US. The 35.9% growth in that value in 2017 was the highest of all Hong Kong's top 10 export markets, as was the average annual growth of 25% between 2015-17.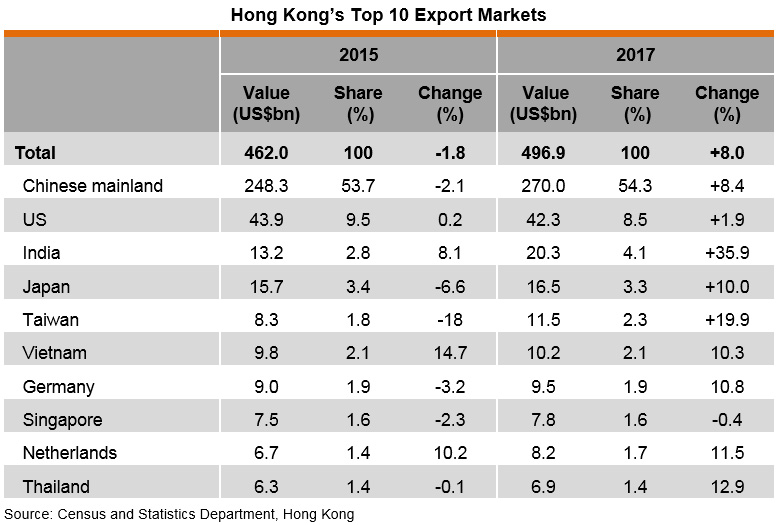 Increasing Trade in Electronics Products between Hong Kong and India
As one of the world's major developing economies, India's economic performance has been stellar in recent years. Its GDP growth topped 7% in 2017, eclipsing that of China, and it is projected to keep on growing at a similar rate into the early 2020s. India's consumption boom has fueled demand for E&E products from Hong Kong, with the country becoming Hong Kong's fourth largest export market for E&E products in 2017. The year-on-year (YOY) growth of 21% in India's consumption of Hong Kong's E&E exports in 2017 outstripped that of all Hong Kong's major markets except Vietnam.
However, with Hong Kong's total exports to India surging by 36% in 2017 (more than triple the rise in total exports to Vietnam), it seems that Hong Kong's E&E exports to India are actually growing at a much slower pace than that of overall exports to the country. This will be examined in closer detail later in this article.
The growing importance of India to Hong Kong can be seen by comparing it to Vietnam. India is double the size as an export market for Hong Kong, even though Vietnam has become Hong Kong's largest export market among the 10-ASEAN countries. Vietnam, the third most populous country in ASEAN, has a population about 7% the size of India's.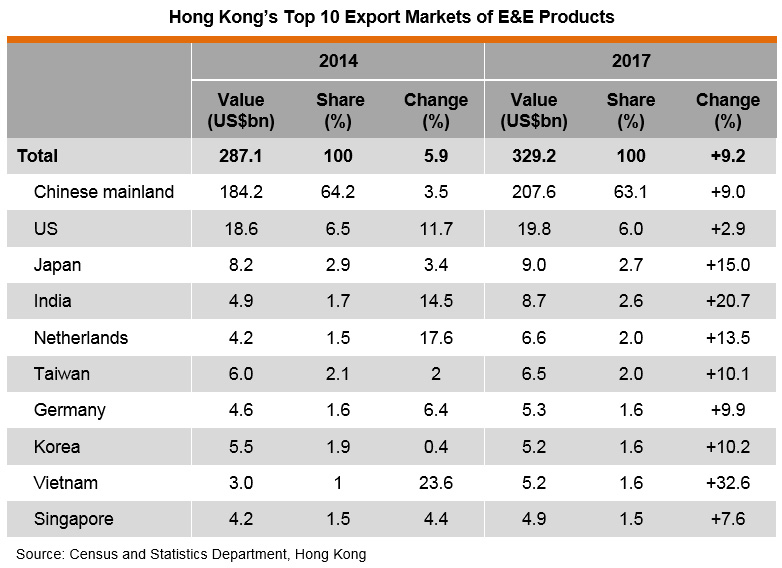 The strong YOY growth of E&E exports to India in 2017 (which mirrors the 21% average annual growth in the period 2014-2017) may have obscured some significant changes in the composition of those exports. The table below shows which categories of products made up the biggest part of E&E exports to India in 2014 and in 2017.
Telecommunication devices (including parts) represented nearly 80% of total E&E exports to India in 2014, but three years later that figure had fallen to just over 70%. YOY growth decelerated rapidly from 25% in 2014 to 13% in 2017. Meanwhile, exports of parts and accessories of computers and office machines saw a six-fold increase in its share of E&E exports over the period, with an astonishing average annual growth rate of 123%. In contrast, exports of computers, the second most important product category in 2014, slipped to a 3.5% share in 2017 and suffered a 21% fall in its YOY growth rate.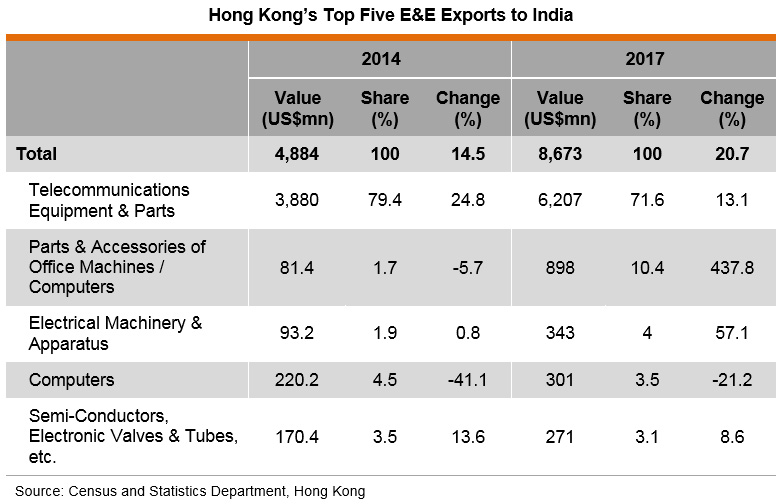 The table below offers an insight into what lies behind these changes. As recently as 2014, more than 80% of Hong Kong's E&E exports consisted of finished goods; by 2017, that had fallen to 40%, with a YOY decline of 15% in 2017. Although Hong Kong's total E&E exports to India almost doubled in the period 2014-2017, exports of finished goods grew by an average annual growth of just 21%. In comparison, exports of parts and components rose by an annual average of 75% between 2014-2017.

In addition, Hong Kong's exports to India of telecommunication parts and components, chiefly used in the assembly of mobile phones (both smartphones and feature phones), showed YOY growth in 2017 of 60% and an average annual growth of 111% over the three-year period. The increase in exports of parts and accessories used in or required by computers and office machines was even more impressive, exhibiting a YOY growth of 438% in 2017 and an average annual growth of 122% between 2014 and 2017.
This shows that Indian demand for E&E goods has rapidly shifted from finished goods to parts and components over the past few years. This has a lot to do with changes in Indian economic and industrial policy, with the Modi government determined to strengthen the country's electronics manufacturing clusters, cut imports of finished goods, promote value-added electronic exports, and reduce the country's persistent deficit in electronics trade.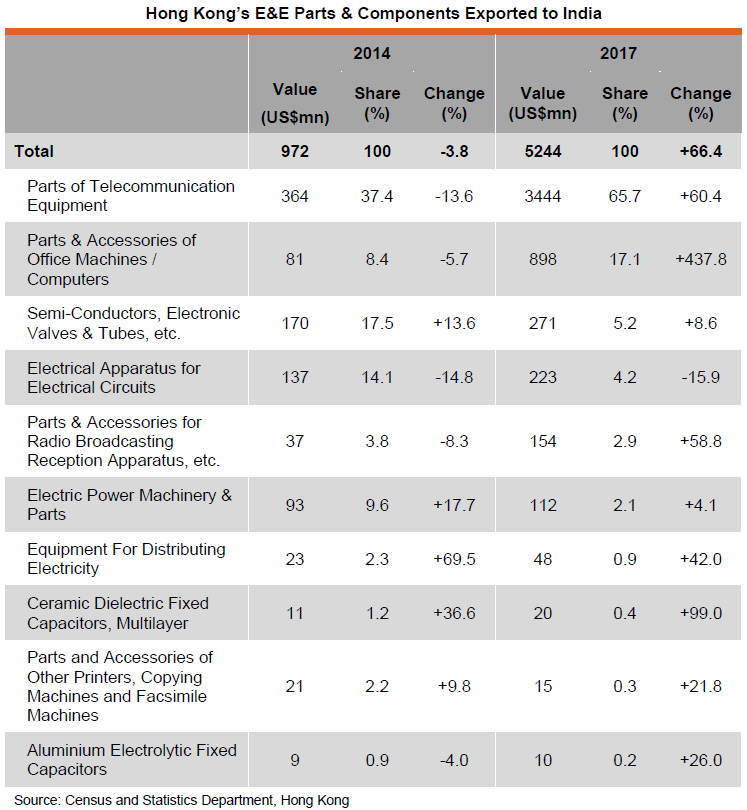 The 13% YOY growth in the export of telecommunication products (primarily phones) to India in 2017 was entirely due to a 60% increase in exports of telecommunication parts and components. This more than offset the 28% decline in exports of phone sets in the same year. The first YOY decline in phone exports to India was in 2016, and that decline continued into 2017. Between 2014 and 2017, exports of phone sets to India – as a share of all E&E finished goods exported to the country – shrank from 72% to just 49%. Hong Kong E&E companies should note that exports of phone sets are likely to keep on falling, as India has been able to strengthen its domestic manufacturing capability successfully over the past three years.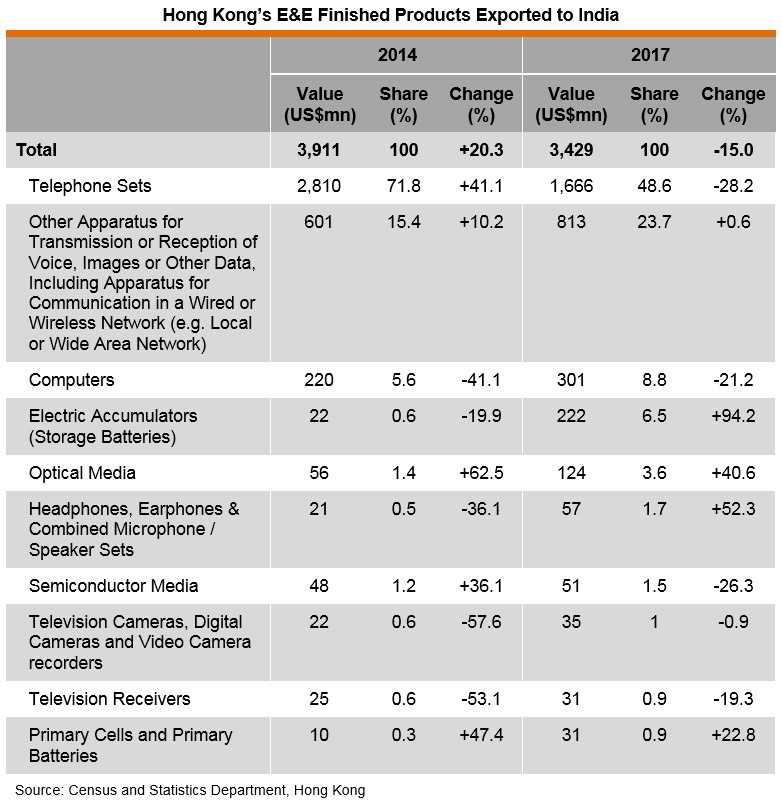 India's Electronics Clusters
India's population is currently similar in size to China's, but contains proportionately more young people. The median age of India's population is expected to stay below 30 by 2025, by which time India will have eclipsed China to become the world's most populous country. In comparison, China's median age is expected to surpass 40 by 2025. As a result, the gap between the two countries in the number of people aged between 18 and 35 in their populations is likely to widen in India's favour. People in that age bracket, particularly those from a middle-income background, are more inclined to purchase lifestyle products such as electronic gadgets, especially smartphones.
However, India's per capita income of less than US$2,000 is less than one-quarter of China's current level (more than US$8,500 in 2017, according to figures from the International Monetary Fund). This suggests that Indian consumers may not be able to afford the pricier, imported international brands with top-of-the-range features and functionalities. This constraint on Indian consumer spending has helped to create and sustain a rapidly growing market in India for regional and international brands selling less costly models produced locally.
To cater for the huge demand for telecommunication devices, the Modi government is determined to build up the electronics manufacturing clusters in India. Much hyped strategies like Make in India and Digital India have been adopted, along with many initiatives to attract investment and FDI. While Make in India encompasses many industry sectors, a high priority has been given to the E&E sector. This is because electronic products are one of India's biggest imports. Demand for electronics and communication products in India is expected to reach about US$400 billion by 2020. More than half of that demand is currently met through imports, and the market for E&E components is even more import-dependent than that for finished E&E goods.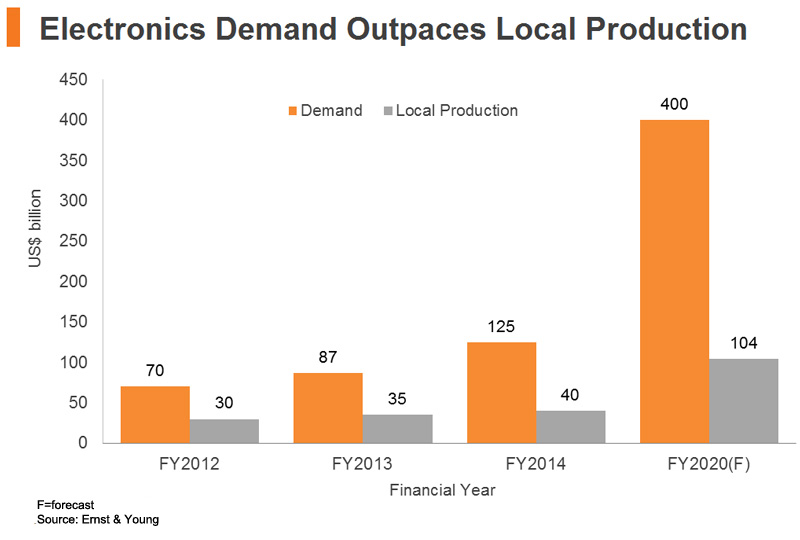 To address this structural imbalance, India has embarked on a national strategy which aims to create a globally competitive Electronic Systems Design & Manufacturing (ESDM)[1] sector. The plan is to improve the country's electronics supply chains, build competency, grow manufacturing capability and promote exports, while attracting billions of dollars of FDI and creating millions of jobs. Alongside this national strategy, state governments are trying to develop their own electronics clusters. Additional information on the ecosystem of India's electronics sector, government policies and initiatives can be found in the article: Make in India: Production Relocation and Market Opportunities for Hong Kong Electronics Companies.
The Make in India initiative is an unprecedented attempt by the Modi government to revive the country's E&E sector, which is currently characterised by numerous small-to-midsize enterprises (SMEs). India has always been considered a latecomer in developing its electronics sector, which in its current state hardly fits with the Modi government's vision of India as a globally competitive exporter, like China, Thailand or Vietnam. For many years, India has had to import a large amount of finished E&E goods, particularly telecommunication and information technology (IT) products, to meet the almost insatiable local demand. According to India's official statistics, imports of electronic and communication items reached about US$42 billion in the fiscal year 2016-17, of which more than half came from China. For certain E&E parts, India's import dependence on China is reckoned to be as high as 70-80%.
Based on Hong Kong trade statistics, the Chinese mainland is the biggest source of E&E products re-exported from the city to India, followed by Thailand, Taiwan, Vietnam and Malaysia. Finished goods accounted for less than 40% of total E&E re-exports to India in 2017, less than half of the size of that share back in 2014.
It is worth noting that Thailand became a far more important source of finished E&E goods re-exported from Hong Kong between 2014 and 2017, with its share of the total growing from less than 1% to almost 6%. At the same time, the Chinese mainland increased its dominance as a source of E&E parts and components re-exported to India, with its share of the total increasing from 86% to 95%. Meanwhile, Taiwan's share of that market slipped from 3% to slightly more than 1% during the same period.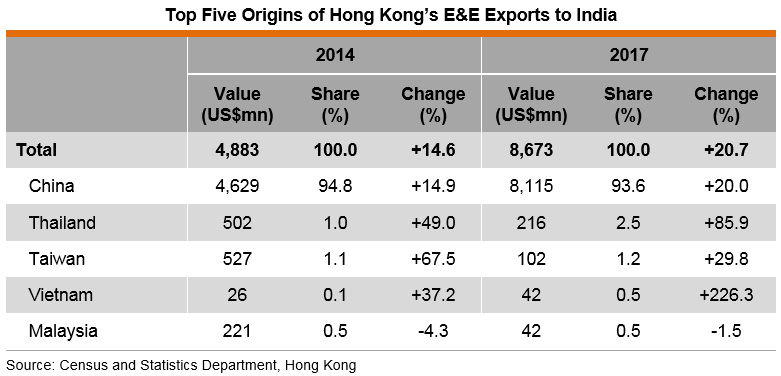 The second part of this article, which analyses the industrial and customs strategies of the Indian government, including its aim of bringing its net electronics imports down to zero by 2020, can be found here.
---
[1] The ESDM sector comprises electronics products, electronics components, semiconductor design and electronics manufacturing services.
Electronics & Electrical Appliances
India
Other Asian Countries