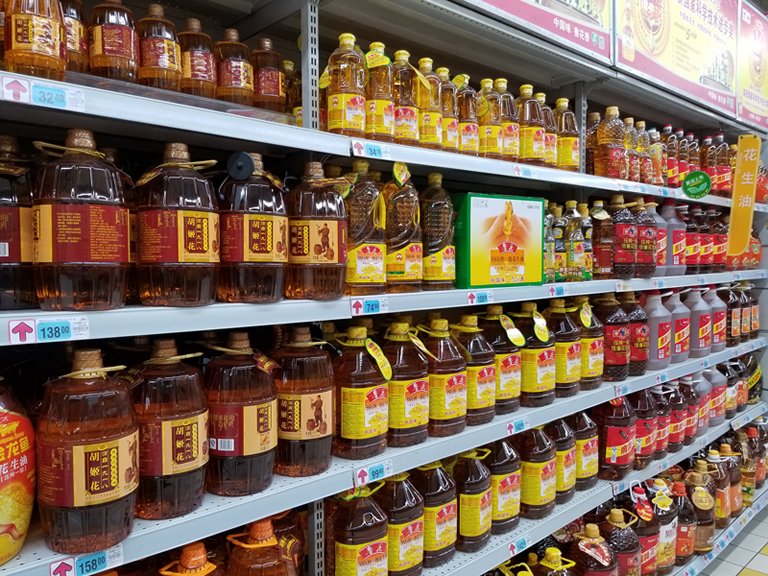 https://hkmb.hktdc.com/en/1X0ADOND
China's Packaged Food Market: Consumer Grain, Oil and Dried Product Preferences
Mainland consumers are becoming increasingly keen on sampling diversified foods. They like to try different brands and products in order to benefit from a wide range of nutrition. This trend is particularly clear in consumers' purchases of rice and edible oil. A recent survey on the mainland packaged food market conducted by HKTDC Research [1] found that the average respondent bought 2.82 types of rice and 3.95 types of oil. The number of people buying multigrain rice is also rising.
The main factors consumers take into consideration when buying grains, oils and dried foods are the quality of the brand and word-of-mouth recommendations, the raw materials used in production, the texture and taste, and whether the item is organic, natural and/or additive-free. 70% of the respondents tend to buy small to medium-sized packs of rice and oil products.
Preference for Buying a Wide Variety of Rice
It was clear from the discussions held among the survey's focus groups that consumers increasingly like to eat a diverse range of food. They believe that this is good for their health. This trend is particularly obvious in their purchase of rice, with respondents buying on average 2.82 different types.
Most of the participants in the focus groups said they try different brands of rice because they think that by so doing they can achieve a more balanced diet. A large number, too, are in the habit of eating multigrain rice. When preparing this rice, apart from mixing different grains, they also add in black rice, corn, red beans, soybeans, black beans, sweet potatoes, oats, red dates or dried longan to suit their personal taste.
Among the different types of rice, rice from north-east China is the most popular thanks to its firm texture and years of effective advertising. 86% of respondents had purchased this type of rice in the six months prior to the survey. Many respondents said they prefer rise grown locally to them, saying that it suits the local palate better. They added that they would only buy such rice in the harvest season so that they can taste "fresh rice".
Sales of imported rice have also risen. Thai rice is the most widely purchased import (50% of respondents said they had purchased Thai rice in the last six months), but rice from Cambodia and Vietnam, which has become widely available in supermarkets and online shops in recent years, has also become more popular among middle-class consumers. High-income earners are the group most likely to buy rice imported from Thailand, Japan and Vietnam; while female respondents purchase packaged multigrain rice more than their male counterparts.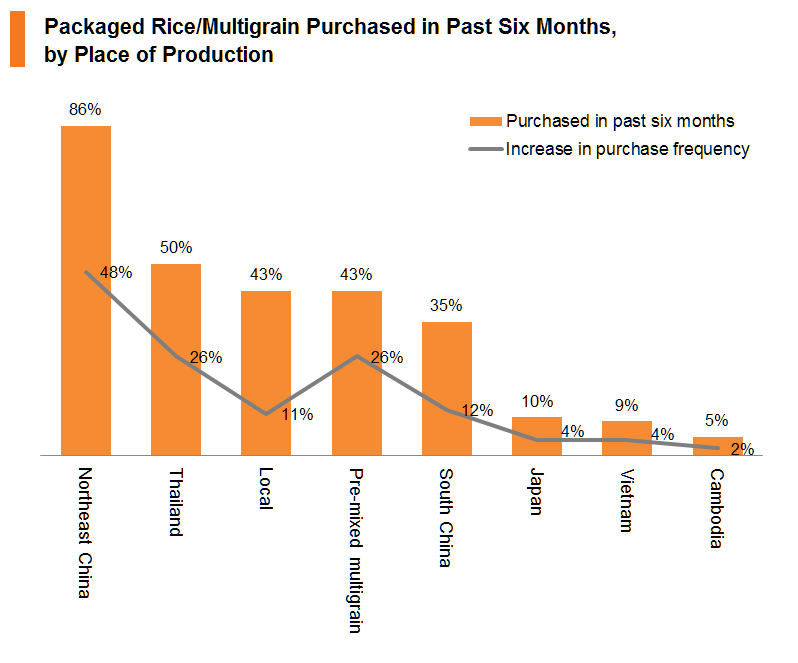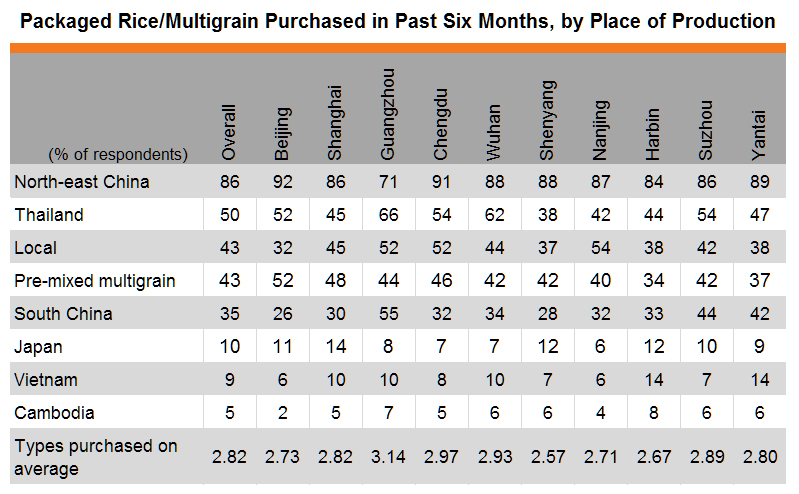 Edible Oil Consumption
From the discussions in the focus groups, it became clear that as people's quality of life has risen, they have started to consume more types of edible oil at home. Consumers use different types of oil to prepare different foods. The most commonly used are peanut oil (for daily cooking), vegetable oil (for deep-frying food because its price is relatively low) and olive oil (mainly for cold dishes). Although olive oil is more expensive, many of the focus group participants said they regarded it as indispensable in their home.
The findings from the survey's questionnaire confirmed this trend. They showed that, in the preceding six months, respondents had on average bought 3.95 types of edible oil. The increase in purchase frequency of olive oil, compared with two to three years ago, is faster than that of other oils. High-income earners are more likely to purchase higher-priced olive oil, camellia oil, walnut oil and grapeseed oil, while middle-income earners are more likely to buy soybean oil.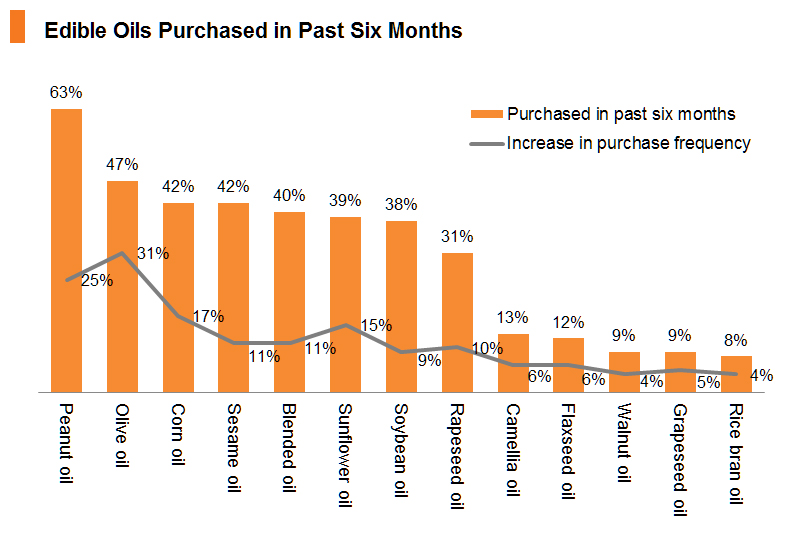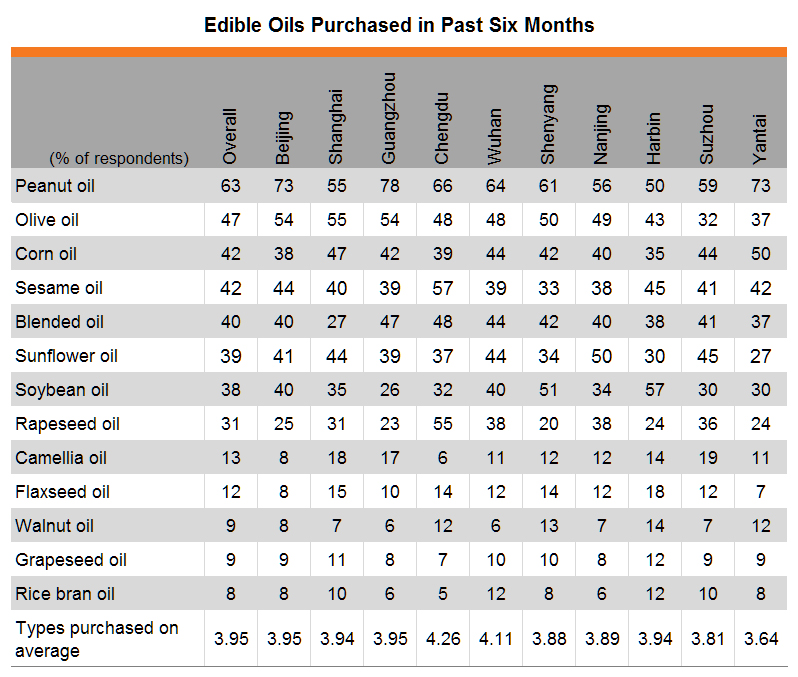 Rising Popularity of International Flavour Noodles
The survey found that in the preceding six months respondents bought on average 1.78 types of noodles. 50% of them had purchased spaghetti or macaroni, a big increase from the 16% in the 2013 survey who had done so. There was also a sharp increase in the number who had purchased Japanese ramen or udon, from 11% in 2013 to 37% this time.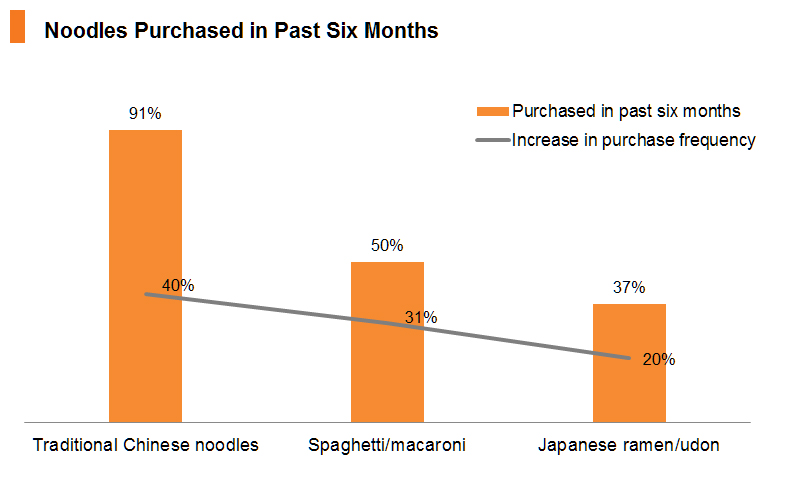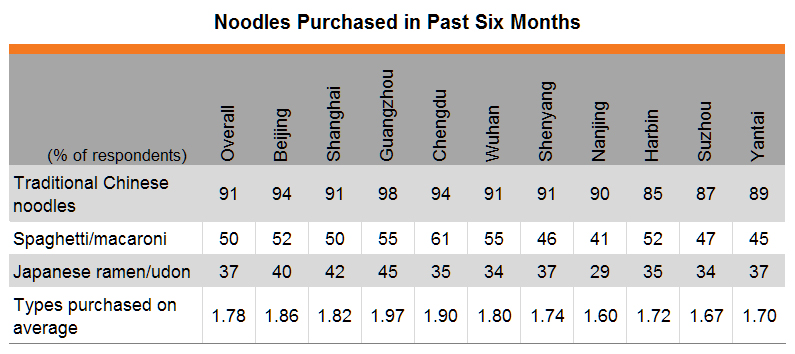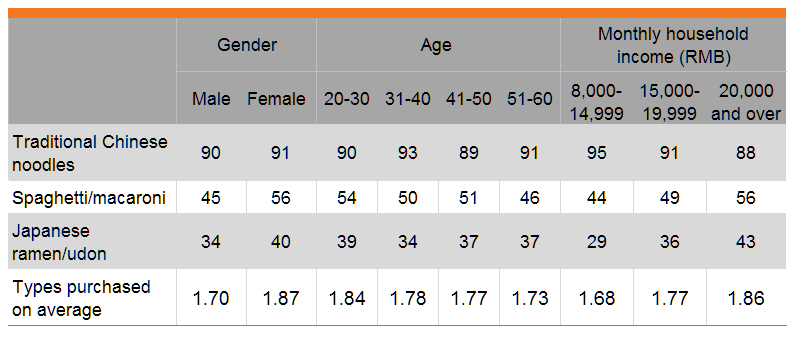 Considerations in Buying Grains and Oils
The survey found that when purchasing grains, oils and dried foods, the considerations that consumers gave the most weight to were the quality/reputation of the brand and word-of-mouth recommendations, the raw materials used in their production, the texture and flavour, and whether the products are organic/natural/additive-free. Compared to the findings of the 2013 survey, however, the relative importance attached to texture and flavour and to price has dropped, while the emphasis placed on quality certification and packaging design has increased.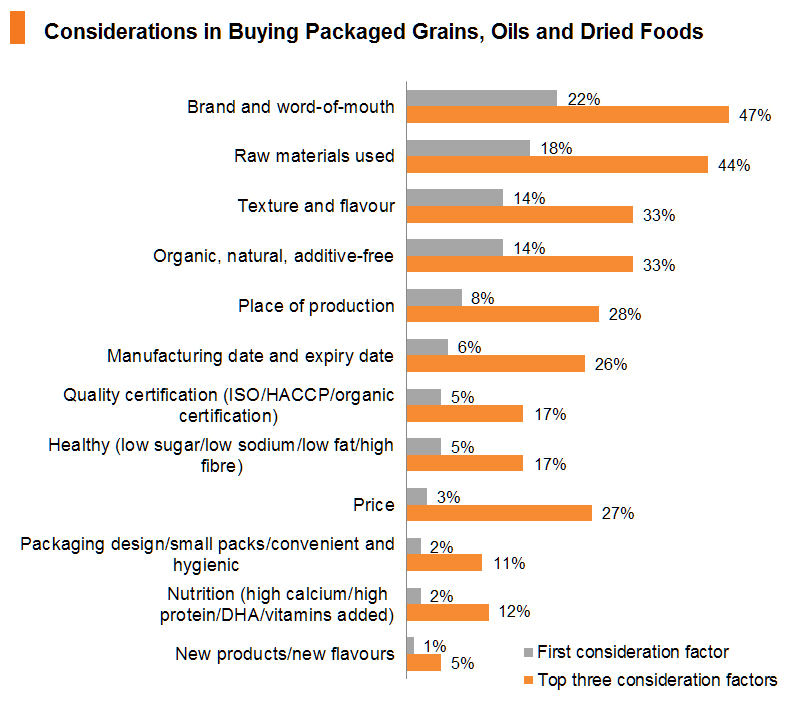 Small to Medium-Sized Packs Gain Popularity
Large packs used to be favoured by consumers because they provide value for money. But one of the changes in the packaged food market in the last few years has been the rise in popularity of small packs and individual packs. 81% of respondents in the survey agreed with the statement "Instead of bulk purchase with good value for money, I prefer buying products in smaller or individual packaging because they look more attractive and hygienic".
This trend is particularly marked in the purchasing of grain and oil. 70% of respondents said that when they buy grain and oil products for daily consumption, they tend to buy small to medium packs, such as vacuum-packed rice weighing 5-10kg and oil in 0.5-1.8 litre bottles. This trend is strongest in first-tier cities. At the focus group discussions, only a few respondents said that they still bought large bags of rice, while hardly any admitted to buying rice in bulk.

Appendix
Survey Background
Thanks to rapid urbanisation and rising incomes, China's packaged food market has grown steadily over recent years. Today, mainland consumers place more emphasis on "food safety" and "healthy diet". A more westernised lifestyle also has an impact on packaged food market development, offering opportunities for Hong Kong and international brands keen to enter or further expand into the mainland market.
The economic and social environment on the mainland has undergone significant change over recent years. To provide a useful reference for Hong Kong companies interested in venturing into the mainland market, HKTDC Research conducted a consumer survey in October 2017 to gauge the changes in consumer preferences, spending mentality and trends of the mainland packaged food market. This updates the findings of a similar study commissioned in 2013.
Packaged foods consist of numerous varieties. The survey covers five major categories, namely dairy products, seasoning products and sauces, snacks, grains, oils and dried products, and convenience food (including chilled and frozen food).
Methodology
The survey was carried out during October 2017 in 10 major mainland cities. A total of 2,400 consumers were polled by online questionnaire. Before conducting the questionnaire survey, six consumer focus group discussions were held in Shanghai, Wuhan and Chengdu (two in each city). The objective of the focus group discussions was to further understand mainland consumers' spending mentality by way of qualitative analysis.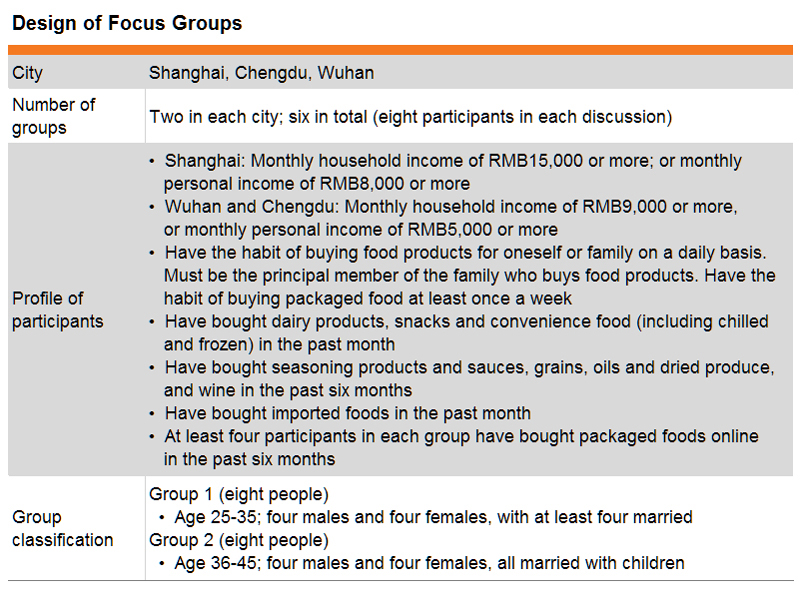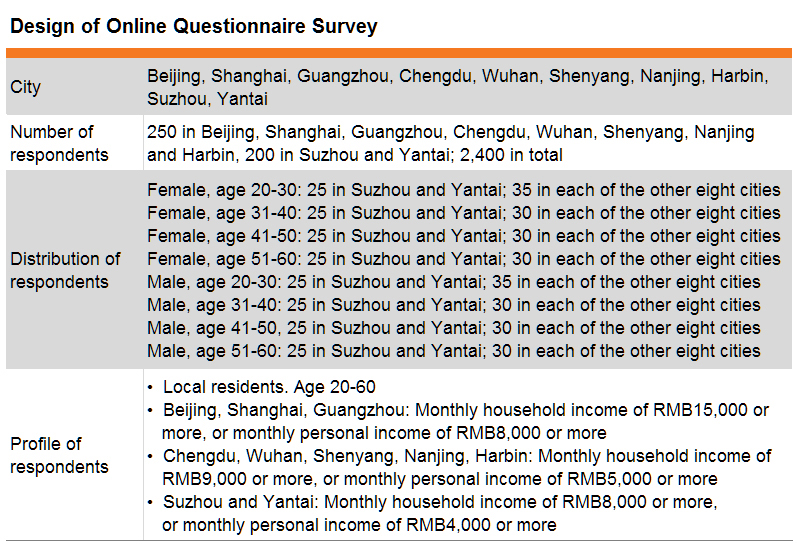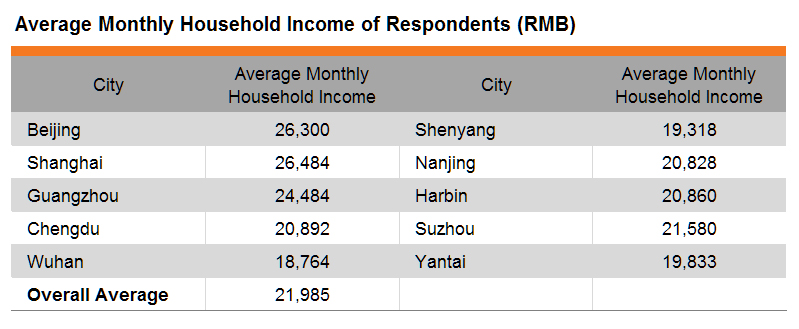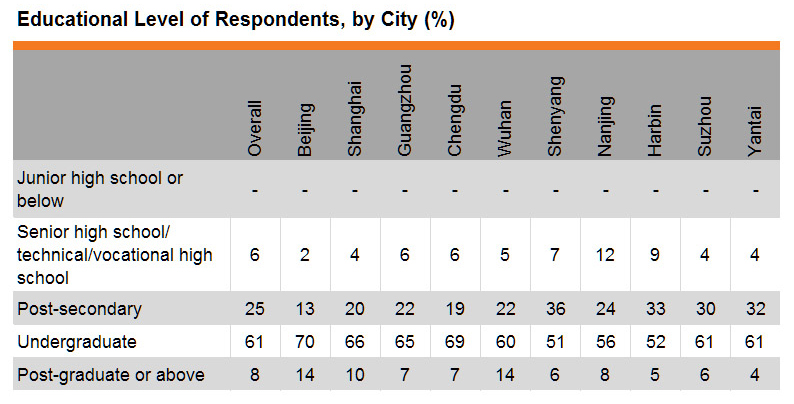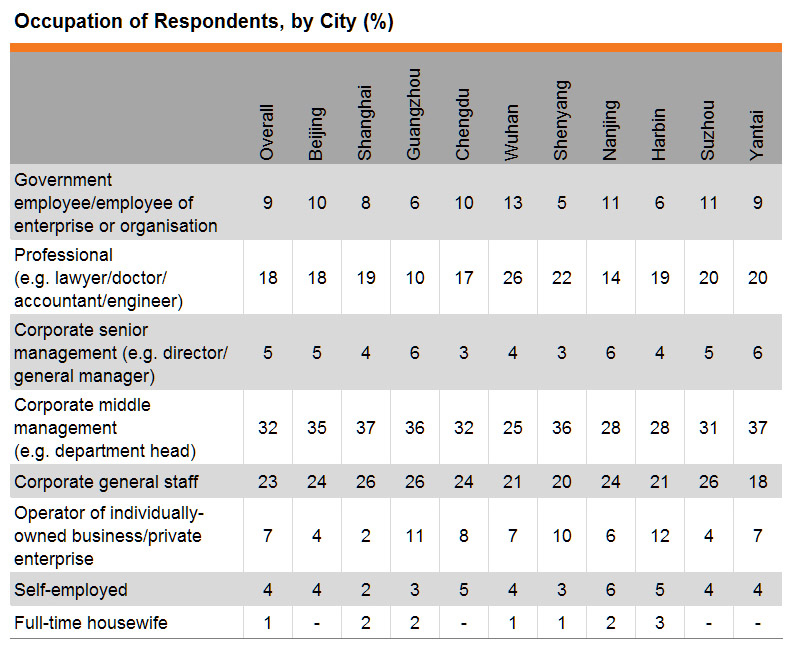 ---
[1] See Appendix for details of the survey. See China's Packaged Food Market: Major Consumer Trends, China's Packaged Food Market: Defining Characteristics (Part 1) and China's Packaged Food Market: Defining Characteristics (Part 2) for details of major consumer trends and characteristics of the market.
Mainland China
Mainland China