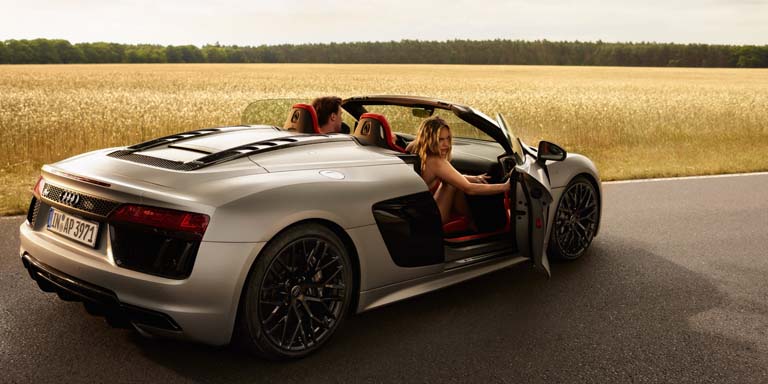 https://hkmb.hktdc.com/en/1X0ADMBV
Owning the Experience
Luxury German carmaker Audi is tapping into Hong Kong's sharing economy and the city's social sensibilities with its premium mobility services.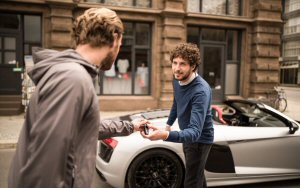 Launched in 2016 and 2017 respectively, the German brand's two car-sharing services – Audi at home and Audi on demand – enable car enthusiasts to live greener by enjoying a driving experience only when they choose to, without having to own the vehicle.

Audi AG has been doing business in Hong Kong since 1996, moving from a distributorship arrangement initially, to establishing a national sales office in 2013. Audi Hong Kong is responsible for the import business of Audi automobiles in Hong Kong and Macau, including brand public relations and marketing communications.

When Audi at home debuted in Asia in 2016, Hong Kong was the first market in the region. It began by offering residents of high-end residential building, Dragons Range in Sha Tin, access to a fleet of prestige vehicles via an hourly, daily or longer rental, and later extended the service to other selected real estate projects.

The latest initiative – Audi on demand – upgraded the service by bringing it to a wider audience. A mobile phone app enables eligible drivers instant booking of a range of luxury Audi vehicles, including a compact city car, seven-seater SUV, an open-top roadster, and high-performance models. Unlimited fuel and mileage, cleaning, insurance and roadside assist is included in the rental.
Smart City Solution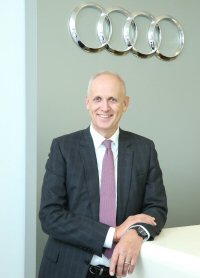 The brand sees Hong Kong as the "perfect location" for smart urban solutions.

"Audi is keen to make urban mobility smarter and easier for the residents of Hong Kong," said Lothar Korn, Managing Director of Audi Hong Kong. "The programme recognises the rising desire for automobiles in a city that depends less on permanent car ownership and more on temporary vehicle use."

Hong Kong people are also more willing to embrace change, to innovate and to use new technologies, he continued. "We are offering a solution to customers that have a limited number of parking spaces to house multiple vehicles. Now, Hong Kong drivers can have access to the Audi premium fleet at their fingertips."

Car owners are able to drive more than 10 vehicle types without having to invest in additional cars and parking space, Mr Korn said. "Non-car owners who don't need a car to commute on regular days may experience the fun and freedom driving in premium models for outings or special occasions."

Rental periods range from a minimum of an hour to a maximum of 28 days, with the company seeing different demands for different models.

"For example, the open-top TT Roadster proves to be a popular choice for short bookings; the S4 Avant and the R8 Spyder are the most sought-after models for daily bookings; and the RS has recorded the highest number of hours on the road so far with a monthly booking," Mr Korn said.

"We find the distribution to be quite even across different booking length. This result reflects that our programme is catering to various driving needs in the city, and we are very happy about it."
Working with Partners
At the moment, customers pick up and return the cars at designated locations. However, Mr Korn said the company is seeking to work with various partners in the city to offer more choices. For instance, an exclusive chauffeur service is now available for Black-tier members of premium shopping mall Pacific Place in Admiralty.

The service also widens consumer access to the Audi brand.

"The service was not set up to be a sales tool, so there will be no hard-selling along any of the processes," Mr Korn said. "However, we do receive sales-related inquiries from Audi on demand members after their hands-on experience of our cars."

He believes the premium on-demand service is successful in Hong Kong – "one the most innovative and fastest moving cities in the world" – because people here adapt to new ideas and trends quickly. The city's robust IT infrastructure is also conducive to Audi on demand's mobile platform.

"Our service runs on a responsive WebApp interface, so any devices with a web browser will be able to have seamless access to our booking platform," Mr Korn said. "In Hong Kong, almost everyone has access to the Internet via their smartphones, which greatly augments the convenience provided by our platform. In fact, over 76 per cent of our traffic comes from mobile devices."

With Hong Kong's mobility rates now reaching "staggering" levels, Audi is seeing huge opportunities in smarter urban solutions and mobility programmes, Mr Korn added. "Coupled with changing consumer behaviour, this is considerably impacting the mobility industry and service mentality in our city."
Related Link
Audi
Germany
Hong Kong
Western Europe