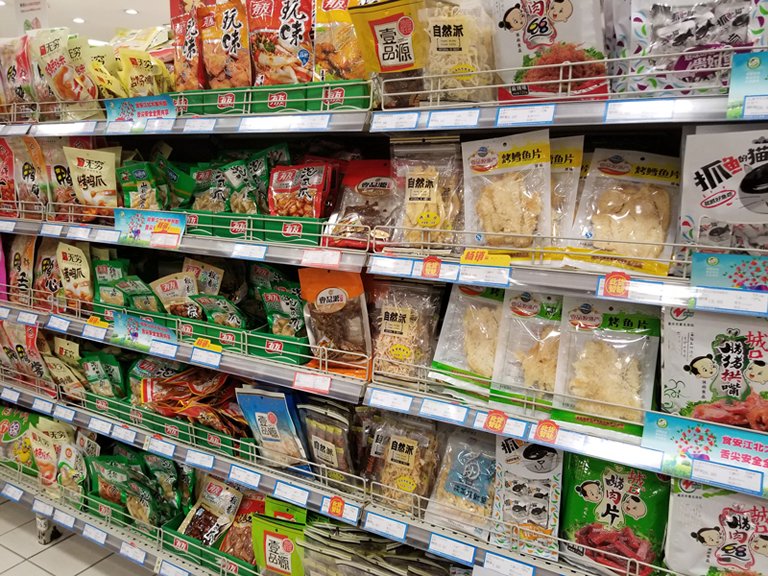 https://hkmb.hktdc.com/en/1X0ADEKA
China's Packaged Food Market: Defining Characteristics (Part 1)
The recent HKTDC Research survey on the mainland packaged food market [1] has identified nine major characteristics. This first part of a two-part analysis looks at five of them. Firstly, mainland consumers' brand loyalty is showing signs of decline as they are in constant pursuit of better alternatives. Secondly, mainland consumers' preferences are moving towards "global flavours" with a growing appetite for new products – 79% of respondents agreed that they like to try packaged foods of different types, flavours and brands. Thirdly, consumers are increasingly happy to pay a price premium for better product quality. Fourthly, consumers are attaching more importance to product certification information. And fifthly, as consumers' expectations on product quality rise, they are paying more attention to detailed product information.
1. Brand Loyalty Declining
In the past, mainland consumers were proud of their spending on prestigious import brands and major domestic brands. But the introduction of new technology and the more selective use of raw materials by domestic enterprises have meant that the product quality of domestic brands has improved significantly, and many innovative products have proved successful. For this reason, as is reflected in the focus group discussions carried out for the survey, the brand loyalty of consumers is beginning to sway. Consumers now pursue better products among different brands and collections based on the brand elements they like.
When it comes to food products, consumers have also become increasingly aware of the desirability of diversity in terms of brand and product range so they can get a wider mix of nutrition. With a greater range of packaged food products available in the market, consumers are becoming choosier about brands, taking various factors such as promotional offers, manufacturing date, organic elements, raw material ingredients and new packaging designs into consideration when making their purchases.
The survey found that 80% of respondents shared the view that "I like to try different packaged foods to get a wide range of nutrition". 37% agreed that "my loyalty to some food brands that I always purchased in the past has dropped somewhat". The brand loyalty of respondents in the older age groups has dropped more significantly than that of younger respondents, and the food brand loyalty of consumers in Harbin, Wuhan, Shenyang, Suzhou and Yantai has slipped substantially more than that of consumers in other cities.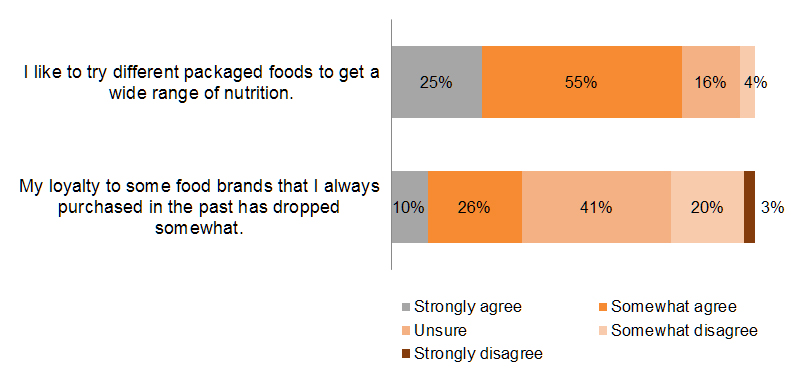 2. Growing Appetite for New Products
Some mainland consumers are known to enjoy bragging about their loyalty to a certain brand or their choice of a certain product line so as to stand out as people of discerning taste. Yet at the focus group discussions, it was found that respondents are now showing a greater appetite for new products. Close to 40% of the respondents agreed that their loyalty to food brands has dropped. From the focus group discussions, it was found that this change can be attributed to the endless stream of new products being launched onto the market and the effect of advertising and promotional activities. Consumers these days, it seems, seek to impress others by being open to diverse experiences rather than just by displaying their "discerning" taste.
In the survey, 79% of respondents shared the view that "I like to try different packaged foods to keep up with the trend and broaden my experiences for sharing", and 77% agreed that "advertising and promotion activities for new product launch always make me want to try it". The higher the income, the keener they seemed to be to keep up with trend and broaden their experiences for sharing through new products. Female respondents were more inclined than the males to purchase new products when prompted by advertising and promotion activities, and that was also true of younger respondents compared to those from older age groups. Female and younger respondents are also more driven by the motive to keep up with trend and broaden their experiences for sharing.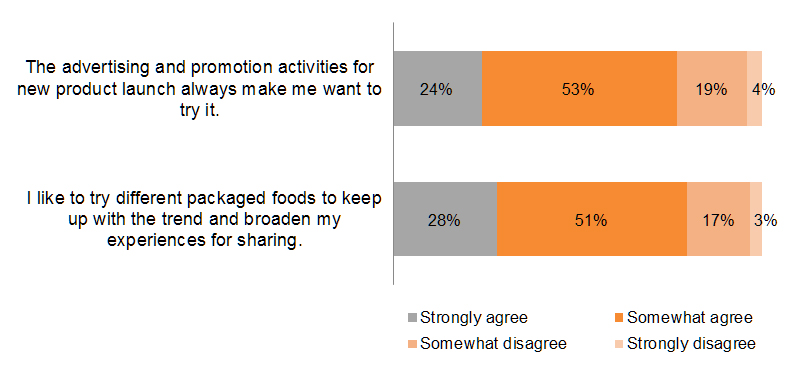 The channels that are most effective at attracting consumers to try packaged foods of new brands appear to be the recommendations of one's acquaintances, in-store promotions and food fairs.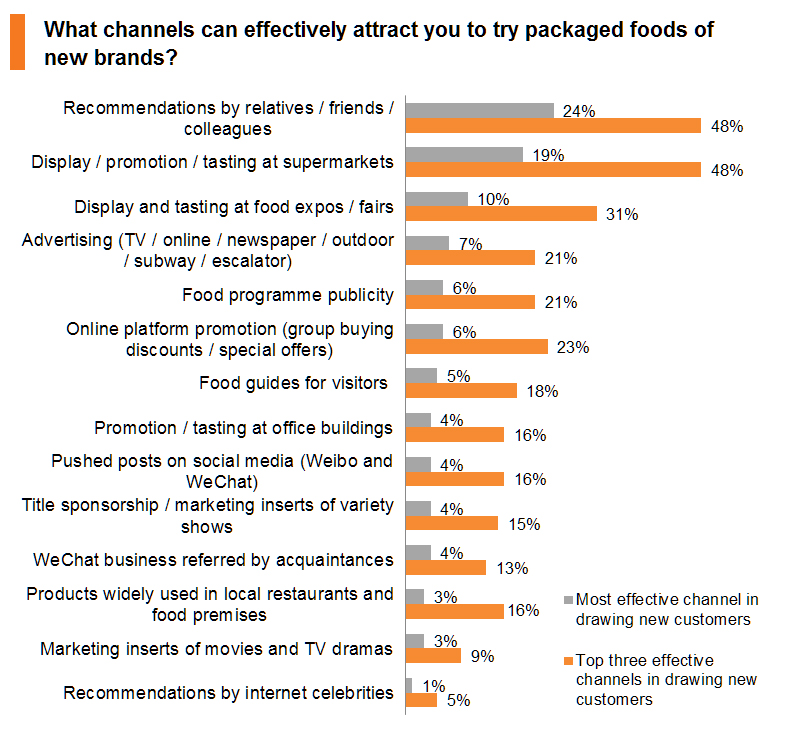 3. Readiness to Pay a Price Premium for Better Product Quality
In recent years, it has become a clear trend among mainland middle-class consumers to look for better product quality. The focus group discussions found that these middle-class consumers are more willing to spend money on packaged food products. Even for some food products that they consume on a daily basis, consumers are now more prepared to pay a higher price if the products meet their aspirations for "trendier" and "healthier" purchases.
Organic, eco-friendly, natural and additive-free packaged food products made of high-quality raw materials and ingredients that are nutritious and healthy have become very popular with consumers. They regard these products as symbols of high quality and are willing to pay a price premium for them. The association consumers made between word-of-mouth brand reputation and high quality has declined substantially, which indirectly reflects the fact that consumers' pursuit of better products has reduced brand loyalty.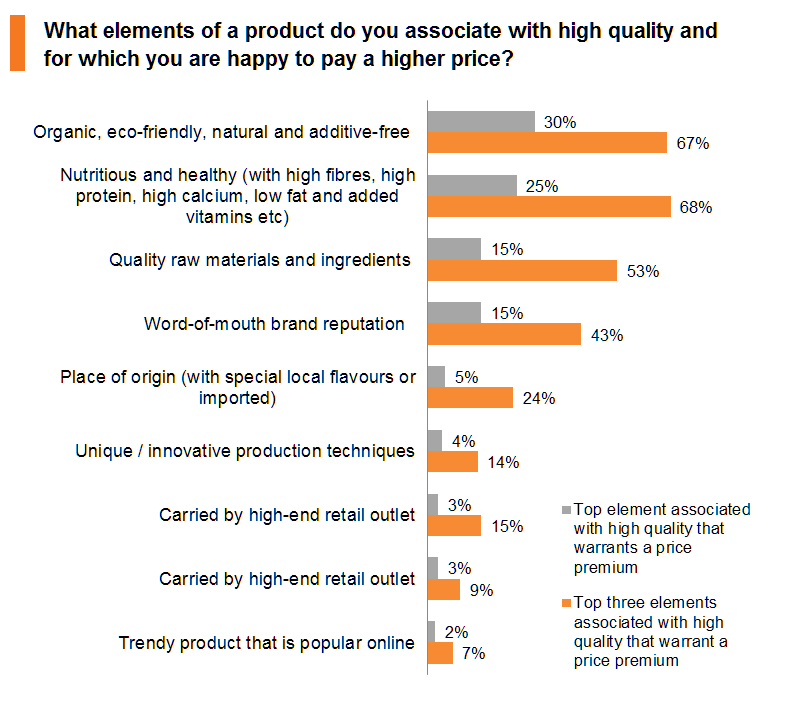 4. Growing Importance of Certification
Along with their growing appetite for new products and their rising expectations regarding product quality, consumers are attaching greater importance to certification. The focus group discussions made it clear that, in the past, food certification was not very important to consumers because they were inclined to spend their money on leading brands and were conservative when it came to trying new brands. In the words of some respondents: "Big brand-name itself was a kind of certification."
Today, many new products try to differentiate themselves through "innovative technology", "innovative raw materials" and "innovative flavours". But because these features do not in themselves provide consumers with any assurance of quality, the availability of reliable certification has become very useful. The certification for imported food provided by the European Union (EU) and US Food and Drug Administration (FDA), along with other certifications for organic food and eco-friendly food, has become the most reassuring factor for consumers looking to try a new brand. In the survey, 87% of respondents said they would be happier trying new brands with certification.



5. Greater Attention to Detailed Product Information
When consumers first started to upgrade their spending, they usually tended to buy brand name products, particularly those of major international brands, because they did not feel that they had the right knowledge to properly evaluate product quality. They placed their trust and expectations in major brand names. Now, however, domestic mainland brands have come of age, new products are rapidly emerging, massive advertising has been used to increase awareness, and frontline face-to-face marketing has been strengthened. All these have effectively enhanced consumers' product knowledge, equipping them with the ability to assess products through the detailed information provided on the packaging.
Businesses should take note that consumers are now much better informed than before. Consumers no longer choose a product simply by brand reputation. Instead, they pay attention to the packaging design of a product and carefully read the information and details contained on it, comparing it against similar products. 86% of respondents in the survey agreed with the statement that "I pay more attention to the detailed information in the packaging than before so as to make a better informed comparison among different products". Respondents in the older age groups are more inclined to pay attention to the detailed information in the packaging than other age groups.



Appendix
Survey Background
Thanks to rapid urbanisation and rising incomes, China's packaged food market has grown steadily over recent years. Today, mainland consumers place more emphasis on "food safety" and "healthy diet". A more westernised lifestyle also has an impact on packaged food market development, offering opportunities for Hong Kong and international brands keen to enter or further expand into the mainland market.
The economic and social environment on the mainland has undergone significant change over recent years. To provide a useful reference for Hong Kong companies interested in venturing into the mainland market, HKTDC Research conducted a consumer survey in October 2017 to gauge the changes in consumer preferences, spending mentality and trends of the mainland packaged food market. This updates the findings of a similar study commissioned in 2013.
Packaged foods consist of numerous varieties. The survey covers five major categories, namely dairy products, seasoning products and sauces, snacks, grains, oils and dried products, and convenience food (including chilled and frozen food).
Methodology
The survey was carried out during October 2017 in 10 major mainland cities. A total of 2,400 consumers were polled by online questionnaire. Before conducting the questionnaire survey, six consumer focus group discussions were held in Shanghai, Wuhan and Chengdu (two in each city). The objective of the focus group discussions was to further understand mainland consumers' spending mentality by way of qualitative analysis.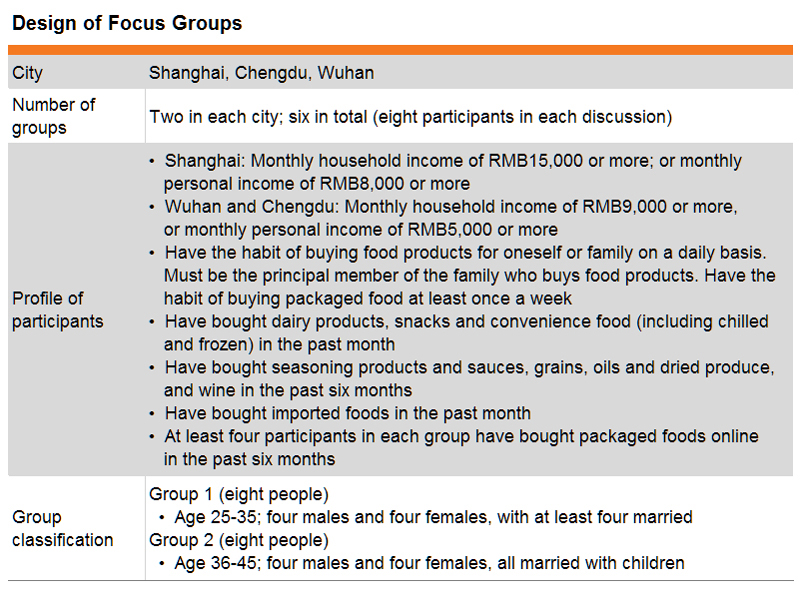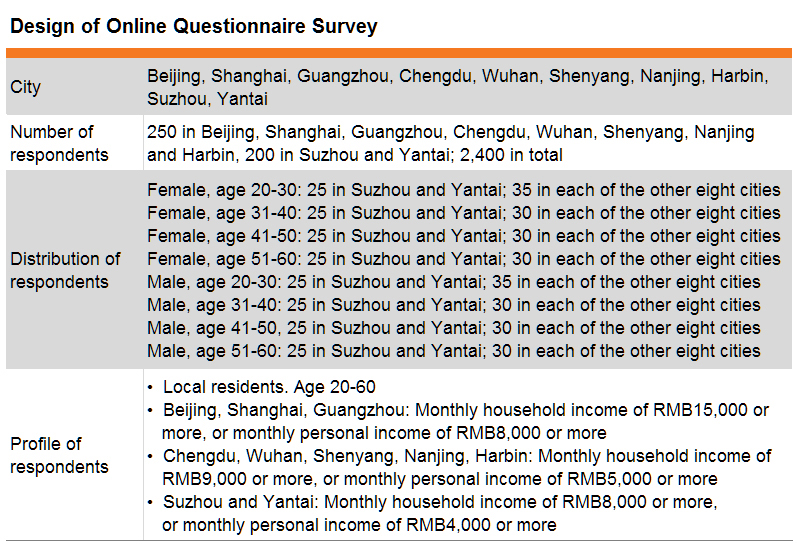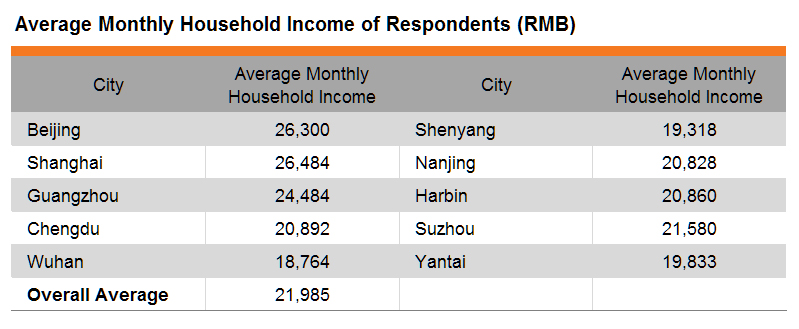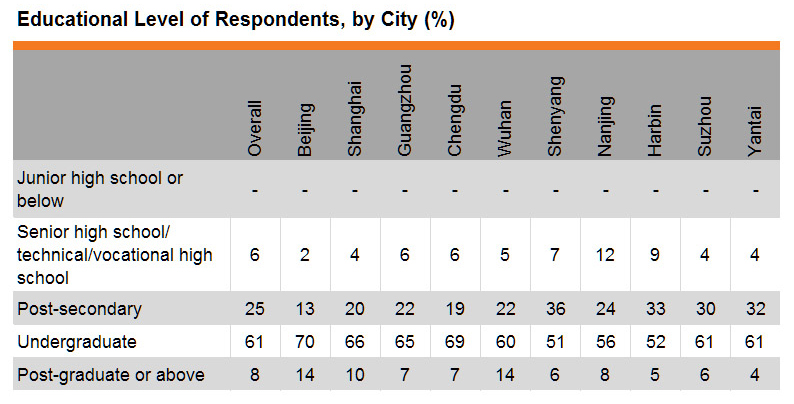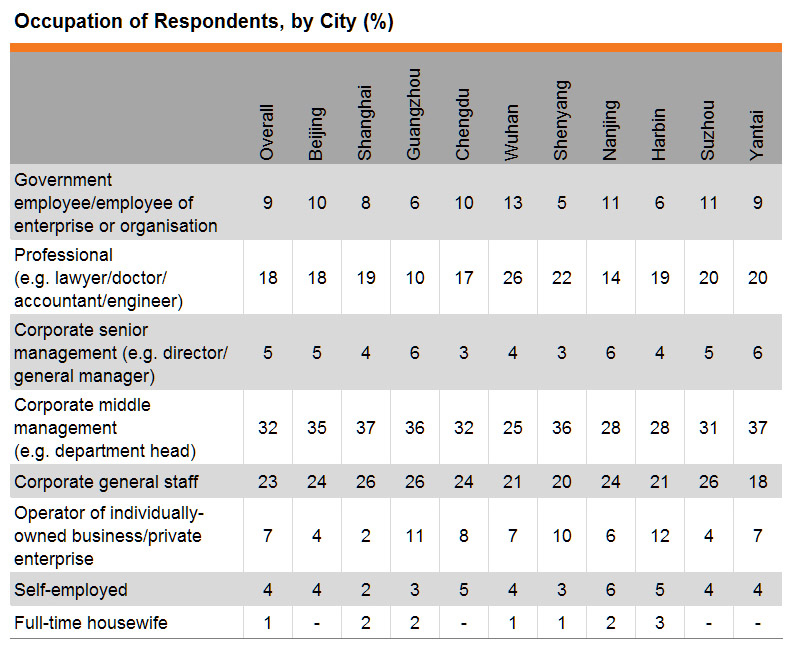 ---
[1] See Appendix for details of the survey.
Mainland China
Mainland China