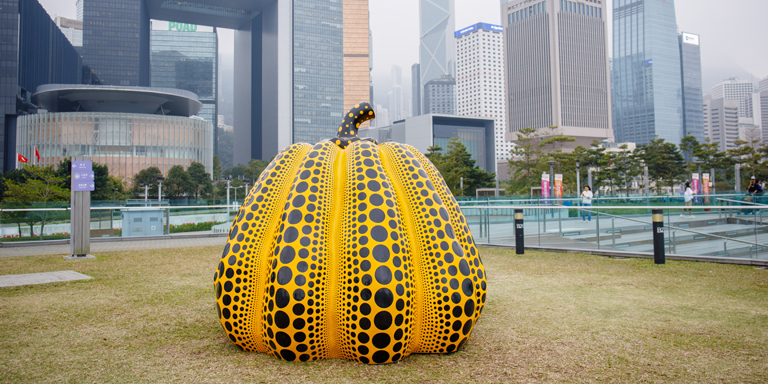 https://hkmb.hktdc.com/en/1X0ADDBM
Hong Kong Art Scene Comes of Age
The city's art shows and galleries showcase increasingly diverse works as public art seeks to claim new collectors.
With several high-profile art shows debuting in the city in recent years, Hong Kong's art landscape has changed dramatically. Art Basel Hong Kong has brought some of the world's esteemed galleries to the city since its 2013 debut, and this year will be its biggest yet, with 248 galleries representing 32 countries and territories. Held from 29-31 March, it is once again an art showcase from Asia-Pacific, with about half of the participating galleries having exhibiting spaces in these locations.

Several noteworthy exhibitions at local galleries will be running parallel with the city's major art shows, while auctions, including Christie's First Open (29 March), will showcase a curated mix of Western and Asian contemporary art, reflecting the region's continued interest in such pieces.
Public Art Boost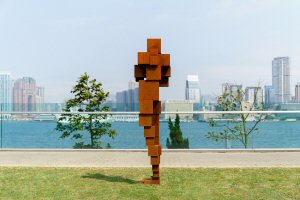 The city's first international sculpture park, Harbour Arts Sculpture Park, brings art into the public space. Showcasing a diverse range of pieces, including works by Tracey Emin and Antony Gormley alongside local artists, the outdoor exhibition runs until 11 April at the Central and Wan Chai harbourfront to coincide with the major art fairs. More than a quarter of the artists are from Hong Kong.

"This is the first time Hong Kong has had a public art project on such a large scale and hopefully there will be more chances for Hong Kong artists to create sculptures in the city's open spaces [in the future]," says Connie Lam, Executive Director of the Hong Kong Arts Centre, the park's presenter.
Co-curator Tim Marlow, Artistic Director for the Royal Academy of Arts gallery in London, says the Harbour Arts Sculpture Park represents a longstanding vision to bring more art to Hong Kong and create opportunities for artists working in the city and beyond. "It is part of a broader momentum that is establishing Hong Kong as a global art centre. But it also is a singular site, a museum without walls and a public place in which artists can engage in a variety of ways with one of the great skylines of the world," he says.

Interested buyers can contact corresponding galleries about gallery-loaned works. However, the primary goals of the park according to Ms Lam are public enjoyment, artists' development and the creation of an artistic atmosphere in the city, which will ultimately encourage more people to start their own art collection. "We'd love to see more private collectors display their works to the public."

Once the show ends, Mr Marlow is keen to see regular exhibitions being hosted at the sculpture park. "I know artists from all over the world would be keen to take part, but I also want the international art world to see more of the range and quality of art being produced within Hong Kong," he says.
Pushing Boundaries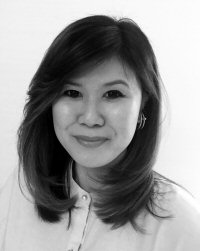 Described as "Asia's edgiest art fair," Art Central fosters awareness of collecting non-traditional mediums, such as video art and installation, according to Fair Director Shuyin Yang. Highlights of this year's show include provocative performance art shows from the 4A Centre for Contemporary Asian Art, which address issues of social disempowerment, and booths featuring solo projects by recognised contemporary names such as Liu Bolin from the Chinese mainland and Choe U-Ram from South Korea, alongside emerging cross-disciplinary artists such as Hong Kong's Wing Shya and Desmond Leung.

"We hope that collectors will learn to think outside the box and understand art contextually rather than as singular objects. This will be a big focus for us in 2018 and in future editions of the fair," says Ms Yang.
Since the show debuted in 2015, Ms Yang says Art Central has raised the bar in two distinct areas: presenting top-notch artwork to serious collectors, and spotlighting young artists to new collectors just starting their journey into art. "We aim to present as broad a spectrum of artworks as possible, so there is something for everyone and collectors come away feeling that Art Central is able to deliver on both choice and criticality," she says.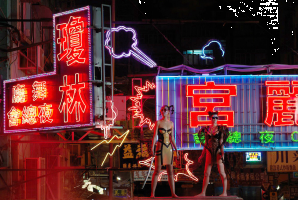 While the contemporary art market continues to do well, Ms Yang says she has noticed a shift away from old modes of collecting. "Traditional mediums such as painting, photography and sculpture continue to be most popular with individual buyers, though collectors will now also acquire suspended or modular sculptures rather just the 'safe' format of a single freestanding work. They are also starting to consider moving images alongside traditional painting."

Curators visiting the fair looking for pieces for private or public museums tend to be more open to non-conventional works. "These acquisitions help to raise the profile for newer mediums and forms of practice, and act as a big confidence-booster for young artists trying to do something different and wondering if they can find collecting support," says Ms Yang.

As Art Central is a young fair, Ms Yang says the show is able to support more risk-taking and stimulating content through mediums such as performance, moving image and participatory installations. She hopes the fair will continue to be regarded as a platform for challenging and provocative artworks.
Art at Accessible Prices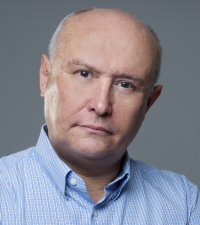 Now in its 12th edition, the biannual Asia Contemporary Art Show is another big event on the Hong Kong art calendar. Held on 23-26 March, about 60 per cent of the 250 artists exhibiting will be new to Hong Kong, illustrating its commitment to introducing local collectors to new talent. The fair's Director, Mark Saunderson, says standout artists at this year's show include local hyperrealist painter Leung Yun Charm, whose career as a photojournalist has given him a sharp eye for detail, and Zoe Liu, whose Buns Series addresses parenting and educational traditions in Hong Kong. Other highlights include works from Chinese ink artists, the late Fang Zhaoling, who combined calligraphic lines and forms to illustrate mountains, and Ding Wenqing, whose bright ink landscapes draw the viewer into his paintings.

The show is committed to offering high-quality, often investment-grade pieces at accessible prices, with works typically ranging from HK$25,000 to HK$120,000, says Mr Saunderson. "Art Basel Hong Kong has a small audience; there's maybe 3,000 to 4,000 collectors that parachute into the city and spend a great deal of money that's way beyond the means of most. We're trying to broaden the market so people can not just look at art, but find pieces they can actually own." He adds that Hong Kong is in a very strong position as it has a very mature primary and secondary art market. "It's a very easy place to buy and sell art as there's no VAT [value added tax] or GST [goods and services tax]."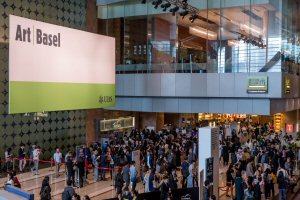 As the organiser of a Hong Kong-based art show, Mr Saunderson is keen to help local artists reach international clients. At the next show, nearly five per cent of artists exhibiting will be from Hong Kong, which, given the city's size, is quite high. "Hong Kong is challenged by the sheer volume of output from the mainland, so it can be a bit overwhelming [for Hong Kong artists], although some are beginning to get some traction," he says.

While the Asian art market is younger than Europe and the United States, Hong Kong is claiming more attention on the international arts scene, says Mr Saunderson. "Hong Kong is certainly one of a kind when it comes to the transaction of art in the region and sheer scale, whether that's looking at the primary or secondary market. The city's contemporary art fairs and auctions promote broader participation and accessibility, while brick-and-mortar galleries have recalibrated their sales efforts to be more inclusive as they engage a new generation of collectors and buyers."
Related Links
Art Basel
Art Central
Asia Contemporary Art
Harbour Arts Sculpture Park