https://hkmb.hktdc.com/en/1X0ADD9O
Gallery with a Purpose
Looking for business opportunity, Dutch-born entrepreneur Madelon de Grave viewed Hong Kong as her best prospect.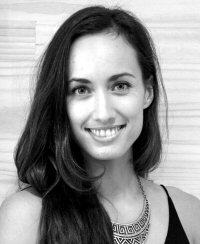 Soon after her arrival – via Guatemala – in 2015, opportunity knocked for Madelon de Grave. One of her first contract assignments in Hong Kong spawned the idea for Bamboo Scenes, her "gallery with a purpose," created around an innovative business model, launched last November.

The business stages pop-up galleries in cafés and wine bars in the city to promote the work of Hong Kong-based photographers. In addition to showcasing local talent, the limited-edition framed prints on sale make original artwork affordable for consumers, while supporting others less fortunate. "Ten per cent of all profits are donated to charity," Ms de Grave explained.

Since the current exhibition, Hong Kong Perspectives, shows various fascinating city scenes captured through the photographers' lens, a local charity for homeless people, ImpactHK, seemed an appropriate recipient, Ms de Grave said. Other good causes will share in the donations from future exhibitions and online sales.
Charitable Focus
Her work with children's charity in Guatemala prior to coming to Hong Kong – "helping children with cleft palate to get surgery, and restoring malnourished children to health" – reinforced Ms de Grave's desire to give back. She remains a board member of the charity, Tess Unlimited, and is planning a fundraising event in Hong Kong for building a new hospital in Guatemala.
"I saw that the city was very open to foreigners, had a strong economy and great energy. I thought, you can create a dream here."
After that posting, Ms de Grave was looking for her next opportunity. "The environment in Hong Kong looked very interesting," she said. "I saw that the city was very open to foreigners, had a strong economy and great energy. I thought, you can create a dream here."

One of her first assignments in the city was to open The Hive Studios, a co-working space dedicated to creative professionals established under the Hive brand. Boasting a professional-sized photography studio, the Kennedy Town premises attracted many up-and-coming photographers and this, Ms de Grave said, "was my introduction to the Hong Kong art scene."

"I met so many amazing photographers and artists who were so busy on commercial projects they didn't have the chance to get their creative work out there," she said. "Their talent is the reason they are in this industry, but when your first priority is paying the bills, pushing your own personal work gets lost in the daily routine. I thought, it's a shame we are not celebrating and showcasing these artists, enabling their work to be purchased and enjoyed by more people."
Collaborative Model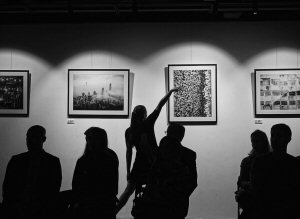 The idea of collaborating with other businesses to host pop-up galleries in places where people gather socially seemed far more cost-effective than leasing a shopfront. Inner-city rentals are prohibitive for a start-up, Ms de Grave explained, and the partners she has approached feel that artistic exhibitions add an interesting element to their business, too.

"We choose partners that share the same values – such as artistic coffee shops and wine bars – to make the whole city our gallery," she said. "By exhibiting in social spaces – such as Why50 in Sheung Wan, Sohofama at PMQ and ALTO in Causeway Bay – more people can interact with art. It makes the art more accessible and fun."

And as Ms de Grave herself found as a newly arrived expatriate setting up home, beautiful local photo art is an interesting and affordable way to decorate.

Each exhibition will be curated on a theme, and the founder is already thinking about expanding Bamboo Scenes to other cities in Asia.

"I initially started the business as B2C, but now that corporate clients are expressing interest, we have started to expand that to B2B," Ms de Grave said. "It is definitely more scalable that way."

Photography is a medium everyone can understand, she added. And with corporate social responsibility on every company's agenda, "clients can show they are helping amazing artists, and giving back to local charities. Their work becomes storytelling, rather than just another piece on the wall."
A Lean Operation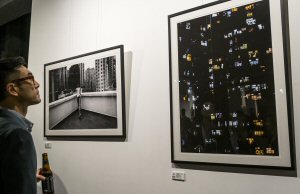 Bamboo Scenes' own office is in a shared workspace and because of the low overheads, the business "has been profitable from day one," she said.

"The beautiful part is that it is made to order. There is low risk and nearly no inventory involved."

With Hong Kong boasting many established galleries, Ms de Grave felt she was "definitely the underdog" when starting. But her progressive business model has been well-received, and she is grateful for the "amazing" support available to start-ups in Hong Kong – notably, the "very helpful" InvestHK, and an overall willingness to share business networks.

"The community here is very supportive of new business," she said. "Hong Kong people are open to connecting you with other people, and regardless of their seniority, everyone wants to help you grow your business."

For Ms de Grave, having this support is, for a business owner, "one of the biggest benefits of being in Hong Kong."
Related Link
Bamboo Scenes