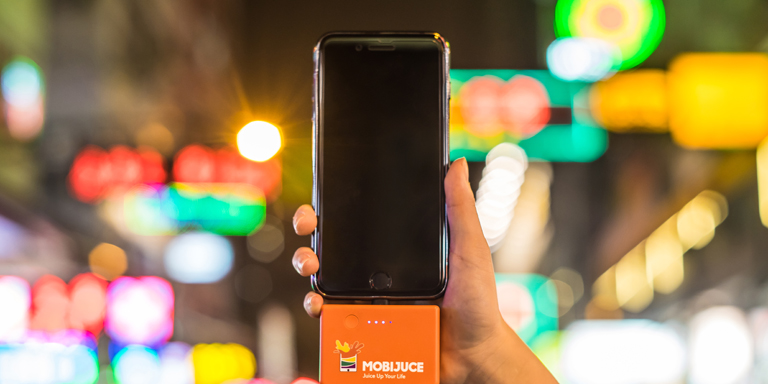 https://hkmb.hktdc.com/en/1X0ADACU
Juicing up Asia's Tech Ecosystem
A Hong Kong start-up is leveraging the shared economy by helping businesses tap target customers.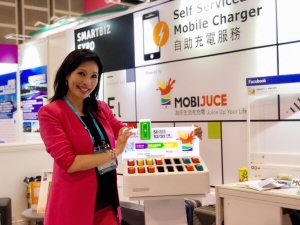 It's a common dilemma – finding the fastest and most convenient way to recharge your phone. Rather than lug a spare power bank or cumbersome cords, there's a solution that allows mobile device users to continuously charge on the go.

Officially launched last November, Mobijuce was set up in Hong Kong by self-confessed serial entrepreneur Alexis Wong. The Hong Kong-born American said that unlike similar business models, Mobijuce is more than a power bank rental company.

"We're using data to intelligently serve our customer, so that not only are we bringing a power bank when needed, we also take them to a place where they would normally like to frequent," said Ms Wong. "This way, we also drive foot traffic to retailers so that they can connect to consumers relevant to them. Ultimately, we're an ecosystem connecting retailers to end consumers in an intelligent and seamless way while solving an essential consumer need."

The app-based service charges HK$2 per half hour and a flat day-rate of HK$20 after five hours. Customers pick up the power bank at the most convenient location for them, whether it's a coffee shop or a retailer. If the power bank is not returned in three days, customers keep the battery for HK$129.
Data is King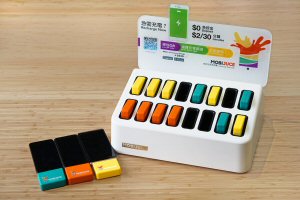 The San Francisco native's first foray into entrepreneurship started in her 20s, when Ms Wong set up a real estate company that eventually branched into business incubation, angel-funding and lifestyle-related businesses. "I always loved to create, especially anything related to lifestyle, she said. So every project we built embraced a neighbourhood and created a certain type of lifestyle beyond brick and mortar."

Ms Wong moved to China in 2008 and set up the mainland's first online-to-offline business Blinq in 2012. Located at metro networks in key mainland cities, the company connects mobile urban dwellers with their favourite brands, using concierge services, exclusive retail and unique brand experiences. "That's where I learned and came to understand user acquisition, user retention and creating user-based businesses," said Ms Wong. "The most important thing is data. Everyone talks about big data, which doesn't mean anything unless you're able to monetise them, and monetisation of data is extremely difficult and costly.
"Once I decided to do something with big data, I had to come up with a business built on an essential need that did not require people to come to me, or me throwing resources to acquire users and compete with other apps to sell coupons. Since I'm the kind of person who's always on the run and on the phone, I'm constantly running low on battery. I thought, wouldn't it be great to solve that need and use that to create a whole ecosystem? That was the genesis of Mobijuce."
Business Learnings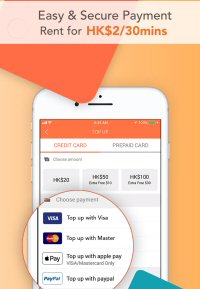 Mobijuce stations are currently available in 40 locations around the city, including at the K11 mall in Tsim Sha Tsui, the popular Lan Kwai Fong entertainment district, even at stationery retailer Moleskin. The company targets to cover the entire city with 500 locations in the next three months.

Retailers sign a three-year contract to place Mobijuce stands in their outlets. "We tell retailers our job is to drive the people there and help you pre-sell them because when you open our app, it will tell customers what kind of promotions are happening, which makes a difference in choosing one location over another," said Ms Wong. "So we become a distribution channel for promotional content to help drive foot traffic."

Ms Wong said that in the first two months alone, 110,000 minutes have been used in 10 locations and close to 300,000 minutes to date since December, confirming "there's high demand for the service." With 25 to 30 per cent repeat users and 60 per cent conversion rate – from downloading to using the app – Ms Wong says the figures speak for themselves.

The company has also been continually adjusting its service delivery based on consumer response, such as how many types of batteries for Android and iOS devices to have in various locations. It also plans to start accepting other forms of payment such as prepaid cards, with credit card-use lower in Asia compared to the West.
Global Business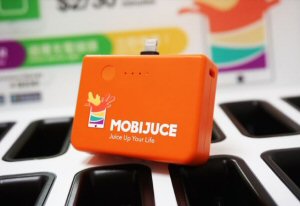 Basing the business in Hong Kong, according to Ms Wong, was a deliberate decision because of its high mobile-user penetration and tech-savvy, highly concentrated population, which makes finding venue partners easier. She added that Hong Kong's proximity to Shenzhen, where the majority of power banks are manufactured, is a bonus.

The company intends to expand elsewhere in Asia in six months, including in Southeast Asia and the Chinese mainland. The goal, according to Ms Wong, is to become the regional market leader within one year.

"Hong Kong will serve as benchmark for the region. Consumers here expect a lot, so if we can serve this market well, then we should be able to replicate its success elsewhere in the region," she said.

Mobijuce expects to start generating profits within the year, while remaining a lean operation. Among the 18 full-time and part-time staff, Mobijuce's "dynamic team" is made up of start-up veterans from several leading companies, including one from Hong Kong's first unicorn, GoGoVan – a success story that Ms Wong intends to replicate. "Together, we aspire to take Mobijuce to become Hong Kong's next unicorn."
Related Link
MobiJuce
USA
Hong Kong
North America