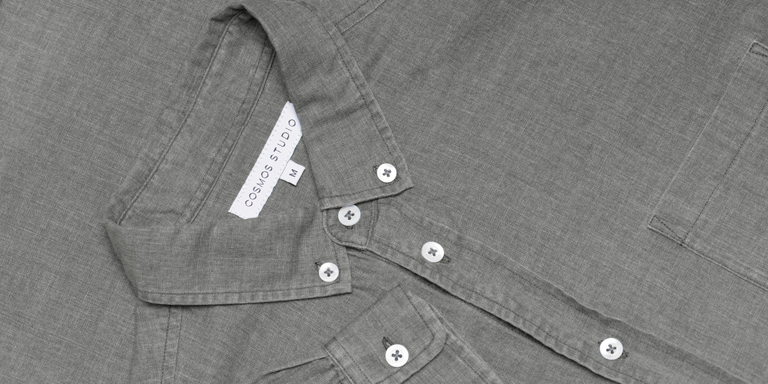 https://hkmb.hktdc.com/en/1X0AD0LF
Fashion to Dye for
A Hong Kong start-up is leading the way in sustainable production in the fashion industry.
With 20 per cent of the world's fresh water pollution caused by textile treatment and dyeing, the fashion industry is under pressure to remedy its unsustainable practices.

Eco-friendly fashion start-up Cosmos Studio seeks to be part of the solution with its colour diffusion technology GiDelave, which cuts down water consumption by 95 per cent.

The company was set up last year by Jeffrey Man and Davy Chan, who were inspired to set up a sustainable clothing brand after starting online vintage apparel store vinyeh.com in Hong Kong. "The core value of our online store was to promote the idea of reducing clothing waste as we always believed in [promoting a] sustainable lifestyle, which further stimulated our desire to start an entirely sustainable clothing brand," says Mr Man. The growth of sustainable fashion brands overseas led them to conclude that the market would be receptive to their idea.

The entrepreneurs partnered with Anthony Lau, who developed the GiDelave technology, to further refine the technology and take it in-house. Instead of repeatedly soaking a garment into a dyeing tub as in traditional dyeing, the technology works by printing colour pigment onto the threads. The process not only drastically cuts water usage, it also reduces energy use by 53 per cent and carbon dioxide emissions by 28 per cent.

Cosmos Studio also prides itself on having an ethical production chain: it uses Better Cotton Initiative (BCI) cotton, which supports the environment and the farmers who grow it; and degradable chemicals, as well as manufactures its pieces in a Worldwide Responsible Accredited Production (WRAP)-certified factory in Shandong Province, where the factory provides a safe and healthy work environment and observes eco-friendly practices.

The start-up expects to send out its first batch of shirts this month, when the product will start selling online for US$80. With four staff in the company, it plans to recruit more designers in the near future. Cosmos Studio is also in the process of developing another technology: waterless colouring, a dyeing process limited to cotton-based garments at the moment, says Mr Chan.
Ethical Production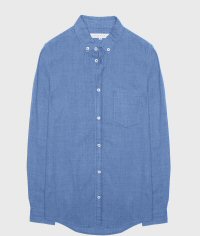 Setting up an ethical production chain was important for the start-up, given the amount of green washing in the fashion industry, Mr Chan says. "Brands exaggerate their sustainability and overlook the fashion production chain," he says.

He points out that some well-meaning initiatives can still adversely impact the environment. For instance, while organic cotton is grown without fertilisers or pesticides, it requires more water to cultivate than traditional cotton. Instead of using organic cotton, Cosmos Studio sources from BCI, a non-profit that promotes better standards in cotton farming, including caring for water, soil health and natural habitats, he says.

Setting up a wholly ethical production chain was the biggest challenge for Cosmos Studio. "There are many different things to consider, and we had to push the factories to be more sustainable," says Mr Chan. "In recent years, however, China has been paying better wages and protecting factory workers more than in places like Bangladesh and Turkey."
Raising Funds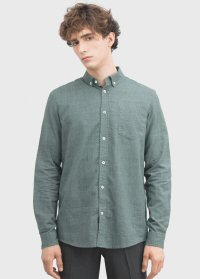 For the Kickstarter campaign, 88 backers pledged HK$83,936, which was used to cover production expenses. "It wasn't a bad start, but we hope to get more backers in the future. To have a more successful campaign, we need to run it for a longer time and put more resources into it. We thought it would be more organic, but you need to put in a lot of work to market [your idea]."

Another Kickstarter campaign is under consideration to launch the waterless colouring technology. "Kickstarter is a good place to raise awareness and test the market. If we have a bigger team, we can put more talent to work on it."
Big Brand Collaboration
While Hong Kong consumers are receptive to eco-friendly clothing, Mr Chan notes few sustainable fashion brands exist in the city. "We need to educate people and make them more conscious of [eco-friendly fashion]," he says, adding that the start-up is open to working with other brands and institutions committed to a sustainable philosophy.

Cosmos is mapping out a strategy for marketing its technology, including to leading fashion brands. "It may be counterproductive to them, as it will highlight the fact that their other lines are not as eco-friendly and perhaps they will be more reluctant to promote it," says Mr Chan.

That's why the company will focus on building its own brand and target online retailers specialising in sustainable fashion brands to expand globally. Hong Kong is the brand's biggest market at the moment, although it has sold to the Netherlands, Germany, Australia and the United States. To raise its offline profile, it is considering setting up pop-up stores and holding trunk shows, as well as opening a showroom in Hong Kong.

A more immediate plan for Cosmos Studio is expanding its collection. "We need to see how the technology will produce different silhouettes, but eventually we'd like to make our own pair of jeans," says Mr Chan, who says that producing one pair of denims can involve using up to 7,000 litres of water due to processes such as stonewashing. "We'd be able to save so much water. We're trying to catch Autumn/Winter 2019, so we're very busy at the moment. With the number of collections that we want to launch this year, there's a lot of hard work ahead of us."
Related Link
Cosmos Studio
Garments, Textiles & Accessories