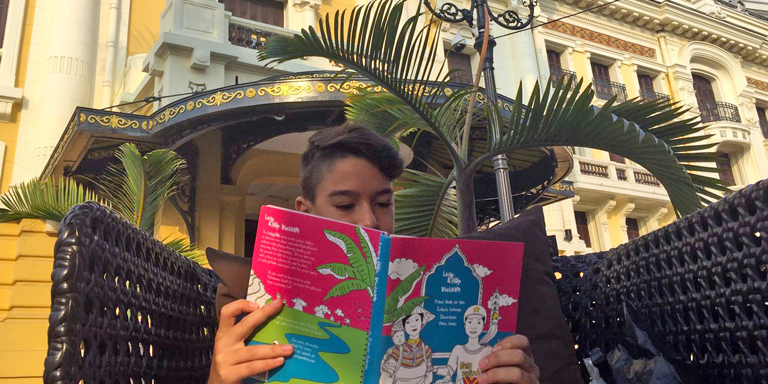 https://hkmb.hktdc.com/en/1X0ACPBM
Taking a Leap
A Hong Kong-based French lawyer embarked on a business venture sparked by her desire to travel the world, with children in tow.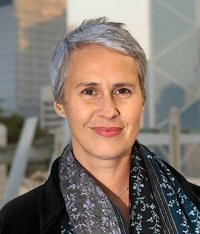 The temples of Cambodia, the culture and heritage of Rajasthan, an introduction to Myanmar or an adventure through Mongolia may sound like travel itineraries for adults only, but Paris native Isabelle Demenge hopes to change the way families travel with Leap & Hop, a series of illustrated travel guides for children.

How did you come up with the idea for Leap & Hop?
It's really a family project. I'm a lawyer by trade and we moved to Hong Kong from New York in 2008 and we started to travel a lot. The destinations that were interesting to us were not particularly kid-friendly, but my husband and I wanted to go anyway. As I was preparing the itinerary [for a trip to Cambodia in 2010], I knew that I didn't want to be dragging my children from place to place, so I needed to find a way that would make it interesting and fun so that we could enjoy the same trip together. I think that if you find the right approach, children can really appreciate all of it, but you need to find their interests. I was thinking of fun things to do as part of the research, I realised that for them to really enjoy the temples, they needed to know the Hindu myths, some history. The more I developed the ideas, the more I got carried away with the research and we ended up with a 100-page booklet. It was a lot, but it totally changed the way we travelled. The kids were so engaged and they got so excited – they could spend hours in the temples.

Walk us through the process of getting the books published.
I did three books for three different trips in three different years - Cambodia, Sri Lanka and Rajasthan, India. I was distributing the books to friends of mine going to these places and I was getting such good feedback that I thought it would be worth turning this into something more than [just books for] my family. First, I knew I needed an illustrator because you can't do children's books that look like law books.

I met Emilie Sarnel, who is also French and we clicked immediately. My idea is to raise the level for the kids, rather than having parents stick to Disney or only kid-related stuff, so in terms of illustrations I didn't want anything babyish – I wanted grown-up illustrations that were still whimsical, colourful and engaging.

Emilie prepared a template of a couple of pages based on what I had and then I went [looking] for a publisher. I thought I should go to France because we're both French, but that didn't work out, and then [a photographer in Hong Kong] introduced me to Asia One. We publish[ed] the first three at once [in 2014].

What other destinations have you featured?
After the first three, the publisher said you need to do Hong Kong next. So I wrote Hong Kong right after and that was the fourth one. I've [also] done Singapore, Bali, Paris, Myanmar, New York, Vietnam and Mongolia. Sri Lanka was my bestseller this year and Cambodia is always steady.

How do you approach each book, especially when they are written for children aged 8-13?
My approach is to talk about topics that parents would be interested in that help people to understand a culture, such as architecture, religion, history and geography, but to break it down in a way that is bite-sized and in a way that kids can understand without dumbing it down. It's simplified, but it's still very accurate. Then I put on "kids' eyes" and think of fun activities in certain chosen sites for each destination. For example, I have an I-Spy game on a giant fresco in Jodhpur, India; a colour scavenger hunt in Singapore's Little India; a treasure hunt in the temple of Bayon in Cambodia; or a quiz walk in New York's Grand Central.

In addition to your books being sold in bookstores and online, you've also developed some partnerships, including with the Hôtel de Crillon in Paris. How important are these partnerships?
I've developed a relationship with several high-end travel agents who use the books as gifts to families who book with them in destinations that exist in the series. I've also developed partnerships with high-end hotels that give amenities. Instead of a bottle of wine in my room, I'd much rather have something for my kids, and a teddy bear is great but a book is much better for me. The Aman Resorts use the books as amenities in Cambodia, Sri Lanka, Bali and India; I also have something going in New York with the Greenwich Hotel. In Paris, I approached Le Crillon, which was reopening after four years last July, and offered them a special, customised book.

I'm trying to develop these ideas because that's another way to capitalise on books that I already have. Retail is great, but it's hard. Bookstores are closing and a challenge I have is that people are not thinking about a travel book for kids. So I really have to penetrate a market that doesn't really exist.

How has being in Hong Kong influenced your business?
I would never have done this somewhere else. Hong Kong's geographical location with all these places to visit within a three-hour plane ride makes travelling so much easier and accessible. I tried to sell the project in France several times, even after I had published seven or eight books in Hong Kong and I really had no luck at all. And to publish anything in the United States, you need an agent. Here it seems easier. It's easier to find people to help you and to connect with you. My publisher was willing to take a leap of faith with my book and I don't know if I would have been able to do this anywhere else.

What's your next Leap & Hop project?
I'm currently working on a guide for New Zealand. We went to New Zealand for Christmas and I wrote a test version for kids and realised there's really a lot to write about for New Zealand.

Everything in the books could be in an app, but it's a huge investment and so it's on the horizon for me. I also personally really like the idea of the [physical] books, of carrying the object with you in a backpack and also a keepsake.
Related Links
Asia One
Leap & Hop
Books & Printed Items
Printing & Publishing
Tourism & Hospitality
France
Hong Kong
Western Europe