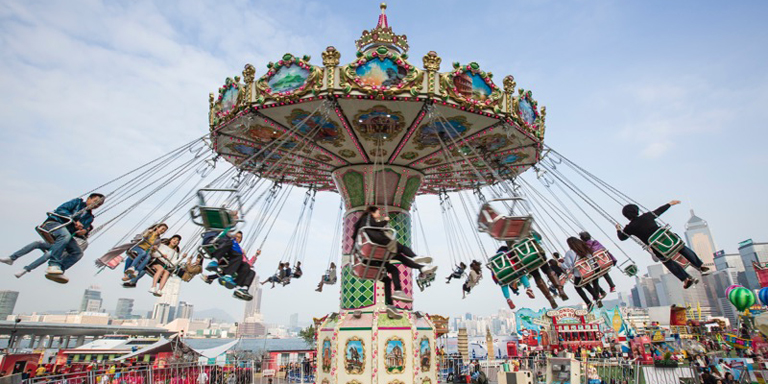 Roll up for Asia's Carnival Extravaganza
As testament to the multicultural flavour of Hong Kong, the AIA Great European Carnival has become an annual highlight on the Central harbourfront.
Spanning the season from Christmas to Chinese New Year, the event blends the most important celebrations of the Western and Eastern calendars. Renowned as Asia's annual carnival extravaganza, it is open daily from 21 December 2017 to 25 February 2018 with rides, attractions and entertainment to suit all ages.

Michael Denmark, CEO of The Great European Carnival Ltd, first brought the carnival to Hong Kong in 2014.

"I knew that the people of Hong Kong loved playing carnival games, along with the opportunity to show off their gaming skills," said Mr Denmark, a veteran producer of entertainment events in Asia, who founded MDME Entertainment in Hong Kong in 2014.

"So I approached Central Venue Management, which had won a three-year contract for the land, and then pitched AIA the idea of a carnival. They were both in."
New Attractions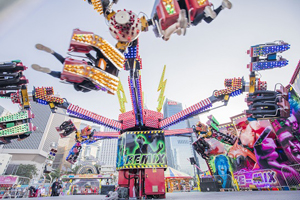 In its fourth edition this year, organisers are presenting the biggest show to date. Apart from 34 rides and attractions – one-third of which are new to Hong Kong – the programme features daring feats of skill and agility in The Great Circus of Europe. Operated by Gandey World Class Productions, and direct from the United Kingdom, the circus promises heart-stopping fun for families, with more than 25 performers from countries, including England, Colombia, Kenya, Mexico and Morocco.
Highlights include the thrilling high-wire act by The Gerlings, medal winners at both the International Circus Festival of Monte Carlo and the Wuqiao International Circus Festival in 2017; Motorcycles in The Globe; and the spectacular Space Wheel.
Hong Kong is the first city outside Europe for the show to visit, and operators Carol and Phillip Gandey say the choice of location is fitting as "local audiences are amongst the most knowledgeable and appreciative in the world. We are confident that we have the perfect blend of spectacle, excitement and laughter to entertain every member of the family – from the youngest to the oldest," said Mr Gandey.

Also new this year is the first fully immersive, full-body VR gaming experience, Virtuix Omni. Walk, run, sit or jump in 360 degrees – if you dare.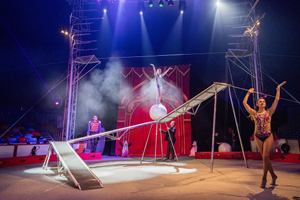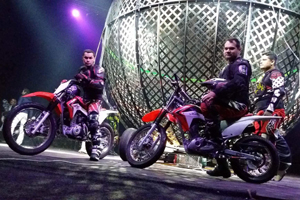 Immersive AR
"Visitors will enjoy unparalleled immersive experiences made possible by augmented reality (AR), which will take them on adventures from African safaris to the Polar region by merging real and virtual worlds," said Mr Denmark.

"And for the junior drivers in the family, we have the first AIA Great European Carnival Driving school. Kids can learn and experience the fun of driving; and receive their own driving 'licence' issued by Tesla."

Another highlight for the kids is a special Paddington's Pop-up London, a celebration of the city, which is at the heart of the new PADDINGTON 2 movie, and author Michael Bond's beloved books.

For the week of 14-20 January, Billboard Radio Live concerts will feature more than 10 international, regional and local pop acts, including Rita Ora, Far East Movement, Khalil Fong, Eve Ai, Supper Moment, ToNick and Dear Jane.
Sports Activities
Free sports activities are being staged in cooperation with some of Hong Kong's leading sport associations: Cricket Hong Kong, Hong Kong Baseball Association, Hong Kong China Dragon Boat Association, Hong Kong Football Association Ltd, Hong Kong Lacrosse Association, Hong Kong Rugby Union, Hong Kong Shuttlecock Association Ltd, Hong Kong Squash, the SF&OC Sports Legacy Company Ltd and the Hong Kong Netball Association.
A huge choice of F&B offerings, from Asian to international food, will be offered by such brands as Cali Mex, Candy Boys, Eclipse, Iconic Hot Dog, Mavericks Burgers, Roasted & Smoked, Scorchios and Spud Gun.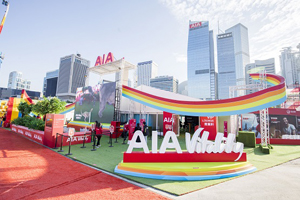 The AIA Great European Carnival is located at the Central Harbourfront event space, next to the newly reopened Hong Kong Observation Wheel.

"All the entertainment is created specifically for Hong Kong – you can pick and choose as you want," said Robyn Joseph, Chief Operating Officer at The Great European Carnival. Celebrating festivals, Ms Joseph added, "is what Hong Kong is all about."
For the carnival's title sponsor, Bonnie Tse, General Manager, Business Strategy and Marketing of AIA Hong Kong & Macau, said that the family event gives the company a valuable opportunity to interact and connect directly with the public.

"It infuses the community with positive energy, while enhancing AIA's brand image, " she said. "This exemplifies our commitment to creating shared value and putting our brand promise of being 'the real life company' into action, helping people live longer, healthier and better lives."
Related Link
The Great European Carnival Ltd
United Kingdom
Hong Kong
Western Europe