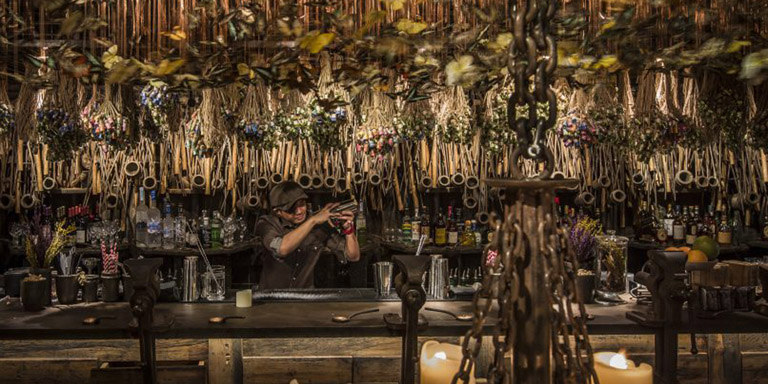 https://hkmb.hktdc.com/en/1X0ACGWS
Dream Weaver
Ashley Sutton Design blends fantasy and the future in ornate designs for hospitality hotspots.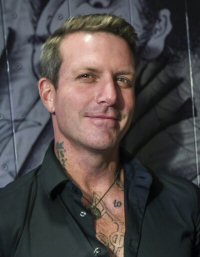 Australian designer Ashley Sutton knows something about making spaces that crowds flock to. Dreamed up from his own realm of twisted fairy tales, often referencing a mad scientist's lair and a retro space age that never occurred, the restaurants and bars that Mr Sutton creates are truly one of a kind. Loaded with a blue-collar sophistication built on his heritage in craftsmanship, the designer has built Ashley Sutton Design's reputation on delivering experiences that keep the Instagram generation coming back.

Mr Sutton recently completed his fourth hospitality outlet in Hong Kong, Yojimbo, a Japanese-themed bar and nightclub. The Japanese word for "bodyguard," the venue is named after a classic 1961 samurai movie Yojimbo.

The 2,100-square-feet outlet for Dining Concepts, a group of high-end food and beverage outlets established in 2002 by Chief Executive Sandeep Sekhri, follows Mr Sutton's work designing the J Boroski speakeasy, with real beetles studding the ceiling; the heavy-metal Iron Fairies; and the lavish Ophelia nightclub – all Hong Kong nightlife hotspots in the SoHo and Wan Chai districts.

"I created Ophelia because I think peacocks are magnificent creatures and J Boroski's design was inspired by boats as they're one of my passions. Yojimbo is an ode to all the weird and wonderful aspects of Japan. I love Japanese culture; from the films, pop culture, to the music."

Having designed several venues in Japan and travelled around the country, Mr Sutton had long dreamed of creating a nightclub in Hong Kong similar to the stylish underground bars found in Tokyo's Ginza district.

"Japan has some of the most sophisticated, vibrant and outrageous nightlife in the world," he explains. "I particularly love Ginza, which is home to hundreds of incredible bars, each with their own weird and wonderful design elements."

Mr Sutton has lived and worked around the world, creating more than 40 bars in Hong Kong, Japan and Thailand. "I'm currently working on one of my most intricate designs yet, which will be on the rooftop of the ifc mall in Central," says Mr Sutton. He's also completing the design and fit-outs of several bars around Southeast Asia, often using Hong Kong as his base.
Telling Tales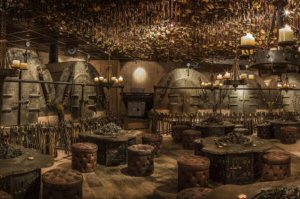 The inspiration for his work can come from anywhere and everywhere, but it was The Iron Fairies trilogy of children's books that sparked his career in hospitality design. Mr Sutton wrote the books as his creative outlet while on the job as a metalworker based in mining camps in isolated regions of Western Australia.

The books describe the goings-on among miners living underground, whose jobs include casting fairies from iron. The popularity of the books led to the establishment of a workshop in Bangkok to create models of the characters. That was followed by the opening of a bar, which was named after the book, to entertain tourists who turned up from all over the world to watch the craftsmen at work. Mr Sutton's passion for design had found an outlet in creating fanciful interiors.

"Sometimes the concept for my designs, such as Iron Fairies, will be based on one of my stories from back then. Otherwise, inspiration can come from anywhere," Mr Sutton says.
Creative Pulse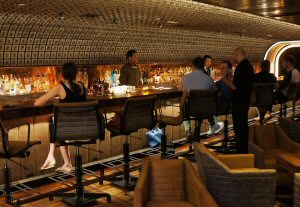 "I would describe my designs as detailed and whimsical. My mind has always been very active," he says. "I'm constantly creating stories in my head, especially when I'm bored and this was very much the case when I used to work in the mines."

In Hong Kong, Mr Sutton says he has found people willing to fund his wildly creative ideas and also the freedom to create. He credits local partners, such as Dining Concepts, with being open-minded and supportive enough to give him the room to create.

"I've met many people in our Hong Kong outlets who are passionate about design and seem to be doing creative things. I hope we can inspire them to believe that no design is too crazy if you believe in it," he says. "Our ethos is to design things that are not only eye-catching, but provide an experience to guests. And of course, it's a bonus if it makes money for the client."
People Pleaser
Mr Sutton's success shows that designers can make it in Hong Kong in spite of a challenging economic environment in the hospitality sector. At the heart of his achievements is the willingness for adventurous new experiences that Hong Kong consumers demand.

"Hong Kong is a city that loves to go out, drink and eat. People are willing to try new experiences and are open-minded about what they can expect in a restaurant, bar or nightclub," he says. And that's at the heart of his advice to other entrepreneurs looking to establish themselves in the city. "Do it, but you need to do it smart, as you only get one shot since the rents are so high. And, if you're a designer, make sure it's well-designed."
Related Link
Ashley Sutton Design
Food & Beverages
Design Services
Australia
Hong Kong
Australasia