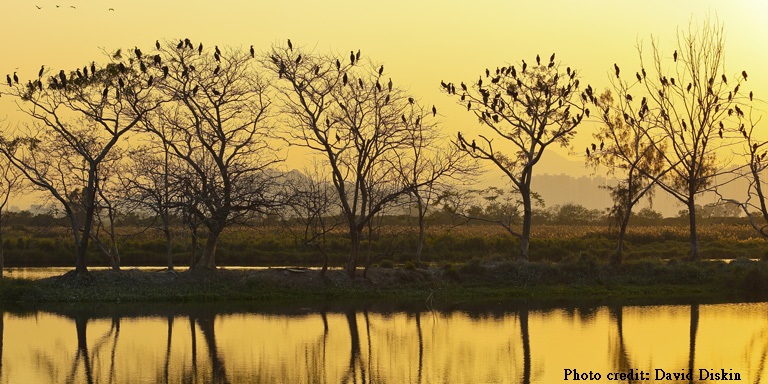 On a Wing and a Plumage
Thousands of migratory birds flock to winter in Hong Kong each year.
According to the Agriculture, Fisheries and Conservation Department (AFCD), more than 540 species of bird have been recorded in Hong Kong, their population swelling by some 30 per cent once the "winter visitors" arrive. The wide variety of habitats where they come to rest and nest, including in woodlands, wetlands and coastal environments, attracts a great diversity of birds, including rare species.

David Diskin, a birding and nature guide at Walk Hong Kong, said Hong Kong is an excellent place for the bird-watcher as sites are so accessible. "The various habitats in the central and northern New Territories are home to a number of resident sub-tropical species, but the best time is from September to May, when passage migrants and winter visitors can be seen," he said. The company's day tours usually take place in the three key sites of Tai Po Kau, Mai Po and Long Valley.

Tai Po Kau holds a greater range of native tree species than any other woodland in Hong Kong and is consequently the best forest area for birds, Mr Diskin explained. On a good day, he said, the forest provides views of some of Hong Kong's most colourful birds, including the vivid red and black Scarlet and Grey-chinned Minivets and the iridescent blue Fork-tailed Sunbird. "Flycatchers, warblers and thrushes occur in winter and on passage. Hainan Blue Flycatcher arrives in April to breed during the summer months."
Jewel in the Crown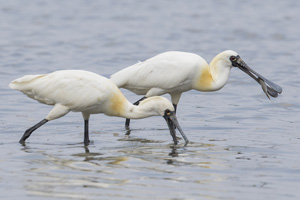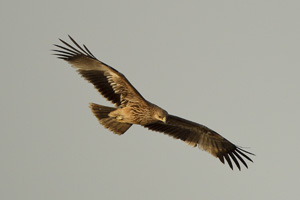 The globally significant wetland, Mai Po Marshes Reserve, is situated on the Australasia migratory route and Hong Kong's "birding jewel in the crown," he continued. "The reserve is world-famous for its wader migration in spring, including the Asian specialities of Nordmann's Greenshank, Asian Dowitcher and the near-extinct Spoon-billed Sandpiper. It is also an important site in winter for endangered species such as the Black-faced Spoonbill and Eastern Imperial Eagle."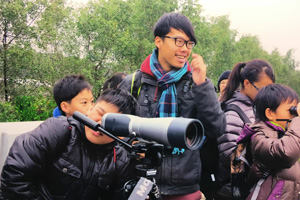 The agricultural fields at Long Valley hold a number of open-country and wetland species throughout the year, including breeding Greater Painted-snipe.

Matthew Kwan, a local birder, photographer and artist, said this season is proving particularly exciting for birdwatching in Hong Kong.

"Birding in Hong Kong is always interesting – you never know what you are going to get," he said. "This year has been good so far, with several species being recorded for the first time."
Diverse Habitats
With nearly 75 per cent of Hong Kong's land underdeveloped and 40 per cent of land designated as country parks, there's a "huge range of habitats," from the 1,000-metre high Tai Mo Shan, attracting highland species, to numerous species of shore birds in the Deep Bay area. "In summer, we also have colonies of breeding terns, which is a spectacular sight," Mr Kwan said. Some places are "quite wild,"while other sites are right in the city – such as the Lung Fu Shan Country Park above the University of Hong Kong, which is easily accessible since the opening of the new MTR station.

Hong Kong also has a number of social bird-watching clubs, including the Hong Kong Bird Watching Society of which Mr Kwan is a member. As a volunteer, he guides groups of school children on daytime bird-watching expeditions, as well as night safaris to see various reptile, amphibious and bovine species up close.

Mr Kwan said visitors are always amazed to see nature in this way in such a busy metropolis. Within 24 country parks covering up to 44,300 hectares of land, a "very extensive network of walking trails" exists for people to self-explore.

Throughout the season, a number of fun activities are held for bird fanciers of all ages.
Spot the Species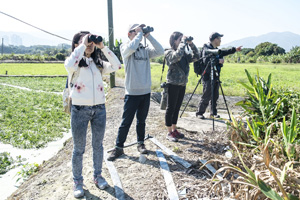 For instance, each year teams work together in groups of four to record as many bird species as possible during a 12-hour time frame of WWF Hong Kong's Big Bird Race. It's been held for more than 30 years and is the charity's longest-running fundraiser, with proceeds used to build bird-watching hides in the Mai Po Nature Reserve. In 2017, the winning team logged 155 species. This season, the Big Bird Race takes place on 14 April 2018, from 6:30am to 6:30pm. Teams may begin anywhere in Hong Kong, but must finish at the Mai Po Nature Reserve.

The Hong Kong Bird Watching Festival is the signature event of the Hong Kong Wetland Park, now on until 9 April 2018. Highlights include the Flying Marvels exhibition at the park's visitor centre, and guided tours of the intertidal mudflats and freshwater marshes to appreciate some migratory species.

In the classroom, members of the Hong Kong Bird Watching Society will share their knowledge of wetland birds, with participants invited to help collect waterbird ecological data for the International Black-faced Spoonbill Census 2018.

The Hong Kong Bird Watching Society holds its own fun fundraiser, Hong Kong Birdwatching Day, to be held over the weekend 24-25 Feb 2018. Teams have 24 hours to spot, identify and record as many bird species as possible, while during a five-hour family event held on the Sunday, children can learn more about the beauty of nature while spending quality time with parents.
Related Links
Hong Kong Bird Watching Society (HKBWS)
Hong Kong Wetland Park
Walk Hong Kong
WWF Hong Kong