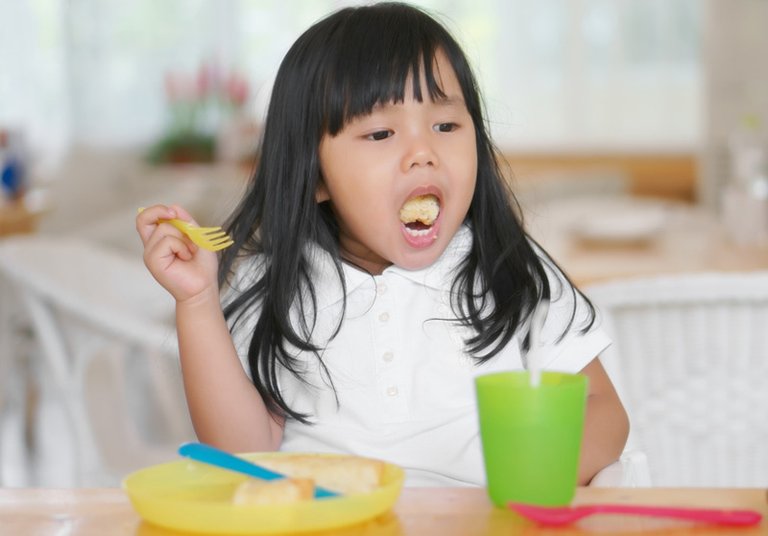 https://hkmb.hktdc.com/en/1X0ACD9O
Baby and Child Products in China: Feeding Utensils Purchase Patterns and Preferences
As they grow and mature, children need a variety of different feeding utensils. While babies and toddlers, for example, are bottle-fed, once they are older their parents will introduce an appropriate range of cutlery as they begin to eat more solid food and then, later, move on to feeding themselves. According to a recent survey of HKTDC Research [1], parents with young children spent an average of RMB263 a month on training cutlery over the last 12 months. When selecting such items, the survey indicated that the majority of parents (66%) saw being "no hazardous chemicals" as their major concern, followed by "certification guarantee" (51%) and "brand image/word-of-mouth" (46%).
The survey also showed that hypermarkets (51%) and chain-operated maternity and baby stores (47%) were the preferred channels for most mainland parents when it came to buying such utensils. A significant number of them, however, routinely purchased via one of a number of online channels, including dedicated domestic maternity and baby/online shopping websites/apps (22%), cross-border e-commerce websites (7%) or WeChat stores (6%). Overall, 84% of respondents also indicated they would be willing to try out newly-introduced child-friendly feeding utensils/cutlery.
Spending on Feeding Utensils
The survey found that of those respondents who had purchased child-friendly feeding utensils/cutlery over the previous year, they had spent an average of RMB263 a month on such items, representing around 1% of the monthly income of a typical household. Of the 10 cities covered by the survey, Shenyang parents spent the most on such items (an average of RMB292 a month), while parents in Guangzhou spent the least (RMB236).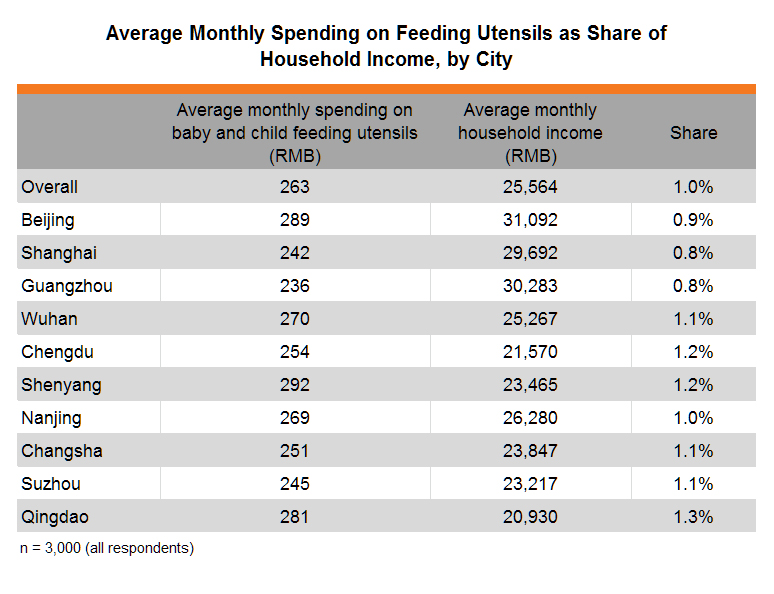 Inevitably, the level of household income has a direct impact on how much is allocated to the purchase of child-friendly cutlery and other feeding utensils, with the relevant budget rising in line with higher earnings. While respondents with a monthly household income of more than RMB30,000, for instance, spent an average of RMB284 a month, those with a monthly household income below RMB15,000 spent around RMB236 a month.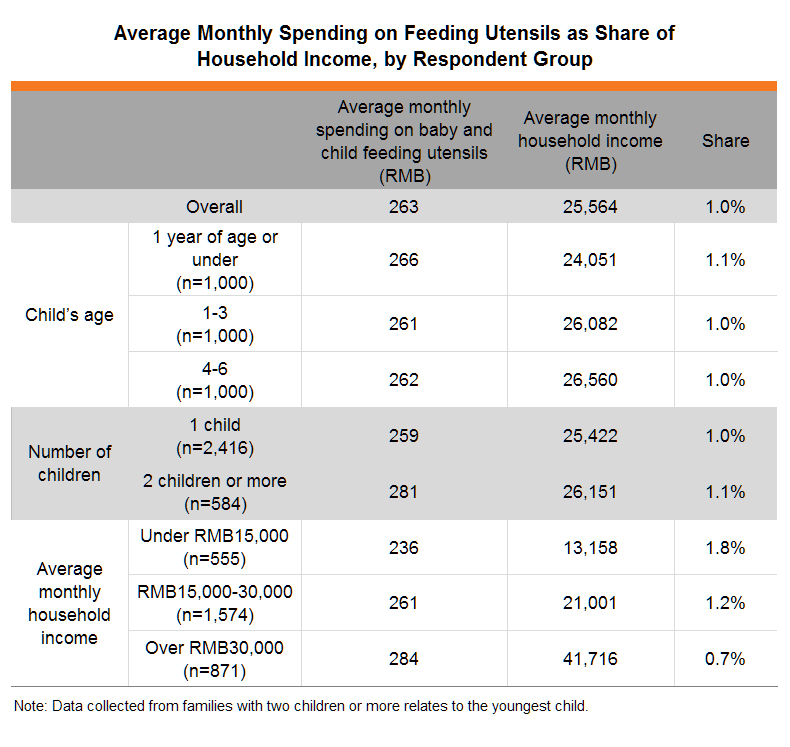 Preferred Varieties of Feeding Utensils Purchased
As they develop, children use a variety of feeding utensils. In the case of children aged one and under, milk bottles/dummies are the preferred option (97%), while children aged four-six typically use small bowls and chopsticks/cups (93%).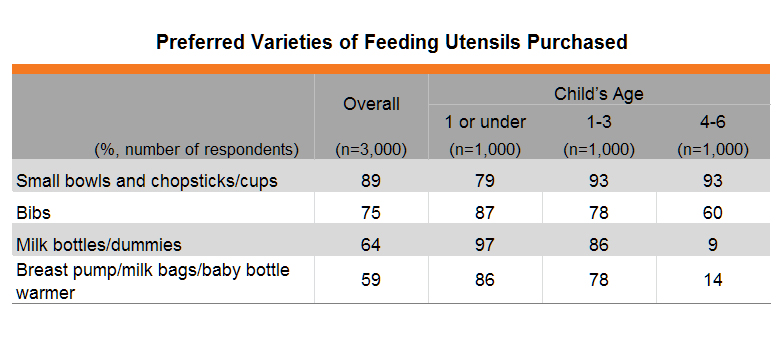 Parent's Expected Price Points
Even with regard to identical products, respondents from different cities and different income groups had very different views as to the price they would be willing to pay. In order to more accurately evaluate the cost expectations of mainland parents with regard to feeding utensils, the survey asked: "What is the highest price you would be willing to pay for a milk bottle?" Across all respondents, the answer rounded at about RMB204. Respondents from Suzhou, however, were willing to pay RMB233, the highest level among all of the surveyed cities; while the lowest recorded level was found in Guangzhou, where parents were only willing to pay a maximum of RMB177.

Again, the higher the respondents' income, the more they were willing to pay for a milk bottle. In line with this, the highest price respondents with a monthly household income of above RMB30,000 were willing to pay was RMB226, which is significantly higher than the RMB194 respondents with a monthly household income of below RMB15,000 considered to be the maximum.
In the case of parents with two or more children ("two-child parents"), the highest price they were willing to pay for feeding utensils for their youngest child was RMB229, substantially more than the RMB198 that parents with one child ("one-child parents") would spend on the same item. This shows that "two-child parents" typically allocate more to their child-friendly food utensil budget than "one-child parents".

Primary Buying Considerations
When parents buy feeding utensils for their babies or children, "no hazardous chemicals" is their primary consideration (66%), followed by "certification guarantee" (51%) and "brand image/word-of-mouth." (46%). According to one Hong Kong baby company, all of its facilities have already been ICTI certified, while it has also won an award for Innovation and Creativity as part of the Hong Kong Awards for Industries scheme, been presented with an Invention Patent Certificate by the State Intellectual Property Office of China and received several other international awards. The company believes that these domestic and international endorsements have boosted parental confidence in the company and its products and have helped establish its brands as market leaders.
It is worth bearing in mind that respondents from Shanghai (57%) and Beijing (53%) are far more influenced by "brand image/word-of-mouth" than those from other cities. Shanghai respondents also place a greater emphasis on "quality" (56%) than their counterparts in other cities.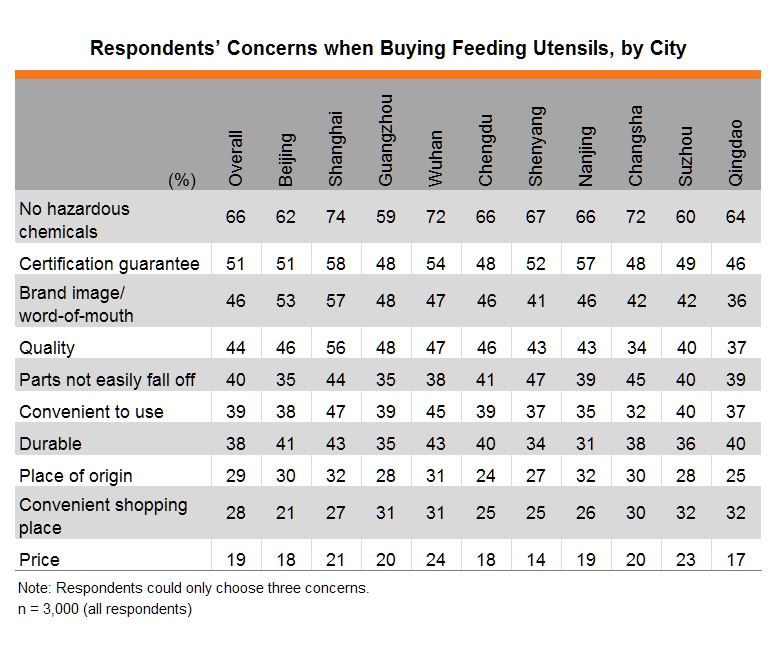 When buying feeding utensils/cutlery for babies or children, "two-child parents" were more concerned as to their "place of origin" (35%) than "one-child parents" (27%). By contrast, "one-child parents" (39%) cared more about the "durability" of such products than "two-child parents (33%).
Typically, those respondents with a higher income weight were the most swayed by "brand image/word-of-mouth". The survey also indicated, however, that 36% of those respondents with a monthly household income below RMB15,000 and 46% of those with a monthly household income above RMB30,000 consider "brand image" as a major factor when buying such items.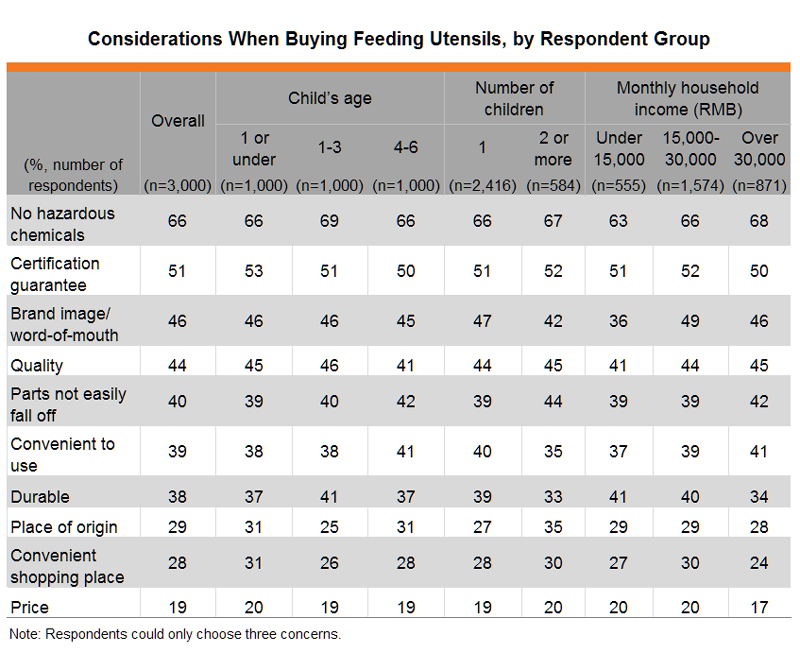 Hypermarkets: The Primary Purchase Channel
Overall, hypermarkets are the most popular choice when it comes to buying feeding utensils, with 51% of respondents having purchased such items at one or more of these stores over the past year. Among the other popular shopping options are chain-operated maternity and baby stores (47%) and department stores (43%). Of the 10 cities surveyed, more Shenyang respondents preferred to make their purchases at chain-operated maternity and baby stores (51%) than at hypermarkets (46%) or department stores (46%).
By contrast, Shanghai respondents were most likely to make their purchases online. In total, 33% of all of the city's respondents had bought feeding utensils from domestic maternity/baby websites or apps over the past year. This was notably higher than the overall average of 22%. At 13%, the number of Shanghai respondents making such purchases via overseas websites was markedly higher than the 4% overall average.
Parents with young children (aged three or under) were the most likely to buy feeding utensils from chain-operated maternity and baby stores, partly because they can shop for other baby and infant products at the same time. By contrast, parents with children in the four-six years-old bracket preferred to buy such items from a hypermarket.
Some 16% of "two-child parents" had asked friends in overseas locations to purchase feeding utensils on their behalf, while 11% had made such purchases via a WeChat store. In both instances, the percentage is markedly higher than among "one-child parents". In the case of department stores, these tend to be favoured by those households with a comparatively high level of income. Of those respondents with a monthly household income of RMB30,000 or more, 46% said the department store was their preferred channel for buying feeding utensils, while only 38% of respondents with a monthly household income of RMB15,000 or below had a similar preference.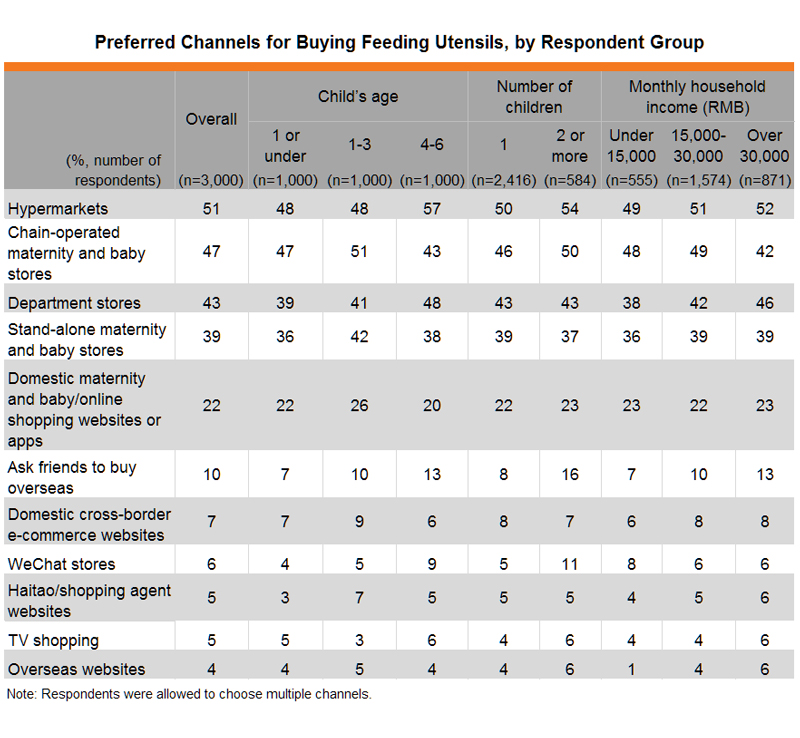 Physical Stores Build Brands
Bricks-and-mortar stores, including shopping malls, department stores and specialty stores, were the preferred purchase channels of the majority of mainland parents when buying feeding utensils. They were also the primary source of information on such items among 60% of all respondents. This is largely because they provided an environment where parents could learn more about such items, while also getting the opportunity to personally try them out. In Shanghai, however, 61% of respondents indicated they source an equal level of product information online as they do within physical stores. It is also worth noting that only 35% of Qingdao respondents sourced product information online, a significantly lower level than the overall average of 45%.
While many mainland businesses have now integrated their online-offline retail and promotional channels, one Hong Kong baby company sees the two as requiring quite different strategic and marketing approaches. Typically, for instance, online stores primarily offer fast-moving consumer goods and discounted products, using acquired consumer data to "push" product information to individual consumers. Physical stores, by comparison, rely on the expertise of their sales staff to advise customers and drive sales, while also nurturing the store's brand proposition.
The sales staff in these outlets tend to be well-versed in product knowledge, while also having an understanding of the needs of young children, including knowing which solid foods are best for a recently-weaned baby and how to deal with teething-related issues. As such, they are ideally equipped to recommend products that meet the needs of mothers and children and can even upsell other related items.
While, overall, 61% of "one-child parents" obtain information on feeding utensils from physical stores, only 54% of "two-child parents" have the same preference. Significantly, 45% of "two-child parents" source feeding utensil information via a number of professionally-recommended channels, compared to 36% of "one-child parents". This is despite the fact that the former inevitably have greater experience when it comes to child-rearing. This is probably because of the huge variety of designs and functions that currently characterises the feeding utensils market, and that more "two-child' parents tend to see the value of seeking expert advice than "one-child" parents do. Among the many options on offer are heat-sensitive soup spoons, which change colour as the temperature of the food changes, and specialist food feeders that can help train young children when they first start to eat solid foods. Inevitably, any expert endorsements can have a huge impact on parents when they come to choose their preferred products.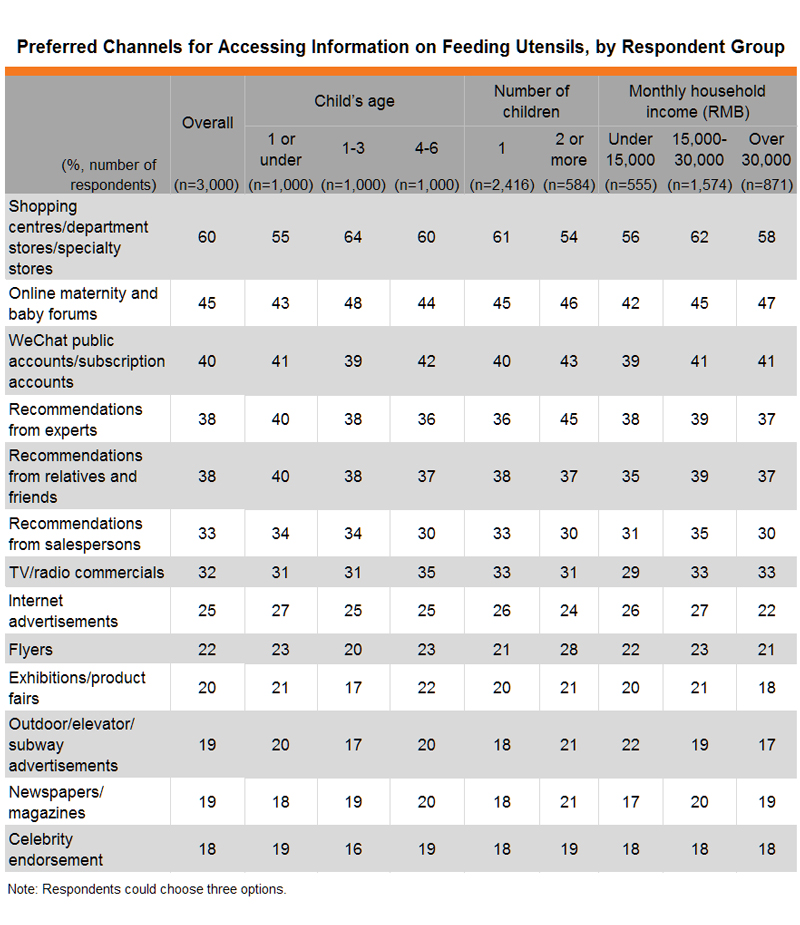 Willingness to Try New Brands
When asked as to which products they would like to see made available on the mainland feeding utensils market, the participants in the focus group identified smart feeding utensils as a priority. These would work in a similar fashion to the smart thermos cups that are already available on the market, which keep the temperature of any liquid within steady at 55°C once plugged in. If this functionality was added to baby-friendly bottles, any milk they contained would be kept warm as long as the unit was charged, something that would be hugely convenient when parents are out and about with their children.
Members of the focus group also expressed a desire to see licensed toy and cartoon brands integrated into the design of feeding utensils, a development that is common in many overseas markets. Lego, the Danish manufacturer of interlocking plastic toy bricks, for instance, has its own branded children's cutlery range, which is said to help make feeding time fun while also encouraging children to eat. In light of these suggestions, it is clear that there is a distinct gap in the mainland market for child-friendly feeding utensils with special functions and appealing designs, a finding that was also supported by a number of respondents to the HKTDC questionnaire.
When asked: "If a totally new brand of feeding utensils was launched on the mainland market, would you be willing to try it?", 84% of respondents answered positively, a clear sign that mainland parents remain receptive to newly-launched brands. Overall, however, the responses varied across the cities covered by the survey, with the highest level of interest in such products coming in Suzhou (90%), while Guangzhou and Qingdao jointly expressed the lowest level of enthusiasm (80%).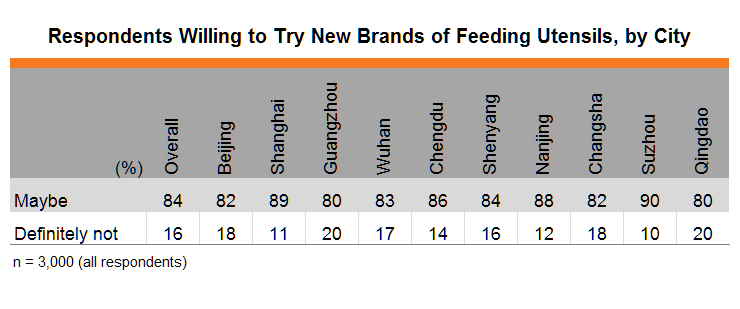 In terms of the willingness to try new products, there was little difference shown overall across the key indices (age of child, number of children, monthly household income). Speaking from its own experience, one Hong Kong baby company, however, maintained that many mainland parents have a distinct preference for feeding utensils with unique designs. Looking to capitalise on this, the company has already launched a diamond-shaped milk bottle with a detachable handle, which can be used to help children learn to feed themselves. According to the company, the design and functionality of the bottle has already proved hugely popular with many parents.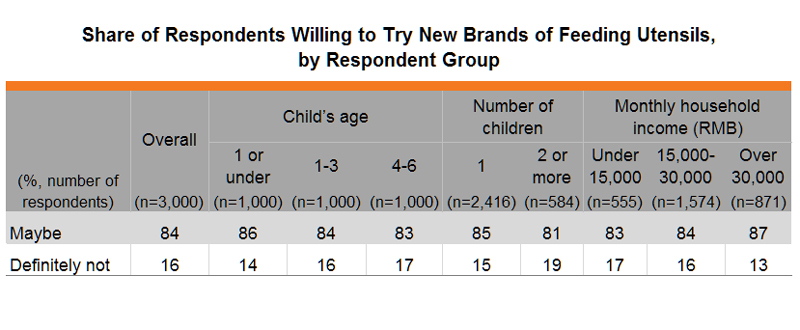 Summary
With "no hazardous chemicals" (66%) and "certification guarantee" (51%) the primary concerns that impact on the purchase decisions of mainland parents when buying feeding utensils for babies and children, any Hong Kong company targetting this market would be well advised to secure international safety certification for all of their products. Such businesses should also pay attention to the design, ease of use, functionality and intrinsic safety of their products. It may also be well worth participating in one of the many international maternity and baby product design competitions as a way of building brand awareness and boosting parental confidence in their products.
The fact that 84% of mainland parents are willing to try new feeding utensil brands, as well as a distinct penchant on the part of mum and dads born in the 1980s and 90s to value product quality and innovation, indicates that there is a genuine opportunity in this sector for many of the relevant Hong Kong brands.
Appendix
Survey Background
China began pursuing a policy of reform and opening up in 1979 and introduced the "one-child policy" to control population growth that year. It was not until 2013 that the government eased the "one-child policy" by letting married couples have two children if one of the parents is an only child. Faced with the problems of a declining working-age population and population aging, the 13th Five-Year Plan decided to implement a universal "two-child policy", which took effect nationwide in 2016.
The mainland middle class has high spending power and parents are in general willing to spend heavily on their offspring because most families only have one child. HKTDC commissioned a survey on the Chinese market for baby and child products in 2013. In the wake of continued economic growth and the change in China's population policy, HKTDC conducted a similar survey in 2017 to gauge the spending mentality of mainland middle-class parents on baby and child products, their major considerations, channels through which they buy these products and access relevant information, and so on, to provide reference for Hong Kong companies interested in developing the mainland market.
Besides trying to find out the general consumption pattern of middle-class parents for baby and child products, the survey also attempts to study their spending characteristics and buying habits from the policy directions for new-style consumption discussed in the 13th Five-Year Plan. These include encouraging the consumption of green, eco-friendly and premium quality products, promoting online-to-offline (O2O) operation, and developing a new format of "content + platform + terminal" media communication. This survey also looks at the differences in spending mentality and characteristics between respondents who are parents of one child and those of two or more children. In the latter case, the data collected relates to the youngest child of any surveyed family.
Methodology
HKTDC conducted an online questionnaire survey in 10 major mainland cities - Beijing, Shanghai, Guangzhou, Shenyang, Wuhan, Chengdu, Nanjing, Changsha, Suzhou and Qingdao - in March 2017. A total of 3,000 middle-class parents (300 from each surveyed city) who have children under the age of six in the family were surveyed. They are the principal members of the family with responsibility for buying baby and child products and have bought at least three categories of these products in the past year. In addition to the online questionnaire survey, six seminars were held in Shanghai and Chengdu to gain a deeper understanding of the spending mentality and purchasing behaviours of mainland parents on baby and child products through qualitative analysis.
The term "baby and child products" used in this survey refers to six categories of products, including food, clothing, toys, sanitary care products, daily-use articles and furniture, used by babies and children under the age of six.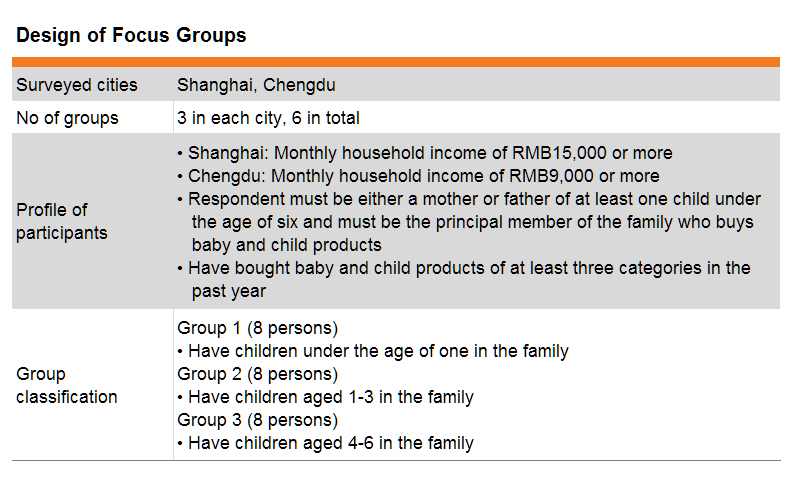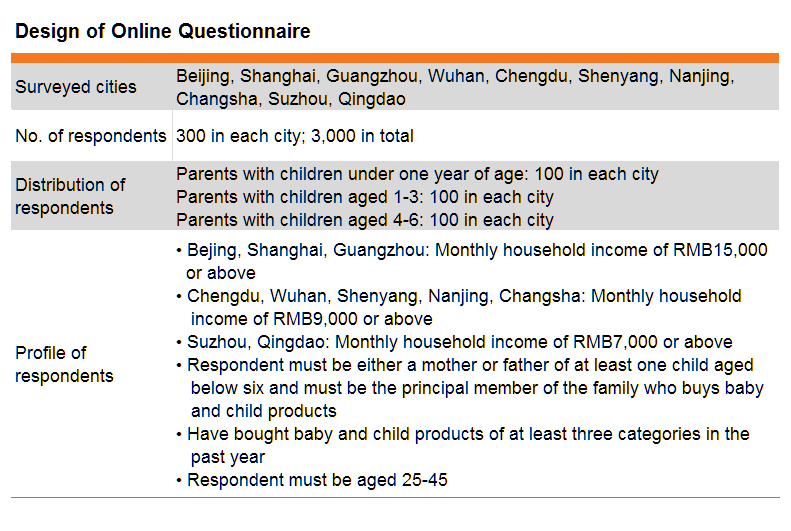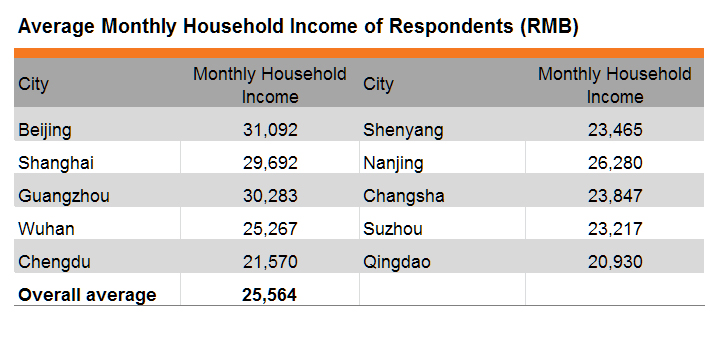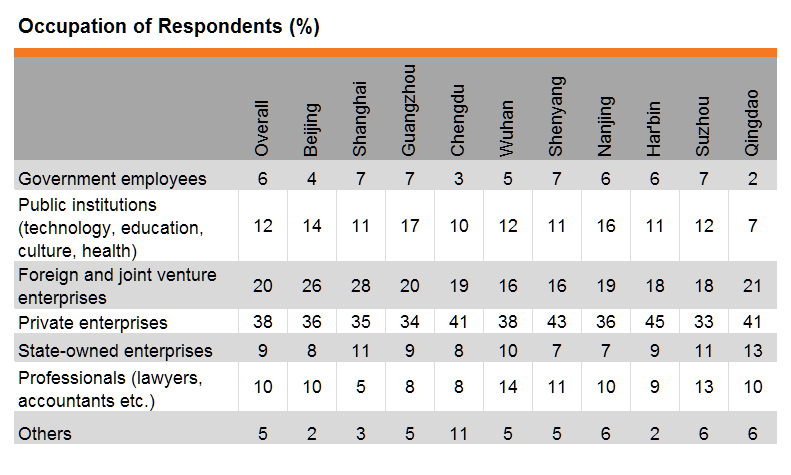 ---
[1] See Appendix for full details of the survey.
Baby Products
Household Products
Mainland China
Mainland China