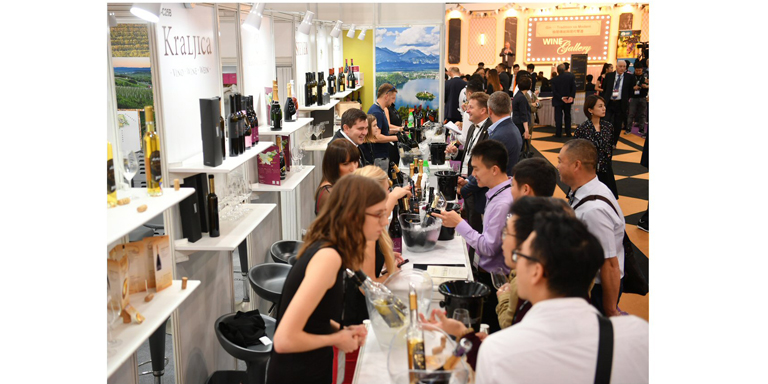 https://hkmb.hktdc.com/en/1X0AC5ZM
Welcome to a New World of Wine
Boutique winemakers and novel vintages found their niche at this year's Hong Kong International Wine & Spirits Fair.
Watch out France, Italy and Argentina; Slovenia, Russia, Romania and Japan are gunning for the crown of global wine-producing powers. Smaller winemakers, lesser-known winemaking nations, and niche wines found an appreciative audience at this year's HKTDC Hong Kong International Wine & Spirits Fair.

Held from 9-11 November at the Hong Kong Convention and Exhibition Centre, the 10th edition of the Hong Kong International Wine Fair hosted 1,070 exhibitors from 38 countries and regions, welcoming nearly 20,000 trade buyers from 70 countries and regions – a 2.3 per cent increase on last year's event. More than 25,000 public visitors attended the fair's final day. Apart from the positive numbers, this year's event perhaps will also be remembered for introducing the niche and the novel.
Global Gateway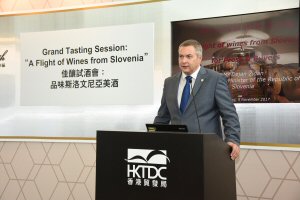 The Central European nation of Slovenia has a reputation for producing high-quality food and wine that is clean and green. For the second year, Slovenia sent a large trade contingent to the fair, headed by Dejan Židan, Slovenian Deputy Prime Minister and the Minister for Agriculture, Forestry and Food, who was guest of honour at the Grand Tasting Session "A Flight of Wines from Slovenia."

Mr Židan said Slovenia could be a gateway to bigger European markets. He added the Hong Kong platform was the point of entry into the Chinese mainland market and the markets connected by the Belt and Road Initiative.

"We strongly support the HKTDC's wine promotion platform," he said. "Our winemakers are looking for partners and, of course, there are buyers in Hong Kong. This fair can be a touch-point to reach the mainland market. Hong Kong and the mainland are crucial markets for Slovenia."

Slovenian wine exports reached more than €1 million for the first time in the first seven months of this year, according to the Slovenian Press Agency, citing government figures. That's compared to 2009, when Slovenian wine exports were worth just €91,000. Last April, Slovenia and Hong Kong signed an MoU covering the wine trade.
Green Premium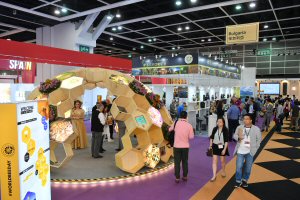 Slovenia has a rich tradition of winemaking and is focused primarily on quality and offering products at affordable prices. The industry also emphasise natural winemaking techniques and can claim a premium on its green wines, most of which are destined for export.

Slovenia's Bee World interactive pavilion also debuted at this year's Hong Kong Wine Fair, to raise awareness about the importance of beekeeping in agriculture and to help foster biodiversity.

It's a natural fit then that Slovenia should throw its weight behind a campaign to save the humble bee, according to Aleks Simčič, owner and winemaker of Edi Simčič vineyards.

"In many of the New Wine World, the vineyards are flat and monotone. In Slovenia, we have a different terrain, a lot of hills and slopes, and that helps create a rich habitat, which increases the quality of the animals and the insects. It makes for a very nice, high-quality, natural wine."

Mr Simčič was one of nine wine producers representing Slovenia at the fair. The country has three diverse wine-producing regions (Primorska, Podravje and Posavje) and vine-growing hills offering some of the best terroir on the planet. Slovenia, in fact, boasts one of the world's oldest grapevines, which has been growing for more than 400 years and still produces wine grapes.
Asia Wine Academy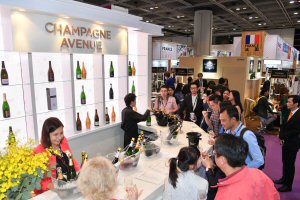 The Wine and Spirits Fair also has a heavy educational aspect to help nurture Asia's flourishing wine business. Seminars and tastings were held across the three-day event, including the inaugural Asia Wine Academy, a three-hour programme tailored to buyers, traders, winemakers and keen consumers. The course is based on core teachings from the curriculum of the Master of Science in International Wine Management at the School of Hotel and Tourism Management at The Hong Kong Polytechnic University.

Seminar host Jeannie Cho Lee, Master of Wine, said a trend towards authentic grape varieties is being fuelled by younger consumers. "I see wine-purchasing by millennials as moving the needle of wine trends," Ms Lee says. "There's a demand for more authentic wines, including those made organically by small producers who are passionate about what they do."
Unlikely Growth
Miyuki Katori is a wine and food journalist who specialises in wines from the Hokkaido region of northern Japan. Often referred to as the "rice bowl" of Japan for its fertile soil and agricultural production, the area is also home to the country's biggest wineries.

"In Hokkaido, we are making wines in the German variety but in the south, they are more like the French varieties," Ms Katori told the audience at the Buyers Forum "Capturing the Blooming Wine Markets in Asia." "Most are very small quantities of wine, but they sell out in minutes after their release."

Japan was among the more than 30 group pavilions representing wine-producing regions, trade organisations and governmental organisations from around the world. Among their number was the Southern United States Trade Association, the Russian Export Centre and Romania's Asociatia Producatorilor si Exportatorilor de Vinuri.
New Flavours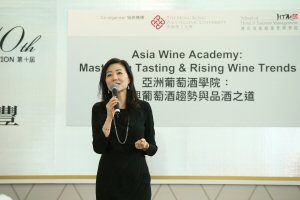 This year's Wine and Spirits Fair featured a new pavilion from the Syndicat Général des Vignerons de la Champagne of France, which housed seven Champagne-makers and was the site of more than 14 tasting sessions during the fair.

"The atmosphere at the Wine and Spirits Fair was good," said winemaker Clotilde Chauvet from Marc Chauvet, a Champagne supplier. "We have met a lot of buyers, especially those from Hong Kong, the mainland, Taiwan and Japan, who expressed strong interest in our Champagnes,"

On opening day, wine wholesaler and retailer Sam Weil was looking for something new. The director of Wine Hot was looking for new products and to meet clients. Of particular interest were Mexican wineries and new offerings of tequila.

"For today to have been a success, I want to have been surprised," said Mr Weil, who operates the local wine bar Le Tambour, located in the trendy SoHo district. "We have many expos, fairs and occasions in Hong Kong, so I'm looking to try new things and be surprised. It's about opportunities. There have already been quite a number of surprises."
Related Links
Belt and Road
Edi Simčič
HKTDC Hong Kong International Wine & Spirits Fair
Marc Chauvet
Radgonske Gorice
Slovenia.Si Wines
Syndicat Général des Vignerons de la Champagne of France
Wine Hot
Slovenia
France
Hong Kong
Eastern Europe
Western Europe