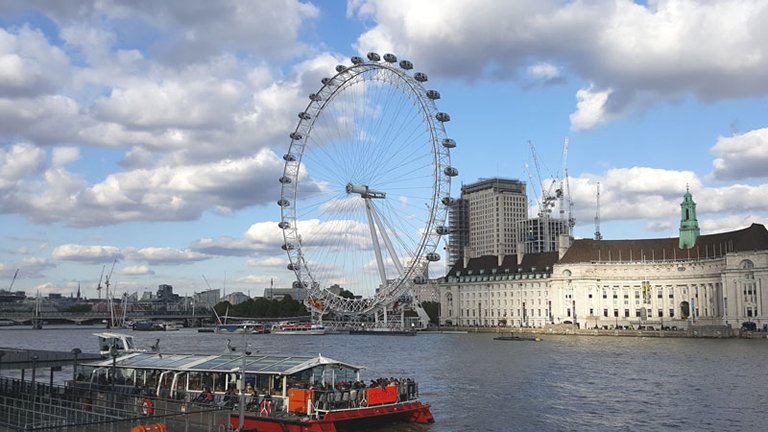 https://hkmb.hktdc.com/en/1X0AC5E7
Brexit in Focus: A Steady Course Through Uncharted Waters
No country has ever left the EU in its 60-year history[1], but the UK is about to sail through these uncharted waters after some 40 years of membership. Although some sort of deal may be negotiated for a transition period of an as yet unspecified length, the UK is scheduled to leave the bloc in late March 2019. As the UK is a key trading and FDI partner of Hong Kong in Europe, the UK-EU divorce is going to bring distress to Hong Kong companies due to the uncertainty over the country's future relationship with the EU and the rest of the world.
Uncertainty abounds over what form these relationships may take. Many UK-based companies, including big brands and manufacturers, consider it too early to comment and work on the issue at this stage when the UK and the EU are still at a very early stage in the Brexit negotiations. Many of them believe that if the UK were to leave the EU without agreeing a new trade deal and a "hard Brexit" were to take place, the most immediate effects would be a further depreciation of the Great British pound (GBP), lower consumer and business confidence and a downturn in the domestic consumer market.
Major players including banks and insurance companies have already been advised by industry regulators to prepare for a "hard Brexit". EU leaders have made it clear that the UK will not be allowed to cherry-pick the parts of the EU membership it wants to keep post-Brexit during the forthcoming negotiations, and so a "hard Brexit" is generally regarded as a baseline scenario for how the UK's relationship with EU will work if no deal is agreed before the UK's scheduled departure date.
Under this baseline scenario, UK-EU trade would have to be conducted under WTO rules, meaning that goods traded post-Brexit across the UK/EU border would be subject to most-favoured-nation (MFN) tariffs. These are generally low but can rise to as much as 35% for certain products. More importantly, border controls will need to be erected in order to check the rules of origin, which are likely to lead to delays and increased costs for exporters and importers. However, this may be mitigated by the use of frictionless and virtual border checks, similar to those in place at the Sweden-Norway and US-Canada land borders. Although it would involve a great deal of work to put them in place in time for the UK to leave the EU, it is technically possible that they could minimise potential customs clearance disruption.
To ensure a smooth departure and an uninterrupted access to the EU market, it would be in the UK's best interest to establish a post–Brexit free trade deal with the EU. However, the EU has made it plain that negotiations on such a deal cannot take place until satisfactory progress has been made on other issues, such as the financial contribution the UK owes the EU (the so-called "divorce bill"), citizenship rights, the future of the Northern Ireland-Irish border and the extent post-Brexit of the jurisdiction of the Court of Justice of the EU (CJEU).
Aside from the potential disruption to trade in goods and services, UK businesses and institutions would also face losing access to hundreds of millions of Euros in EU funding, which is a lifeline to many pioneering research and innovation projects. With the UK boasting the highest number of scientific publications within the EU and home to a world-class research and development (R&D) ecosystem, the seamlessness with which the British government can step in to fill the funding void after Brexit will be crucial to the UK's continued role in leading global innovation.
A "no deal" scenario would also mean an end to free movement of labour – that is, the right of EU citizens to live and work in the UK, and for British citizens to do the same across the EU. This is likely to lead to labour shortages and recruitment challenges for companies whose foreign employees account for a large percentage of their workforce. It would have a major impact on many of the UK's retail chains and cross-border e-commerce players, which have traditionally relied heavily on EU immigrant workers.
Taking all the above into account, Hong Kong companies, awaiting more concrete Brexit negotiation results, would be well advised to thoroughly review the extent to which Brexit is going to impact on their overall business interests across the EU. To survive the uncertainty and best safeguard their business interests post-Brexit, they should also be prepared to recalibrate their European strategy in a timely manner if the negotiations do not proceed in the expected direction.
Likely Impacts on Trade
Unless the UK can manage to reach a free or preferential trade agreement with the EU (and also roll over all the preferential market accesses currently effective under the bloc's web of trade deals with more than 50 non-EU economies) before its scheduled departure in late March 2019, the UK will cease to have unfettered, tariff-free access not only to the EU internal market, but all the other markets that are trading with the bloc under different preferential trade agreements.
In this case, the UK would have no choice but to trade with the EU and the bloc's free trade partners under WTO rules, implying the imposition of tariffs and non-tariff barriers such as local content requirements; trade defence measures and licensing and labeling rules. Border controls, no matter how frictionless and virtual, will have to be erected, while customs clearance and market access will inevitably become less straightforward.
On the bright side, however, the EU common external tariffs which would be imposed on goods imported from the UK post-Brexit are generally low, except on certain sensitive products such as agricultural products. Furthermore, the proportion of UK exports going to the EU has been gradually declining in recent years (from 55% in 1999 to 44% in 2016), which implies that UK exporters are beginning to develop other non-EU markets.
While the EU remains the UK's largest import source and trading partner by a considerable margin (even when taking into account that a high proportion of recorded UK imports to the Netherlands and Belgium ultimately ends up in non-EU markets[2]), the growing importance of non-EU markets will definitely help compensate the UK for any trade disruption with the EU caused by a "no-deal" Brexit.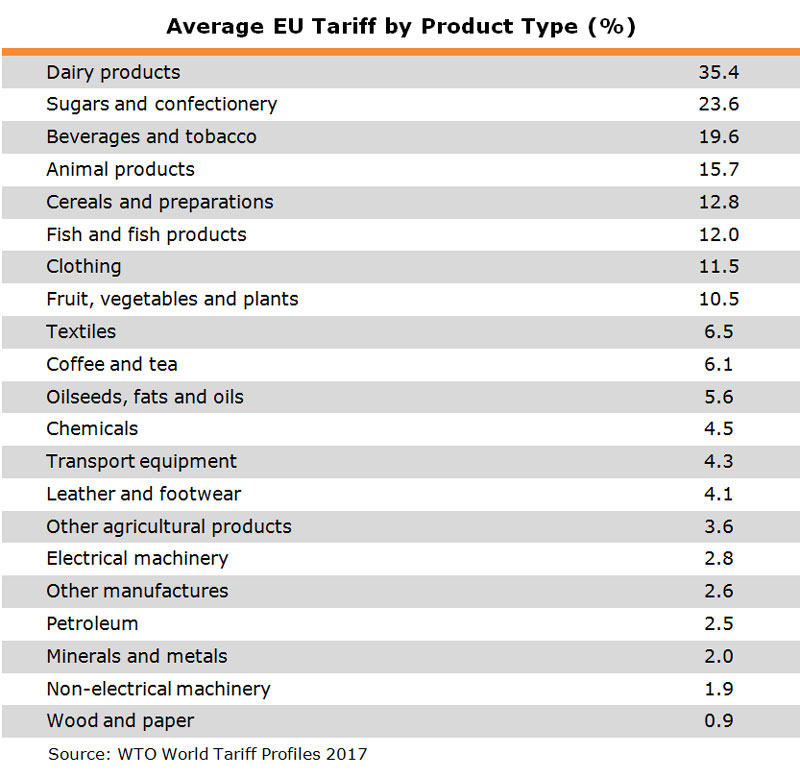 With the UK being the world's 2nd largest service exporter (after only the US) and a heavily service-oriented economy where the tertiary sector is estimated to account for nearly 80% of the nation's output, the impact of Brexit on the UK's service trade is expected to be profound. Many of the UK's retail chains and cross-border e-commerce players, which rely heavily on the EU market or on EU immigrant workers, are actively preparing for the Brexit challenges, especially as regards labour shortages and difficulties in hiring and retaining talent in expectation of a significant change to UK labour migration policies from free movement to different versions of work permit systems[3].
In the financial services sector, many businesses including banks and insurance companies have already been advised by industry regulators to prepare for a Brexit that involves no new trading deal having been agreed. Under such a scenario, UK banks and financial services would no longer benefit from so-called "passporting" rights – the legal framework that allows them to operate in any EU Member State through branches or cross-border services.
To make up for the loss of passporting rights post-Brexit, UK financial firms which currently do not have a subsidiary in other EU Member States may have to consider opening a separate legal entity or a fully-fledged local subsidiary subject to host country licensing, supervision and capital requirements. This subsidiary will be treated as an EU company and will continue to have the right to establish branches in host Member States, to provide services and to participate in the payments and market infrastructures under the EU rules governing the right of establishment and the freedom to provide services.
UK financial firms can request "equivalence" treatment, which is available to third (non-EU) countries as long as it is explicitly provided for in EU legislation. While the entitlement is subject to assessment by the European Commission and can vary across EU legislations, it is very likely that the UK will get the green light without much controversy, as the UK will still be in basic compliance with all the relevant EU rules on the day Brexit happens. However, it should be noted that equivalence does not apply to the provision of all services or the servicing of all client types, meaning that there is still likely to be disruption to certain financial services' business operations.
Hong Kong traders and investors, as financial service users, are unlikely to see any noticeable changes, though. In a scenario in which UK financial service companies are treated as "third-country" firms, it is likely that either equivalence will be granted, or that the UK businesses would choose to open a subsidiary in an EU Member state. In this latter case, the only change would be the place of regulation of the business. There would be minimal changes in business outcomes for clients, as it is expected that financial regulation laws would still be harmonised across the EU and the UK.
Likely Impacts on Cross-Border Investment Deals
The most obvious immediate effect of the UK's vote to leave the EU was the currency crash that saw the GBP trading at one point below the US$1.20 mark. The Bank of England (BOE)'s decision to cut interest rates and introduce a package of monetary stimulus measures in the immediate aftermath of the vote, in a bid to ward off a possible recession, aggravated the fall in sterling.
Even though the GBP has recovered somewhat to around US$1.30, the depreciation from US$1.48 on the date of the Brexit referendum has not only made UK exports and holidays more competitive, but sparked an investment boom in which many opportunistic foreign investors have been swooping on British assets such as retail brands, real estate and manufacturing technology. The fall in the pound has made these assets cheaper to foreign buyers.
The UK's initial economic boost, underpinned by the cheaper pound and low interest rates, has now however lost momentum. Higher inflation, has led to a squeeze in living standards which is feeding into weaker consumer sentiment and more cautious spending decisions. This is likely to be exacerbated by the BOE's recent decision to raise interest rates back to pre-Brexit levels.
New investment projects such as Google's plans for a new London headquarters, Facebook's expansion in the north of the city, Amazon's new warehouse at Tilbury in Essex, Wells Fargo's new offices, IKEA's three new stores, French energy group EDF's nuclear power plant and the record-breaking sale of London's landmark Walkie Talkie skyscraper to the Hong Kong-based Lee Kum Kee Group, are still making headlines in the UK. But more recent studies have shown that the value of purchases of British businesses involving foreign capital fell in the first nine months of 2017 to its lowest level since 2010, and is only two-thirds of the average figure for the last seven years.
It may not just be the loss of unfettered access to the EU single market that is discouraging foreign investors considering buyouts and other business deals in the UK. The Brexit-induced uncertainty over merger and acquisition (M&A) controls may also be casting a cloud over prospective transactions. International businesses considering mega M&As involving the UK may be taking heed of the fact that post-Brexit they may no longer enjoy the "one-stop shop[4]" benefit of having their deals (if above the filing threshold under current EU rules) reviewed only in Brussels.
Unless a special bilateral agreement is hammered out on this issue, the "one-stop shop" advantage will disappear in the UK. Mergers – whether of UK or foreign businesses – that meet both UK and EU thresholds would be likely to face scrutiny under both systems. Parallel reviews will also raise the possibility, although rare in practice, of one authority permitting and another blocking a merger, or of diverging remedies. Since the UK's merger control already applies a different set of standards to that of the EU, Brexit appears certain to result in multiple filings, and therefore a greater burden for businesses.
Likely Impacts on R&D
The UK is a European and global leader in R&D with a significant number of world-class and highly innovative fields such as life sciences, aerospace and automotive, as well as in new sectors like digital and financial technologies. One of the key factors and long-standing features of the UK innovation landscape is the significant level of R&D investment from foreign-owned or foreign-funded businesses. In 2015, expenditure on R&D in the UK by foreign-owned businesses accounted for 51% of total UK business R&D expenditure.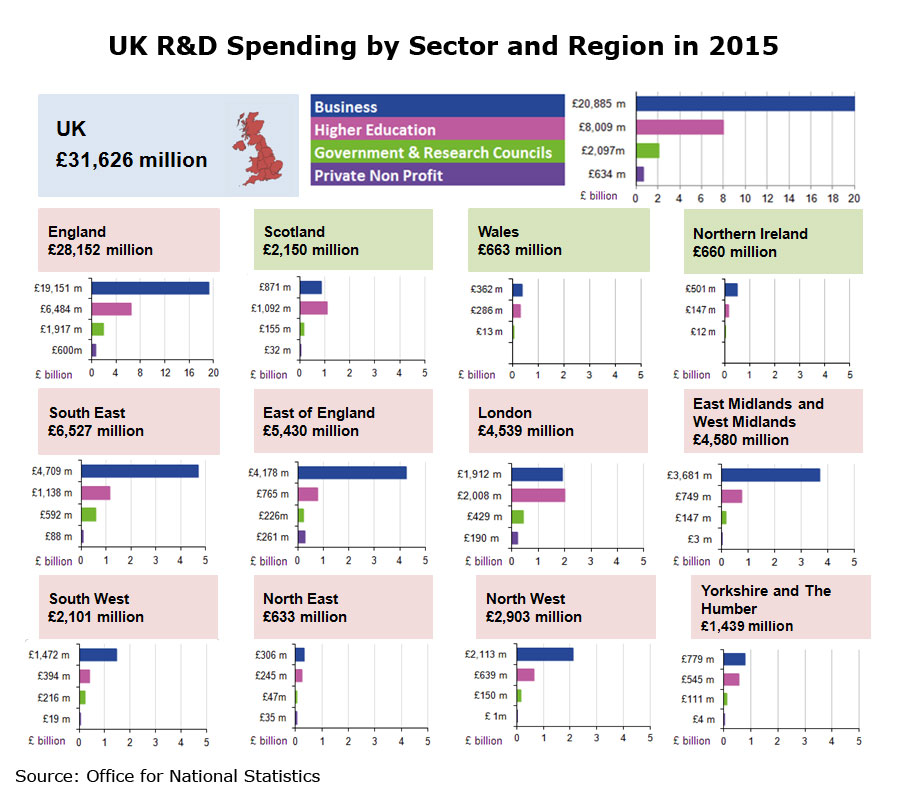 Whether the UK, and London in particular, will lose its attraction for foreign scientists, entrepreneurs, investors and tech companies post-Brexit remains unknown, but the loss of the £1.5 billion R&D funding coming in each year from the EU budget will require immediate attention.
Science is one of the most financially significant aspects of the EU's relationship with the UK, accounting for some 18% of EU funding coming into the UK. Recognising this, the UK government has pledged to match the potential loss of EU funding with a £2 billion annual R&D fund and a review of tax incentives for innovative corporations.
Effective intellectual property rights (IPR) protection is also central to R&D investment decisions. There are currently two parallel systems for obtaining registered trademarks which cover the UK – UK Trade Marks (UKTMs), which are obtained through and administered by the UK Intellectual Property Office (UKIPO), and European Trade Marks (EUTMs) which cover the whole of the EU and are obtained through and administered by the European Union Intellectual Property Office (EUIPO).
While Brexit will have no impact on UK registered trademarks, the likelihood is that EUTMs will cease to be applicable in the UK once the country formally leaves the bloc. This means that after Brexit, the only way to obtain new registered trademark protection in the UK will be to file a new UK trademark. The expectation is that there will be some mechanism to ensure there is no loss of rights in the UK for owners of existing EUTMs. Although it is at present unclear what that mechanism will be, one option might be that EUTM owners can choose to pay a revalidation fee during a transition period to secure a corresponding UK registration with the effective date of the EUTM.
At present, Hong Kong companies that want to get trademark protection in the EU can simply file an EUTM, which requires genuine use of the trademark only in a single Member State to maintain validity. But if such an EUTM is being used only in the UK, the registration could well become use-vulnerable, and hence cancellable and/or unenforceable post-Brexit. Even so, Hong Kong trademark owners are not advised to file a new UK trademark application now merely as an attempt to buy a new non-use grace period, as that may be considered a bad faith filing under current UK rules.
Besides, filing a new UK registration now is likely to cost more, both in terms of initial fees (which are widely expected to be higher than any prospective revalidation fees) and maintenance fees, especially if the same owners later on revalidate their EUTMs, thus resulting in duplicate protection. It goes without saying that any new UK trademark registration will be effective only from the date of filing, whereas any later revalidations will likely keep the effective date of the original EUTMs which could be many years earlier.
Hong Kong trademark owners selling in the EU may also need to keep an eye on the geographical scope of their trademark agreements, including undertakings and co-existence agreements to settle disputes, as well as licences and distribution agreements. Most of these will often refer simply to "the EU" and may have to be reviewed to clarify their scope and to ensure the terms continue to apply in the UK post-Brexit. Future agreements concluded between now and Brexit should also include a specific reference to the UK and not just the EU.
Furthermore, for those seeking patent protection, the UK government announced in November 2016 that it intended to move forward with plans to ratify the EU's Unified Patent Court (UPC) Agreement, which clearly states the supremacy of EU law and involvement of the Court of Justice of the EU (CJEU) in the hearing and ruling of cases regarding infringement and revocation proceedings of European patents valid in the territories of the participating states. Whether patents could ultimately be an exception to the UK's larger disengagement from CJEU jurisdiction post-Brexit remains uncertain, though it looks not unlikely given the indications emerging from the UK government.
By and large, the CJEU will play no future role in interpreting the UK's laws once the country has left the EU. Instead, the UK government has put forward its European Union (Withdrawal) Bill – more commonly known as the Repeal Bill – which will, it is proposed, bring all existing EU laws onto the UK's statute books and give ministers the power to make secondary legislation on these issues post-Brexit. But while the UK will not fossilise past decisions of the CJEU, existing CJEU case law at the point the UK leaves the EU will be given the same status as decisions of the UK Supreme Court. In the absence of a future ruling contradicting a CJEU judgment, existing CJEU case law will remain law within the UK.
Regarding data privacy, UK R&D businesses that hold or use European personal data both inside and outside the EU are continuing to plan for the implementation of the EU General Data Protection Regulation (GDPR) which will become enforceable on 25 May 2018. The GDPR essentially allows for a "one-stop shop" mechanism which will enable data controllers or processors who carry out cross-border processing of personal data to appoint one lead supervisory authority (LSA) in the EU to have primary responsibility for the organisation's processing activity and to coordinate investigations when necessary.
The UK Government has confirmed its intention to bring the GDPR into UK law. In terms of international trade, as long as the UK stays faithful to its commitment to implement the GDPR and the rights and obligations outlined by the EU, it is likely it will be accepted as a compliant "third country." The third country designation, while not leading to any particularly disruptive legal effect, will mean that international organisations with UK headquarters will have to change their LSAs for GDPR purposes. It may therefore be prudent for organisations to start to consider – to the extent that they have a choice – where in the EU their post-Brexit LSAs should be based.
Likely Impacts on General Commercial Agreements
While the UK government has more than once confirmed that it will keep in line with the EU's consumer protection laws, commercial agreements involving other terms and conditions with respect to customs clearance, currency fluctuations, regulatory regimes, territorial restrictions and governing law and jurisdiction may still be affected by Brexit. Hence it is worth paying attention to these matters when entering into new commercial agreements.
On the Role of EU Law
To the extent that a UK law governing commercial contracts is based on an EU Directive, it is likely to continue to apply "as is" post-Brexit, unless the UK decides to amend it for any reason. This is easily done from an administrative point of view, as directives have to be transposed into the national law's statute books to have effect. However, where a UK law is based on an EU regulation which has "direct effect" and requires no transposition, all or certain EU Regulations will cease to apply post-Brexit and the UK government will need to enact UK laws to replace them.
On Increased Trade Barriers
Trade barriers between the EU and the UK seem likely to increase, meaning that costs when trading in Europe will increase. It is important to assess the commercial impact this will have on future contractual agreements and what actions should be taken in light of this increased cost. There should be a consideration of the extent to which contract prices should include or exclude any new taxes, duties or other similar levies that the UK's or remaining EU Member States' governments may introduce after Brexit takes effect.
On Currency Fluctuations
Currency fluctuations could also have a significant effect on existing and future commercial agreements; hence businesses should closely monitor the value of the GBP. When negotiating new agreements, there should be an allocation of the risks associated with future changes in the value of the British pound.
On Parallel Regulatory Regimes
If future commercial agreements involve the introduction of new goods or services into both the UK and EU markets, there may be divergences in regulatory regimes – under both UK and EU laws. The risk of this happening is largely dependent on the nature of the UK's future relationship with the EU, but, if parallel regimes do emerge, contracting businesses will likely need to agree who should be responsible for achieving compliance and who should bear the consequences of non-compliance.
On Territorial Limitations
Sales, distribution, agency and franchise agreements are typical commercial contracts that contain territorial restrictions. If the duration of an agreement is likely to continue post-Brexit, then, depending on the terms agreed for Brexit, the distributor may no longer have the same rights to distribute goods into the UK after Brexit. Any commercial contract which contains territorial restrictions will need to be reviewed and possibly amended to ensure that the UK remains within or out of scope.
On Governing Law and Jurisdiction
Commercial contracts generally contain governing law and jurisdiction clauses. EU-specific rules currently apply where parties have failed to make a selection or if the position has been left ambiguous or there is a conflict of laws. If the UK, as part of its Brexit negotiations, decides to keep the current laws post-Brexit, there will be no appreciable difference except that the UK courts will determine the application of the laws, and there will no longer be any appeals to the CJEU.
Hoping for the best while getting prepared for the worst, Hong Kong companies trading and investing in the UK and EU should continuously review and Brexit-proof their existing commercial agreements to seek sufficient protection of interests, while including greater clarity over different specific eventualities of Brexit as far as possible in future ones.
A Checklist for "Brexit-Proofing" Commercial Agreements
1. Review existing contracts
Review existing contracts to determine the extent to which they address the implications of Brexit and provide sufficient protection of interests.

Consider the possibility of amending or renegotiating contracts whose terms are insufficient or ambiguous in addressing potential concerns or liabilities post-Brexit
2. Expressly and specifically address the consequences of Brexit rather than using general principles
Rather than using terms such as force majeure[5], financial hardship, etc, use express provisions which cover specific eventualities of Brexit. (Example: Addressing currency fluctuations or increased costs due to tariffs)

3. Go further than necessary to clarify any references to "the EU"

Instead of simply referring to EU Member Countries as "the EU", go further in clarifying that the UK is excluded in this description and/or list the relevant countries individually.

4. Go further than necessary to clarify any reference to "EU law"

Instead of simply referring to "EU law", go further in clarifying whether this description will refer also to legislation included in the UK's Repeal Bill and more generally adapted to take the place of former EU law in the UK

5. Recognise that UK court judgments may no longer be recognised within EU Member States, and are subject to domestic laws and restrictions


Where there is concern about recognition, consider conducting arbitration with London as the host venue.

6. Potentially include right to terminate upon Brexit, if appropriate
Conditions of termination:


upon withdrawal from EU (Example:"Termination on the entry into force of the withdrawal agreement agreed under Article 50 of TEU").

based on material adverse effects stemming from a particular event (Example: "…in case of loss of passporting rights").

Drafting language should be clear on:


whether the right to termination is bilateral or unilateral.

time frame of when a contract no longer becomes binding following termination.

whether there is an obligation to compensate or a penalty to be paid for termination.

if parties are obliged to renegotiate in good faith prior to termination being finalised.
---
[1] There was in fact no way to legally leave the EU before the Treaty of Lisbon was signed on 13 December 2007 and later became law on 1 December 2009.
[2] This is often known as the Rotterdam effect or Rotterdam-Antwerp effect – a phenomenon where UK-EU trade could be exaggerated by UK goods being shipped into the hub ports of Rotterdam in the Netherlands and Antwerp in Belgium and then dispatched to other non-EU destinations.
[3] According to the UK Home Office proposals, all EU citizens resident in Britain will have to apply for inclusion on a "settled status" register if they want to stay in the country after Brexit, while EU nationals who have applied for permanent residency status documents since the referendum will be asked to apply again.
[4] Since 1989, the European Commission has had exclusive jurisdiction over mergers that meet certain turnover thresholds. And in principle, such mergers require no clearance by national competition authorities of the EU Member States, although national authorities can seek to have specifically national aspects of mergers referred back to them and retain a tightly circumscribed right to protect certain national interests.
[5] A force majeure clause relieves one or both parties from liability to perform contract obligations when performance is prevented by an event or circumstance beyond the control of the contracting parties.
Legal Services
Finance & Investment
intellectual property
United Kingdom
EU
Western Europe
Hong Kong