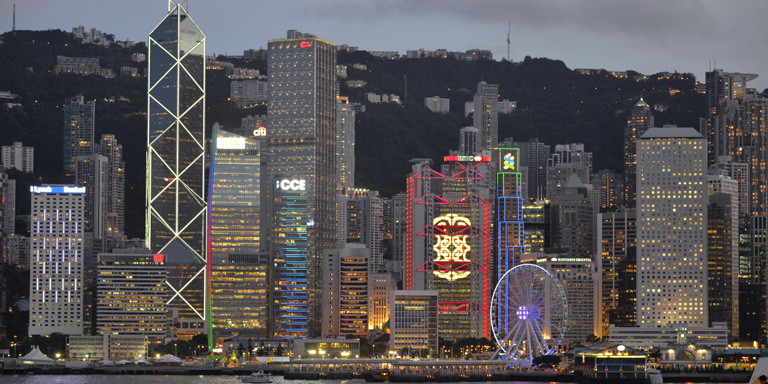 https://hkmb.hktdc.com/en/1X0AC31Q
Lighting up Asia's World City
The region's booming cities are fertile playground for customised lighting specialist Illumination Physics.
In January 2004, Hong Kong's iconic skyline lit up for the debut of Symphony of Lights, one of the world's largest multimedia light and sound shows. The 20-minute spectacle, which comprised 24 buildings projecting synchronised lighting, has since become a signature Hong Kong tourist attraction. Heading the initial project in Hong Kong was Simon McCartney, who was then Design Director for Australian attractions firm Laservision.

"Symphony of Lights changed a lot of attitudes in Hong Kong, not just in terms of that show but what you could do with your facade," said Mr McCartney. "It's no longer enough to build a beautiful facade. You need a way to light it up to make it stand out in the chaotic Hong Kong skyline."

According to Mr McCartney, the Symphony of Lights project also ushered in the era of convergence in entertainment and architectural lighting.

"It showed me that there was a better way," he said. "We discovered that we could make custom-designed equipment very quickly that was perfect, just by having a project focus rather than a global marketing focus. That's how we started our business."

Mr McCartney set up his company Illumination Physics, with partner Peter Kemp in 2006, focusing on customised lighting projects tailored to the needs of individual clients.

The company's mission stemmed from an industry comment that resonated with Mr McCartney: "One architect said to me, 'I don't want to be stuck designing my building around your light fixtures.' And I thought, how true is that? You don't have to."
Case Study Projects
With its headquarters in Hong Kong, Illumination Physics also has offices in Australia, Macau and Germany, as well as two factories in the neighbouring mainland city of Dongguan, to manufacture lighting according to the company's design specification.

The goal for each project, according to Mr McCartney, is seamless integration of facade lighting into the building design.

"The inspiration is something that you share with the architect," he said. "He or she will have a vision about what they want to do. Every building is different, so why not look at each building as a case study by itself."
Project Highlights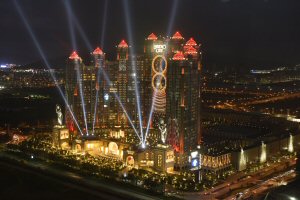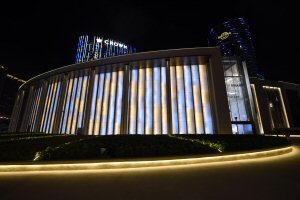 Among some of the firm's iconic works was the relighting project for the HSBC headquarters building in Central to mark the bank's 150th anniversary in 2015. As part of the nine-month celebration, the iconic building, designed by star architect Norman Foster, was given a lighting makeover as well as three giant transparent glass media walls to communicate complex messages. The revamp also resulted in more energy-efficient lighting. "It was incredibly satisfying because it achieved all of the objectives without compromising the building's integrity," he said.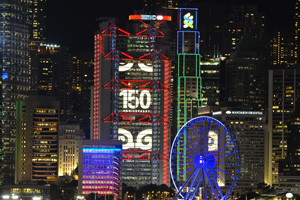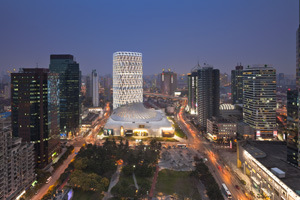 Other major projects have taken the company to Macau, Asia's casino and entertainment capital, where it was tasked with designing the lighting for Macau Studio City and the City of Dreams extension in 2016. It also lit up the ArtWall at Marina Bay Sands in Singapore, as well as completed commissions in Dubai in the UAE, and in the Chinese mainland, where its biggest project, to date, is Shanghai's L'Avenue.

Mr McCartney says the common assumption that customised lighting would be more costly is a myth. "For a company like ours that wants to be agile, customisation can actually be less expensive," he said. "A perfectly designed product will be easier to install and maintain and is superior in function."
Future of LED Lighting
The advent of LED lighting has transformed the industry, according to Mr McCartney. "The fact that all of the lights in this room are run by LED shows a slow but seismic shift in the industry." But he noted that variable LED quality is still endemic in the industry.

"There's no magic bullet, no magic technology," he said. "The future way is to stop trying to sell off-the-shelf products and listen to what the architects have to say and help by designing things that achieve what he wants without causing other problems. Why get it nearly right when with a little effort, you could make it perfect?"
World's LED Centre
Being based in Hong Kong has helped Illumination Physics achieve its vision. "Our market is here or near here. We have companies in Australia, Macau, Germany, but this is the hot spot of activity. Without going too far from Hong Kong, this is where we've made our money. On the toe of China, close to Macau, not too far from Singapore, it's the ideal location."

As the centre of the LED world, Asia has shone the way for the possibilities in the future of lighting architecture. "It's inevitably led to a hot spot of exciting lighting for facade – not all of it is fantastic, but all of it enthusiastic, and we as a company just seek to do it better."

Simon McCartney spoke at the seminar "Future Way of Outdoor Lighting" during the Hong Kong International Outdoor and Tech Light Expo, 26 October.
Related Link
Illumination Physics
Australia
Hong Kong
Australasia