https://hkmb.hktdc.com/en/1X0ABX09
Body Art Ups the Ante
Hong Kong's tattoo culture is fast-developing its own brand of the ancient practice.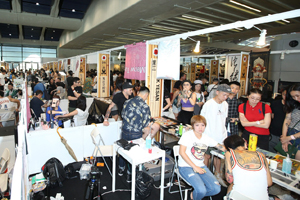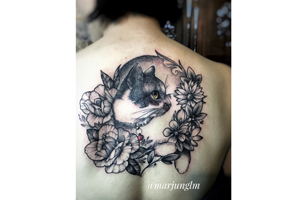 Since Hong Kong's earliest days as a maritime hub, it was almost a rite of passage for foreign sailors to get "inked" as a permanent memento of their visit. Their patronage fuelled the rise of many old-style tattoo parlours, particularly around the harbour area of Wan Chai.

But today, modern-day tattoo parlours are launching across the city, frequented more likely by professionals than blue-collar workers. Hong Kong's new tattoo culture has taken longer to make its mark than in other cities, but it finally came of age when the first Hong Kong China International Tattoo Convention debuted in 2013.

The gathering has grown to become the tattoo industry's largest Asian expo, featuring more than 300 tattoo artists, and attracting a record 25,520 visitors in its fifth edition held recently (29 September-1 October at the Kai Tak Cruise Terminal).

Local tattoo artist Gabe Shum, owner of Freedom Tattoo Hong Kong, initiated the event with the hope of raising the perception of inked skin beyond its earlier association with criminal elements.

On that score, Hong Kong was somewhat late to the party, he said. "In Europe and America, they had already long lost that connection. There's a real [tattoo] culture and history there, of which Hong Kong is now developing its own."
Celebrity Clientele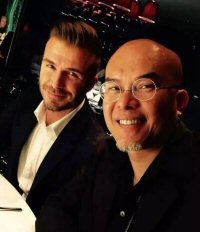 Originally from Malaysia, Mr Shum is known for his freehand work and counts football celebrity David Beckham among his clients. Prior to opening Freedom Tattoo Hong Kong in 2000, only a handful of studios existed in the city. Today, he estimates there are close to 200.

"Back then, a lot of sailors and military personnel would get a tattoo during their stay due to the relatively low price and quick time it took. Hence, a lot of Chinese 'old school' tattoos got spread to all over the world.

"Now the tattoo industry has become a trend and is something more people with an art base would like to get into."

Noting global statistics suggesting that one in three people has a tattoo – including many elite athletes – professionalising the industry is crucial, Mr Shum said.

"A lot of people come to Hong Kong for tattoos due to our high standard in sterilisation, our professionalism and skilful techniques."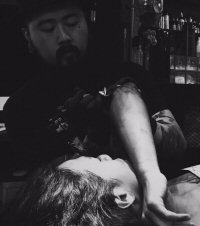 Hong Kong, he said, has many up-and-coming tattooists. "That's one of the reasons I organised the convention – to provide an international platform for everybody to learn and grow." As a hub, Hong Kong also has an advantage in getting first-hand information from around the world, "therefore, our style development is blooming now."

It's a sentiment echoed by others in the industry, including
Vince Yue, who opened The Company Tattoo in 2014, specialising in black-and-grey tattoo and realism.

"Back then tattooing wasn't popular and accepted, as people were still conservative about tattoos," said Mr Yue. "But now people, especially young people, see tattooing as a form of self-expression, a trend," he said.
True Passion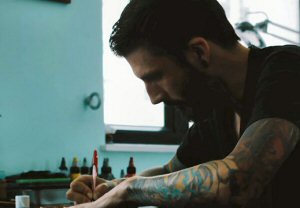 Some people have found second careers in the local tattoo industry. Rob Kelly, founder and owner of Blackout Tattoo in Sheung Wan, arrived from Britain in the early 2000s to work as a civil engineer. Bored with his office job, Mr Kelly, who'd been getting tattooed since his youth, apprenticed for a fellow Briton who had a tattoo studio in Hong Kong, before opening his own studio in 2009.

The first two years were "pretty quiet" for the four or five "decent" studios operating in the city. But since 2010, new studios have been opening every year, Mr Kelly said. Now, business is booming. "I'm swamped at the moment," he said. His clients range from college students to high-powered professionals, with about a 50/50 gender mix.


"We've moved away from the sailor-style [of tattooing] where you'd walk in and pick a design from the wall."
Mr Kelly only does bespoke artwork, a growing trend he credits responsible for the shift in Hong Kong's tattoo scene. "We've moved away from the sailor-style [of tattooing] where you'd walk in and pick a design from the wall," he said.

Some professionals coming to him from Central's financial district still want tattoos that can't be seen in business attire, but Mr Kelly believes that will change in the next decade as well. "The generation who are 20 or 30 now will move into the hiring level of a company, and they will have grown up with tattoos – so they won't see them as taboo."
Artistic Instinct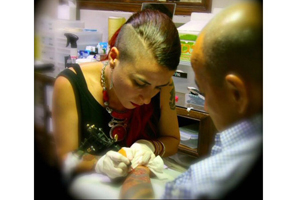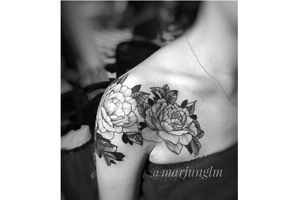 Spanish-born Maria Lopez, an artist at Freedom Tattoo Hong Kong, studied and worked in architecture and interior design before indulging her love of drawing at the suggestion of her then-boyfriend, now husband, who is a tattoo fan.

"I met Gabe [Shum], showed him some sketches, and quit my job as a furniture designer to train with him full-time," said Ms Lopez.

"For me, [the attraction is that] I can really create – I don't have limits," she said. "I find it really meaningful to draw something on the client they will have on their skin forever."

Regardless of one's job, Ms Lopez believes, tattoos are acceptable these days. "You see policemen, doctors, lawyers all with tattoos. It doesn't matter what job you have, body art is super-cool."
Related Links
Blackout Tattoo
Freedom Tattoo Hong Kong
The Company Tattoo