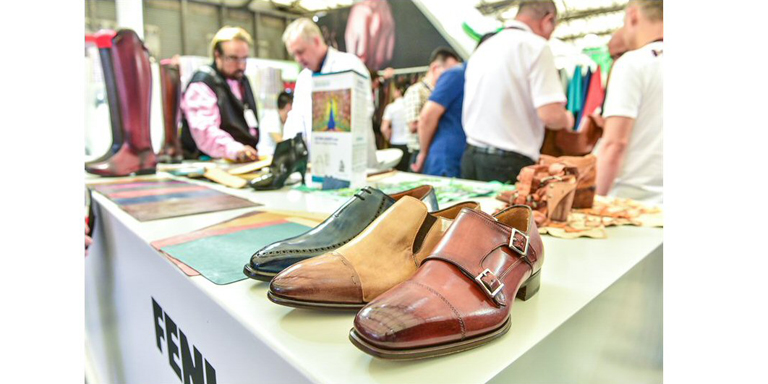 https://hkmb.hktdc.com/en/1X0ABWUI
Leather Sector Bootstraps its Way Amid Changes
Green issues and production shifts weigh heavily on China trade event for the industry.
China has long dominated global demand for the leather sector. Apart from being a leading importer of hides and skins, the country also has huge requirements for the chemicals and machinery necessary for producing this versatile material. Demand for leather in the Chinese mainland stems largely from its extensive interests in the automotive and footwear sectors, with the country producing 40 per cent of the world's shoes and 30 per cent of the world's cars, with the latter primarily destined for its domestic market.

At this year's All China Leather Exhibition, held 30 August-1 September in Shanghai, it was clear that mainland companies face increasing competition from Southeast Asian countries in both industries. At the same time, environmental concerns are forcing fundamental changes to the sourcing and production of leather.
Supplier Opportunities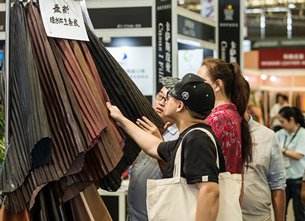 The country's leather industry is far from self-sufficient, creating opportunities for many overseas tanneries, including AI Topper, a family-run Sydney-based tannery offering kangaroo hides as well as more conventional varieties.

"While kangaroo makes up less than 10 per cent of our overall output, it does produce great high-end leather," said Darren Topper, the company's Senior Executive Manager. "It's light and has the strongest fibre structure you can find, largely because the grain runs horizontally.

"As a result, the leather produced is ideal for heavy-duty use. It's commonly found in football boots, as well in products likely to come under extreme stress."

China is among the company's largest markets, with much of its output destined for the automotive sector. This year, however, Mr Topper observed that the show's comparatively poor attendance may be linked to tighter environmental controls now in place across the mainland.
Cutting the Environmental Footprint
Historically, leather tanning has never been one of the most environmentally friendly of businesses, an attribute that one particular exhibitor – Germany's Heller-Leder – clearly saw as a business opportunity.

"Recognising that the leather industry is one of the world's worst polluters, we have made considerable investment in reducing our environmental footprint," said Marketing Manager Marvin Fielder.

The company has adopted several approaches to boost its green credentials, and its efforts were rewarded with the title of Global Tannery of the Year in 2011. One of its most effective initiatives has been the installation of a water-treatment processing system, which leaves the one million litres of water it uses every day cleaner than when it was first pumped in.

In other moves, it has switched to a solvent-free leather-production process, resulting in lower levels of emissions from finished products. Similarly, the company also uses a tanning agent made from unwanted olive leaves, another innovation that has significantly reduced its negative impact on the local environment.
Green Agents
Another company keen to burnish its green credentials was Taiwan's Great Eastern Resins Industrial Co (GRECO), a specialist producer of adhesives for the footwear industry. This year, the company promoted its range of water-based adhesives, said to be particularly suitable for attaching shoe soles to leather uppers, while being far more environmentally friendly than any of the solvent-based alternatives on the market.

"Over the past couple of years, many Chinese producers have had to switch to our product on account of increasing environmental pressures," said Wang Yuang, a researcher in GRECO's R&D Centre. "While solvent-based adhesives are still commonly used by many footwear manufacturers in India and Vietnam, they will also be obliged to upgrade within the next 10 years."

For companies wishing to export leather products, compliance with international safety standards is a key issue, particularly for those targetting developed markets, such as the European Union or the United States. Intertek is a London-based testing company that has been helping Chinese companies meet standard requirements for more than 30 years and operates laboratories in several cities across the mainland.

"We test the physical characteristics of leather, including its colour-fastness and resistance to abrasions and peeling. We also check for use of any restricted chemicals," said Ann Li, a Business Development Executive in the company's China operation.

"Recently, though, we've found that leather and shoe-manufacturing is in decline across China, partly on account of the slowdown in the global economy and partly because of the higher level of local labour costs. With many production facilities relocating to Thailand, Indonesia or India, we have opened new offices in each of these countries to maintain our level of service."
Niche Suppliers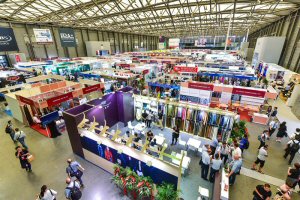 Among the more niche companies at the event were businesses focused on ironing/embossing, producing specialist sandpaper for sanding leather, steering wheels and synthetic leather. Leading the way on the embossing/ironing front was Korea-based Yurim Machinery, with its Rotopia brand widely used across the world.

"Right now, India is our best market, with China in the number-two slot and Bangladesh of growing importance," said Sales and Marketing Director Choi Yongseog. "Five years ago, though, the market was far more vibrant, but growing concerns over pollution have changed things considerably."

Shijiazhuang Xinzhongtian Leather Products, a steering-wheel manufacturer, mainly supplies Chinese companies with some US clients. "Overall, it's a tough market and we have many competitors, but we believe we offer good quality at a good price," said sales representative Zhao Ruishen.

On the synthetic-leather front, Japan's Lintec specialises in providing synthetic leather finishes. Its core product is PVU or PU-coated release paper, which can be peeled off to deliver a leather-look surface effect. The company offers more than 100 designs, all of which it produces in-house in either its Japanese or Chinese manufacturing plants.

"Currently, we are the world's third-largest producer of release paper, with demand particularly strong in the footwear, bags and furniture sectors," said Jun Kato, one of the company's section chiefs.

"Demand is also starting to pick up in the automotive sector, an industry that is very strict when it comes to quality control, which is something that synthetic leather can help deliver. It is also lighter than real leather, which is important to car manufacturers."

For more China market opportunities, please visit: http://research.hktdc.com
Hong Kong
Mainland China