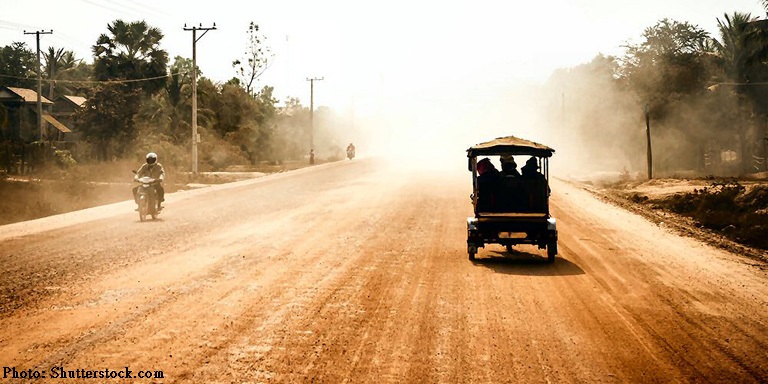 https://hkmb.hktdc.com/en/1X0ABTC9
Cambodia's Road to Development
Key Phnom Penh Expressway project secures Belt and Road funding.
Work on the much-anticipated 190-kilometre, 25-metre-wide Phnom Penh-Sihanoukville expressway is expected to begin by the end of the year. Once completed, the project, seen as one of the country's key contributions to the Belt and Road Initiative, will boost transport links between the capital and Preah Sihanouk, the country's principal seaport.

Managed by the China Communications Construction Company, the project is expected to reduce travel time and improve road safety in a country that has been notoriously short of infrastructure investment. It will run from the Kob Srov area, just to the west of central Phnom Penh, before extending along the route of National Road 4, passing through Kampong Speu province, before terminating in the coastal town of Sihanoukville, one of the country's most important trade and tourism centres.
Build, Operate, Transfer
The Initiative will also provide a much-needed boost to the government's plan to transform Preah Sihanouk province into a multi-purpose Special Economic Zone, in line with the previously announced objectives of its 2015-2025 Industrial Development Policy. With the project scheduled for completion within three years, return for investors should come via the toll-road system that will be put in place, in line with an agreed build, operate and transfer (BOT) finance model.

The initial deal was finalised and announced during the May 2017 Beijing Belt and Road Forum, and following a meeting between Cambodian Prime Minister Hun Sen and Liu Qitao, President of the China Communications Construction Company. Under the agreement, the Beijing-based developer will invest nearly US$2 billion in building the expressway on a BOT basis. The announcement came almost exactly a year after Cambodia's Public Works and Transport Minister Sun Chantol lobbied China for assistance with the project, as well as help redeveloping the country's overall infrastructure, particularly its road networks.

The Cambodian government's own Expressway Master Plan outlines the need to build an additional 850 kilometres of expressway by 2020, a development said to require some US$9 billion of funding. Looking at the longer term, the country is also seeking investment of about US$26 billion to build a further 2,230 kilometres by 2040.

According to a report by the Singapore-based Institute of Southeast Asian Studies, Cambodia needs to spend about US$700 million per year on roads, bridges, power grids and irrigation systems in order to compete and cooperate with the more developed countries in the region. Stressing the urgency, the report concludes: "Cambodia needs to quickly and effectively grasp the emerging opportunities arising from a number of regional development initiatives, most notably the Belt and Road Initiative."
Invest Cambodia
To a certain extent, Cambodia is taking heed. During the Beijing Forum, for instance, the country's senior representatives came to a series of agreements with their Chinese counterparts across a wide range of investment and development issues. They included commitments to fund infrastructure improvements in a number of areas, including production capacity, trade, finance, maritime cooperation and tourism. With all of these to be funded within the Belt and Road framework, China also pledged an additional US$240 million worth of grants to its northern neighbour.

China is no newcomer to investing in Cambodia. According to the Cambodian Ministry of Public Works and Transport, China has already financed 2,727 kilometres of new roads in the country. Of these, some 2,000 kilometres have already been completed, with the remainder still under construction.

The China Communications Construction Company, meanwhile, has already committed to investing about US$1.6 billion in 16 Cambodian projects, including development work on extended road networks, new bridges and other areas designated as infrastructure priorities.

For more market opportunities, please visit: http://research.hktdc.com/.
Related Link
Belt and Road