https://hkmb.hktdc.com/en/1X0ABT3I
E-commerce Market Developments in India and the Opportunities for Hong Kong (1)
E-commerce is set for rapid growth in India
India's e-commerce development has lagged far behind that in China or South-east Asian countries like Singapore and Malaysia in the past. However, the gap has started to show signs of narrowing in the wake of the pro growth economic policies adopted by the Modi government, with swift e-commerce development facilitated by a phenomenal surge of internet usage in the country. Given the many practical challenges for foreign enterprises trying to establish a physical presence in India, e-commerce can be a good starting option for Hong Kong businesses to tap into this fast growing consumer market.
Rapidly Changing E-commerce Landscape
For many years, the development of e-commerce in India has been hindered by a backward infrastructure, spanning telecommunication, mobile internet, land transportation and general logistics arrangements. Internet access was particularly limited in rural areas across most of the country, where the bulk of India's population lives. The retail landscape, however, has changed drastically since 2016, not with a revival of the mall boom evident in the early part of the decade, but with a new wave of retail market transformation, prompted by bold policy-making by the Modi government and radical change in the telecommunication sector.
Government Policies Pushing the Public towards Electronic Payments
As in many developing countries, a major impediment to e-commerce market development in India is the low usage of digital payments as a result of both supply and demand constraints. India has always been a cash dominant economy, with cash payments constituting more than 95% of all transactions prior to 2014. The landslide election victory for Narendra Modi in that year, however, saw the formation of a government with a strong mandate to push through forward-looking, if controversial, economic and social policies.
Modi is a tech-savvy prime minister who has made digitising India one of his major objectives in his drive to reform India. The Modi government launched the Digital India initiative in early 2015. Modi strongly believes that digital governance will systemically modernise India's economy, reforming the bureaucratic apparatus that is often seen as a prime obstacle to growth, while effectively addressing tax evasion, corruption and red tape.
In the three years of the Modi government, India's optical fibre network has grown to more than 2 million km from less than 400 km in 2013-14, paving the way for Indian service companies to chart their digital strategies and for more and more Indians to adopt a new digital way of life.
Under Digital India, many bold measures to promote the growth of digital payments have been introduced. Prior to 2015, according to a World Bank estimate, just 4% of Indians received government payments through their bank accounts. In 2014, the Modi government pledged, under its People Money Scheme aimed at achieving financial inclusion for poor Indians, to provide bank accounts to 75 million households by 2018 and to have two account-holders per household. Thanks to the speedy implementation of Digital India measures, welfare payments for the poor can now be transferred digitally to a person's social identity account in the Aadhaar scheme, in which over 99% of Indian adults had been enrolled as of August 2017. All this has come at a time when feature mobile phones are becoming more affordable and easier to acquire. As banks do not have a good physical presence in many rural areas, mobile banking through cheap feature phones is proving very convenient for rural Indians.
In its digital push, the Indian government has been urging people to embrace mobile and internet banking while also adopting different forms of digital payments championed under the banner of Cashless India. These include e-wallets, banking cards, USSD and micro-ATMs. However, the single greatest contributing factor in the drive to transform India into a cashless economy was the drastic and controversial attempt to demonetise billions of Indian currency notes in November 2016. Under this scheme aimed at cracking down on corruption, the Modi government replaced Rs500 and Rs1,000 bank notes with new Rs500 and Rs2,000 bank notes. At very short notice, this surprise move took out some 85% of the cash in circulation, pushing up the demand for digital payments for transactions, with an immediate effect on e-tailing sales.
According to the Reserve Bank of India, the transaction volume of electronic payments increased 43% in the month after demonetisation, and a similar level of transaction volume has been maintained since. There has been a remarkable, persistent increase in the use of India's national mobile payment platform, the Unified Payments Interface (UPI). The monthly transaction volume through UPI in July 2017 was 56 times that of November 2016. It is expected that electronic payments usage will continue to grow in India, which would help promote e-commerce, especially business-to-customer (B2C) e-retail. Under the Cashless India initiative, the Modi government is also embarking on education campaigns to help the general public use digital payments and advocate the merits of such payments.
Smartphone Usage Accelerates E-commerce Growth
There is still plenty of potential for growth in internet usage in India, given the country's 1.3 billion population. According to the Ministry of Electronics and Information Technology of India, there were around 500 million internet users in 2015, including both those with landline and mobile access. An increasing number of Indians are accessing the internet through mobile devices, including tablets. According to an estimate by Counterpoint Research, there were 300 million smartphone users in India at the end of 2016, about one quarter of the population. That number is projected to grow rapidly with mobile devices becoming more affordable, thanks to increased local production as well as active promotions by Chinese brands.
India has already overtaken the US to become the world's second largest smartphone market after China, with strong demand projected over the next five years. The Indian smartphone market is currently undergoing rapid changes and development, not only in terms of number of users but also in data usage and connection speed.
Reliance Jio Infocomm, a subsidiary of India's largest conglomerate Reliance Industries, has been transforming the telecom data market since its service launch in September 2016. Jio handed out free 4G SIM cards to new users at its launch, and then offered free data service in the first quarter of 2017. In July 2017 the company marketed 4G-enabled feature phones at a price of Rs1,500 (US$24) along with special voice and data plans as low as Rs153 (about US$2.5) per month. Such bold marketing campaigns significantly boosted mobile data usage, with a year-on-year increase of 500%, making India the world leader in mobile data consumption[1]. Increased mobile internet usage has in turn boosted the use of e-commerce platforms like Flipkart and Snapdeal.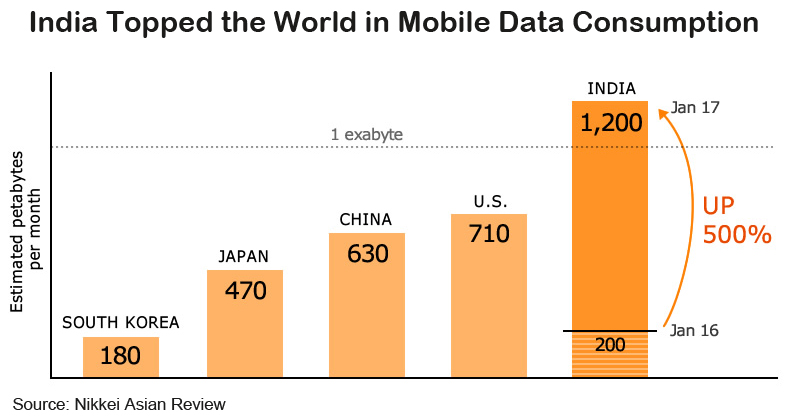 India's telecoms market is highly dynamic and the predatory marketing campaigns by Jio may prove hard to sustain over the long term. Market consolidation in terms of the number of players and package tariffs will sink in and normalise. However, the rapid growth of the mobile internet market in India will certainly be an important growth driver for e-commerce.
Phenomenal Growth in Projected Sales
As the world's fastest growing major economy, with projected medium-term growth of more than 7%, India's consumer market is set to boom. India's organised retail, estimated to be around 8% of the country's retail sales, was valued at about US$534 billion in 2016, signifying huge growth potential over the long run. Regarding e-commerce, India started at a rather low base and is expected to experience phenomenal double-digit growth. According to Euromonitor, India's internet retail kicked off with 80% year-on-year (YOY) growth in 2016, largely driven by the cash shortage after demonetization in November 2016. Strong growth is projected over the next five years. From 2017 to 2021, India's internet retail sales are expected to more than double to US$76.6 billion, with a compound annual growth rate (CAGR) of 19%.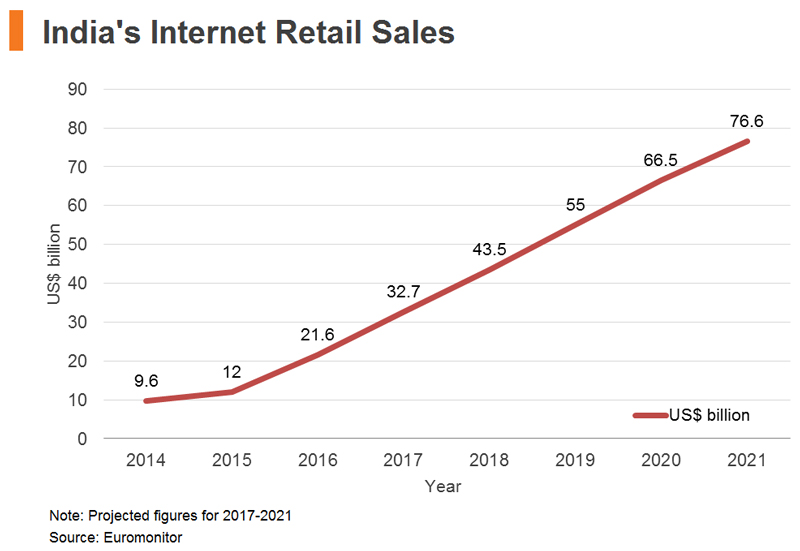 Please click to read the second part of this article E-commerce Market Developments in India and the Opportunities for Hong Kong (2), which focuses on discussing the e-commerce market landscape.
---
[1] As of January 2017, based on information released by Reliance Jio Infocomm.
India
Other Asian Countries