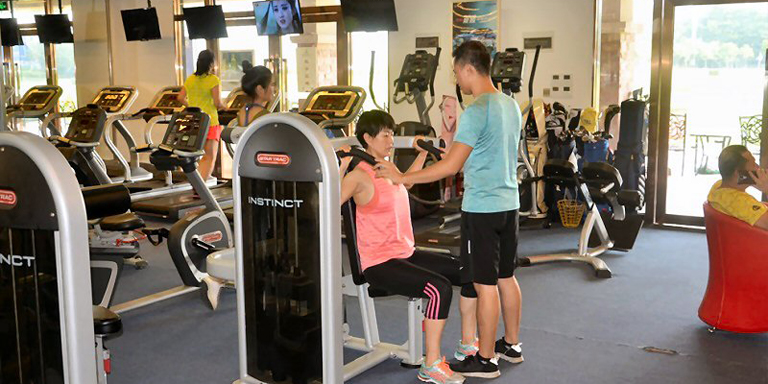 https://hkmb.hktdc.com/en/1X0ABRL6
China's Fitness Market Gets Physical
Competition is heating up among gym operators in the Chinese mainland for a slice of the multibillion-dollar market.
Some 10,000 large-scale gyms were operating across the Chinese mainland as of the end of 2016, together with more than 10,000 small-scale fitness studios. According to figures from the Beijing-based Qianzhan Industry Research Institute, the combined revenue from these 20,000-plus sites was in excess of Rmb20 billion (about US$3 billion) for the year.

The fitness sector has been further buoyed by another Rmb30 billion generated from fees paid by 15 million fitness-club members. In light of this, it is expected that the value of the mainland's fitness market will maintain a compound annual growth rate of 12 per cent over the next five years, and will be worth an estimated Rmb123 billion by 2020. The impressive growth forecasts are attracting a number of commercial operators keen to exploit the sector's potential.

The ever-expanding number of gyms and fitness studios in Guangzhou supports these statistics. They range from the larger gyms, which offer a comprehensive range of training and fitness equipment, to smaller, more goal-oriented fitness studios and several niche facilities. Apart from targetting a core group of young users, many of these fitness centres have also introduced bespoke programmes for children and the elderly.

For larger gyms, their workout facilities are often extensive and typically include exercise equipment zones, a dance space, swimming pool and a tennis court. In comparison, the fitness studios offer only basic equipment, with their main selling point being their coach-led training programmes.
Fitness Studios
Within Guangzhou, fitness centres can be found throughout its commercial districts and residential areas. A 10-minute stroll along the city's Beijing Road, for instance, involves passing at least five gyms. With many of these facilities operating in a slightly different niche, considerable consumer choice is on offer.
The city's gyms offer a variety of formats, including chain-operated clubs, ultra-modern facilities and smaller studios. Among the most well-known of the chain-operated establishments is Total Fitness, which operates 20 sites across the city, as well as additional facilities in Shenzhen, Dongguan, Foshan, Chongqing and Tianjin. Capitalising on their strong brand awareness, many of these larger facilities have few problems when it comes to establishing a substantial membership base. In addition to regular exercise courses and access to equipment, many such gyms also stage a range of promotional fitness activities to attract new members.
Rising Competition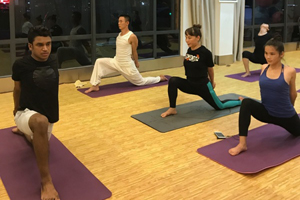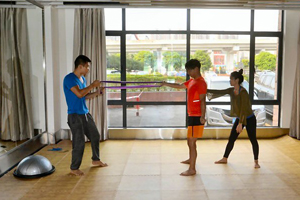 According to Gao Jun, Manager of the Guangzhou-based Tongtai fitness club, attracting new members is seldom a problem, with many mainlanders increasingly aware of the importance of keeping fit. However, he noted that the growing number of gyms has intensified competition in the sector, a development that has led to more segmentation and keen pricing.

As a result, he said the cost of gym membership has tumbled in recent years, falling from a high of Rmb1,000 to somewhere in the Rmb200-Rmb300 range. On the upside, Mr Gao noted that the wide-ranging requirements of mainland fitness enthusiasts – which include such staples as stretching, body shaping, weight loss, yoga and dance, as well as more specialist activities, notably rehabilitation exercise and chirothopedics – offer considerable scope for continued expansion.

As the sector grows, however, there have been calls for gyms and fitness centres to revise their business models. At present, the majority of such facilities operate on a twin revenue stream model, with patrons obliged to pay an individual fee for a year's membership and a separate sign-up fee for coaching sessions. With personal training sessions costing up to Rmb500 an hour, some disgruntled members have posted complaints online, frequently criticising gym owners for excessively high charges, the poor quality of trainers and excessive hard-selling for individual coaching courses.

Other complaints include having to pay the same fee as members who use all of the gym facilities, when they pursue only one activity, such as yoga. These members balk at having to pay additional charges for a personal yoga trainer.
Niche Studios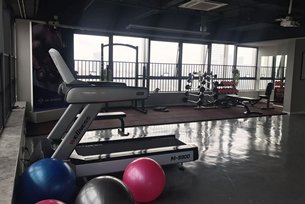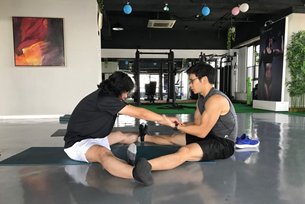 Fitness studios are looking to capitalise on such dissatisfactions, with many focusing on a particular niche, such as yoga or rehabilitation exercises. The arrangement allows consumers to sign-up with whichever studio that best matches their requirements. Typically, no membership fee is required, with payments made on a per-session basis, with the option of paying a coach directly for individual training sessions.

One such coach is Chen Qiuliang, who was previously employed at one of Guangzhou's larger gyms and now works for Bei'er Laika, a newly opened fitness centre. According to Mr Chen, the business model adopted by many traditional gyms is too restrictive and places trainers under undue pressure to sign up members for additional sessions. Trainers, he said, are forced to focus more on selling classes rather than developing appropriate programmes for clients. The practice, he said, has led to many trainers migrating to the fitness-studio sector, in the belief the arrangement there is a better fit with their abilities.

For more China market opportunities, please visit: http://research.hktdc.com
Hong Kong
Mainland China