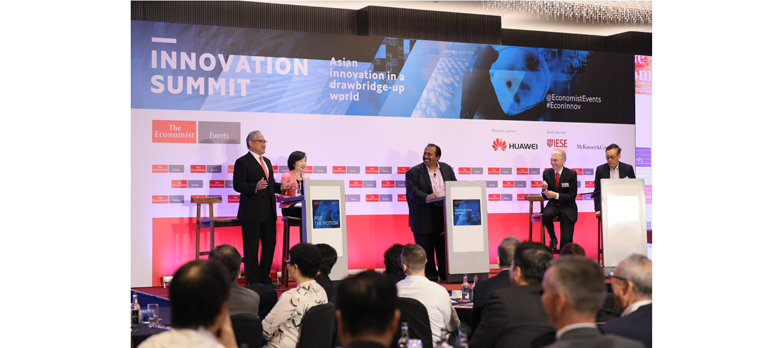 https://hkmb.hktdc.com/en/1X0ABRGB
Who will Win in a "Drawbridge-up" World?
Asia is best positioned to weather the challenges of creeping protectionism, according to a recent innovation summit held in Hong Kong.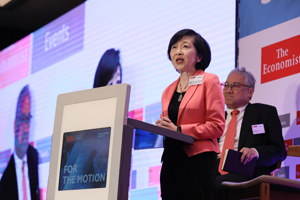 Scaled-back global trade, political conservatism, economic uncertainty in Europe and North America – who stands to win from the intensifying headwinds that have buffeted the global economy from growing protectionism in the West?

That question dominated discussions at last month's Innovation Summit, hosted by The Economist in Hong Kong. The day-long conference heard case studies, vignettes and panel discussions on a range of topics that spanned green-power generation, the sharing economy and new technology frontiers. But the overarching theme throughout was the conclusion that Asia was better placed than the United States to deal with the consequences of a so-called "drawbridge-up" world.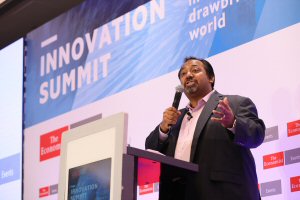 According to Fanny Law, a member of Hong Kong's Executive Council who was a panel speaker in a debate on how Asia and the United States would weather a surge in anti-globalisation, Western protectionism was a "siege mentality" that had its roots in the global financial crisis. "It's like throwing a temper tantrum when things don't go their way," she said.

Ms Law noted that trade among economies that are part of China's Belt and Road Initiative, which she said could generate US$2.5 trillion a year within a decade, would deliver prosperity and growth. In contrast, the US withdrawal from the Trans-Pacific Partnership last year was the equivalent of "the Great American Brexit."

The Initiative, she said, will be pivotal in raising the wealth of underdeveloped countries in the Asia-Pacific region, led by Chinese innovation in such areas as high-speed transport networks, quantum computing, and through new investments in emerging technologies.
The Economist Deputy Editor Tom Standage summarised observations made at the Innovation Summit, which included a look into the future:

• It's a future that's very exciting, with Asia leading the way

• To catch a glimpse of the future in many sectors, look no further than China

• Prediction: shared self-driving taxis will be widespread by 2023, much earlier than people assume, with consumers much less likely to own cars in five years' time

• Education is changing: the Malaysian government is teaching school children skills in social media marketing

• AI will become more integral to people's lives, whether it's shopping for necessities or diagnosing illness, but it will not (yet) replace CEOs

• Drones are becoming smaller, cheaper and easier to use, enabling them to become accessible selfie-fairies that follow you around
China-centric Innovation
William Fung, Group Chairman of the Fung Group, told the summit that accumulated Asian know-how in creating modern manufacturing supply chains will enable the flow of intellectual property, people and ideas across borders. "The so-called lazy supply chains have been responsible for spreading prosperity all over the world for the past 30 years," said Mr Fung.

Amid rising protectionism, he said that China will continue to drive growth. "The fact is, globalisation does exist. The horse has bolted," he said, noting that a US-centric world was a "bygone era."

"Everybody understands the benefits of globalisation and, in fact, the only proponent of 'drawbridge up' is America and maybe not even America – perhaps just one person in America."
Hong Kong's Role
The more than 180 C-suite executives and entrepreneurs at the summit discussed the impact of many game-changing technologies, including in the area of finance. Hong Kong, according to some speakers, possessed the ingredients to become a leader in financial technology, or Fintech.

"My experience with Hong Kong is predominantly within the start-up ecosystem," said Dilip Mistry, McKinsey & Company's Digital Vice-President, Singapore. "The great thing about Hong Kong entrepreneurs is they use Hong Kong as a small test-bed, increasingly looking to make their solution available across China."

Mr Mistry referred to Hong Kong's fertile start-up community as possessing "the best of both worlds" – the established framework of Hong Kong and access to the Chinese mainland market. "You've got a small market in which they [entrepreneurs] can experiment. Once they've cracked the formula, they go to mainland China."
Fintech Opportunities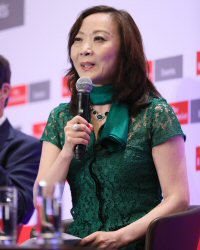 Mr Mistry noted that Hong Kong may yet excel in groundbreaking innovation of a scale comparable to what Google or Amazon has achieved. Jing Ulrich, Managing Director and Vice-Chairman of JPMorgan Chase, Asia-Pacific, told the summit that Fintech research might deliver the city's breakthrough innovation.

"Hong Kong is a very advanced and affluent society but, in a way, it is also backward. E-commerce in Hong Kong doesn't really exist, partly because Hong Kong is a very small community," she said. "In terms of Fintech, because Hong Kong is a financial hub, this is one area we think Hong Kong can really do more to become a centre for Fintech development. In fact, the government can do a lot more to help support Fintech start-ups here as well because you have all the knowledge, all the talent in Central, with so many financial services firms having set up regional headquarters here," Ms Ulrich noted.

A recurring theme at the summit was Hong Kong's advantage being geographically positioned next to the world's second-biggest economy, and having a shared culture with the mainland, making the city an ideal base for local and international entrepreneurs.

Ms Ulrich said Hong Kong should take advantage of its proximity to the mainland by collaborating on innovation. "In Shenzhen, across the border, there is such a vibrant entrepreneurial culture that I think greater integration with the Pearl River Delta will only make Hong Kong a more efficient place."
Related Link
The Economist Innovation summit