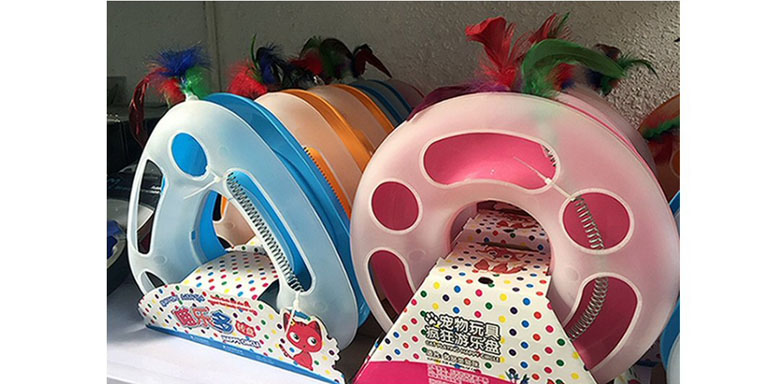 https://hkmb.hktdc.com/en/1X0ABOND
China's Purveyors of Pet Supplies
The boom in pet ownership in the Chinese mainland is fuelling demand for innovative and better-quality products for man's best friend.
Between 2008 and 2012, the number of pets in the Chinese mainland soared from 30 million to 130 million, according to a study by Beijing-based online research consultancy Sootoo Research. The number is set to soar further, with the mainland likely to be home to about 360 million pets by 2019.

It's therefore no surprise that the value of the pet-care sector has also grown enormously. A recent report estimated that the mainland's pet economy was worth Rmb100 billion (US$15 billion) as of 2016, with that figure set to double by 2020.

Of the 2016 figure, sales of pet toys accounted for about Rmb12.5 billion, about an eighth of the total spend in the sector. For 2017, it's estimated that pet-toy sales will grow by a further 20 per cent. At present, the sector is not subject to strict classifications, with most pet toys defined purely in terms of function, with play, learning and teething accounting for the use of the majority of them.
Demographic Shift
As in other sectors, the rise in mainland disposable income has led to increased spending on pet toys, with the typical pet owner now allocating about Rmb690 a year to such items. Apart from this increased commitment to spending, the sector has also benefitted from a demographic change among pet owners, with the average age of owners falling in recent years. While keeping a cat or a dog was once primarily the preserve of the elderly, today an increasing number of young people own pets, with the majority now below 40. Typically dominated by students, clerical workers or housewives, women now account for 70.4 per cent of all pet owners. Pet ownership also tends to be concentrated in the more economically developed regions of the country.
Offline and Online Suppliers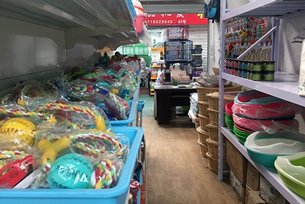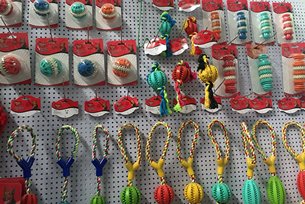 The Liyuan Wholesale Market in Beijing's Tongzhou district is among the largest outlets for pet supplies in China. Typically, the majority of the shops there specialise either in pet food or pet-care products, with none seeming to focus solely on pet toys. Within the sector, toys are largely viewed as non-essential items, leaving many retailers reluctant to take them on board as flagship products.

Typically, the range of toys available in most pet outlets is small, with those items on offer usually solely targetted at either cats or dogs. Items are also largely focused at the lower end of the market, typically made from poor-quality rubber or cloth and selling for Rmb10 or less. Indeed, among the 53 vendors active in the Liyuan market, only two offered higher-end items, most notably a dog-friendly treat-dispensing rubber ball.

Given the paucity of choice offered by many conventional retailers, it is not surprising that e-commerce operators in the sector seem to be thriving. Most notably, sales via m-commerce platforms are said to be particularly brisk, a sign perhaps of their compatibility with the outdoor lifestyle favoured by many pet owners.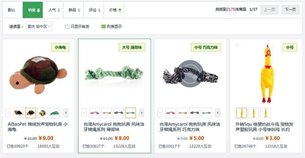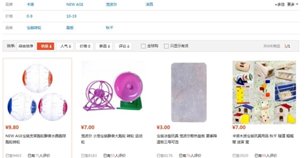 Compared with conventional retailers, e-commerce platforms, given their wider geographic reach, have far greater freedom to specialise in a particular sector. This has given rise to several mainland-based sites emerging with a particular focus on pet products, with Boqii (shop.boqii.com) and ePet (epet.com) seen as the two front-runners in the sector.

Currently, Chongqing-based ePet has three dedicated divisions, focusing on dogs, cats and aquarium-related sales. Apart from selling food, snacks and daily supplies, the site offers more than 3,000 types of pet toys, which together, account for 10.2 per cent of the site's total product range.

The majority of the site's toys is geared towards cats or dogs and come in seven categories, including cotton, rubber, plastic and handmade. Overall, ePet's best-selling dog toy is a small talking felt turtle (Rmb9), while its most popular items for cats is a toy mouse attached to a piece of string (Rmb3.5).

The larger of the two sites, in addition to the three divisions operated by ePet, Shanghai-based Boqii offers two additional sections – small pets and reptiles. Although its range of toys is still dominated by cat and dog items, it also offers a range aimed at smaller pets (including rabbits, hamsters, chinchillas and guinea pigs) and one targetted at aquariums.

The changing demographic of pet owners has also proved to be a windfall for e-commerce operators in the sector. One young high-school teacher who owns two cats said: "When it comes to pet toys, it is not as important to check the quality beforehand as it is with food, so I tend to buy such items online."
Opportunities and Challenges
Despite the surge in pet numbers and the concurrent spending rise, the mainland pet-toy sector is still in its relative infancy, a state of play that has left the industry facing several challenges, particularly in the area of innovation.

According to a report by the Qianzhan Industry Research Institute, a Shenzhen-based market research consultancy, the mainland's pet toy manufacturing sector is characterised by mass-market, low added-value production, with little or no innovation or product development. As such, genuinely new toys with contemporary designs are few and far between, while no domestic brands have really begun to build their reputation and profile in the market.

The majority of pet toys manufactured in China are destined for the export markets. As a sign of this, few pet toys come with Chinese packaging, with nearly all of them branded in English, Japanese or Korean. The mainland pet-toys sector is not obliged to conform to any industry-wide product standards, resulting in an overall lack of quality in many products currently on the market.

Given that the 2016 report identified pet toys as the second most profitable of the four categories of pet products (food, supplies, medical treatments and toys), it is clear that the sector has growth potential. As a result, a more properly regulated and innovative sector will likely emerge to fully capitalise on these dynamic opportunities.

For more China market opportunities, please visit: http://research.hktdc.com
Hong Kong
Mainland China