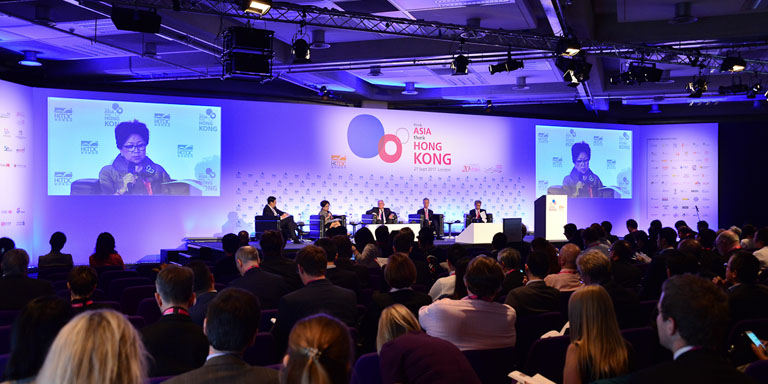 Natural Partners
British businesses have been urged to tap Asian opportunities via Hong Kong, in the latest mega international promotion to the UK.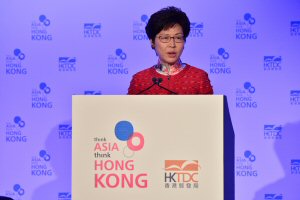 Six years after the first "Think Asia, Think Hong Kong" was launched in London, the large-scale Hong Kong business promotion, organised by the Hong Kong Trade Development Council (HKTDC), returned to the United Kingdom in September 2017.

"Trade and investment have been the bedrock of our business relationship, with the UK being the second-largest trading partner in Europe and the UK investment in Hong Kong taking up over a third of total British investment in Asia," said Margaret Fong, HKTDC Executive Director, in her welcoming remarks.

Even as the Chinese mainland economy continues to open up, Hong Kong remains an ideal gateway for foreign companies, including British firms, to enter the fast-growing Greater China market, according to Hong Kong Chief Executive Carrie Lam. "The unique advantages that Hong Kong enjoys under 'one country, two systems' and our very strong commercial links with the Mainland of China naturally make us the preferred location for doing business in Asia," said Mrs Lam.

The Chief Executive led a 100-strong Hong Kong and mainland delegation, which participated in a series of events spanning three-days, including business missions, a gala dinner and a full-day symposium attended by 2,100 participants.

"The coming century is certain to see the establishment of a new economic order; one that Hong Kong is uniquely placed to take advantage of,' said Greg Hands, Minister of State for Trade Policy and Minister for London, who was the symposium guest of honour. "I strongly believe that the UK and Hong Kong are only just beginning to realise the opportunities for our partnership."
New Economic Order
The symposium focused on the role of Asia in the new economic order, with speakers, such as Victor Chu, Chairman, First Eastern Investment Group, highlighting Hong Kong's advantages as "the best bridge to China and other parts of Asia."

But the recurring theme throughout was China's ambitious Belt and Road Initiative, described by Douglas Flint, Group Chairman, HSBC Holdings plc, as a "huge opportunity for Asia." The topic was also the subject of two panel discussions, including in "The Belt and Road Initiative: Partnering for Prosperity.'

With a focus on global connectivity, the Initiative will reinforce Hong Kong's role as an international financial centre. "Financing demand is where the Hong Kong advantage comes in," said Laura Cha, Chairman of Hong Kong's Financial Services Development Council. "It is the primary market for Chinese companies to access capital."
Fintech Ecosystem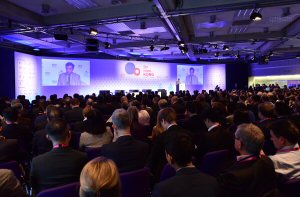 UK businesses were urged to consider new collaboration opportunities in such areas as technology, particularly in Fintech, marketing and branding, creative and entertainment.

"If you're looking to do business in Asia, Hong Kong will be an ideal place to base an operation," said Tyrone Lynch, CEO of OCTO3 Grp, which specialises in developing and providing modern payment, clearing house and other transactional solutions and services. "We've been working [in Hong Kong] for a number of years. I've been there 12 years and I still think that it holds a leadership position within Asia for foreign companies to enter the market," said Mr Lynch.

Tapping the Chinese mainland and Asian markets
According to a recent research commissioned by the HKTDC of 1,000 UK companies, the biggest opportunities offered by the Chinese mainland market is its huge consumer base (42%), followed by its growing middle class (35%), and its tendency to be early adopters of technology (27%).

The thematic session "Doing Business in China and throughout Asia" highlighted the potential of the region's growing number of middle-class consumers and the importance of e-commerce for entry into these markets. By setting up base in Hong Kong, businesses can easily launch a company in the city in just two to three months, according to Michelle Leung, Senior Vice President, Fung Omni Services, Fung Group. While Jonathan Cummings, Chairman of brand and retail consultancy FITCH Hong Kong, highlighted Asia's changing retail landscape, noting that only a decade ago, "it was all about the big brands; consumers are becoming more and more market-savvy and niche brands are gaining popularity."
Hong Kong's Unique Role

Participants also heard how Hong Kong serves as the ideal bridge to help Chinese and Asian companies find investment opportunities in the UK, specifically in the tech sector. Delegates said the event provided valuable market intelligence on the latest industry trends and market opportunities for UK enterprises, by using Hong Kong as a springboard to tap business opportunities on the mainland and Asia.

"This event is meaningful in promoting Hong Kong's unique role in connecting the world with Asia," said Fu Yunning, Chairman, China Resources (Holdings) Ltd. Trade flows between Hong Kong and the UK totalled more than US$12 billion in 2017, and approximately 650 UK firms currently operate in Hong Kong. And as the UK continues to map its way forward post-Brexit, the two economies' close links were underscored by the British Chancellor of the Exchequer Philip Hammond.

As the UK begins the transition out of the European Union, Mr Hammond said: "Britain must build ever stronger connections to the fast-growing economies of the East. The deep historical, economic and cultural ties between our people and societies mean the UK and Hong Kong are natural partners."

Related Link
Think Asia, Think Hong Kong
Finance & Investment
Technology
United Kingdom
Hong Kong
Western Europe