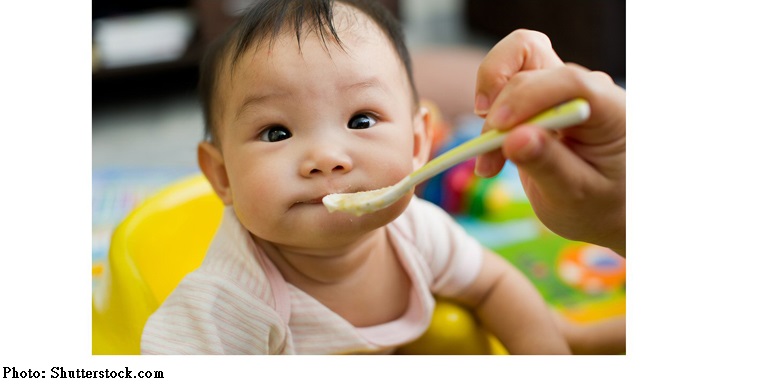 https://hkmb.hktdc.com/en/1X0ABB30
Catering to China's Lucrative Children's Market
With the end of the one-child policy, China's mother and baby market has never been in better health.
At the July Children Baby Maternity Expo in Shanghai, the focus was very much on product safety. Since a melamine-tainted milk formula scandal rocked China in 2008, demand for imported milk powder has surged across the mainland. In a sure sign that a question mark still hangs over domestically produced formula, this year's fair saw a whole hall dedicated to producers from Europe, the United States and Australia, along with several Chinese companies that claim to source solely overseas.

Among them was Sunlife, a Chinese-owned business operating from New Zealand and primarily exporting to the mainland. Initially, the company specialised in colostrum, a form of breast milk produced during and immediately after pregnancy, but has since branched out into more conventional milk powder and lactoferrin, a fortified variant.

Explaining the company's change of focus, Sales Representative Andy Yang said: "Following a change in the regulations on the part of the government, the mainland colostrum market collapsed. That was when we decided to move into lactoferrin. As a product, it's suitable for use by anyone over six months old rather than just babies. It has particular benefits for young children, pregnant women and the elderly – anyone with a weak immune system, basically."
Organic Products
Among the many Australian firms exhibiting at the event was the Hansway Group, a Victoria-based manufacturer of organic health, beauty and lifestyle products. Participating under the umbrella of the Australian pavilion, the company was particularly keen to promote its Native Bliss and Kids Bliss brands, ranges of naturally sourced cosmetics and cleansers targeted at mothers and young children.

"When we started the business three years ago in Australia, I really wanted to share the best of the country's natural assets, while using only the purest and best ingredients," said founder Wenge Hu. "Where possible, everything we use is organic and all-natural, with many of our products containing extracts from plants unique to Australia."

To date, the company's products have primarily been distributed domestically, with its entry to the Chinese market a relatively recent development. "The Chinese are very open to good-quality products from abroad and, at the same time, they want only the very best products for their children and are willing to pay for them," he added.
Junior Style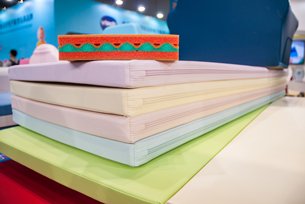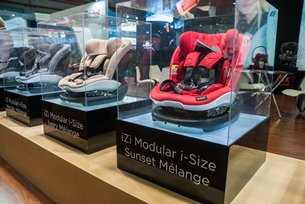 Another newcomer to the mainland market was Clovis Australia, the Adelaide-based company behind the Lisa & Damien brand of children's clothing. Founder Mei Lim saw a potential gap in the market and launched her brand specialising in children's clothes produced from high-quality materials, including organic fibre.

"In Europe, particularly in the UK, they are much more aware of children's fashion needs," said Ms Lim. "We feel we are going to be very big in China. Many of the country's middle- to upper-class consumers want real quality for their children, while also valuing items that are a little bit different." At present, the brand largely sells online, but also has a dedicated outlet in Guangzhou. In 2015, its range won a major UK design award.
Safety First
A number of exhibitors offered specialist car seats for children, including UK-based Cozy N Safe. The car-seat and stroller manufacturer is a significant player in its home market and across Europe with its range stocked by leading retailers, including Tesco, Asda, Toys 'R' Us, Mothercare and Carrefour.

Outlining the company's reasons for moving into the mainland and the Southeast Asian markets, Sales Executive Yolanda Hu said: "While not so long ago, there were no safety regulations relating to child-seat use in China, that has all changed. In Shenzhen, for instance, children up to four years old must be in a child car seat. It now looks likely that similar requirements will be introduced elsewhere in China. This is great news for us as all of our products already comply with stringent European safety regulations."

Another company keen to emphasise product safety was Besafe, a Norwegian children's car seat manufacturer. It promoted its new iZi Modular i-Size model, a follow-on seat for children who have outgrown their original baby chair. Manufactured in compliance with ISOFIX, the international standard for child safety seats, the new model is suitable for children up to four-years-old, while its rear-facing design is said to be five-times safer than forward-facing equivalents.

"It features both a plastic shell and a reinforced soft shell comprising energy-absorbent material," said Product Manager Frank Lilleheil. "The head rest and belts are both easy to adjust, making it relatively straightforward to get a child in and out. As with all of our products, it was certified by ADAC, the German automobile association renowned for the rigour of its testing procedures."

Seoul-based JWorld Industry offered its range of Alziprange baby mats, featuring an unusual egg-shaped structure, an innovation said to improve the sound and shock absorption. The company also guarantees that only non-toxic, eco-friendly materials are used in the manufacture of its products.

"As an additional selling point, our new mats are also easy to clean and fold," said Anne Kim, an Assistant Manager with the company's overseas marketing team. "While Korea remains our primary market, we now see China as our number-one export destination."
VR Eye Care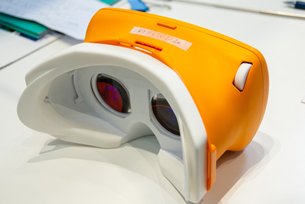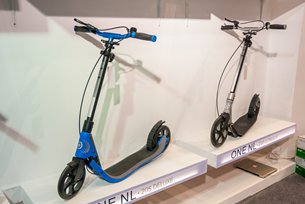 One local company taking a similarly innovative approach was Hangzhou-based Eye Care, a pioneer in the use of Virtual Reality (VR) to combat the problem of eye strain, a common complaint among children subject to gruelling study regimes. Connected to a smartphone, the device allows users to undertake a series of remedial eye exercises by following the movement of objects around a screen.

"Ideally, children should use it at least three times a day, with each session lasting around 10 minutes," said Tang Xiao, the company's Office Manager.

Four-year-old French scooter manufacturer Globber, which opened a regional headquarters in Hong Kong, featured its evolving Evo five-in-one series, a range of scooters that can be adapted for use as a child grows up, and its latest One NL folding scooter, a model aimed at the teen/adult market.

"Unlike other so-called compact models, this one can genuinely be folded away in just one second," said founder Pascal Comte. "It's all just a matter of lifting the handle. Of course, we haven't compromised on safety either, with each scooter coming with a prominent reflective strip as standard."

For more China market opportunities, please visit: http://research.hktdc.com
Hong Kong
Mainland China