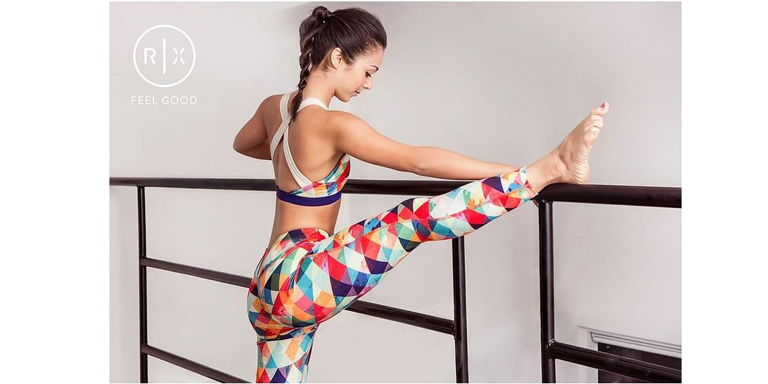 Sustainable Athleisure
A Hong Kong brand is winning fans by tapping the twin trends of athleisure wear and sustainability.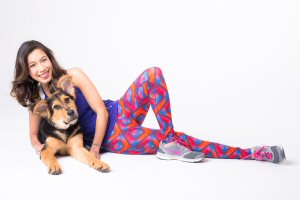 To stand out from the crowded athleisure wear market, Hong Kong-based RUMI X has differentiated its product through the use of sustainable fabric. Its stylish gear is made from recycled coffee grounds and plastic bottles, a move to "innovate and educate customers about mindful consumption," according to RUMI X founder Melissa Chu.

"It's not just about buying a pair of leggings for workout," says Ms Chu. "It's buying a pair of leggings and saving 16 plastic bottles that could have ended up in the ocean, or in a landfill."
Behind the Story
Born and raised in California's Bay Area, Ms Chu moved to Hong Kong in 2010 for a job in digital marketing. She recalls that the move was a very drastic change, and yoga "was my way to cope with the transition."

She eventually decided to leave the job and explore a new venture. "I wanted to do something related to yoga, which was my passion, and I also wanted to do something that was giving back to the environment because I saw recycling was a very big issue here," she explained.

Following her passion for yoga, Ms Chu travelled to India to become a certified yoga instructor. During her time there, she "found it very strange for a practice that's so personal, yet everyone wore the same pair of black yoga pants from the same brands, almost like a uniform." That's where she came up with the idea of producing activewear that was "colourful, unique, and bright," and that also catered to Hong Kong's hot and humid climate.

In 2015, Ms Chu launched RUMI X, named after the 13th century Persian poet and Sufi mystic, who she drew inspiration from during her time in India.
Upcycling at its Best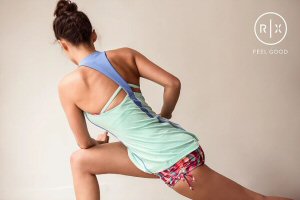 Made from plastic bottles and coffee grounds, the brand's signature fabric follows the "Rumi's Promise," "offering four-way stretch, sweat-wicking, super-soft hand feel and breathability while helping to make a positive impact on our planet."

To produce the environmentally friendly material, plastic water bottles are collected and stripped of non-recyclable materials before being shredded, melted and dried into flakes, which are then pulled into yarn that can be spun into fabric.

Material derived from coffee grounds is washed and dried and then undergoes an oil-extraction process to eliminate odour. The grounds are shaped into small pellets, which can be made into raw thread to spin into yarn and woven into fabric.

"We try to educate the customer and connect them with what they're actually buying," explains Ms Chu, who added that the company is exploring using other recyclable material such as crab shells and citrus peels.
Choosing Hong Kong
Hong Kong's geographic location was the main reason why Ms Chu decided to base her company in the city; proximity to resources and factories were key advantages. Sourcing from Taiwan and manufacturing in the Chinese mainland and Vietnam, she believes that "it's very important to be here in the sourcing capital." Ms Chu has also found Hong Kong's strong clothing industry an advantage, with many resources and people who can help her business grow.

In addition, Ms Chu also found strong support for start-ups in Hong Kong, where the large start-up community and its supporting organisations were "very helpful in giving me guidance and were very accessible."

According to Ms Chu, "the network in Hong Kong is key. The people here are so international, they come from different backgrounds and there are so many different connections. It's a very entrepreneurial city and the network is also very entrepreneur-based. People are willing to take risks and try new things. They're very open-minded about that here."
Growing Markets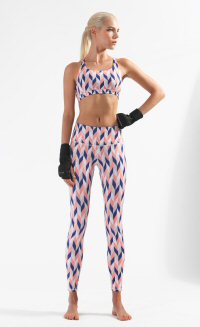 As people focus on a healthier lifestyle, there are growing options and activities in Hong Kong for people to stay fit. "I do feel like we came in at a good time. Hong Kong people are very savvy, they do their research and know what's going on in the world. They know this is a trend that's to stay, to take care of yourself."

Apart from Hong Kong, the mainland has also become a big market for athleisure wear – which are designed for athletic activities that can be worn outside the gym – and yoga, in particular. Ms Chu says that "the trend is growing faster and faster and that's why we're trying to get into the market."

While breaking into the mainland market is not easy, Ms Chu says that Hong Kong has been a great stepping stone for RUMI X. "I encourage anybody in Hong Kong to do it. It's not easy but once you get in and jump through the hurdles, it's great."
Related Link
RUMI X
Garments, Textiles & Accessories
USA
Hong Kong
North America