https://hkmb.hktdc.com/en/1X0AB52J
The EU: Surviving Populism, Tackling Income Inequality
While populist calls for protectionist policies, largely inspired by perceived income inequality and a misunderstanding of the potential benefits of globalisation, have become an issue across the world, the EU has suffered more than most. The Union, however, may now be on the brink of embracing a more forward-looking approach to trade reform.
Populism and Income Inequality
Many experts believe that growing populism is linked to rising income inequality. However, it is possible that it is related to a more worrying trend – that of flat or falling income in the mature economies, most notably the EU. This is a trend which is already beginning to change the deeply-rooted expectation for much of the post-war period that the income level of households living in the developed economies will increase as time passes.
In the ten years to 2014, many advanced economies experienced flat or even falling incomes. The situation was particularly severe in Italy, the UK, the Netherlands and France, where more than 60% of households saw no income growth between 2005 and 2014.
Fiscal policy measures such as tax reductions and increases in government transfers were found ineffective in tackling the problem. In the UK and the Netherlands, some 60-70% of households still saw their incomes stagnate or fall even after accounting for taxes and benefits.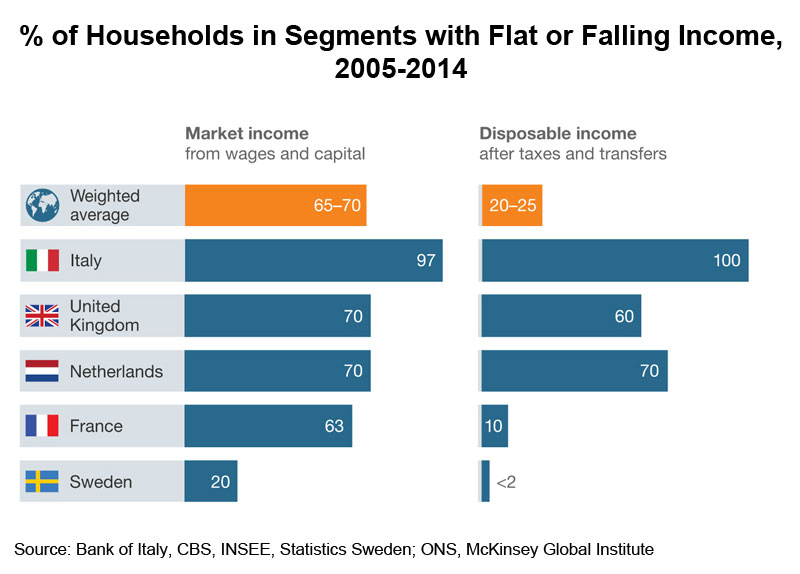 The extent of income stagnation varies significantly across countries, but it seems that in most cases it is the lower-income groups which are the hardest hit. Throughout the Eurozone, the growth of median income has significantly flattened across the board since the Great Recession. But those with incomes below 40% of the median, and those below 60%, have suffered greater falls.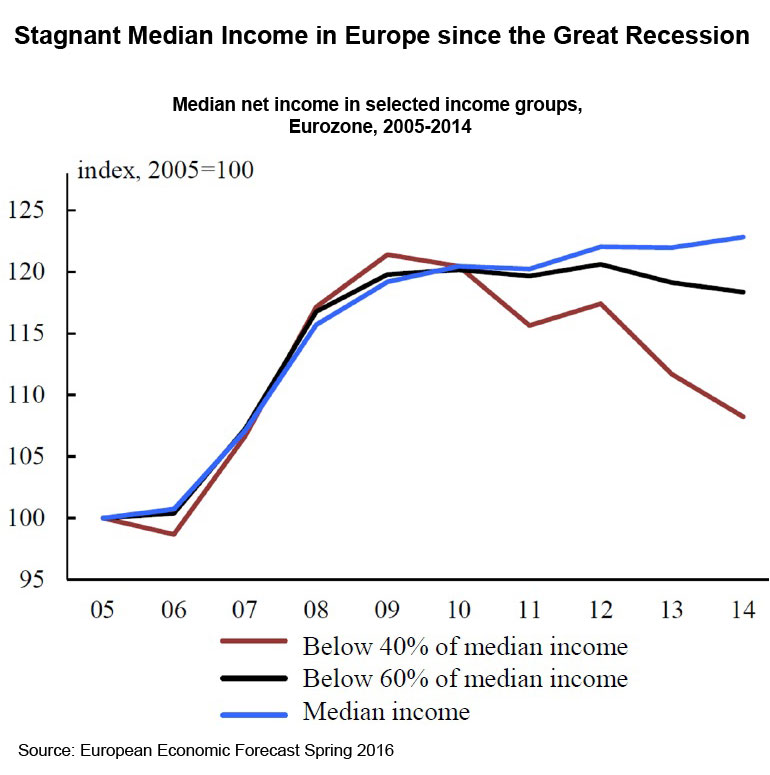 This would suggest that income inequality worsens as a result of stagnating incomes and that the most vulnerable sectors of the population are the ones that are disadvantaged the most. On average in the EU, the bottom 10% of the population accounted for only 2-4% of the bloc's total income while the top decile accounted for about 20-30%. This D90/D10 income ratio is likely to deteriorate further as the trend of income growth usually works against lower-income groups during an economic fallout.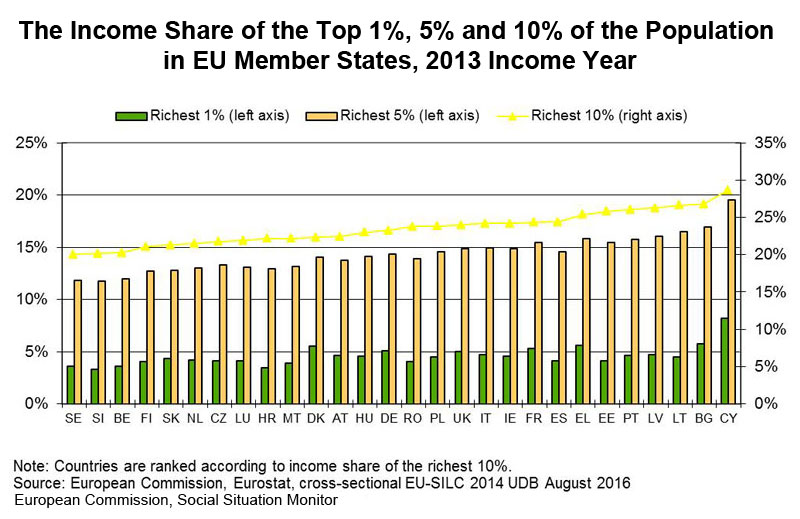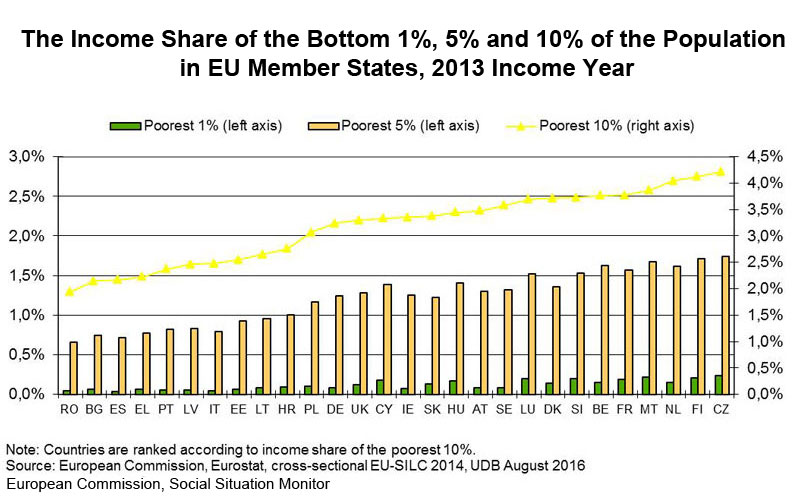 Fuelling populism further is the wave of globalisation and rapid technological changes that together have created a massive skills and jobs displacement both locally and worldwide. However, the pros and cons of globalisation are often misunderstood. It has been proven to be conducive to trade, which grew from less than 20% of world's GDP in the early 1970s to around half nowadays, and therefore should not necessarily be seen as a cause of economic concern.
This is also true in respect to job creation, with every €1bn in exports estimated to account for 14,000 extra jobs . [1] Furthermore, more than 80% of EU imports are raw materials, capital goods and components necessary for the European economy to stay competitive and maintain jobs.
As a pioneer of many of the industries and technologies that will shape the future, the EU is set to be a winner of the so-called "third wave of globalisation" – one that features digitalisation and sustainable development goals. In fact, technology advances such as automation have already made labour costs less relevant than before with regard to decisions as to where to locate production and this is helping bring manufacturing back to Europe.
For instance, Adidas, more than 20 years after ceasing production in Germany and moving its plants to Asia, has unveiled its new robot-operated factories ("Speedfactory") in southern Germany and plans to expand the initiative to its other production lines, such as those producing the shirts of Germany's national football team, and to other European production bases, such as the UK or France.
The task for the EU, then, is not fighting globalisation or digitalisation, but innovating in such a way as to harness their benefits and ensure a more inclusive growth and less painful transition from old to new (knowledge-driven) industries.
Beggar-thy-neighbour Policies Are Not Going to Work, But More Forward-Looking Trade Legislation Is
Populism usually fuels protectionist rhetoric and xenophobic or nationalistic campaigning in elections, the former leading to calls for more and higher trade barriers, the latter tending to reduce support for multilateral trade negotiations and international co-operation. Countries that have traditionally championed an open global economy have begun to look into ways to curb imports, limit immigration and stimulate (if not subsidise) domestic production. But these beggar-thy-neighbour policies can never provide a long-term solution for economies that have been left behind by globalisation.
It is estimated that an increase in trade barriers of 10% can lead to a 4% reduction in national income [2]. The resultant higher prices and restricted choice of goods hurt consumers, while retaliation by trading partners guarantees the opposite of the desired economic boost.
That said, the essence of free trade lies in the creation and maintenance of a level playing field for the benefit of all. Unfair trading practices that undermine support for free trade should be dealt with by forward-looking trade defence legislation. As far as the EU is concerned, this means that the methodology of its trade defence instruments (TDIs) and trade rules should be modified to reflect the changes in the world economic order.
For example, in preparation for the expiry of section 15(a)(ii) of China's Protocol on the Accession to the World Trade Organization (WTO) on price comparability, that allowed WTO members to treat China as a non-market economy (NME) for the purposes of AD investigations and to use an NME methodology of calculating dumping for imports from China, the European Commission published a proposal proposing amendments to its trade defence regulations.
Pursuant to further negotiations and approvals of the final text of the new anti-dumping regulation, EU investigators would be able to use a different method to calculate dumping in cases where "significant" market distortions are detected, by adding new criteria such as low labour and environmental standards. These new EU anti-dumping rules will not only ensure compliance with the EU's WTO obligations, but also protect European industry from unfair trading practices caused by market distortions.
It is estimated that the EU uses TDIs much less than many other jurisdictions, with them affecting only 0.21% of its total imports. As an instrument to shield the EU against unfair trade, the EU's TDIs are expected to continue to be carefully targeted and evidence-based. This is so that more robust EU trade defence rules do not lead to over-reactions from trading partners or a return to protectionism, but remain instead a transparent, predictable way for the bloc to secure its place in the global value chains.
It is also worth noting the function of the EU's exclusive competence clause with regard to the Common Commercial Policy (CCP), which was put in place to prevent member states from adopting positions and policies at odds with those that the bloc as a whole intends to adopt in relation to third party countries. While it is possible that the growing fragmentation of European politics, as observed in a number of recent elections, may impact on such forward-looking trade law reforms and fuel further debate as to the desirability of protectionist measures, the quality majority voting (QMV) rule [3] should still serve to block any short-sighted, populist trade policies advocated by individual member states and protect the wider interests of the 27-nation bloc.
---
[1] European Commission, May 2017
[2] European Commission, May 2017
[3] A qualified majority, also known as the "double majority', is reached if two conditions are met:
1. 55% of the members of the Council vote in favour (i.e. 16 out of 28); and
2. The members of the Council voting in favour represent EU countries representing at least 65% of the total EU population.
A blocking minority must include at least four EU countries.
Italy
United Kingdom
Netherlands
France
Germany
EU
Western Europe