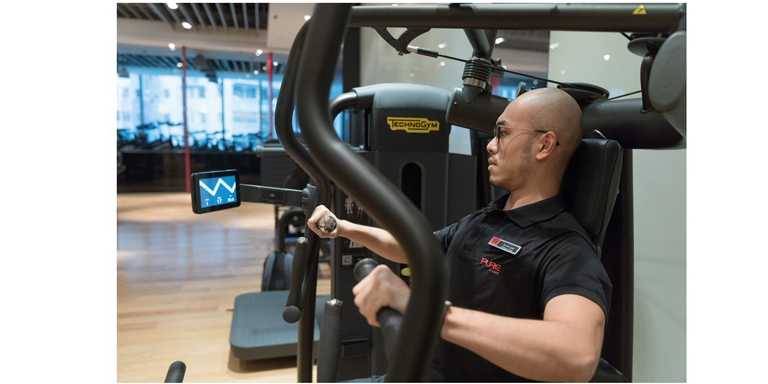 https://hkmb.hktdc.com/en/1X0AB0U6
Fitness Tech Tester
Hong Kong's Pure Fitness is ahead of the curve and expanding across Asia.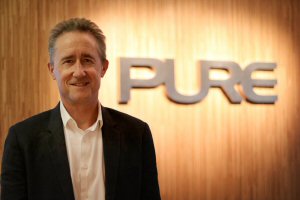 Offering clients exclusive access to the latest fitness technology, the Pure Fitness Innovation Lab aims to raise the sector's game: Pure Cardholders can test out and rate the most groundbreaking gadgets and equipment to hit the market. Their feedback will ultimately determine whether a product is introduced to Pure Fitness locations permanently.

The Hong Kong-based fitness brand is expanding its presence in the city with the launch of Pure Yoga Pacific Place shortly, together with another location in Causeway Bay to open later this year. Regionally it has a presence in Singapore, Taipei and Shanghai with a new facility in Beijing next year. Pure Fitness espouses a 360-degree wellness experience, encompassing yoga and meditation, healthy eating (nood food) and a range of performance activewear, said CEO Colin Grant: "we're catering for the huge growth in discerning customers who want to make well-being their lifestyle."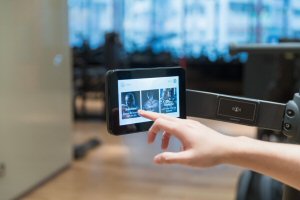 Launched last June, the Innovation Lab saw Pure Fitness ICBC Tower give cardholders the chance to test a bike from Life Fitness and VirZOOM that combines virtual reality and gaming, and has yet to hit the retail market. Innovation Lab at Pure Fitness Langham Place, meanwhile, introduced the Technogym Unity Mini, a tablet that attaches to strength training machines for coaching and instantaneous feedback on workout performance. Delivering high-intensity workouts and effective resistance training with its combined Farmers Carry Lift Arms, the HIITMill X treadmill was tested by cardholders at Pure Fitness Kinwick Centre.

The Innovation Lab is being managed by "techspert" John Leung, who decides which products are revolutionary enough to make the cut. All cardholders are entitled to test the products at the Innovation Lab by making an appointment at the front desk.
Meditation in brief
Pure Yoga Pacific Place, meanwhile, will extend its reach beyond the yoga die-hards with an upscale vanity salon, a state-of-the-art air purification system and natural toiletries. The studio will offer a yoga class not available elsewhere in Hong Kong, 'Yoga for Office Workers', to address the needs of busy deskbound professionals.

Pure Yoga also recently extended its meditation offering across all Pure Yoga Asia locations with classes aimed at making the practice more accessible with added, shorter, 30-minute meditation classes (currently one hour long). "What we've noticed is that many people wish to experience the benefits of meditation, especially in our fast-moving, connected cities where we are increasingly expected to be 'on' at all times. Not only can it help to quieten the mind but it is also proven to boost productivity, shift negative thinking and increase clarity for better decision making. Through our new series of compact, guided classes, we hope to make meditation less intimidating, and easier to introduce into wellness routines," said Mr Grant.
Industry support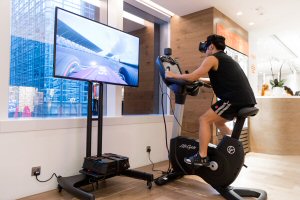 Fitness tech brands approached Pure quite regularly, keen to feature their products in its gyms and gain access to the kind of customers it attracts, explained Pure Group's Regional Marketing Director Gary Wise. "What we did before was say 'yes' or 'no', then we thought: actually it would be better if we took the product on a trial basis, let our customers play with it and test it first and then decide to take it based on customer feedback. It's a great way to get customers involved in the future of our products, and at the same time, it's a platform for the fitness brands to put their products in front of an audience, and get genuine feedback," he adds.

So far, the feedback has been overwhelmingly positive, said Mr Wise. "People love to play with new bits of kit, especially in Hong Kong, as it's quite a gadgety, techy market. Certainly with the Virtual Reality bike, people love to play with it; they had already heard about it and were keen to try it out. It's attracted a constant stream of people especially in peak hours, a few hundred people testing that in a few weeks, in the prime location at Pure ICBC, and anyone who comes there will see it straight away."

Feedback is collected on an iPad and configured with sad, indifferent or happy face icons. "Once we've gathered all of that feedback over the next couple of weeks, we'll see how it's really going," Mr Wise added.

Most importantly, the initiative combines fitness and fun. "It feels so right and makes sense for customers and for us as a business."
Championing local fitness brands
To start the initiative, Pure made contact with many fitness tech brands over several months, and Mr Wise is particularly keen to work with small, local brands. "If there's a great Hong Kong brand with a piece of tech that may otherwise struggle to reach a wider audience and if we think it's good, we will definitely showcase it. Long-term, we'd like to build a community [of local fitness tech brands] that we talk to regularly," he added.

As Pure is a Hong Kong brand, it seemed natural to launch this initiative in the city. "Hong Kong is our home and represents our biggest customer base. The other reason we chose Hong Kong [over Singapore] is that Hong Kongers are quite into technology, and we know our customer base here very well. We'd already spoken to them in the run-up to this and done some surveys to assure us that there was a confidence level [in launching the Innovation Lab]."

After seeing the response from Hong Kong cardholders, Pure will introduce the Innovation Lab into its Singapore gyms either at year end or at the beginning of 2018.
Online support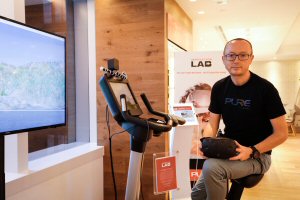 Mr Wise believed building an Innovation Lab community online to support this initiative was crucial to supporting the project, and between 600 and 700 respondents have already expressed their interest. "We're trying to identify which customers are really into this gear, and invite them to be core partners in this project. Once we bring them in, we'll hold focus groups and identify the best products to bring into the lab," he explained.

With a multiplicity of fitness technology out there Mr Wise is confident that the initiative will survive. "There're things like posture analysis systems with interactive mirrors that measure your posture, plus there's a lot of tech coming onto the market that're headphone based, which measures performance then gives you audio feedback based on that, so we're also considering some of those."

The main point of the Innovation Lab is to curate, not create innovation, said Mr Wise. "Having the Innovation Lab puts us in a very natural position to be on top of that growth curve of innovation in the fitness industry. It may lead us into a different direction – customers may hate things we think they love and vice versa, but [this initiative] is really driven by the customer – so let's see what they say."

Related Links
Pure Fitness
Pure Yoga
Health & Beauty
Technology