https://hkmb.hktdc.com/en/1X0AAXEV
Hong Kong Start-up Trends: Disrupting the Traditional Industries
The latest wave of technological change, alongside a surge of innovative start-ups in Hong Kong, has brought unprecedented opportunities, as well as new risks to conventional businesses. There are no safe zones – every industry is subject to disruption. Traditional businesses should pay heed to new waves of technological change and new ways in which people interact with each other. The world has reached a pivotal point, where technological development has changed people's behaviour so drastically that competition may come from somewhere least expected.
Established business models are often under attack by businesses that are not from their particular traditional 'industries'. Corporate incumbents must answer this question: how can they continue to operate effectively in a time of continuous disruption – one where the old rules and structures no longer work?
As said by Steve Blank, Stanford professor and a Silicon Valley serial-entrepreneur: "This relentless wave of disruptive innovation is marching through not only technology industries, such as computers and communications, but is destroying industries thought of as forever stable and predictable: newspapers, entertainment, energy, healthcare, education, construction, transportation, retail commerce, finance, and even governments themselves."
Disruption to the Traditional Trucking Industry (Interview with 36 Link)
A group of logistics professionals have identified a niche in the century-old trucking industry, as this traditional sector is undergoing consolidation and transformation.
Felix Wong, Co-Founder of 36 Link (to be rebranded as LogFlows), a logistics platform connecting shippers, trucking companies and drivers, used to work as a system implementation manager in a freight forwarding company. He has first-hand experience of the pain points of the traditional supply chain.
Conventionally, the logistics industry is fragmented and not very transparent. Many shippers have difficulty in finding qualified, professional drivers capable of meeting their complex delivery requirements. At the same time, a lot of drivers complain that they are underworked. The reason is because most truck drivers are self-employed and their customers find them mostly by referrals.
Wong said: "36 Link is trying to build a modern B2B (business to business) platform for this aging industry, where shippers can review the track records and ratings of the trucking companies and individual drivers. The aim of the platform is to promote visibility and accessibility for quality trucking services. Up to now, we have over 6,000 truck drivers and over 100 trucking companies on board."
The start-up is building a comprehensive index of trucking companies and drivers. Customers can invite trucking companies with good track records and high ratings to submit a tender to provide their services. This can be an agreement of three, six or 12 months.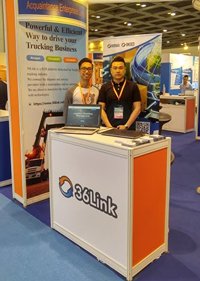 Wong said: "Like many new business concepts, we faced some resistance in the beginning. Self-employed drivers used to enjoy the freedom and flexibility of their working style. However, once they join our platform, their vehicles will automatically be connected to our digital system so we can gain instant access to real-time mapping of driver location, which is critical for us to providing good customer experience. At the same time, information on a range of vehicle and driver activities can help shippers evaluate their potential partners. We need to educate the drivers to change their mindset and convince the factories to work with our B2B platform."
Registering and using the platform is free for the driver, but logistics companies will be charged a monthly fee. The platform also provides some fee-based logistics management services. Wong said that in the future the company might consider charging a fee for rendering services.
The start-up has four Co-Founders, mostly from a logistics background with enterprise resource planning (ERP) knowledge. Only one mainland partner comes from marketing background, who has contributed to lining up truckers in Hunan province.
The start-up is funded by the Co-Founders' own money, having put in several hundred thousand dollars to get the platform up and running. However, to further expand the business, they might need to look for investors or join an accelerator programme.
Wong thinks that there is still room for expansion in Hong Kong, as only about 5% of logistics companies have registered on the platform. When it comes to business development, Wong will take a top-down approach, which means getting well-established factories to use the platform first, then the trucking companies and drivers will follow suit.
Wong does not see a major competitor in Hong Kong, but he expects that the fiercest competition will come from the Mainland, especially Shanghai, where there are over 200 B2B logistics platforms. The start-up has identified Vietnam and Cambodia as its next potential markets. To go abroad, the start-up has to learn a lot about the regulatory systems in those foreign countries and explore collaborative synergy with potential overseas partners.
Information Technology
Logistics & Supply Chain