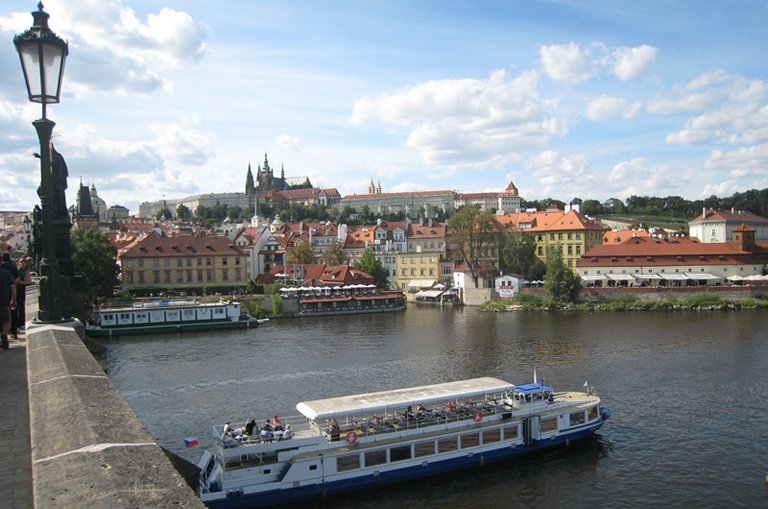 https://hkmb.hktdc.com/en/1X0AAQU0
The Czech Republic: A Belt and Road Link in CEE
Boom Time for China-led M&As
The Czech Republic is home to the biggest airport of any of the newer EU member countries and also to one of the densest railway networks in Europe. As a result, many multinational companies have set up regional logistics centres there. It has some of the best, if not the best, passenger flight connections of any Central and Eastern European Country (CEEC) with the Chinese mainland – and the increased belly cargo capacities, plus the new all-cargo flights between Hong Kong and the Czech capital Prague, have further improved the country's competitive advantage in the eyes of Asian traders and investors.
Following a boom in the manufacturing and IT sector in recent decades, many Czech enterprises are ripe for development, with their owners considering growing the businesses in co-operation with a reliable foreign partner or selling the businesses outright. Meanwhile, relations between the country and China have improved markedly since Czech President Miloš Zeman assumed office in 2013, and reached a high point following the historic three-day state visit by Chinese President Xi Jinping to the Czech Republic in March 2016.
This has helped to create a more business-friendly atmosphere between the two countries. Some investment deals involving Czech companies have actually been done through Hong Kong, while several Czech businesses are now focussing their attention on Asian markets with their own presence in Hong Kong.
A Crucial Logistic Interface in One Way or Another
The Czech Republic has overcome the disadvantage of being a landlocked country by developing one of the best, if not the best, air transport links with Asia of any of the CEECs. These include excellent connections with the Chinese mainland and Hong Kong. Václav Havel Airport Prague (PRG) now has regular direct passenger flights with three Chinese cities – Beijing, Shanghai and Chengdu.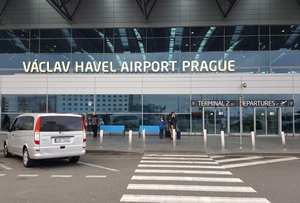 The belly cargo capacities on these passenger flights, in addition to the all-cargo services between Hong Kong and Prague operated by Slovakia-based Air Cargo Global (ACG) since May 2017 (with a technical stop at Turkmenbashi (KRW) airport in Turkmenistan), have increased the Czech Republic's ability to handle cargo demand from Chinese and Asian companies on the look-out for ways to take better advantage of the cross-border e-commerce bonanza happening across Europe.
Unlike the other V4 countries, the Czech Republic does not have a common border with the Commonwealth of Independent States (CIS) area, and so cannot profit directly from serving as a major railway junction for the trans-shipment of containers between the broad-gauge (1,520mm) trains used in former Soviet countries, such as Russia, Kazakhstan and Belarus, and the standard-gauge (1,435mm) trains used in China and the EU.
But the country's well-connected airport, together with its dense rail network (one of the densest in Europe, after only Luxembourg and Belgium), means the country remains highly competitive and attractive for multinationals such as Foxconn and Amazon looking to set up regional logistics centres for the European-wide distribution of high value-added electronics and the fulfillment of online orders.
It's not just in creating a logistics hub that the Czech Republic's railways are important to the country. 200 years of Czech rail industry tradition, coupled with the wave of railway privatisation in Europe in recent decades, has helped to make the country a global leader in rail applications and given it another way to contribute to the expanding rail development between Europe and Asia.
Many Czech companies are heavily involved in the rapid expansion of railway systems worldwide. One such company is the wheelset manufacturer GHH-Bonatrans. As the largest European producer of railway wheelsets and a premium supplier of rail-bound transportation worldwide, GHH-Bonatrans won a MTRC contract to supply wheels for passenger trains in 2015 and established its first Asia presence – Bonatrans Asia Limited – in Hong Kong last year.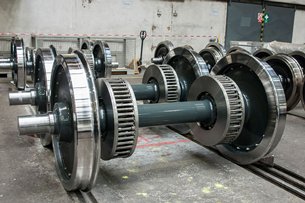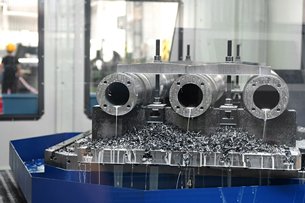 The company's tilt towards Asia involves doing business not only with Hong Kong and the Chinese mainland, but with many other Asian countries too, including India and ASEAN. With the Hong Kong office as its sales and service arm for Asia and its manufacturing and servicing facilities in India, GHH-Bonatrans can better promote its new-built and after-sale solutions for clients such as China Railway Rolling Stock Corporation (CRRC) in Asia, which was estimated to account for about 12% of the company's deliveries in 2015/16.
Czech rail applications suppliers, riding on their price competitiveness, are looking to cash in on Asia's fast-growing rail network. In China, for example, the amount of high-speed railway mileage reached 22,000km in 2016. While China's dependency on imported rail applications is actually decreasing with the emergence of domestic versions [1] of high-speed train wheelsets and axles, Czech suppliers which can meet the strictest requirements for train components running at speeds up to 450kph remain a much sought-after partner for Chinese rail operators. Also important is, Czech state-of-the-art technology for noise reduction and rail-wheel contact protection.
The combination of railways which lead the world in terms of safety, reliability, customer service and cost efficiency, and a professional services cluster with extensive global networks and affiliations, has made Hong Kong a natural destination for Czech enterprises hoping to grow with Asian investors under the framework of such regional and/or interregional development initiatives such as China's Belt and Road Initiative (BRI). Already a conduit for China's outbound direct investment (ODI), Hong Kong serves as a crucial link in providing not only the important capital flows, but also highly sought-after local knowledge and assurance to new-to-the-market Czech enterprises.
Boom Time for China-led M&As
Another trump card of the Czech economy is its strong and highly competitive industrial base. The Czech Republic is the EU's most industrialised country, with industry accounting for more than 47% of its total economic activity. Its competitiveness ranks higher than CEEC peers such as Poland and Slovakia (see graph), which gives it a significant advantage in the race to attract foreign investment.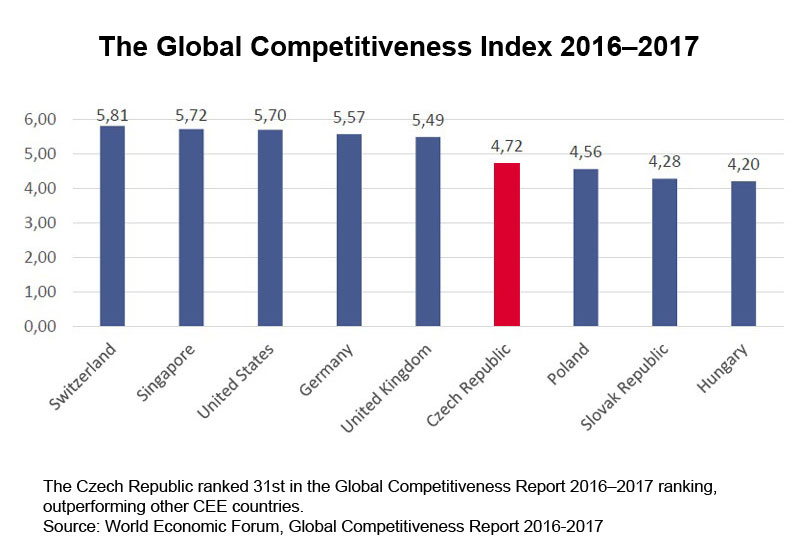 Following a boom in the manufacturing and IT sectors in recent decades, many homegrown Czech enterprises (largely family-owned businesses) are now ripe for scaling up. Some owners are considering development in co-operation with a reliable foreign partner, while others are looking to sell their businesses outright. Such a pool of acquisition targets has made the Czech Republic the region's most active country in terms of M&A deal volume in 2016, with 288 transactions completed at a total estimated value of US$9.9bn.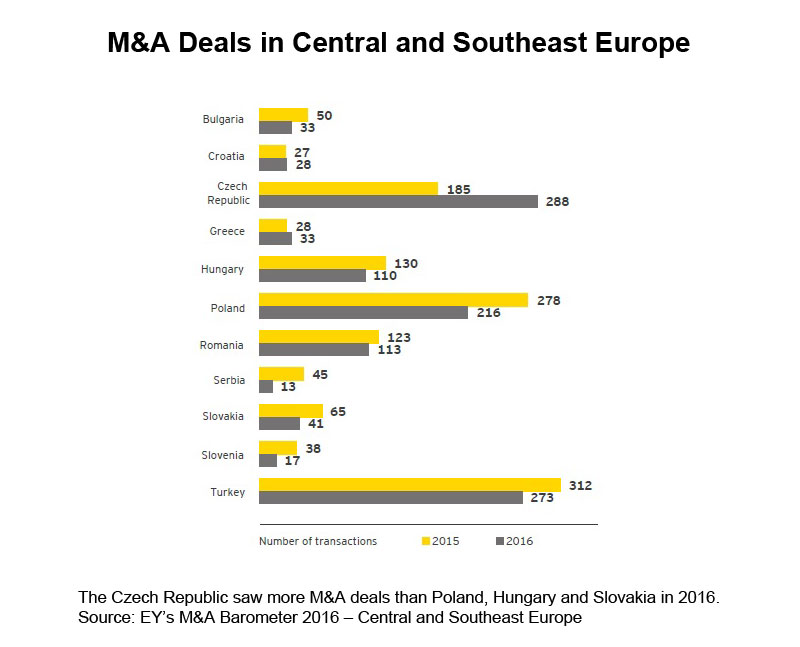 To help Czech companies at the negotiation table, the country's business and investment development agency CzechInvest, has launched the "CzechLink project" to facilitate qualified investor search and enable the pre-audit project stage. From time to time, a list of Czech companies referred to as "Targets" (companies that are actively looking for a partner/investor for joint venture projects or acquisition) will be published on the agency's website, while further company profiles can be made available to potential investors, including private equity funds and investment consultants, after signing a non-disclosure agreement.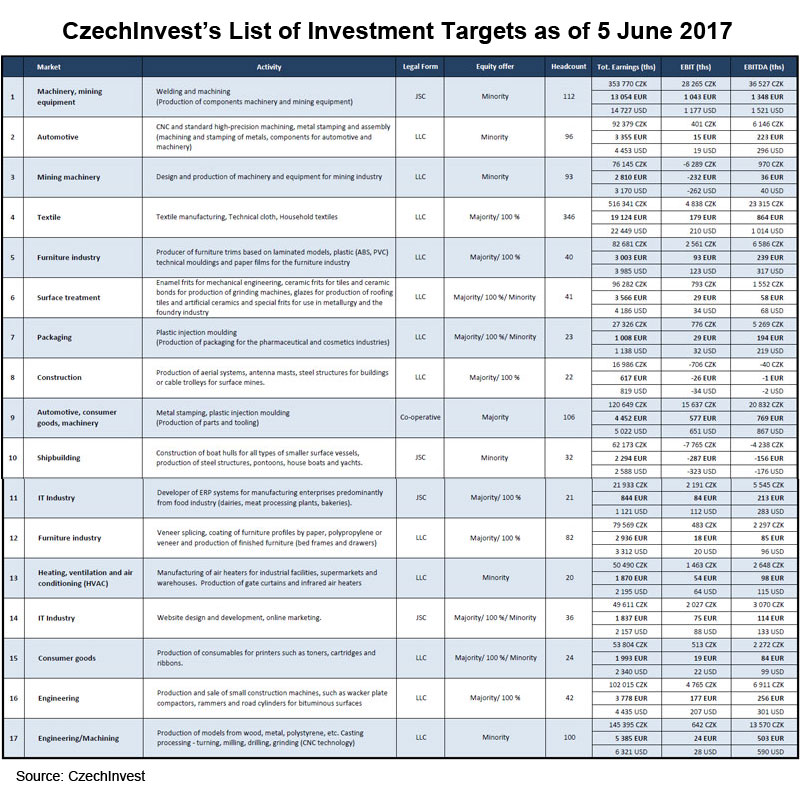 Also oiling the wheels of the M&A frenzy is the significant improvement in business-friendly Sino-Czech relations. These have taken a marked turn for the better since the arrival in office of Czech President Miloš Zeman in 2013 and reached a high point following the historic three-day state visit by Chinese President Xi Jinping in March 2016. As of March 2017, the total number of domestic Czech companies owned by Chinese investors amounted to 2,101, boasting a capitalisation of about CZK5.5bn (US$0.24bn).
By far the largest Chinese investor in the Czech Republic is CEFC China Energy Company Limited (CEFC China), which is considered a key driving force behind many of these China-led investment deals. The Shanghai-based company has established its second headquarters in Prague and has contributed to a number of sizeable, iconic M&A transactions since September 2015, including the biggest Czech airline company Travel Service, the largest Czech online travel agency Invia.cz, the fifth largest Czech brewer Pivovary Lobkowicz Group, five-star hotels such as Mandarin Oriental Prague and Le Palais Art Hotel Prague, Prague's largest office building Florentinum, media organisations like Médea Group, Empresa Media and Barrandov Television Group, high-end, metallurgy and engineering company ŽĎAS and even the oldest Czech football club SK Slavia Praha.
Aside from promoting its own investment, CEFC China has continuously been building platforms for Chinese enterprises to invest in the Czech Republic. Following its acquisition of J&T Finance Group (JTFG) in March 2016, which made it the first private Chinese enterprise to own a European bank, CEFC China launched the China-CEE Investment Fund together with Industrial and Commercial Bank of China (ICBC) in a bid to better bridge China-CEE investment, especially for potential Belt and Road projects.
Hong Kong's Roles as a Business Conduit
Hong Kong, as a conduit for China's investment, handling nearly 60% of China's ODI, is one of the leading Asian investors [2] in the Czech Republic, actively participating in the country's China-led M&A spree and overall Sino-Czech investment. Some of the China-led investment deals in the Czech Republic have actually been done through Hong Kong. One such notable deal is the acquisition of one of Czech's biggest DIY and garden equipment firms Mountfield by the Chinese mainland-background, Hong Kong-based Eurasia Development Group in December 2016.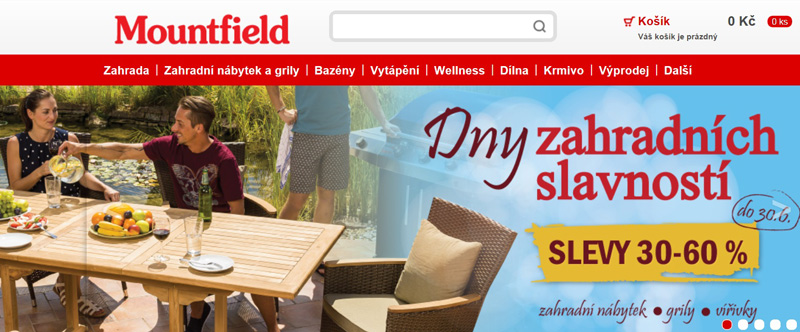 Some visionary Czech companies are also increasingly tilting using a presence in Hong Kong as a safe and clear-cut gateway to markets in Asia. Examples include famous Czech glass and lighting companies such as Lasvit and Preciosa, which have set up either a regional representative office or holding company in Hong Kong to stay close to both the production base on the Chinese mainland and the rosy residential and commercial property market in Asia. Apart from doing bespoke lighting installations and glass artworks at deluxe hotels, upscale office buildings and premium residences, some of them use Hong Kong as a test bed to ascertain the feasibility of building a bigger foothold in Asia.
Effective since 24 January 2012, the Comprehensive Double Taxation Agreement (CDTA) between Hong Kong and the Czech Republic has afforded Czech companies greater certainty and transparency in planning their investment and expansion activities with the involvement of Hong Kong. Thanks to the tax flexibility, Lasvit, which runs a holding company in Hong Kong to oversee its sales and projects in Asia, has worked with the luxurious department store Lane Crawford to introduce its household retail collections.
As a duty free port with efficient logistics and transparent regulations, Hong Kong's strong position as a centre of trade and proximity to China's high-value manufacturing base has made itself a strong choice for Czech companies such as GHH-Bonatrans, Lasvit and Preciosa which are looking to showcase their technology and find prospective investors to turn up-and-coming business ideas into reality. This role goes hand-in-hand with buoyant Sino-Czech investment and is further sharpened by Sino-CEE co-operation through the BRI and 16+1 format.
---
[1] For instance, Taiyuan Iron and Steel (Group) Co., Ltd. (TISCO) produced its first batch of China's homemade wheelsets and axles in 2014 and completed the necessary tests in 2016.
[2] Hong Kong, holding an FDI stock of US$23.7 million as of end-2015, ranked 7th on the list of Czech Republic's inbound foreign investors from Asia, trailing South Korea, Japan, the Chinese mainland, Singapore, India and Thailand.
Finance & Investment
Logistics & Supply Chain
Czech Republic
Eastern Europe
Mainland China
Hong Kong