https://hkmb.hktdc.com/en/1X0AAQ5P
Hong Kong Start-up Trends: Hard-core Technology
In Hong Kong, there is an apparent rise in enthusiastic attempts in academia to commercialise scientific and technological research results in the wake of implementation of Technology Start-up Support Scheme for Universities (TSSSU) [1]. TSSSU aims to bring research results from campus to real world by encouraging more entrepreneurial activities at the university and facilitating more commercial development of intellectual property rights (IPR) developed at the university.
In recent years, university spin-offs focused on cutting edge, hard-core technologies, involving knowledge of physics, biology, chemistry, new materials and life science, are emerging rapidly to fill the gap between invention and commercialisation. This is acting as a bridge between the mid-stream research carried out in universities and industrial development in private companies.
These science-based businesses, still in their infancy, are opening possibilities of a bright future by offering new solutions relating to saving lives, healing and preventing diseases, and advancing living standards.
Hong Kong-based Stem-cell Therapy Technologies (Interview with OPER Technology)
Parkinson's disease affects millions of people worldwide. Although the symptoms can be alleviated by treatments, there is no cure yet. Scientists have been experimenting with the possibility of using stem cells to treat Parkinson's and other degeneration diseases.
Dr Cathy Lui, CEO of OPER Technology, a Hong Kong-based biotech start-up, shared her company's exciting R&D results that may point to an effective stem cell-based treatment for Parkinson's disease. The start-up has already won 24 awards locally and internationally.
In the past couple of years, Lui and her team have focused on animal-based preclinical studies, which have achieved very positive results. The research showed that the treatment can helped subjects restore 80% of normal function. The team is now planning for a clinical trial involving transplantation of stem cells into the human Parkinson's subjects. Clinical trial will be the ultimate proof for the effectiveness of their stem cell therapy on Parkinson's disease.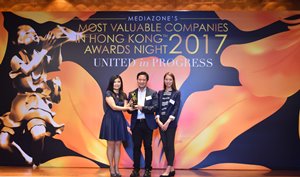 Lui's PhD student research paper was about Parkinson's disease, under supervision of Prof Ken Yung at the Hong Kong Baptist University. They are both confident that their research results may eventually offer a much-needed cure for Parkinson's patients. They successfully joined the TSSSU scheme at the Hong Kong Baptist University and established their start-up in 2014, aiming at commercialising the research results.
Offering treatment for Parkinson's is only the first step for Lui and her staff. She said: "My PhD research paper was on Parkinson's, so naturally we started our experiment with Parkinson's. However, the principle of our stem cell treatments is to use stem cells to revive the degenerated and/or damaged cells. Theoretically, we can apply the treatments for all kinds of neurodegenerative diseases, such as Alzheimer's disease, as well as traumatic brain injury leading to cell death, such as stroke and other conditions. The applications for our stem cell treatments are virtually limitless."
OPER Technology's stem cell therapy is an exciting prospect in the treatment of the stage-three cancer, which means that the cancer cells have already extended to beyond the immediate region of the tumour and has spread to distant organs. While there are still technical issues to overcome, Lui believes that their research efforts hold the promise of providing new therapies to late stage cancer patients.
The start-up tried to expand its business network by participating in international biotech exhibitions, for example, in Switzerland and Singapore. The company also keeps in contact with patients' associations.
Lui said: "Science-based business is a relatively recent phenomenon. Biotech start-ups like us exist to advance scientific knowledge and capture the value of the knowledge we create. We are still learning how to conduct scientific research and doing business at the same time. Before starting up my own business, I did not even know how to read the balance sheet and the profit and loss statement. As an entrepreneur, I have to start from ground zero."
OPER Technology is collaborating with a global pharmaceutical company headquartered in the United Kingdom. Apart from financial support, OPER Technology is in regular touch with the company to get the latest international industry standards and regulations, as well as for its clinical trial preparation.
Lui said: "Hong Kong Science and Technology Parks Corporation also linked us up with some overseas investors because there are very few biotech venture capital funds in Hong Kong. Now my staff and I are all working on very small salaries because the operating costs in Hong Kong are high and there may still be a long way to go for us to get our first product on the market. We have to be extremely cautious on spending. Meanwhile, passion in our work is the energy that keeps us going."
Invention of a 21st-century Material (Interview with Cathay Photonics)
When Prof Cheah Kok Wai at Hong Kong Baptist University's Department of Physics, first heard that Apple uses sapphire crystal in the cover glass of its iPhone, he was of the view that there should be a better and more cost-effective way. Sapphire comes in just under diamond in terms of hardness, making it resistant to scratching. Using sapphire plate directly as cover glass can provide excellent protection from scratching, but the drawbacks are cost, weight, high brittleness and difficulty in processing.
With a decade of experience in thin film research and a background in physics, material science as well as electrical and electronic engineering, Cheah believes that he may be able to find an answer to the problem. In 2014, he founded Cathay Photonics with a group of physicists and engineers to experiment with new techniques for depositing thin films of sapphire on a variety of substrate materials, such as quartz, glass or plastic.
After six months of continued hard work and dedication, the team has successfully developed an innovative approach to depositing a thin sapphire film on transparent substrate, which has several advantages, such as ultra-hard property, less brittleness, light weight, and ease of processing.
Cathay Photonics's invention, 'Scratch Proof Thin Film on Glass', won the Grand Prize at Geneva Invention Show held in April 2016. More than 1,000 new inventions and products from 40 countries had been displayed and were graded by the international jury of specialists. The show is acknowledged as the most important exhibition of inventions in the world. The prize shows the merit of Cathay Photonics's invention, which further reinforced the start-up's determination to commercialise its technological achievements.
Cheah said: "Such an innovative technique and its superlative properties can be exploited in many new and exciting applications in the 21st century. Our solution marks the beginning of the deployment of a novel and affordable scratch-free and ultra-high hardness technology for cover-glass applications worldwide. It can be applied to cover-glass on electronic devices, such as monitors, tablets and smart phones, camera lenses and watches."
Based on thin-film deposition and post-treatment processes, Cathay Photonics has developed an innovative product portfolio. About 10 patents have been issued on the unique technique for depositing sapphire thin film, which is ready for large-scale manufacturing.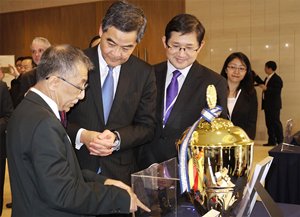 Cheah said: "The co-founders of our start-up are all scientists and engineers so we want to remain an R&D company. We wish to license our state-of-the-art technology and solutions to enterprises and not be heavily involved in the manufacturing process. As such, we are actively looking for collaborative opportunities with enterprises."
Cheah admitted one limitation of Cathay Photonics is that it does not have business development experts in the team, saying: "None of us is close to the market and we are not very good at anticipating what the customers need. The Knowledge Transfer Office in the University provides great support in connecting us with the industry and advice on legal issues. But eventually, we must have our own business development people. We are currently exploring the possibility of the next round of fundraising."
Cheah thinks that the sustenance of start-up communities is important for entrepreneurs. Policymakers focus on subsidies, capital and other things, but only entrepreneurs understand each other and can really provide support on their journey to creating and building a business.
---
[1] Technology Start-up Support Scheme for Universities (TSSSU) is a funding scheme under the Innovation and Technology Fund (ITF) of The Innovation and Technology Commission (ITC), which provides an annual funding of HK$24m (US$3.1m) to six local universities, initially for three years, to encourage their students and professors to start technology businesses and commercialise their R&D results.
Electronics & Electrical Appliances
Medical & Healthcare Services