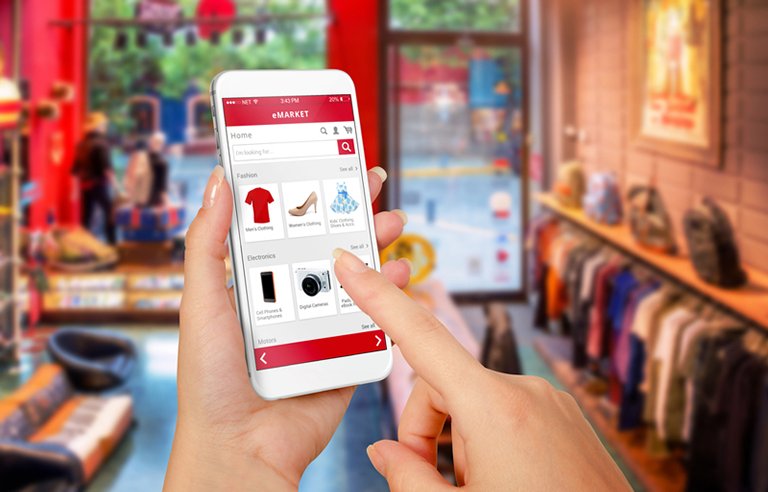 https://hkmb.hktdc.com/en/1X0AAOII
Marketing Maternity and Baby Goods on WeChat
Interview with Chen Shan, President, Gloctech Pty Ltd.
In recent years, mainland consumers have acquired a taste for shopping online via their mobile devices. The number of online shoppers has grown from 140 million in 2013 to 441 million in 2016. Of the total number of online shoppers during 2016, those using mobile devices accounted for over 90%. In order to cater to people's new online buying habits, many e-commerce businesses have been actively developing mobile marketing apps.
Cross-border e-commerce company Gloctech Pty Ltd. has established Ma Ma Lian Meng (Mom Alliance) and Oct Momy on WeChat to sell goods and to target different consumer groups. This is in addition to its activities selling imported maternity and baby goods through the online mall Ao Yi Gou. Chen Shan, the company's president, recently told HKTDC about her experience and marketing techniques in relation to WeChat.
Ma Ma Lian Meng: An Inner Circle for Online Shopping
Ever increasing numbers of mainland consumers are using their mobile phones to shop online. In 2014, Gloctech Pty Ltd. established Ma Ma Lian Meng on WeChat. Unlike the open platforms of other WeChat public accounts, Ma Ma Lian Meng is a closed "inner circle" network. Initially, it served employees of specific companies who required maternity and baby goods. Now it operates on a membership system and a recommendation from an existing member is required in order to join up. Chen is clear about the advantages of "inner circle" marketing: "By way of example, all members of Tencent's Ma Ma Lian Meng are Tencent employees. Its members either know one another or else they're connected in some other way. The details they share and the products they recommend are genuine. This can help to keep fake review writers at bay. It can also build a transparent and healthy shopping environment. The alliance then becomes an e-commerce platform where parents can shop with real peace of mind.
"Members of Tencent's Ma Ma Lian Meng can also introduce their relatives and friends as members. In this way, it cements closer ties between members while preserving the characteristics of an inner circle, something that's not quite possible on WeChat public accounts."
The company now has more than 2,000 member units within Ma Ma Lian Meng, covering 400-plus big businesses (including Tencent, Huawei, CRC, IBM, Xunlei and China Ping An) and over 1,600 large residential communities (such as Wanda, Sheng Shi Jing Dian, Fan Dun Gong Guan and Hong Gu Shi Er Ting). Added together, they have a total of over 400,000 users. Initially, the alliance focused on major cities like Beijing, Shanghai, Guangzhou and Shenzhen. Now, though, it has spread to second- and third-tier cities in Hebei, Henan and Chongqing.
Building Word-of-Mouth Through an Inner Circle of Friends
Business competition on traditional e-commerce platforms is growing increasingly fierce, and as it does so, profit margins are narrowing. This is because individual websites need to spend bigger sums on publicity or special offers to attract an influx of customers. In Chen's view, the single most important consideration when parents choose maternity and baby goods is "word of mouth", because they are determined not to buy "the wrong stuff". However, traditional online advertising may not generate the desired publicity effects.
Ma Ma Lian Meng is a closed niche platform where members can share views and product information. This gives users the impression that the products in question are "being recommended by inner circle friends", creating "word of mouth". The discussion and evaluation of products by mothers using Ma Ma Lian Meng can also have the effect of maintaining the overall quality of products.
Ma Ma Lian Meng works with product spokespersons or key opinion leaders (KOL) for publicity purposes, using their influence to promote product sales. It can also offer special prices and exclusive group buy deals as a means of encouraging members to browse the site on a regular basis.
Oct Momy: Cross-Border E-Commerce Platform in a Sharing Economy
Alongside Ma Ma Lian Meng for "inner circle" friends, in early 2017 Gloctech Pty Ltd. also opened a WeChat public account, Oct Momy. As a cross-border shopping platform for mobile devices, Oct Momy's aim is to share the fun of shopping with more people and introduce a new quality of lifestyle to the general public. Not only is it an interactive platform for lifestyle sharing, it can also help people to improve their daily lives.
While offering a rich array of commodities, it also hopes to attract more people to join its large, growing family and thus truly take on ownership of the platform. Thus, membership is open to all and consumers can buy imported goods on the Oct Momy's Mall via mobile phones at any time. The online mall focusses on selling eight specific categories of imported goods, namely infant formula and supplements, disposable diapers, baby goods, cosmetics and skincare products, foodstuff, household goods, personal care items, and wellness and health care products.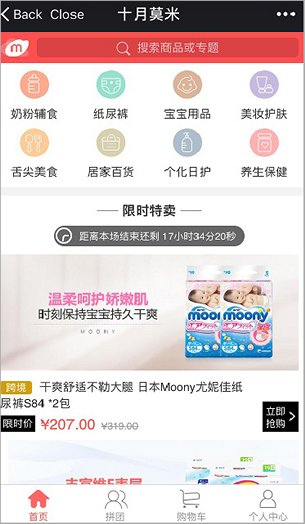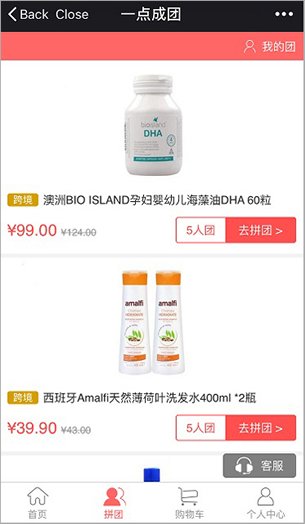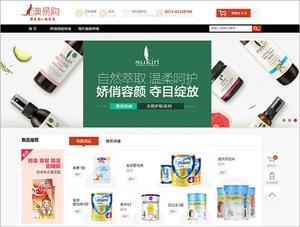 Apart from the general sales model, some goods may be sold through Yi Dian Cheng Tuan (Click for Grouping) at bargain bulk-buy prices. However, consumers need to ask their WeChat friends to form a group in order to access these deals. As chats between friends have a high browsing rate, it is possible to push goods to potential buyers more effectively in this manner. Even if friends are not interested in buying these goods, it still serves as effective publicity. Consumers seem to find this kind of soft selling more easily acceptable.
As a cross-border e-commerce business, Gloctech Pty Ltd. operates other online sales channels alongside Oct Momy and Ma Ma Lian Meng. These include Ao Yi Gou, Ge Ge Jia and Yun Ji. It also supplies goods to other retailers, such as CRC and SF Express. According to Chen, online sales account for about 90% of her company's business, while supplies to other retailers account for the remaining 10%.
Suiting Import Model to Characteristics of Different Products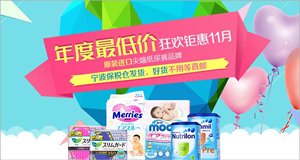 Gloctech Pty Ltd. uses three import models: direct mail import, bonded import and general trade import. Chen notes that, since maternity and baby goods come in all shapes and sizes, it is necessary for the import model to be suited to the characteristics and sales volume of the products. For example, products such as milk bottles and disposable diapers, which have standard product specifications and are in great demand but which rarely require stylistic changes, can best be imported using the general trade mode. For goods such as snacks that have "best before dates", direct mail import is quicker and more convenient. In that case, the importer only needs to submit the purchase order and the translated ingredients list to Customs for record-filing.
In terms of modes of transportation, goods that have a higher price or are easily breakable are generally shipped by air. For example, goods imported by air from Australia and Japan only take 2-3 days to reach the bonded warehouses on the mainland. Goods that are bulky or heavy are generally shipped by sea or rail. The company currently has bonded warehouses in Ningbo, Chongqing and Shenzhen, as well as warehouses in Australia.
Baby Household Goods Have Greater Growth Potential
Chen believes that household goods for babies and children have greater potential for sales growth than other types of maternity and baby goods. For example, air purifiers with international certification should have great market potential on the mainland, where smog is a very common issue. Baby and children's goods with modified designs are also likely to have strong prospects. For example, quilt covers made in Australia use buttons instead of zippers, because zippers can pose a safety hazard to children, but this possibility is often overlooked by mainland parents. As such, an improved understanding of product safety on the part of parents can stimulate market demand for new designs.
Points to Note for New Brands Eyeing the Mainland Market
There are two specific points that a new brand should bear in mind when looking to enter the mainland maternity and baby goods market. Firstly, if the product belongs to a top-selling category, a new brand needs to have uniquely different functions or design elements before it can win a share of the competitive market. For instance, in the case of disposable diapers where the market is already dominated by well-known brands, any new brand would need to have special functions, such as wetness indicators, in order to ensure good hygiene and attract consumers. Secondly, in terms of promotion and publicity, it is popular on the mainland to run video ads on social networks. Individual companies should consider adapting their marketing strategies to meet these market characteristics.
In Chen's view, new brands should not resort to starting a price war when trying to capture the mainland market, as there are always going to be other, cheaper brands. Rather, it is important to rely on the quality, functions and design of products to attract consumers and build up word of mouth. Where buying is concerned, the spending mantra of mainland parents seems to be "it's better to pay more than to buy the wrong stuff".
Mainland China
Mainland China