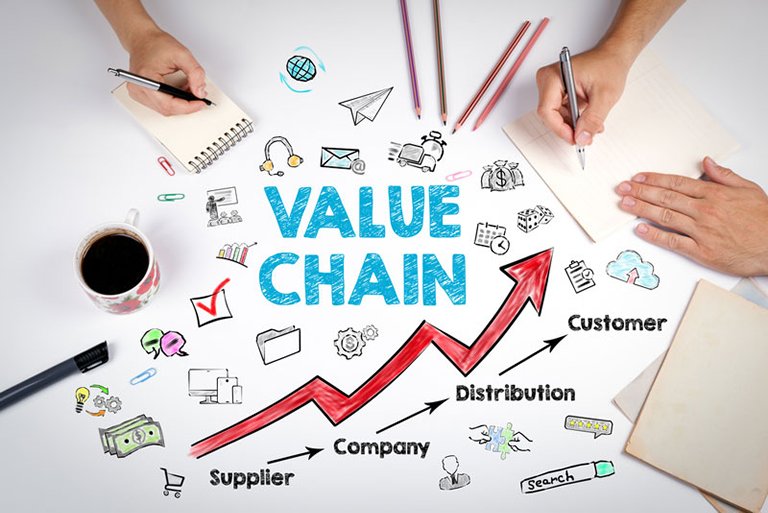 https://hkmb.hktdc.com/en/1X0AAOGK
Value-chain Development Among Hong Kong Exporters: The HKTDC Trade Survey
The past few decades have witnessed the rise of China as the global economy's growth engine. During which time, Hong Kong manufacturers benefited greatly from low production costs across the border, mostly in the Pearl River Delta (PRD) region. It would seem however, that those days may well be over. Since the late 2000s, the Renminbi (RMB) has appreciated and labour costs have risen due to the slow growth of the working-age population, while increasingly stringent regulatory requirements also presented challenges. At the same time, global demand was severely affected by the Global Financial Crisis in 2008 and subsequently the European Sovereign Debt Crisis.
In recent years, it appears, such pressure has eased. The RMB has ceased to trend only upward, while the increase in labour cost has slowed and the global economy has resumed a moderate growth trajectory. Despite this, Hong Kong exporters still face a number of challenges, for example, structural change in developed economies that has lead to subdued demand, a wave of technological advances that has fundamentally changed consumer behaviour and disrupted existing industries, and the rise of e-commerce, which has revolutionised traditional business models.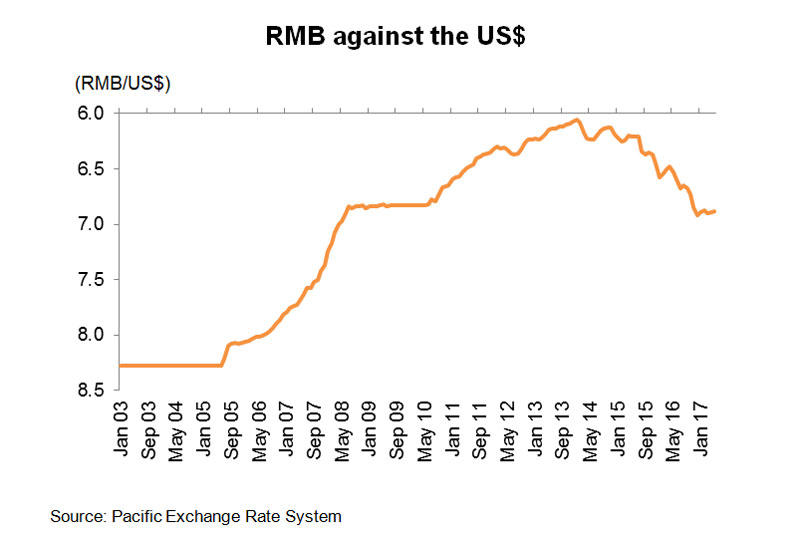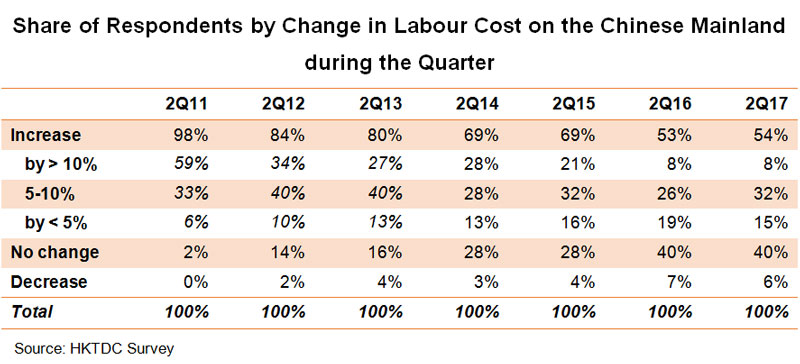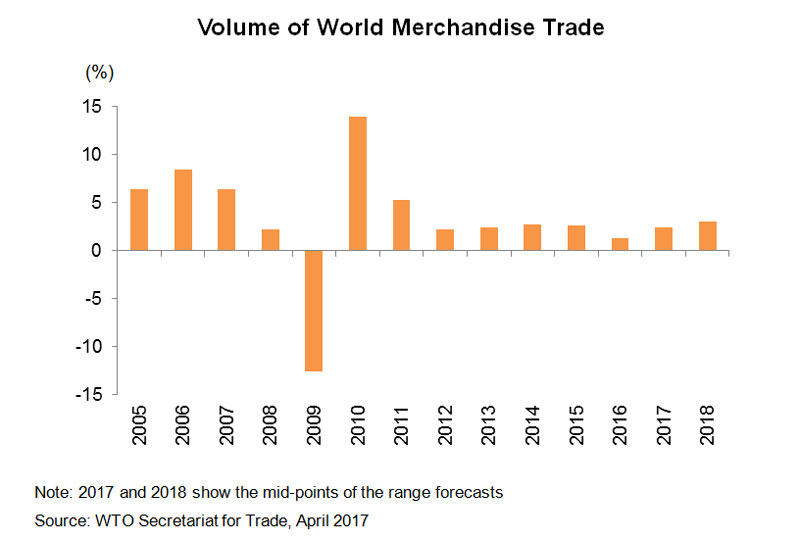 Indeed, Hong Kong exporters are facing immense pressure to move up the value chain, by shifting from manufacturing, which is of lower added- value, towards higher value-added services and more knowledge-based activities. In order to understand how Hong Kong exporters are responding to said challenges – particularly strategies that address changes in manufacturing, design and branding – HKTDC Research recently conducted a survey targeting local exporters registered with HKTDC's database. A total of 2,562 valid responses were received and analysed.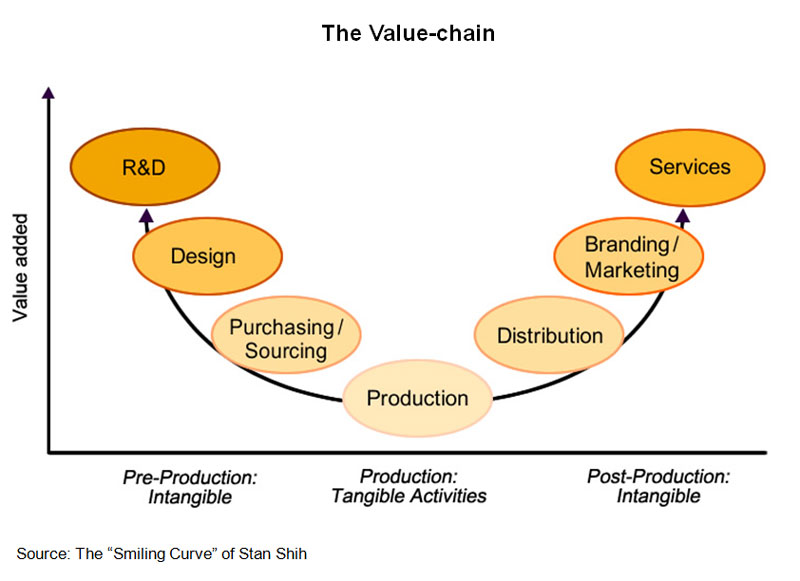 Trends in Offshoring and Sourcing
Overall, the majority of Hong Kong manufacturers continue their production on the Chinese mainland (86%), with PRD (79%) the dominant location, followed distinctly by the Yellow River Delta (YRD) (17%). The Chinese mainland aside, about one tenth of Hong Kong manufacturers have their production bases in the EU, Japan, Taiwan, the US and ASEAN, respectively. Within ASEAN, Thailand (4%), Vietnam (3%) and Malaysia (3%) are the most popular locations for production bases.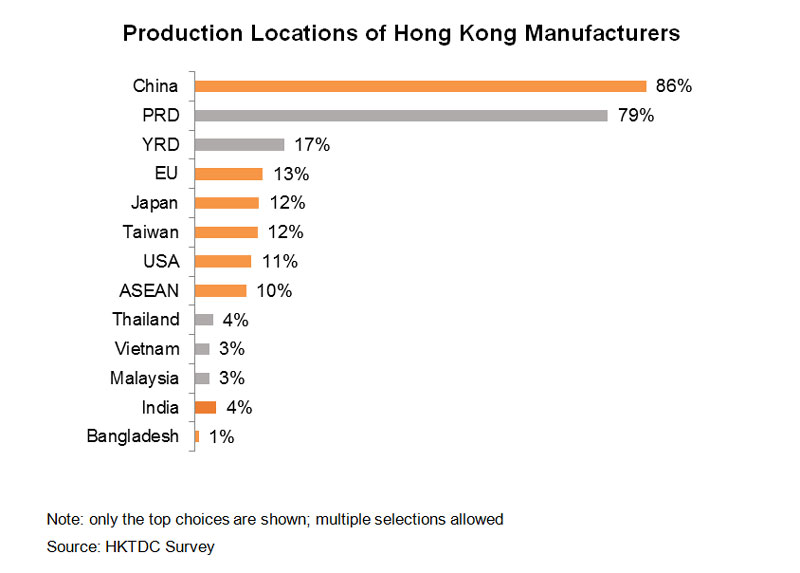 Asked if they are planning a move, 9.7% of surveyed manufacturers indicated that they were going to set up new factories, while 13.7% of respondents said they were planning to relocate their existing factories. Despite the challenges of producing on the Chinese mainland, the country remains the most popular choice; 71% of respondents indicated that China is their preferred location for setting up new factories or for relocation of existing plants. These production activities remain concentrated in the PRD (59%). Outside China, ASEAN is the preferred location, earmarked by almost one-fourth of respondents who are planning a move, with Vietnam (11%), Cambodia (5%) and Indonesia (4%) the most popular locations. Despite the withdrawal of the US from the Trans-Pacific Partnership, Vietnam remains an attractive manufacturing location.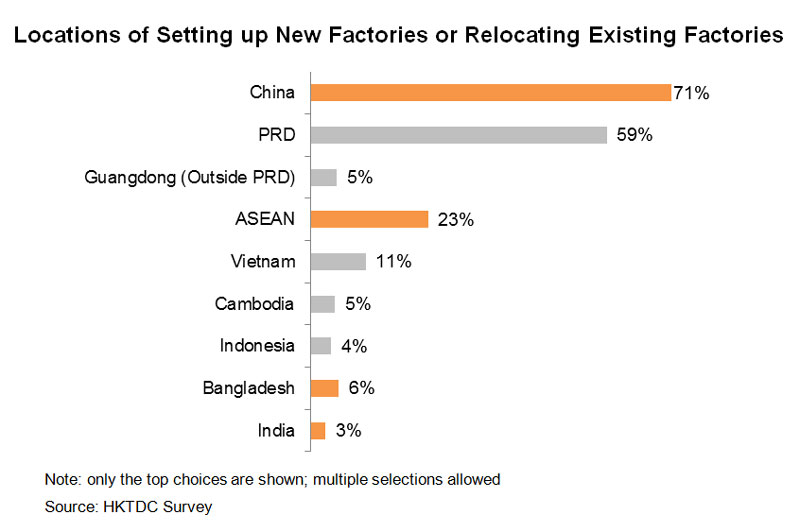 Asked why most Hong Kong manufacturers have opted to stay in China, a number of respondents reflected that although some of the input costs, which include labour and land, are much lower outside China, the benefits of offshoring elsewhere are minimal, especially after taking into account labour productivity, logistics infrastructure, and the time and cost of adjusting to new policies and authorities. As such, respondents are more inclined to look for alternative ways to improve their competitiveness.
The survey results also reflect the rising trend of sourcing raw materials locally. With the Chinese mainland being the preferred production location for Hong Kong manufacturers, these manufacturers also choose to source their raw materials across the border. The median share of respondents choosing to source raw materials locally is 80%, with a higher share observed for manufacturers of giftware (90%) and travel-related accessories (90%). Over the next five years, 33% of all those surveyed expect to increase their sourcing of raw materials on the Chinese mainland. Electrical appliances (50%), lighting products (45%), electronic parts and components (41%), electronics (39%), household goods (36%), and food and beverage (36%) are all industries where respondents expect an increase in the share of raw material sourcing on the Chinese mainland over the next five years.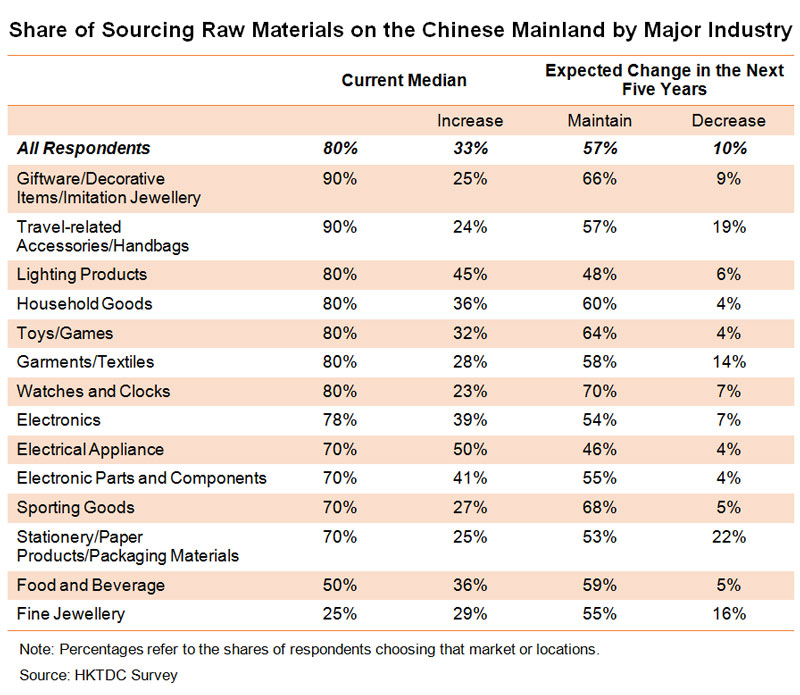 Production Capability
Investment in production capability appears to be a commonly adopted method by which Hong Kong manufacturers are improving their added value. Three out of four manufacturers surveyed said they have improved their production capability during the past five years. Measures undertaken include the utilisation of machines/systems with a higher production capacity (57%), automation of whole, or part of, the production process (52%) and utilisation of more energy-saving machines/systems (36%).
Respondents indicate that the return on investment in machines and systems is direct and measurable, compared with offshoring, which is subject to uncertainties and challenges. Manufacturers also indicate that in recent years, the Hong Kong government has rendered more support in the form of industrial upgrading and transformation. Indeed, "re-industrialisation" is one of the outlined initiatives aimed at driving the city's economic growth.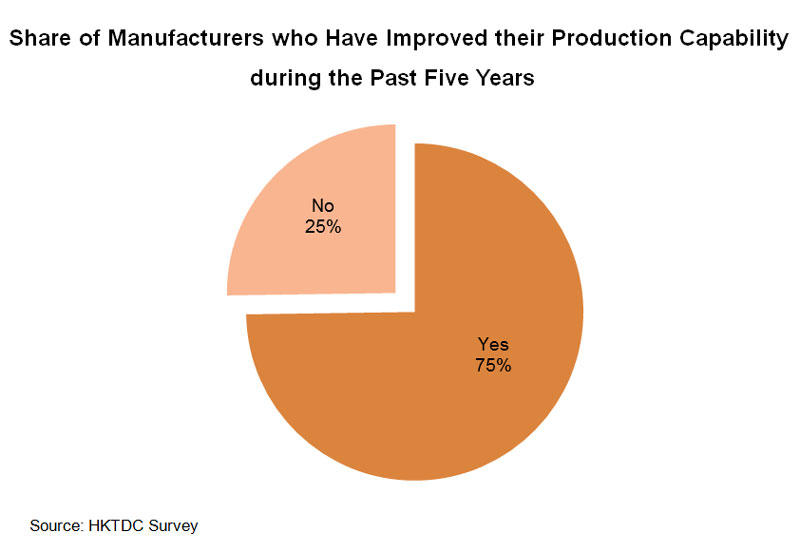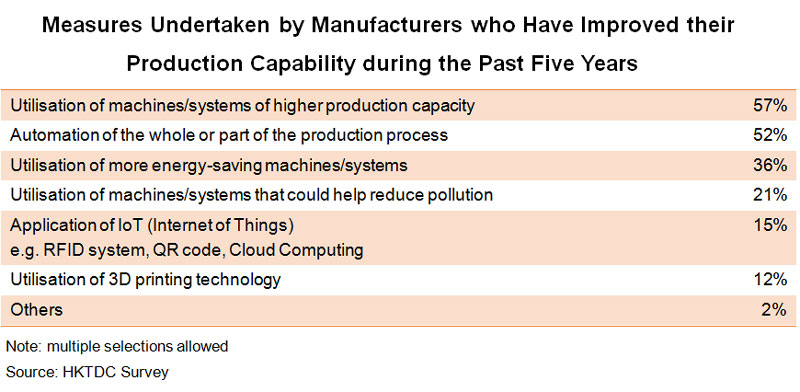 Amongst manufacturers who have improved their production capability during the past five years, the median investment amount was HK$1 million over five years. Over the next five years, 60% of all surveyed manufacturers plan to increase or maintain their investment amount as compared with the past five years where 9% of them invested less.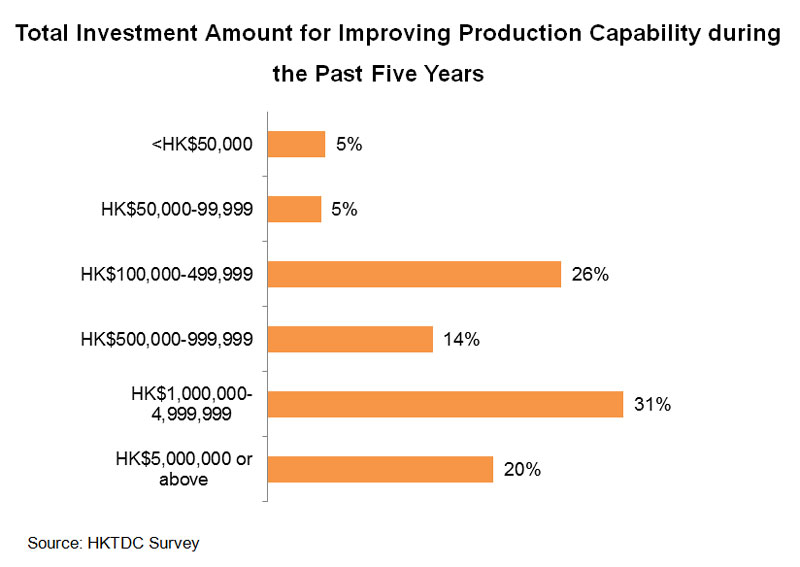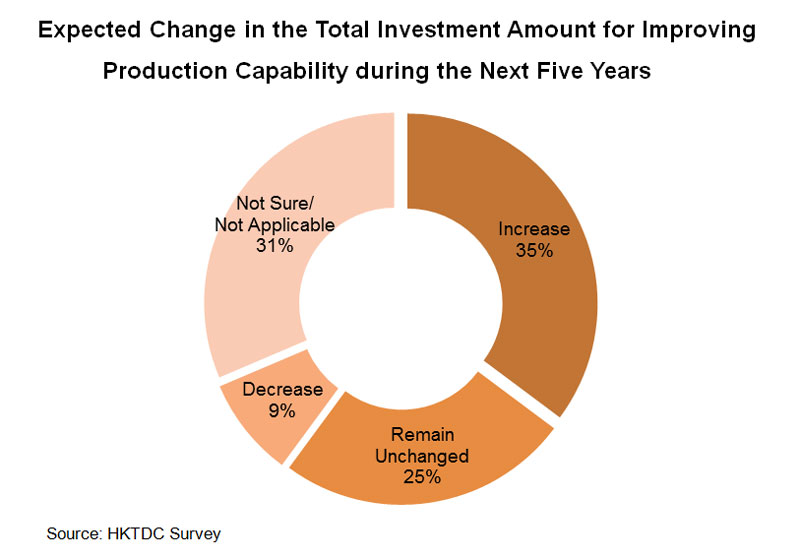 Design Capability
With regards design capability, 53% of respondents who deal in finished goods indicated that they were responsible for the designs of their products, either by employing in-house or outsourced designers. Among major industries, there are higher percentages of respondents indicating that they were responsible for product design in fine jewellery (71%), lighting products (63%) and electronics (59%). As made clear by a number of respondents, offering designs, which improve only the aesthetic appeal of their products, is no longer adequate as such designs can easily be copied by their competitors. Rather, the focus of product design has in recent years has shifted towards improving functional or technical aspects.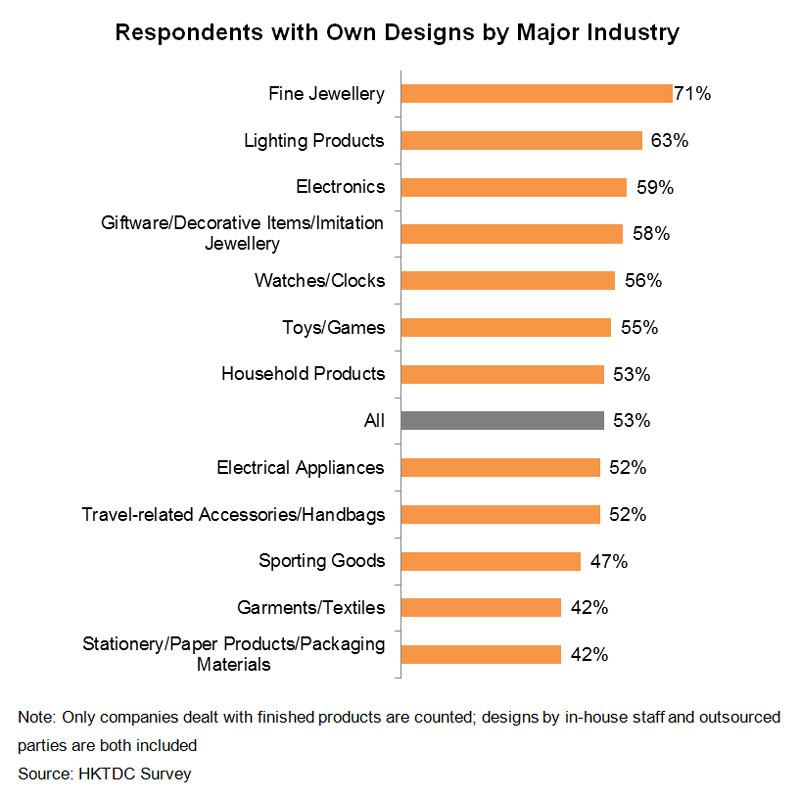 Brand Development
Compared with product design, developing a brand requires much longer-term investment and considerable expertise. This has naturally lead to a lower percentage of respondents engaged in brand development. According to the survey, only 39% of respondents were engaged in brand development, of these: food and beverage (75%), lighting (52%) and electronics (52%) are industries with the highest percentage of respondents engaging in branding exercises.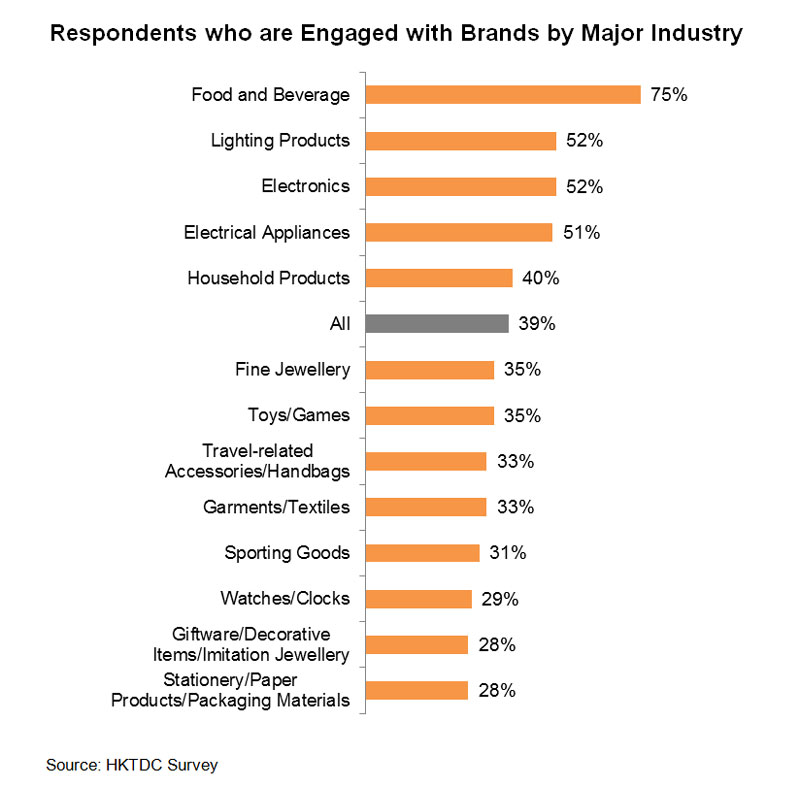 The majority of these brands are self-developed brands (82%), followed by non-exclusive dealerships (41%) and exclusive dealerships (36%). A number of respondents commented that brand engagement through a dealership arrangement with established brands, especially those owned by existing OEM/ODM overseas customers, was a good option. In many cases, these brand owners only focus on markets in their regions, such as the US or Europe, and they are open to partnerships with Hong Kong companies which can help to develop their brands in Asia. It is a win-win situation for Hong Kong exporters, as developing a brand through dealership arrangement with established brands is an effective way to move up the value chain and requires substantially less commitment of resources compared with developing a brand from scratch.

Among those who have been engaged in brand development, the median investment amount was about HK$500,000 over five years. Over the next five years, 53% of all respondents aim to increase or maintain their investment amount in brand development as compared with the past five years where 12% of them chose to invest less.