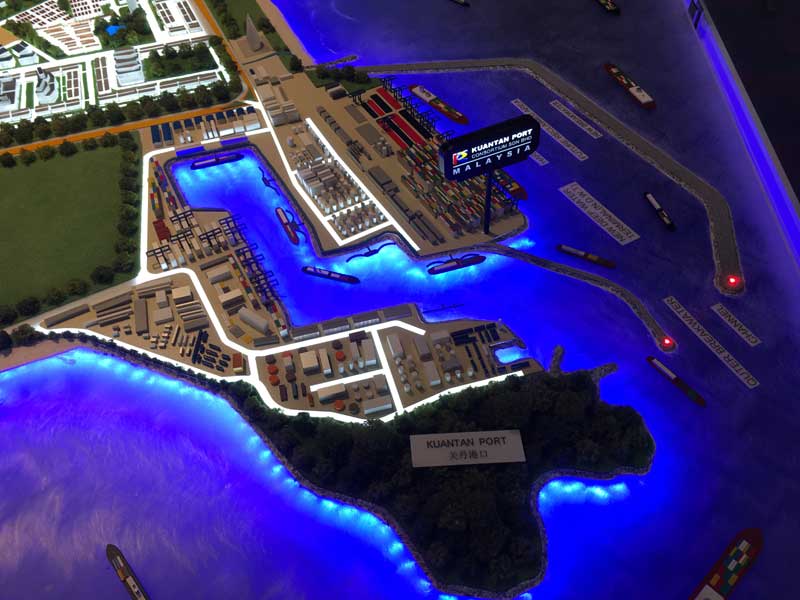 https://hkmb.hktdc.com/en/1X0AAGYQ
Belt and Road: Development of China's Overseas Economic and Trade Co-operation Zones (4)
Malaysia-China Kuantan Industrial Park in Malaysia
Malaysia, as a major ASEAN economy and an important gateway along the 21st Century Maritime Silk Road, is strengthening its industrial co-operation with China. Industrial parks have been established in Qinzhou in China's Guangxi Autonomous Region (the China-Malaysia Qinzhou Industrial Park), and Kuantan in Malaysia (Malaysia-China Kuantan Industrial Park, MCKIP). Through this "two countries, twin parks" model of co-operation, China and Malaysia hope to strengthen regional supply chain management, push forward the development of industrial clusters, and promote trade and investment between the two countries. The "Port Alliance" will also be established to improve customs efficiency and expedite trading between the two countries through experiments on joint customs clearance, information sharing and other mechanisms. Malaysia is among China's largest trading partners and major investment destinations in ASEAN, with the volume of bilateral trade reaching US$88.4 billion in 2016.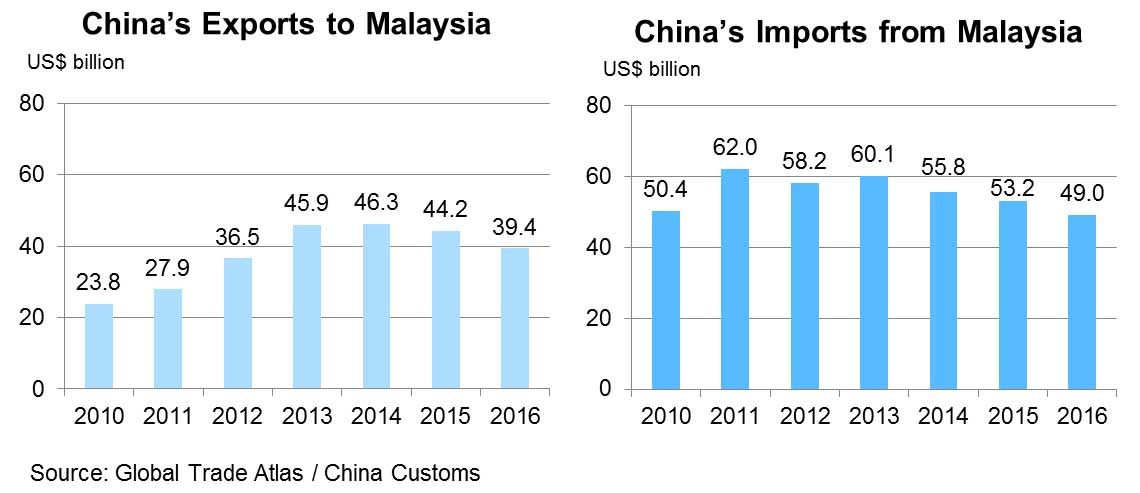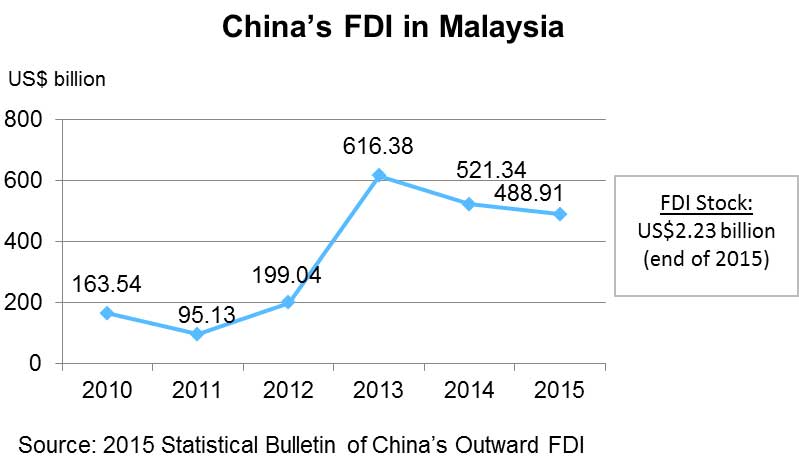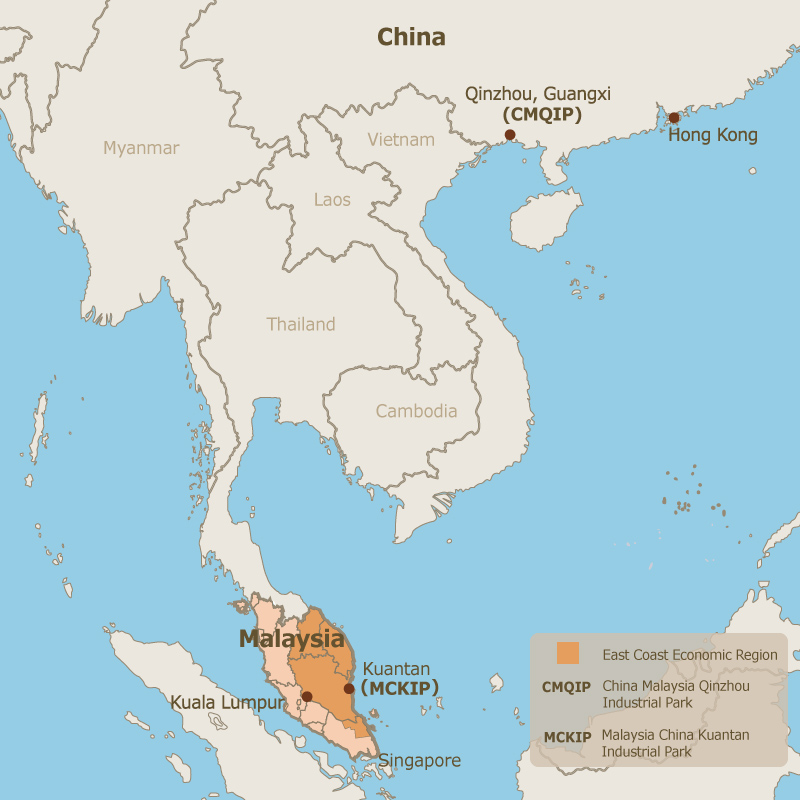 MCKIP is a bilateral Malaysia-China government-to-government collaboration. MCKIP Sdn Bhd (MCKIPSB) is a 51:49 joint venture between a Malaysian consortium and a Chinese consortium. IJM Land holds a 40% equity interest in the Malaysian consortium; together, Kuantan Pahang Holding Sdn Bhd and Sime Darby Property hold 30% and the Pahang State Government holds the remaining 30%. The 49% stake of the Chinese consortium is held between the state-owned conglomerate Guangxi Beibu Gulf International Port Group (with a 95% equity interest) and Qinzhou Investment Company (the remaining 5% interest).
MCKIP is located in the East Coast Economic Region (ECER) in Malaysia. In 2008, the Malaysian government established the East Coast Economic Region Development Council (ECERDC) in order to spearhead the economic development of the East Coast. The five key economic sectors of the ECER are: (1) manufacturing, (2) oil, gas and petrochemicals, (3) tourism, (4) agriculture and (5) human capital development. The launch of MCKIP in 2013 has been one of the key milestones in the economic development of the East Coast.
MCKIP targets heavy industry and high-technology industry. These include energy saving and environment friendly technologies, alternative and renewable energy, high-end equipment manufacturing and the manufacture of advanced materials.
There are three distinct phases within the industrial park. MCKIP 1 consists of 1,200 acres of land. The first investor to be established there is Alliance Steel (M) Sdn Bhd, which was granted approval to invest RM5.6 billion in its facility in 2016. Its production site, which will cover 710 acres, is currently under construction, and the steel mill is expected to be operational by the end of 2017. Once in full service, Alliance Steel expects to generate more than 3,500 jobs.
While MCKIP 2 (1,000 acres) is designated for high-end and high-technology industry development, MCKIP 3 (800 acres) is designated for multi-purpose development (including light industry, commercial property, residential areas and tourism parks). Since MCKIP is intended for an assortment of different business opportunities, it is believed that it will attract foreign investment from a wide variety of countries for various purposes.
Many China-based companies are planning to expand their production bases to MCKIP. For example, Guangxi Zhongli Enterprise Group Co Ltd will invest RM2 billion for the development of manufacturing of clay porcelain and ceramic in MCKIP 1. Meanwhile, ZKenergy (Yiyang) New Resources Science and Technology Co Ltd will invest RM200 million for the development of an engineering and production-based centre that will produce renewable energy for MCKIP's own consumption. China's Guangxi Investment Group Co Ltd will invest RM580 million on an aluminium component manufacturing facility. Another is Malaysia's LJ Hightech Material Sdn Bhd, which will invest RM1 billion in a high-technology production-based plant to produce concrete panels and activated rubber powder for the construction industry. The construction works for these projects in MCKIP are expected to begin in the first quarter of 2017. Once completed, they will create more jobs in Malaysia.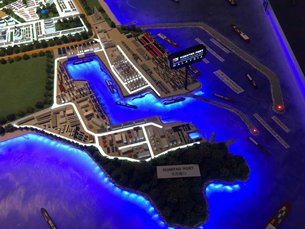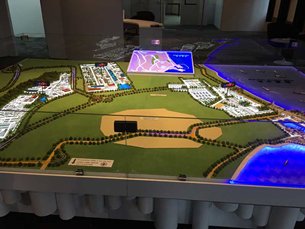 Tax and Investment Incentives
In addition to Malaysia's current incentives package, the Ministry of International Trade and Industry (MITI), together with the ECERDC, has offered special incentive packages for investors in MCKIP (subject to terms and conditions). Below are some highlights of these fiscal incentives:
Fifteen years of 100% corporate tax exemption from the year of statutory incomes derived, or 100% Investment Tax Allowance on qualifying capital expenditure incurred for five years. (Corporate income tax rate currently stands at 24% in Malaysia.)
15% of income-tax rate for qualified knowledge workers in MCKIP until 31 December 2020. (People in the highest income bracket are currently taxed at 28% in Malaysia.)
Import duty and sales tax exemption for raw materials, parts and components, and plant machinery and equipment.
Stamp duty exemption on transfer or lease of land or building used for development.
Investors can apply for Unit Kerjasama Awam Swasta (UKAS) facilitation fund up to 10% of project cost or RM200 million (whichever is lower) to finance the development of basic infrastructure. UKAS was set up by the Public Private Partnership Unit of the Prime Minister's Department.
Port and Logistics Services
Kuantan Port, located 10km from MCKIP, is the gateway for outbound transportation and logistics services in Malaysia's East Coast Economic Region. Kuantan Port currently handles mainly break-bulk cargoes and liquid-bulk cargoes, such as steel pipes, sawn timber and plywood, iron ore, fertilisers, palm oil, vegetable oil, mineral oil and petrochemical products. Container business mainly handles automotive components for Pekan Automotive Industrial Park.
Kuantan Port is actively developing new terminals as part of its plan to increase its capability in handling break-bulk cargoes and containers. It is also co-operating with MCKIP in developing a bonded area in order to enhance the business content of the port and the industrial park. It is hoped that the bonded facilities will attract investors to set up export-oriented processing plants in heavy industry and high-technology industry, and that this will in turn boost Kuantan Port's container-transport business and make it an important container transshipment port in eastern Malaysia.
Phase 1 of the Kuantan Port extension project, which is due for completion in 2018, will continue to handle incoming and outgoing break-bulk cargo. Phase 2 will focus on the construction of a deep-water port for the handling of ocean-going container transport. It is estimated that Kuantan Port will be able to berth and handle 200,000 dwt vessels, including 18,000 TEU ocean-going container ships, and provide port users with incoming and outgoing container transport service to ASEAN and international markets.
Kuantan Port is operated by Kuantan Port Consortium Sdn Bhd (KPC) with a strong network of global shipping connections. At present, major shipping lines that operate at Kuantan Port include Evergreen Marine Corporation Ltd, Jardine Shipping Services, Malaysia International Shipping Corporation Bhd and Pacific International Lines. They mainly serve MCKIP and the Kuantan Port Industrial Area, the Gebeng Industrial Estate and the Pekan Automotive Industrial Park.
KPC told HKTDC Research that since the Kuantan Port was lacking in container business and had little or no experience in operating bonded facilities or international customs mutual assistance, it was keen to seek the co-operation of investors with relevant experience in Hong Kong and elsewhere to develop its container-port business. Since Hong Kong operators have rich experience in business process design, operational systems and information-technology management of container terminals, including using relevant infrastructure facilities, equipment layout and advanced business processes to improve the overall operating efficiency of ports, they should be able to assist Kuantan Port in further developing its international cargo and container shipping business.
Port Business Experience
Hutchison Whampoa Limited (HWL) is one of the largest listed companies on the main board of the Hong Kong Exchanges. Its core business includes port and related services. Its flagship company – Hong Kong International Terminals Ltd – is located at the city's Kwai Chung and Tsing Yi Container Terminals. HWL and its group companies operate a network that covers major ports around the world. In ASEAN, for example, Hutchison Port Holdings Ltd operates container terminals and related businesses in Myanmar (Thilawa in Yangon), Thailand (Laem Chabang Port), Malaysia (Port Klang), Indonesia (Port of Tanjung Priok to the north of Jakarta) and Vietnam (Ba Ria – Vung Tau).
Source: Web page of Hutchison Whampoa Limited and Hutchison Port Holdings Ltd
Future Plans
In June 2016, Kuantan Port received approval from Malaysia's Ministry of Finance to establish a free-zone port. A bonded area will be set up in some port areas, including sections of MCKIP. Economic activities in the bonded areas will be exempt from tariffs, consumption tax, sales tax and service tax. Companies in the industrial park will be offered a variety of value-added services, including transshipment, trading, unpacking and distribution, inspection and testing, repackaging and labelling. Against this backdrop, Kuantan Port will promote the gradual development of MCKIP into an ideal platform for assisting investors in tapping the market in Malaysia, and even ASEAN.
With regard to the development of ocean-going container transport services and bonded ports, steps will be taken to assist MCKIP in attracting investment from China-based enterprises by helping them leverage the strengths of China and Malaysia in terms of land, energy and production materials to improve their overall production allocation in the Asia-Pacific region and further expand their export markets. Apart from helping these enterprises to cut their overall production costs, this will also help them steer clear of trade barriers, such as anti-dumping measures and countervailing duties imposed by the EU, the US and other countries against some of China's metal and steel products.
In order to meet these goals, it is necessary not only to comply with the trade measures imposed by the importing countries in Europe and North America on raw materials, place of production and place of origin of the restricted products, but also to satisfy the relevant agreements of international customs organisations and the requirements of the importing countries for bonded arrangements, container terminal operation, international customs clearance procedures and customs declaration system. The "Port Alliance" currently being built by China and Malaysia for co-operation between the 10 Chinese ports of Dalian, Shanghai, Ningbo, Qinzhou, Guangzhou, Fuzhou, Xiamen, Shenzhen, Hainan and Taicang and the six Malaysian ports of Port Klang, Malacca, Penang, Johor, Kuantan and Bintulu is expected to cut total time and costs in the cross-border transportation of goods between the two countries. Connections with the ports and customs in other regions have yet to be developed.
These plans should also leave room for future development and build advance supporting facilities in order to meet future demands for transport and logistics services in the export of high technology and high value-added products as the industrial park develops in the long run. The export mix of MCKIP is expected to shift from heavy industry to other sectors following the completion of future investment projects, such as those in the fields of microelectronics, biomedicine and chemical industry, which would generate a far greater demand for cargo transport and logistics services.
Therefore, it is imperative not just to make early plans for relevant facilities and working rules in areas such as customs, bonded services, and cargo inspection and testing to boost the industrial development of MCKIP, but also to make arrangements for necessary logistics facilities such as cold storage, dangerous-goods warehouses and comprehensive distribution facilities, and make use of new-generation information management systems geared to international standards.
It is necessary not just to improve the efficiency of transport and logistics but also to cater to the globalisation trend of the supply chain and satisfy the exacting requirements of clients in the Asia-Pacific region and other countries for logistics and distribution in an efficient mode of operation and production. Experienced investors in port management and planning are needed both in the planning stage and in the actual operation, while support of professional logistics service providers is also necessary. Therefore, the development of MCKIP and Kuantan Port will generate opportunities for Hong Kong companies.
The majority of heavy-industry and technology industry investors in MCKIP come from China and Malaysia, but the industry park also welcomes foreign companies from ASEAN and other countries. For example, the Kuantan Port extension and related infrastructure construction projects, as well as the multi-purpose area in MCKIP 3, all need investment in logistics facilities, commercial real estate, residential property management and hospitality services. MCKIP will generate opportunities for direct investment for Hong Kong and regional investors. As an international financial centre, Hong Kong could also provide project financing, risk management and other services to mainland and other investors, and make use of its rich international market resources to collect market information to help investors reduce their investment risks.
China is one of the world's major sources of outbound investment and was the second-biggest cross-border investor, after the US, in 2015. More and more China-based enterprises have gone overseas to make direct investment on their own or through acquisitions or mergers in order to open new markets or secure manpower and other resources and promote their long-term development. As a major service platform for Chinese enterprises "going out", Hong Kong can provide one-stop financial and other professional services to Chinese enterprises investing in MCKIP. For example, Chinese enterprises investing in Malaysia could use Hong Kong to arry out overseas financing for their investment projects and secure more funding for their long-term development. They could also make use of Hong Kong's deep and broad financial market and choose suitable financing channels to optimise their sources of funds, lower their overall financing costs and open the ASEAN and world markets through MCKIP.
Co-ordinating the Interests of Different Partners
Ironsides Holdings Limited is a Hong Kong-based private-equity investment firm that sources funds from Hong Kong, the US and other territories. The firm invests directly into private companies and projects in a number of areas, including healthcare, agriculture, logistics and technology. Its current investments cover, among others, the Southeast and Central Asian regions. Alex Downs, the Director of the company, said: "Chinese enterprises seem to prefer taking a controlling stake when conducting investment in overseas projects or companies. There is, however, always the choice for them to have a much bigger presence in the overseas markets and explore new business opportunities via co-operation with their foreign counterparts, something that could result in decent profits with reduced risks." Assessing the pro and cons of equity co-investment, Downs said: "Ultimately, Chinese enterprises may not have the controlling stakes in such co-investment models, with success resting on the participants' contributions and the effective co-operation among the partners. On the upside, the Chinese enterprises would be given the opportunity to participate in a bigger project and have access to markets beyond that of their original business, thus generating sustainable incomes from their overseas investment. This would be a viable option for those 'going-out' enterprises without enough experience, exposure and/or resources."
Remarks: For further details, please see HKTDC research article (August 2016)
"Going Out" to Capture Belt and Road Opportunities (Expert Opinion 5): A Co-investment Example of Going Global
Alliance Steel plans to tap the growing demand for steel in the ASEAN and international markets by setting up production facilities in MCKIP. This modern steel complex will make use of advanced Chinese technologies and manufacturing processes and introduce automated production equipment to make top quality high-carbon steel rods, wire and H-shaped bars, while green measures will minimise the environmental impact. The company will also provide training to improve workers' grasp of metallurgical technology.
Hong Kong's financial services may directly offer financing to these projects, but can also provide other investment options and help them co-operate with overseas counterparts in the heavy-industry and technology sectors, allowing them to use their investment in MCKIP to expand their overseas market and beef up their strength.
For example, Hong Kong private-equity investment companies could use their extensive global business links to find overseas partners for mainland investors. Through equity co-investment and other forms of joint-stock co-operation, they could provide more investment options to mainland investors who want to expand their overseas presence while containing investment risks. Through equity co-investment, mainland enterprises will not only be able to find partners to share their investment risks but will also be able to draw synergy from the strong points of their partners to venture into new areas and further advance their businesses.
Please click here to purchase the full research report.
Belt and Road: Development of China's Overseas Economic and Trade Co-operation Zones (1)
Belt and Road: Development of China's Overseas Economic and Trade Co-operation Zones (2)
Belt and Road: Development of China's Overseas Economic and Trade Co-operation Zones (3)
Belt and Road: Development of China's Overseas Economic and Trade Co-operation Zones (5)
Finance & Investment
Logistics & Supply Chain
Mainland China
Hong Kong
Malaysia
Mainland China
Hong Kong
Southeast Asia