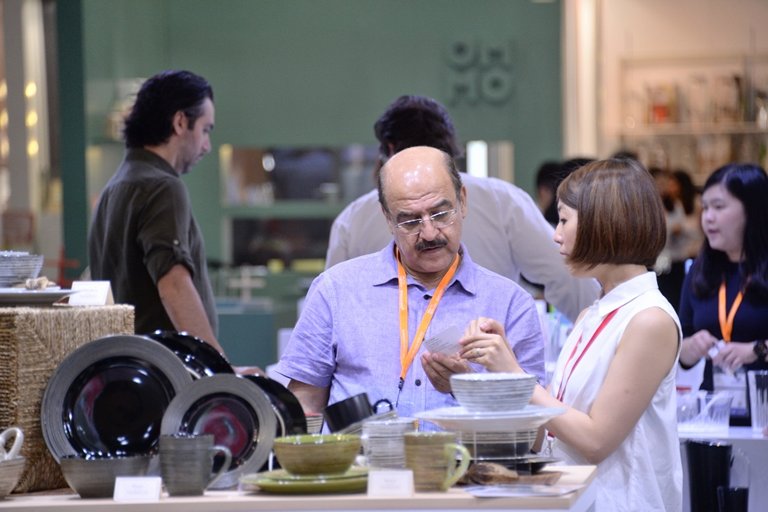 https://hkmb.hktdc.com/en/1X0AAG9F
Eco-friendly Products Lead the Way: The 2017 Hong Kong Houseware Fair Survey
The houseware market is prospering, with eco-friendly products remaining the focus of the sector in 2017, according to the industry players surveyed by HKTDC Research. Overall, some 234 exhibitors and 324 buyers were interviewed with regard to the prospects of the houseware sector over the coming year. The interviews took place during the course of the HKTDC Hong Kong Houseware Fair (20-22 April 2017).
Given the growing level of environmental awareness, consumers are increasingly looking for eco-friendly houseware products, a development clearly underlined by the positive market prospects accorded to such products for the coming year. Overall, a majority of respondents deemed eco-friendly products to be the product category with the highest potential for sales growth in 2017.
Despite this, it seems eco-friendly products may not be the most suitable items to be sold via online channels, according to both existing e-tailers and those considering a move into e-commerece. Instead, kitchenware and gadgets are seen as the most popular items sold online within the sector.
Significantly, many of the buyers surveyed saw Hong Kong's houseware suppliers as synonymous with high quality products, while also praising them for complying with safety and environmental regulations/standards. It was felt, however, that Hong Kong suppliers could still improve with regard to price competitiveness and innovation.
Signs of Growth for 2017
By and large, both the buyers and exhibitors surveyed were more optimistic with regards to the outlook for the year to come than they were back in 2016. Overall, only 9% of buyers and 8% exhibitors expected a drop in sales this year, compared to the 23% and 19% recorded as part of last year's survey. For 2017, exhibitors were generally more confident about future sales prospects than buyers, with more than half of all exhibitors surveyed (51%) anticipating that sales will increase in 2017, although less than a third of the buyers surveyed (29%) expressed the same view.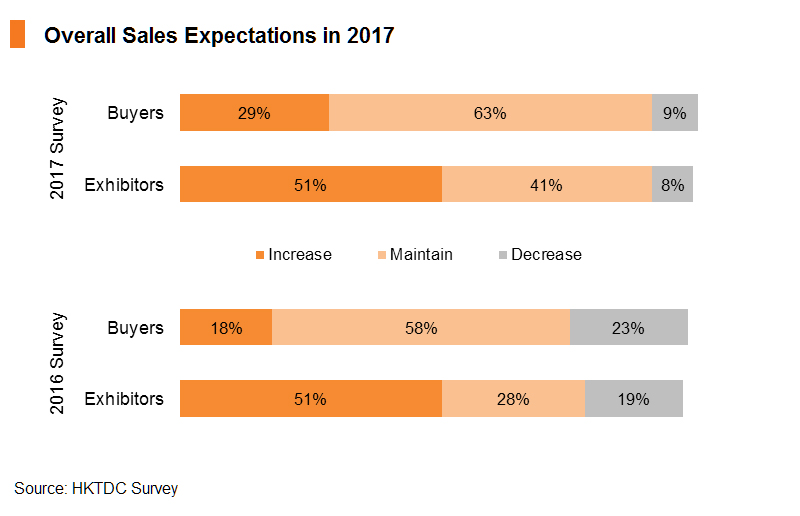 Overall, the majority of both the buyers and exhibitors surveyed said they expected price/cost pressures to increase this year.
The increase in the sourcing cost for buyers was expected to be the most pronounced, with the proportion of buyers anticipating a rise in sourcing cost almost doubling to 41% compared to the 21% expressing the same sentiment in 2016. A net 21% (27% minus 6%) of buyers anticipated an increase in retail prices, a substantial increase over the 5% (21% minus 16%) expressing the same sentiment last year.
In the case of exhibitors, the net percentage of respondents expecting the FOB price to increase was 20% (25% minus 5%), compared with 9% (25% minus 16%) in 2016. A net 56% (58% minus 2%) of exhibitors expected their production/sourcing costs to increase, up from 44% (49% minus 5%) in 2016.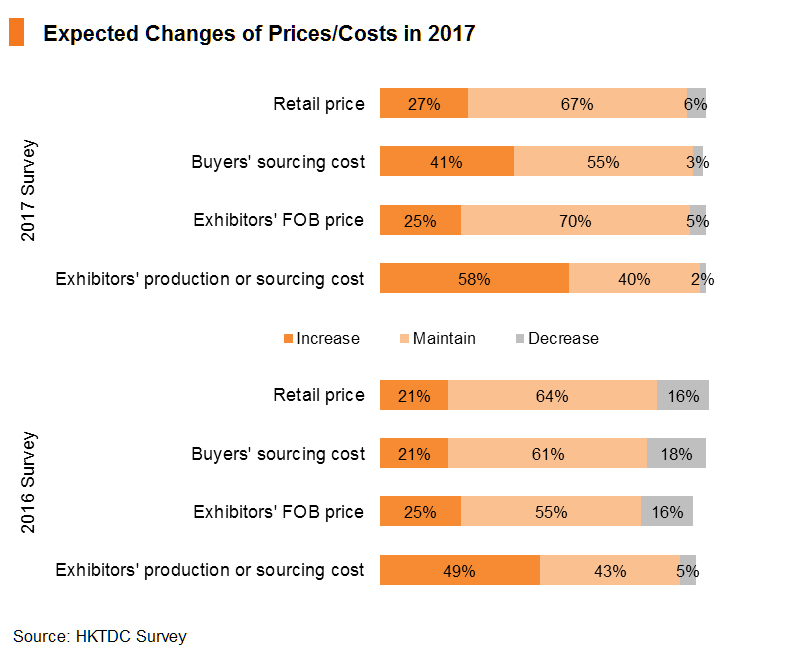 Overseas Market Optimism
In the case of the prospects of the overseas markets, improved sentiments were recorded with regard to both the traditional markets and the emerging markets. More specifically, buyers were asked to rate their sentiments with regard to specific markets on a scale from 1 to 5, with '1' indicating that the market in question was seen as 'very unpromising' while '5' indicated that a particular market was deemed to be 'very promising'.
Following this methodology, the Chinese mainland continued to be regarded as the most promising market for houseware products, gaining an average rating of 3.67. A number of the other Asian markets were also seen as offering good prospects, with Taiwan ranked in second place (3.55), followed by Japan (3.48) and South Korea (3.45). Among the traditional markets, North America was rated the most promising, with a rating of 3.49 (up from 3 in the 2016 survey).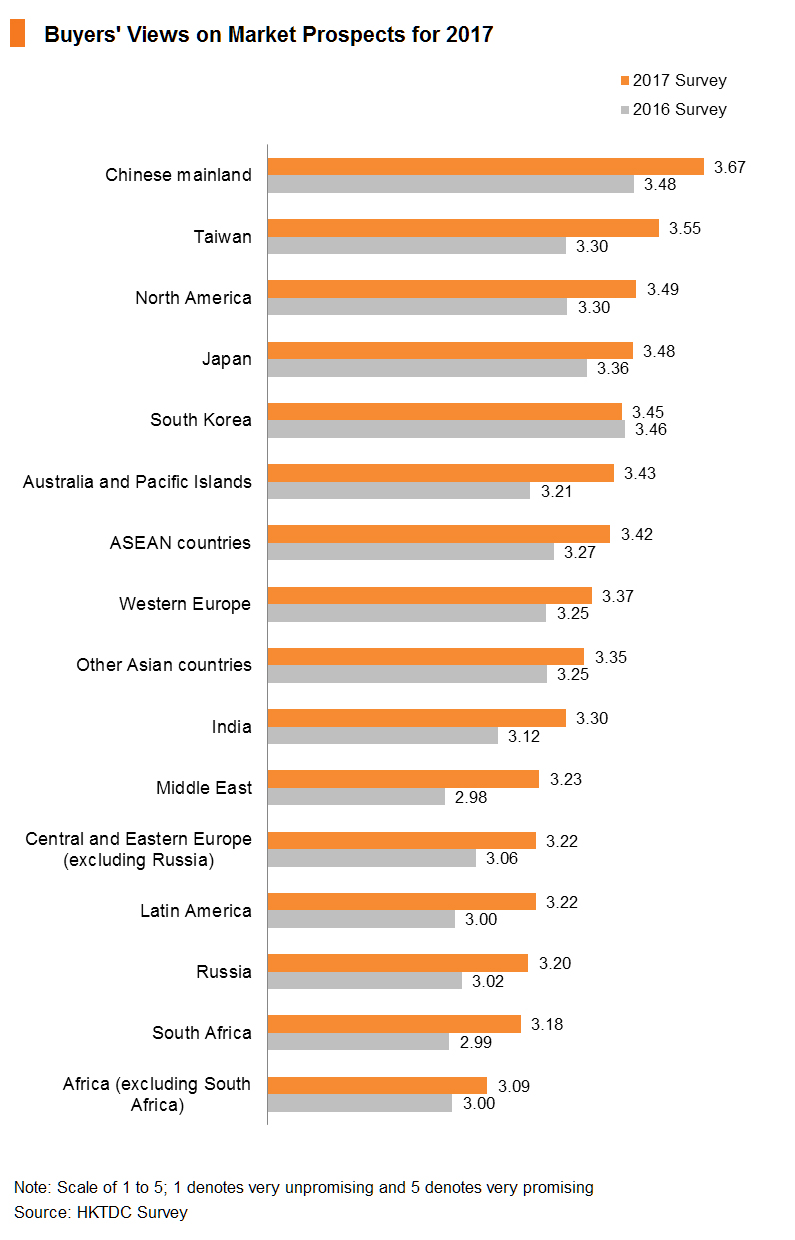 Eco-friendly Products
Given the growing level of environmental awareness, it is perhaps unsurprising that consumers are particularly on the lookout for eco-friendly houseware products. As a result, eco-friendly products remain the category seen as having the greatest growth potential over the coming year, with 14% of all respondents endorsing that particular range. Among the other promising sectors identified by respondents were furniture (11%), kitchenware and gadgets (10%), interior decor and handicrafts (9%) and home appliances (9%).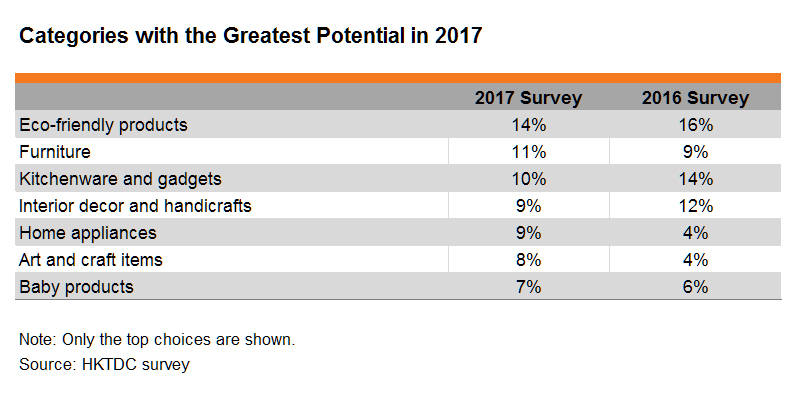 As to product styles, simple design continued to be favoured this year, with 45% of respondents endorsing this approach. Other popular approaches included stylish designs (30%), multi-functional designs (29%), personalised designs (19%) and DIY items (15%). According to a number of respondents, many consumers are now keen to express their personal style, a development that has seen personalised designs and DIY houseware products increasingly in demand. A small number of respondents (7%) also highlighted the increased popularity of licensed products and the potential development of the licensed sector.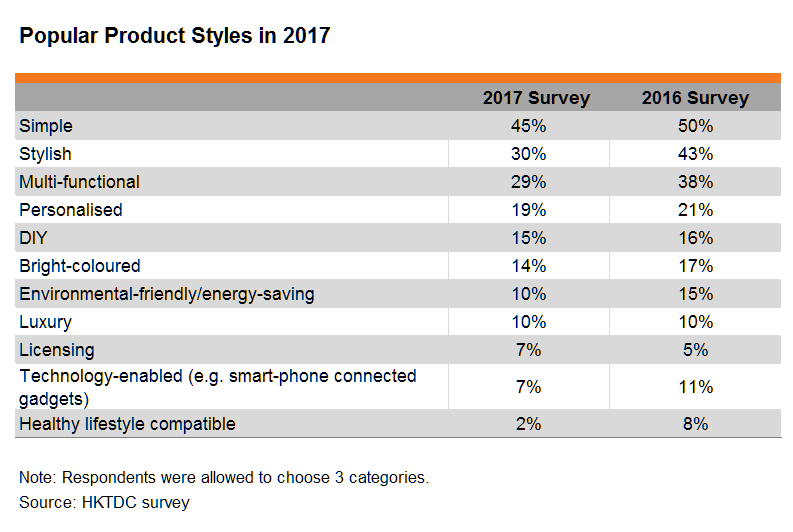 Kitchenware: The E-tailing Star Performer
This year, almost one in five of respondents (18%) were engaged in e-tailing, a drop from the 30% recorded in the 2016 survey. Among those not engaged in e-tailing, only 7% planned to move into the sector within the next two years. This was the same figure as recorded last year, indicating that the appeal of e-tailing remains low for companies in the houseware sector.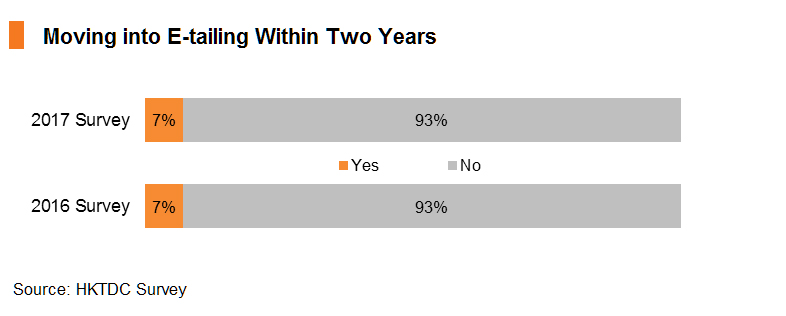 As a relatively new sales channel, e-tailing is seen as suitable for selling certain products with certain features. Within the houseware sector, kitchenware and gadgets appear to be most suited to e-tailing, with 22% of those involved in e-commerce (or looking to introduce such a channel) seeing this category as likely to benefit from online availability. Among the other products deemed suitable for online sales were furniture (16%), interior decor and handicrafts (15%) and home appliances (12%). Interestingly, although eco-friendly products were identified as the items with the best 2017 sales prospects, only 5% of respondents saw them as suitable for sale via e-commerce channels.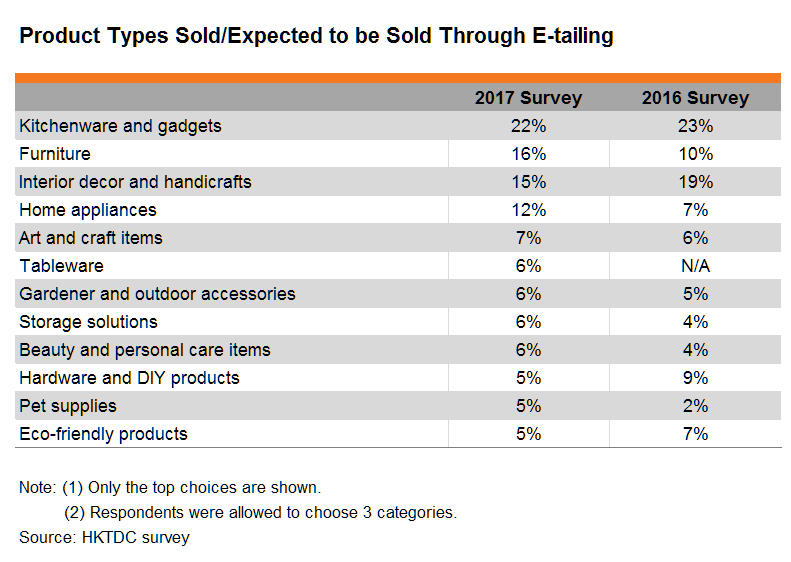 The High Quality of Hong Kong Suppliers
With regard to the performance of Hong Kong houseware suppliers, buyers were asked to rate their own overall level of satisfaction on a scale ranging from 'very unsatisfied' ('1') to 'very satisfied' ('5'). From the results, buyers seemed largely satisfied with Hong Kong houseware suppliers, with every area of evaluation receiving an overall score of '3' or above. Despite this, an across-the-board decrease in satisfaction was apparent when compared with the results of the 2016 survey.
For their part, buyers seemed to be confident in the quality of the products provided by Hong Kong houseware suppliers, rating product quality as the best performing area (3.82). This, however, was slightly down from the 3.97 recorded in 2016. Compliance with safety regulations/standards (3.80) and compliance with environmental regulations/standards (3.79) were seen as the next outstanding areas this year, although both experienced a substantial drop when compared to their 2016 ratings (4.05 and 4 respectively).
As with last year, branding (3.71), price (3.7) and innovation (3.7) were the areas where buyers remained the least impressed, indicating that room for improvement remains.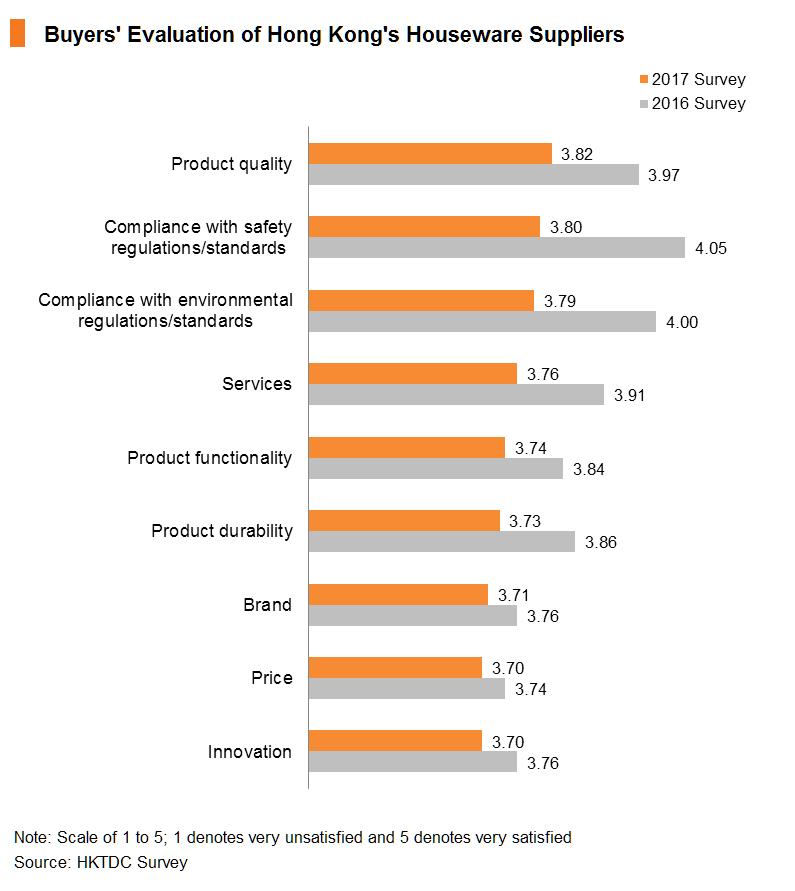 Profile of Respondents
234 exhibitors – 47% from Chinese mainland, 19% from Hong Kong, 29% from elsewhere in Asia and 5% from elsewhere in the world

324 buyers – major markets in Chinese mainland (51%), Hong Kong (36%), the rest of Asia (26%), Western Europe (16%) and North America (14%)
The HKTDC Hong Kong Houseware Fair took place from 20-22 April 2017 at the Hong Kong Convention and Exhibition Centre.