https://hkmb.hktdc.com/en/1X0AAEP5
China's Baby Products: Using Brand Strategy to Target Different Segments of the Childrenswear Market
Exclusive interview with Ms Wang Linqi, marketing director of Beijing Tongchuangtongxin Network Technology Co. Ltd.
The children's clothing brand PacLantic was first established in 1994 by Beijing Tongchuangtongxin Network Technology Co. Ltd. Now a leading brand within the industry, PacLantic's operation combines design, R&D, production, sales and promotion. BabyMe, its exclusive brand for children and baby products, offers a safe, meticulous and professional approach to the healthy growth of young children.
As average personal spending levels have gone up, there has been a corresponding demand from parents for a more diverse and high-quality choice of clothing for their children. Through careful brand strategy and market positioning, PacLantic has been able to capture the increasingly compartmentalised children's clothing market. Another success came in 2014, when Tongchuangtongxin teamed up with a leading industry brand to produce, distribute and sell a bespoke range of outdoor clothing for children.
In this interview, the marketing director of Beijing Tongchuangtongxin Network Technology Co. Ltd., Ms Wang Linqi identifies the trends of brand positioning strategy and professionalisation within the children's clothing market in China.
Segmentisation of Brand Positioning
Tongchuangtongxin currently markets three main brands of children's clothing and accessories: BabyMe, PacLantic and TOREAD kids. Each has its own unique product positioning, design target and image. The BabyMe brand offers goods aimed at babies and little children aged 0-6. PacLantic is a mid to high-end brand of leisure fashion designed for children aged 6-12, whereas TOREAD kids is an outdoor children's wear brand for children and adolescents aged 2-16.
On the subject of parents' changing approach to purchasing clothing, Ms Wang said: "Parents with children under three years of age are primarily concerned about the quality and safety of their clothing. Once children reach 3 to 6 years old, parents begin to explore brands and design – unique designs and styles with character. As their children grow up and get involved in different social occasions and activities, parents will need to buy many different types of clothing for them. For example, their children might need formal attire for birthday parties or banquets, and sportswear for outdoor activities or sports competitions. Therefore, BabyMe and PacLantic have different products to meet the needs of children of different age groups".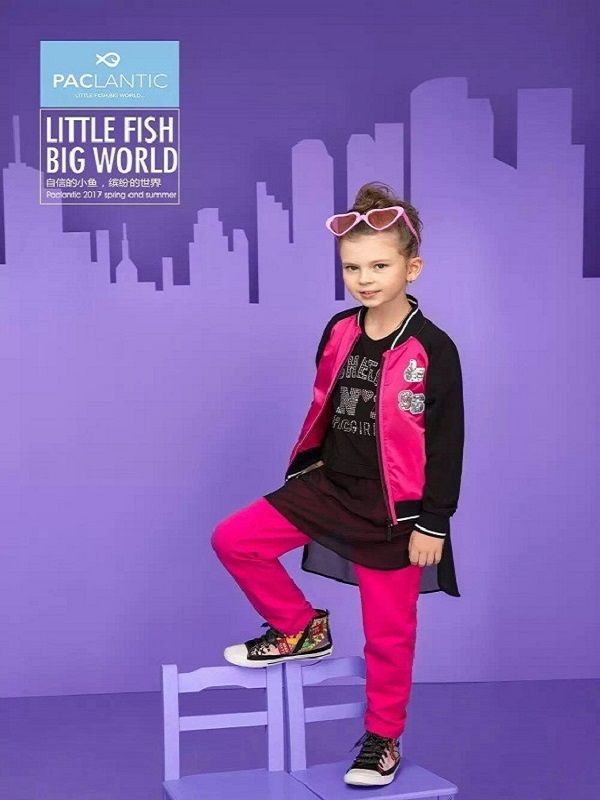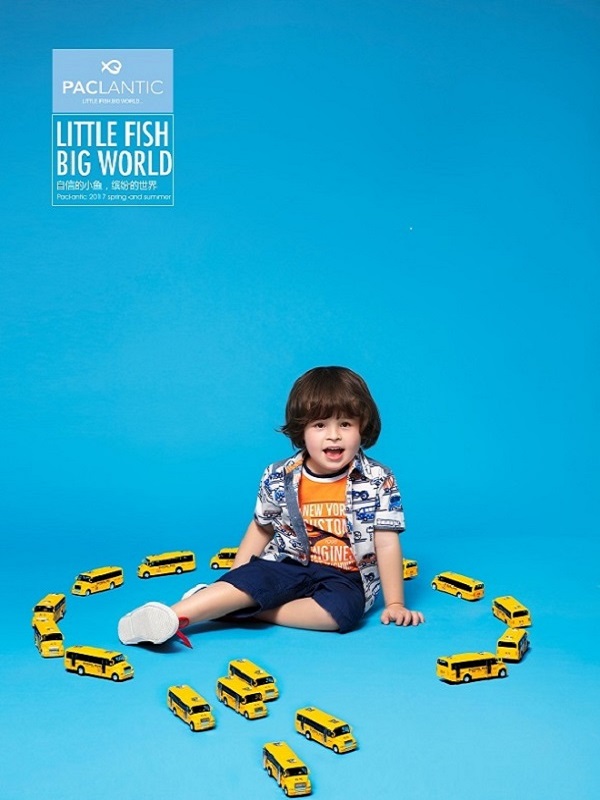 Parents Take Heed of the Functions of Clothing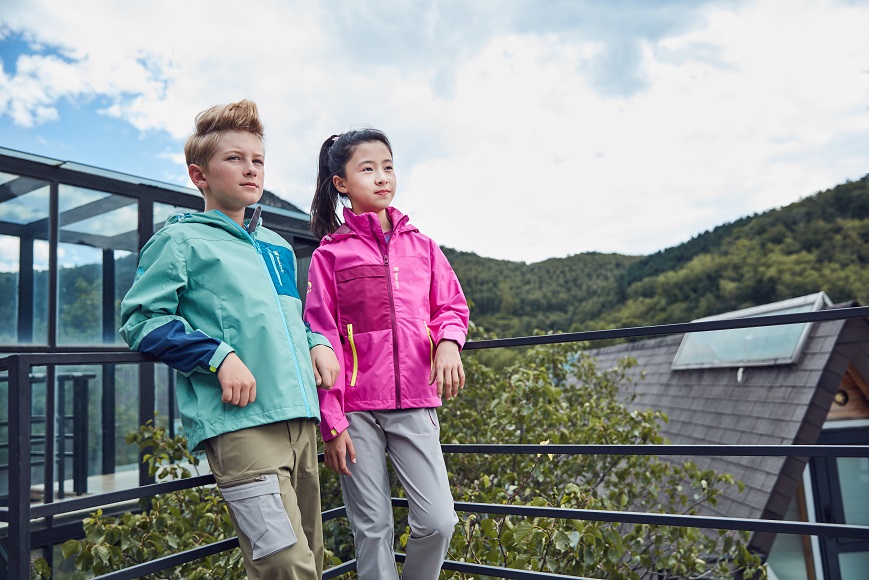 As the consumer market heats up, parents of the post-80s/90s generation seem willing to spend more on their children. Apart from quality, safety, brand reputation, style and design, they are also concerned about the specific functions of their children's clothing and accessories. For example, when the weather is hot, they want fabrics with fast drying and anti-UV capabilities. When it is cold, ideally the fabrics should provide plenty of insulation without being bulky.
The demand for children's outdoor sporting goods and apparel has also been stimulated by the popularity of parent-child reality TV shows over recent years. In 2014, Tongchuangtongxin concluded a brand licensing deal with the professional outdoor clothing brand TOREAD in order to develop TOREAD kids specially for children. Tongchuangtongxin is responsible for the entire industry chain of this new brand, from design and production to sales and promotion, while paying royalty rates to TOREAD.
Joining Hands with Specialised Outdoor Brands for Win-Win Results
TOREAD is a mainland outdoor brand which has been engaged in R&D, production, design and marketing of outdoor outfits and products since 1999. However, it had never before ventured into the childrenswear market. The increasing trend amongst mainland families for outdoor experiences, coupled with the growing popularity of parent-child activities like picnicking and hiking, has spurred demand for children's outdoor clothing and gear.
Ms Wang highlights three factors behind the success of collaboration with TOREAD. "First of all, it's the market factor. Professional outdoor clothing and gear brands mainly target the adult market, but TOREAD kids can fill the gap. Secondly, we have more than 20 years' experience in designing and selling childrenswear, so we can design outdoor sports outfits and accessories suitable for children. We can also guarantee the quality of those products, because we have been awarded the ISO9001 quality management certification and the ISO14001 environmental management certification. Finally, TOREAD already has considerable influence and reputation on the mainland and we have long-developed channels for the marketing of childrenswear. As such, we can quickly capture emerging market opportunities by teaming up and allowing one another to play to their strengths."
Brand Concept Helps Boost Consumers' Appreciative Response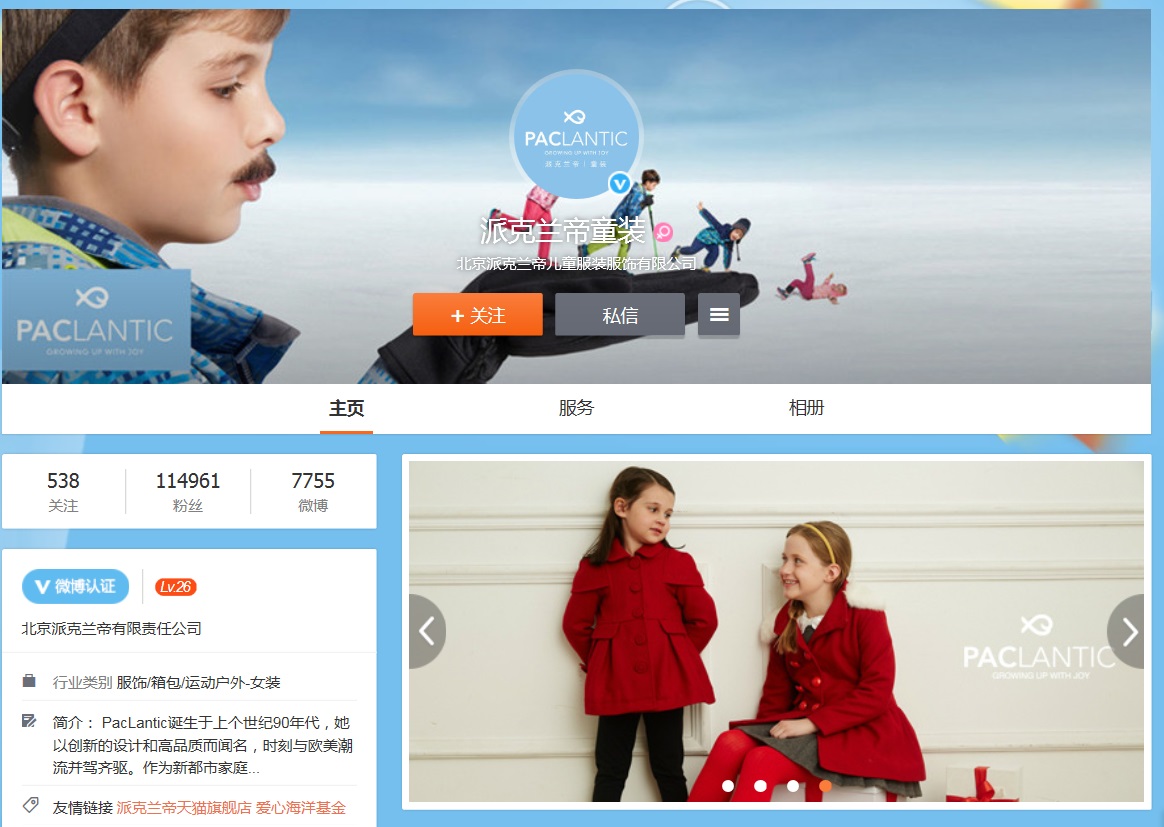 Brand marketing is not just about products, however. It is also about conveying a concept, and even the expectations parents have for their little ones, through a brand. Ms Wang said: "Through a clear brand concept, we can draw consumers' appreciative responses and thought associations, thereby increasing their brand recognition and loyalty. We can also capture the segmentised childrenswear market by using different brand strategies".
Ms Wang identifies PacLantic's brand concept as "a confident little fish in a colourful world". It is built on the idea that children can embrace self-confidence, experience a different world and have colourful dreams. For publicity and promotion purposes, PacLantic has hosted lucky draws and Key Opinion Leader promotions via Weibo in order to interact with consumers, as well as advertising in subway stations and sponsoring TV programmes.
TOREAD kids has as its brand concept "the brave heart of a pathfinder". It encourages young people and children to experience outdoor sports and enjoy the open-air lifestyle. It seeks to foster the sporting spirit of daring to think, face challenges and excel, by providing safe and comfortable outdoor sporting gear for children who dare to explore.
The brand implements suitable promotion strategies to match outdoor activities. For example, Tongchuangtongxin and TOREAD have co-operated in organising cross-country runs, green communities and outdoor forums in order to maximise their publicity.
Physical Stores Help to Develop Brand Image
At present, PacLantic and BabyMe have around 500 outlets established in first- and second-tier cities like Beijing, Shanghai, Xian, Wuhan and Nanjing. A slightly higher proportion of these stores is directly-managed rather than franchised.
In 2014, they began to engage in online marketing by utilising major platforms which boast heavy customer flow, such as Tmall, JD.com and VIP.com. According to Ms Wang, there is a difference in positioning strategy between physical and online stores. "Physical stores can help a brand build up its three-dimensional image, and a unified approach to shop display can reinforce the brand concept for consumers. Online shops on the other hand are more concerned about product marketing, especially in third- and fourth-tier cities."
TOREAD kids has over 100 stores and mainly relies on online platforms for marketing. On the whole, physical stores currently have a slightly higher sales volume than online stores. In future, the company intends to work towards the integration of online and offline marketing, attaching equal importance to both.
Second- and Third-Tier Cities are Suitable Cut-in Points
Mainland parents, especially those in first-tier cities, are willing to try out and buy overseas brands for their children's clothing, most likely because those brands offer unique product designs. Some international brands have already established footholds in the major cities. Market competition grows apace as parents' recognition of overseas brands increases. By comparison, competition is less fierce in second- and third-tier cities. New brands might therefore consider venturing into these cities first and then tackling the first-tier cities once they have matured.
According to Ms Wang, the children's clothing industry in general remains optimistic about the future, although introduction of the two-child policy has yet to see a significant growth in births. Increase in birth rate notwithstanding, the current trend is that parents are more willing to spend great amounts on safer and more comfortable clothing with special functions and unique styles, which their children can wear on different occasions and for different activities. Thus, the mainland childrenswear market has the potential for enormous development and offers plenty of room for growth both in quantitative and qualitative terms.
Baby Products
Garments, Textiles & Accessories
Mainland China
Mainland China