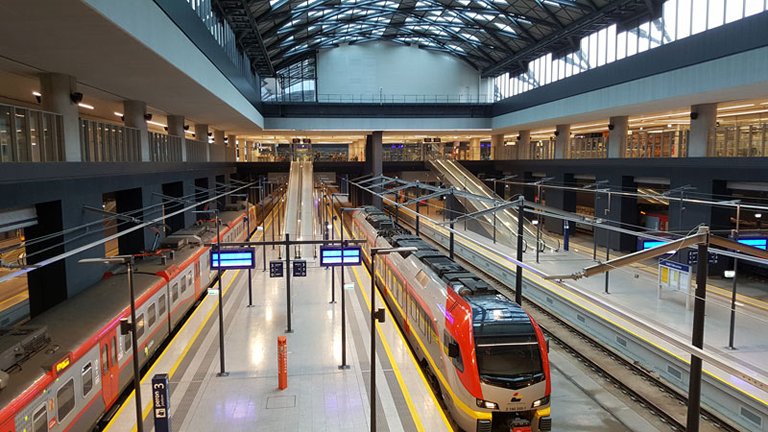 https://hkmb.hktdc.com/en/1X0AABEP
Poland: Profiting from Increasing Asia-Europe Rail Traffic
Since the launch of direct rail freight services linking Łódź (Poland's third largest city) and Chengdu (the capital of China's southwest Sichuan Province) in April 2013, Poland has become an increasingly popular destination among traders looking for competitive logistics alternatives to the existing Eurasian ocean lanes and air routes. This popularity has been enhanced by the ongoing Russian-Ukrainian conflict, which has compromised the rail traffic routes passing through Ukraine to such destinations as Hungary and Slovakia.
The initial profits from the increasing level of Asia-Europe rail traffic have been seen as a crucial contributor to the success of Poland's new national economic roadmap. Dubbed the Morawiecki Plan (after Mateusz Morawiecki, the Deputy Prime Minister and Minister of Economic Development and Finance), the roadmap shares many common elements with the Belt and Road Initiative (BRI), envisaging not only an increase in investment, but an improvement in per-capita income and the greater prominence of international trade.
From a Mere Middle-ground Solution to a Market-opening Solution
Following the arrival of the first direct container train from Chengdu to Łódź in December 2012, regular rail freight services linking China and Poland increased significantly. Among these new routes are the Suzhou-Warsaw railway link, which opened in September 2013 and the first to originate from a free trade zone – the Xiamen Haicang Free Trade Port – which has now been operating between Xiamen and Łódź route since August 2015.
This rapid growth has made rail transport, usually considered a middle-ground solution between ocean and air transport, a more attractive logistics option for traders who cannot afford the long shipping time of seaborne freight or the high price of air freight. It has also strengthened Poland's role as a regional trans-shipment hub in Central and Eastern Europe (CEE) for high-value-added, China-bound/Europe-bound products. With most Asia-Europe rail services currently avoiding travelling through the Russian-Ukrainian border, due to the ongoing conflict between those two countries, Poland, as a ready alternative, has enjoyed great success in challenging for the region's logistics crown.
In order to transport a 40-foot high cube (HC) container from Hong Kong to Poland, cargo owners usually opt for one of the maritime routes, which costs port-to-port around US$1,800 and takes 33 days to reach the port of Gdańsk in northern Poland. In the case of cargo destined not only for the Polish market, traders can also consider other European ports, such as Hamburg in Germany (US$1,800; 32 days), Slovenia's port of Koper (US$1,700; 25 days) and, more frequently, the Greek port of Piraeus (US$1,600; 22 days) in which China's Cosco Shipping has lately acquired a majority stake and made the overland connection – road and rail – to major European hubs more practical and convenient.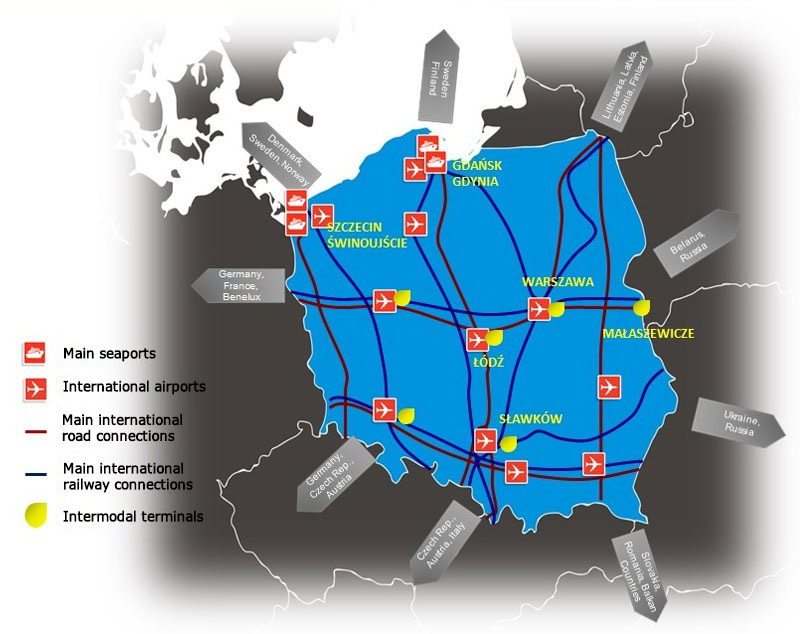 Goods arriving from the port of Piraeus, for example, can be distributed across Poland (or to warehouses and distribution centres in other European destinations) via the Trans-European Transport Network (TEN-T). At the crossroads of the two core TEN-T corridors – the Baltic-Adriatic Corridor (the North-South axis connecting CEE countries with the ports of the Baltic and Adriatic seas) and North Sea-Baltic Corridor (the West-East axis connecting the Baltic States and Poland with Germany and the Benelux countries) – most of the capital cities in Europe are within 2-3 days trucking from Poland. However, the price tag of overland connections between the port of Piraeus and such major CEE cities as Warsaw, Budapest in Hungary, the Slovakian capital Bratislava, Pardubice in the Czech Republic and Belgrade in Serbia can often start at around €1,100.
A direct container train, on the other hand, will take no more than two weeks to arrive in Warsaw, the capital of Poland, thanks to key improvements in route options, performance and customs protocols. For instance, the movement of containers between the broad-gauge (1,520mm) trains used in former Soviet countries, such as Russia, Kazakhstan and Belarus, and the standard-gauge (1,435mm) trains used in China and the EU, can nowadays be carried out within 50 minutes at Khorgas – one of the busiest junctions on the Silk Road Economic Belt near the Chinese-Kazak border.
This speed is one of the major reasons why the rail option has increasingly gained in popularity among traders in dire need of quick (usually same-day) delivery to fulfill their growing e-commerce business requirements, although the cost can easily rise to a level more than double that of ocean freight – the cost of sending a 40-foot HC container by rail from Shenzhen to Warsaw, for instance, is about US$4,000 station-to-station.
At first sight, such a middle-ground alternative is not very tempting for traders who want to ship Hong Kong-origin products to Europe, due to the extra cost and time needed for trucking the products by bonded trucks to mainland train stations. It is, however, becoming more routinely undertaken by Hong Kong manufacturers who produce and export to Europe direct from factories across the border.
Given the higher price tag and limited capacity (around 60-65 containers per train) compared to ocean transport (11,000-plus containers per vessel), rail is not suitable for all products. According to Hatrans Logistics, the Łódź-based logistics company that operated the first direct rail freight train between China and Poland, the items being transported by Europe-bound trains are mainly electronics, auto parts, electrical appliances and medical devices, while advanced machinery and equipment, automobiles and building materials are most typical of the products being sent on China-bound trains. More intriguingly, food and beverages (F&Bs) have become a frequent cargo on such Eurasian trains.
To better utilise the idle loading capacity on trains returning to China, Polish exporters have started to work with logistics players to develop new possibilities, while some visionary Chinese companies have even set up their own sourcing teams to seek out attractive European products to fill containers on their return journey.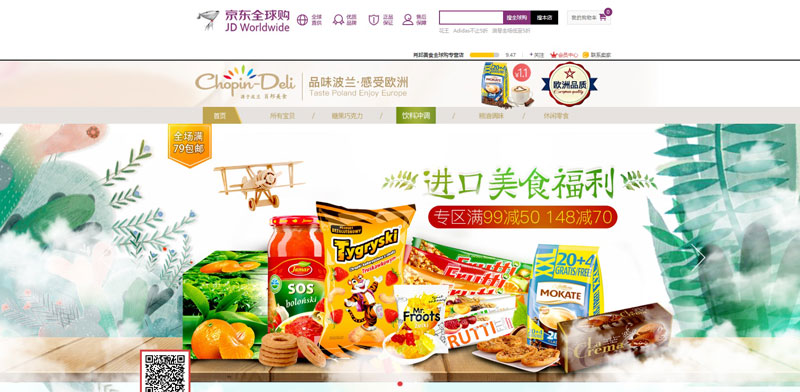 Hatrans Logistics, for example, has launched Chopin-Deli, a web shop, on JD Worldwide, China's cross-border e-commerce platform, in order to promote a number of F&B items, such as coffee, tea, juices, spirits, jam and confectionery. It also runs a showroom in Chengdu showcasing other niche products, including cleaning materials for damaged soil, building materials (wooden flooring panels), lifestyle products (health/diet supplements and sport drinks) and personal care products (cosmetics and hair care) that are seen as having considerable potential in the mainland market.
According to the Association of Polish Butchers and Meat Producers, Chinese and Asian restaurants are present in almost every Polish town, with 95% of the ingredients used in food preparation actually locally grown. This highlights not only how capable the Polish food industry is when it comes to meeting the needs of Chinese and Asian chefs, but also demonstrates the huge potential for Polish fresh produce and processed F&Bs in the Chinese and Asian market. To further bolster customer confidence, Poland has positioned itself as the only EU country to put in place three national food quality schemes – the QMP (Quality Meat Program), the PQS (Pork Quality System) and the multi-product QAFP system (Quality Assurance for Food Products) – in order to guarantee both the safety and quality of its meat products.
Although the outbreaks of H5N8 avian influenza in the Ostrowski and Moniecki Districts of Poland have caused a suspension of the imports of Polish poultry meat and associated products (including eggs), the fact that Hong Kong imported about 20,500 tonnes of frozen poultry meat and 4.8 million poultry eggs from Poland in 2016 shows how well-received Polish food products are by consumers in Hong Kong. This, in turn, opens wide a new window for Polish-Hong Kong co-operation – the pairing of Polish F&Bs with the complementary Asian culinary skills and flavours for the enjoyment of Asian foodies.
Meat products aside, Poland – an EU leader in the export of apples, berries, mushroom, cucumber, onion and garlic – has been more active in promoting its fruit and vegetables to the Asian market. Following President Xi Jinping's visit to Poland in June last year and the co-operation agreements signed between the two governments, Polish apples were given the green light to enter the Chinese mainland market in September. As Asian manufacturers have become more knowledgeable about the quality and value for money of Polish crops, Polish apples, apple juices, cereals and frozen vegetables have become more widely available as part of the global food supply chain.
Following the success of Polish apples, it's hoped that other Polish fruit such as strawberries, raspberries, currants and blueberries (Poland is the biggest producer of blueberries in Europe) may also do well in the Chinese market, especially given the complementary nature of the Polish harvesting season to those in other fruit-producing regions, notably Latin America and New Zealand. Polish berries are already selling in Hong Kong, which is widely considered by Polish fruit growers to be a good test bed for the other Asian markets, especially the Chinese mainland.
Many Polish F&B companies see Hong Kong as a trendsetter for wider Asian food consumption. The case of LEI Food & Drinks, a Polish manufacturer and exporter of premium F&B products, is a good example of how Polish F&Bs are entering the Asian market through a direct Hong Kong presence. From its warehouses in Hong Kong, LEI is supplying a number of the city's high-end hotels with high-quality apples and fresh juices, produced using the traditional method of cold pressing with no preservatives or sugar added, while the company is also introducing the Asian market to its organic apple chips and sausages, isotonic drinks and alcohol beverages through a number of different Hong Kong channels, such as trade fairs and events.
As revealed by the National Association of Fruit and Vegetables Producer Groups, Polish soil, with little history of artificial fertiliser use, is so green and clean that it can be easily converted to organic farming use in just two to three years, compared with the six to seven years required in other EU countries. Thanks to EU financial support since the country's accession to the union in 2004, Poland has developed state-of-the-art infrastructure with regard to agriculture, crop storage and food processing.
As the second biggest poultry producer in the EU – behind only France – Poland, has been sharing its best practices with other European farmers with regard to hen house automation and management. In addition to natural, nutritious and safe foodstuffs, the commercialisation of agricultural experience and technology is another promising field for Hong Kong-Polish partnerships, by dint of the city's established technology marketplace and proven record of international collaboration in the fields of test-bed set-up, proof of concept (PoC) trials and solution customisation.
More Vibrant Trade Calls for More Vibrant Investment
With Sino-EU trade expected to top the US$1 trillion mark by 2020 (rising from around US$570 billion in 2016 – largely on account of the growing demand from mainland consumers and manufacturers for better, safer and tastier European products and for supplies of raw materials and parts and components from their European counterparts –rail transport is poised to play an even more important role in the Eurasian supply chain. This warrants improvements in infrastructure and more investment from both domestic Polish sources and overseas private investors and institutions, including the EU.
The early profits from the increasing level of Asia-Europe rail traffic have been considered by the Polish government as a crucial contributor to the success of the Morawiecki Plan, which foresees an investment of more than PLN2tn (US$490bn) through to 2020. The Morawiecki Plan shares many things in common with the China-proposed BRI, envisaging not only more robust investment in and out of Poland, but an improvement in per-capita income and greater role for international trade.
According to the targets set under the terms of the Morawiecki Plan, Poland is expecting its per-capita GDP to rise from 69% of the EU average to 79% by 2020, which, if achieved, will mean fresh demand for higher-quality, greater-variety imports. The plan also aims to boost the level of investment from its current level of 20% of GDP to 25% by 2020, as well as anticipating a 70% increase in outward foreign direct investment (FDI), giving rise to growing opportunities for services providers worldwide to facilitate not just foreign investment in Poland, but outbound investment by Polish institutions and enterprises.
At the regional level, local governments have been very active in devising new projects and competitive incentives to attract both domestic and foreign investors to build and/or upgrade existing infrastructure so as to better tap the increasing demand for loading/unloading services and manufacturing/processing facilities expected with the growing proliferation of Eurasian rail operations. The recent enlargement of the Pomeranian Special Economic Zone (PSEZ) in the Lublin region (or Lubelskie voivodeship in Poland) at the Biała Podlaska county near the Polish-Belarusian border, is a case in point.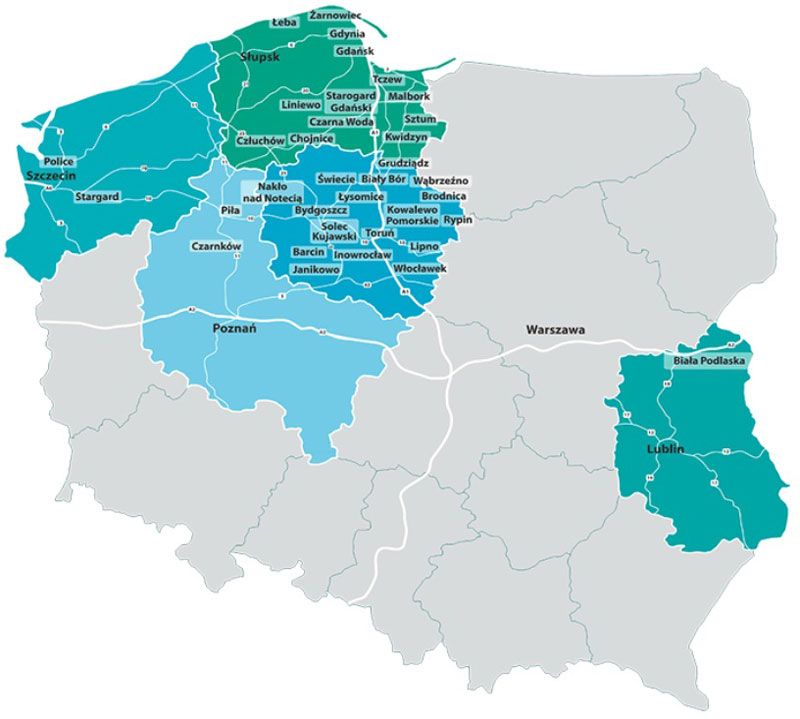 As one of the 14 SEZs in Poland, PSEZ has been active in implementing a range of supplementary ventures and expansion activities, including the Gdańsk Science and Technology Park, which supports the development of start-ups, ICT and new technologies, and the Baltic Port of New Technologies in Gdynia, which has focused on the construction of a modern environment supporting the shipbuilding and related industries.
Under the Regulation of the Council of Ministers of 30.12.2016, the reach of PSEZ, thanks to its proven track record, has been further extended to eastern Poland. In the Biała Podlaska county of the Lublin region, the PSEZ is planning to build a logistics centre or trans-shipment hub by utilising the infrastructure of a defunct military airport and the existing inland trans-shipment facility with an aim of integrating with the New Silk Road Route connecting China and West Europe.
According to Pomeranian Special Economic Zone Ltd, the management company behind the PSEZ, the enhanced rail connection has made it more viable for manufacturers to relocate their production (or at least some of the manufacturing processes of their products destined for the European market) to Poland or the CEE region in general. The new Biała Podlaska Subzone, which is located close to the Polish-Belarusian border, is seen as serving as not only a logistics hub for trans-shipment from rolling broad-gauge onto a fleet of standard-gauge (1,435 mm) carriages or deconsolidation before sorting and sending directly to customers or warehouses in Europe, but also as a means of enabling manufacturing relocation across the country or even the whole CEE region.
Putting the new subzone under the management of PSEZ is seen as the best way of guaranteeing synergy across the country's multimodal transport capacity. This will enable better connections with the inland cargo port in Biała Podlaska with the tide and ice-free seaports at Gdańsk/Gdynia in the Pomerania region and Szczecin/Świnoujście in the West Pomerania region, so as to best increase the overall freight turnover. The logistics advantages aside, companies that invest in the new subzone can also count on a higher level of tax relief – from 50% (for large companies with 250+ employees) to 60% (for medium-sized companies) and 70% (for micro and small companies), based on the cost of their investment or the two-year cost of their newly-hired employees.
Another bustling Polish region actively enticing Chinese investment is Łódź in Central Poland. Chinese investors operating a plastics manufacturing plant producing parts for TVs, computer panels and other entertainment equipment and an upcoming glass factory have already begun to reap the benefits of the region's strategic location, which allows for rapid delivery not only between China and Poland, but across the whole European continent.
In order to attract Chinese investors, the local government and the Łódź Special Economic Zone have prepared far reaching plans for the development of new infrastructure and industrial zones near the main cargo terminals to facilitate co-operation between Chinese enterprises and the region's strong local business community, especially in the fields of electrical engineering, food processing, alcoholic beverages, cosmetics and pharmaceuticals.
Going from Strength to Strength following Successful Investment Footprints
Hong Kong, with its FDI stock of US$418.7 million as of the end of 2015, is ranked 24th on the list of Poland's inbound foreign investors. Among Asian investors, however, the city trailed only South Korea and Japan. A number of the city's most well-known companies, including Hutchison Ports (formerly known as Hutchison Port Holdings (HPH)), Orient Overseas Container Line (OOCL), Kerry Logistics and Cathay Pacific are the examples of successful Hong Kong investment in Poland.
Since 2005, Hutchison Ports, a subsidiary of CK Hutchison Holdings, has carried out a number of investment programs at the port of Gdynia, transforming the Gdynia Container Terminal (GCT) into a modern container handling facility and strengthening the Port's role as a feeder port connecting Poland with other European hubs in Germany (Bremerhaven and Hamburg) and the Netherlands (Rotterdam). In 2015, GCT completed its deep-water port development program, including the addition of a deep-water berth for vessels of up to 19,000 TEUs and an expansion of its rail terminal.
Hong Kong-based container carrier OOCL, a member of the former G6 Alliance, has recently added a direct port call to Gdańsk in its Asia-Europe (AET) service loop. Fuelling optimism for the floundering Asia-Europe trade lane, the direct port call makes it more convenient for Chinese and Asian companies to ship parts and components directly to Gdańsk for processing in close vicinity to the seaport, at places such as the Pomeranian Logistics Centre, in order to enjoy both lower operational cost and the tariff-free status of being Made in the EU.
Ensuring customers have smooth access into and out of CEE, Hong Kong-based Kerry Logistics inaugurated a shared service center (SSC) in Poznań in western Poland in November 2016 and a new office in Warsaw in March 2017 as part of its efforts to increase its European coverage in line with its customers' developments in the region. While the new SSC is aimed at improving the overall cost efficiency and service competitiveness in the region, the new Warsaw office will support customers with regard to international freight forwarding via ocean, air and road freight services, as well as in customs brokerage.
Hong Kong's flagship carrier, Cathay Pacific Airways (CX), with no direct flight connection with Polish airports, remains in the "uncharted brand territory" for Polish passengers. It did, however, choose Kraków, the second largest city in Poland, as the site of its fourth Global Contact Centre in April 2016. The capital of southern Poland's Małopolska region, for the last three years Kraków has been ranked number one in Europe for outsourcing services [1]. Among the first Asian companies to have a direct business presence in the city, CX's new Kraków centre handles inbound calls from Africa, Europe and the Middle East seeking with regard to bookings, baggage, online check-in, website technical issues and more and boasts a team of 120-plus young, multilingual professionals.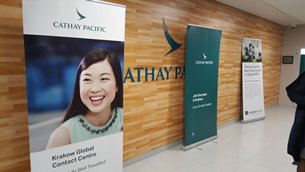 The unique combination of its diversified investment footprint and its ready professional and financial advisory services cluster, complete with extensive global networks and affiliations, has made Hong Kong a ready partner for Polish enterprises, intermediaries and project owners hoping to grow alongside Chinese investors under the framework of either China's BRI or Poland's own economic roadmap.
As these development strategies and frameworks progress and become more specific and concrete, more ambitious proposals involving increasingly technical and complex projects are expected to roll out. In turn, these will require more intricate and sophisticated project finance facilities and more comprehensive professional services of the sort that Hong Kong excels in providing, given its status as a super-connector for international collaboration.
With some 60 members from financial agencies, banks, investors, law firms to insurance companies, the Hong Kong Monetary Authority's Infrastructure Financing Facilitation Office, for example, is seen as an important enabler for the ongoing development of Hong Kong as an infrastructure financing hub. In particular, its role is to help companies that are eager to invest in infrastructure projects survive the ever-changing challenges of infrastructure investment funding and financing.
Any future expansion in trade and investment will lead to a rise in demand for a number of legal services, including those relating to contractual arrangements, project management and dispute resolution. In this regard, any involvement by Hong Kong service providers offer considerable reassurance to local, Asian and Polish traders and investors as they look to benefit from the Belt and Road, on the back of the city's trusted common law system and independent judiciary.
---
[1] Tholons Outsourcing Destinations List
Logistics & Supply Chain
Finance & Investment
Food & Beverages