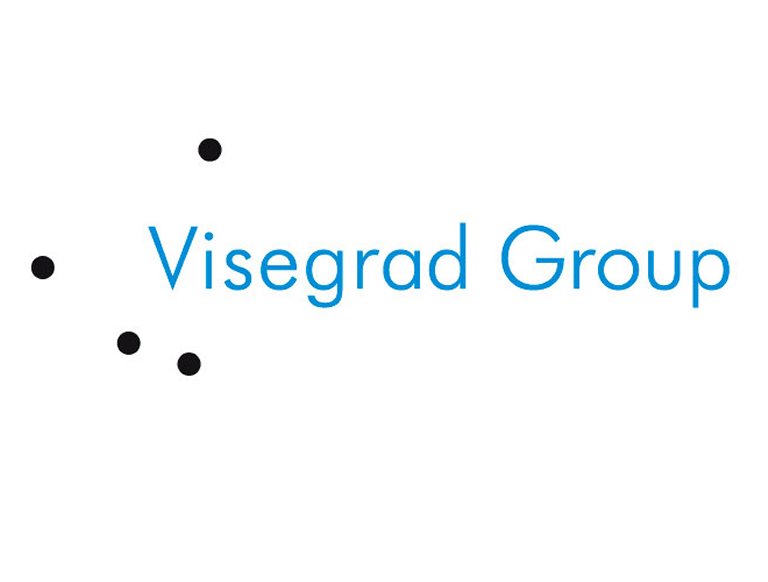 https://hkmb.hktdc.com/en/1X0AA60I
The Visegrad Four (V4) Nations: Early Adopters of the Belt and Road Opportunity
The Visegrad Four (V4) nations, consisting of the Czech Republic, Hungary, Poland and Slovakia, have had remarkable success in aligning and strengthening their economies to compete and play a dominant role in the regional economy of Central and Eastern Europe (CEE). They are poised to benefit most from the multifaceted alignment of the "16+1" format co-operation between Central and Eastern European countries and China) and Belt and Road Initiative (BRI).
The V4 countries, located in the heart of Europe, have seen rising trade and investment flows on the back of strengthened Sino-CEE co-operation and connectivity. Meanwhile, more and more V4 businesses have taken on a more global perspective in searching for new markets.
Hong Kong, given its unique combination of a vibrant capital market and a large professional services cluster with extensive global networks and affiliations, can be a crucial link in providing the important capital flows and the highly sought-after assurance to new-to-the-market V4 enterprises and investors.
Enhanced connectivity and increasingly vibrant investment flows have not only made it possible for each of the V4 countries to reinvent and reposition itself in the bigger picture of Sino-CEE co-operation, they have also provided traders and manufacturers with more possibilities in terms of regional distribution and supply chain management.
V4 Countries as Core BRI Partners in CEE
Central and Eastern European Countries (CEECs) have played an increasingly pivotal role in China's foreign policy, and are key partners in the BRI. The "16+1" format and the BRI have multifaceted alignment as both development initiatives led by China are aiming at intensifying and expanding co-operation with the 16 CEECs, including investment in infrastructure and cooperation in industry and technology development.
Different CEECs may benefit differently from the strengthening Sino-CEEC co-operation and connectivity subject to their own development plans and national strategies. The V4, which play a leading role in the regional economy and have had remarkable success aligning and strengthening their economies to compete effectively regionally and internationally, are poised to benefit most in drawing trade and investment interest.
Representing more than half of the population and nearly two-thirds of the economic output of the 16 CEE member countries under the umbrella of the "16+1" format, the V4 are naturally important and active participants in the BRI. They offer a progressively interesting logistic alternative for shippers and their forwarders moving cargo between Asia and Western Europe, which is considered a priority to the success of the BRI as it aims to enhance the connectivity between Asia, Europe and Africa.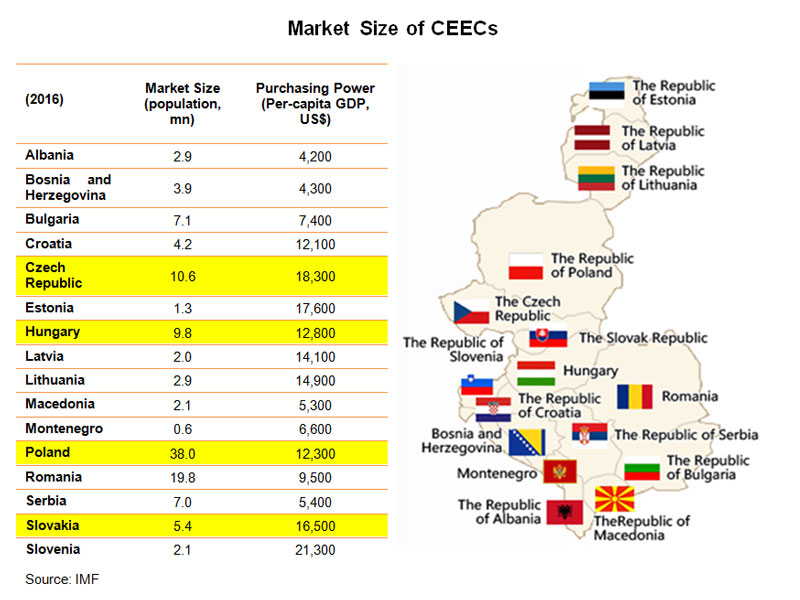 Banking on the good Sino-V4 relations and China's continuous implementation of its "going out" strategy, China's outbound direct investment (ODI) in the V4 countries has been flourishing, while bilateral trade blossoms. In the five years ending 2015, China's ODI to the V4 grew by more than 65% from US$769mn to US$1.28bn, accounting for nearly two-thirds of China's ODI in the 16 CEECs. Though China's investment in V4 countries and the other CEECs is far from significant in the light of China' total ODI, Hong Kong's professional services providers and Chinese-funded corporate structures have quite often been involved in Sino-V4 investment deals such as M&As and takeovers.

While cash-rich Chinese investors have already made successful inroads into V4 countries by acquiring promising businesses over the past decade, more brownfield and greenfield projects, both private and public, are expected to materialise in the bloc in the coming years. Such a sustained wave of Chinese investment, plus generous funding from European Structural and Investment Funds (ESIF) supporting mega infrastructure projects, research and innovation and small businesses (including start-ups), will certainly give a big shot in the arm for the V4 economy to rejuvenate its industrial and commercial prowess.
Amount budgeted for period 2014-2020
Czech Republic
Czech Republic, through 11 national and regional programmes, benefits from ESIF funding of €24 billion representing an average of €2,281 per person over the period 2014-2020
Hungary
Hungary, through 9 national and regional programmes, benefits from ESIF funding of €25 billion representing an average of €2,532 per person over the period 2014-2020
Poland
Poland, through 24 national and regional programmes, benefits from ESIF funding of €86 billion representing an average of €2,265 per person over the period 2014-2020
Slovakia
Slovakia, through 9 national programmes, benefits from ESIF funding of €15.3 billion representing an average of €2,833 per person over the period 2014-2020
Source: European Commission
Just as they are the leading recipients of Chinese ODI in CEE, the V4 countries are also the leading trading partners of China among the 16 CEECs, accounting for 73% of the total Sino-CEEC trade in 2016. Trade between China and CEECs has remained unbalanced, however. This unbalanced trade pattern – China exported nearly twice as much as it imported from the V4 countries in 2016 – has become a raison d'etre for deeper and wider Sino-V4 cooperation from mergers and acquisitions (M&As) and takeovers to higher value-added manufacturing, technology exchanges and infrastructure and real estate (IRES) projects.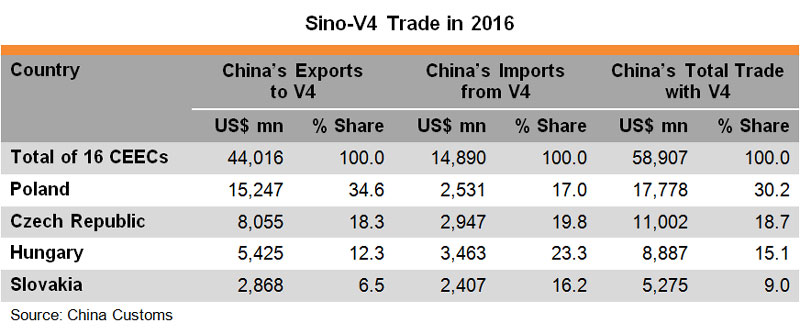 The pattern of Hong Kong's trade with V4 countries coincides with that of Sino-V4 trade – with the four countries accounting for more than 75% of Hong Kong's total trade with the 16 CEECs in 2016. Boasting a year-on-year growth in trade of between 9% and 22%, (compared to the regional average of less than 7%) Hungary, Poland and Slovakia were not only Hong Kong's key trading partners in the CEE, but the city's fast-growing export destinations in the region last year.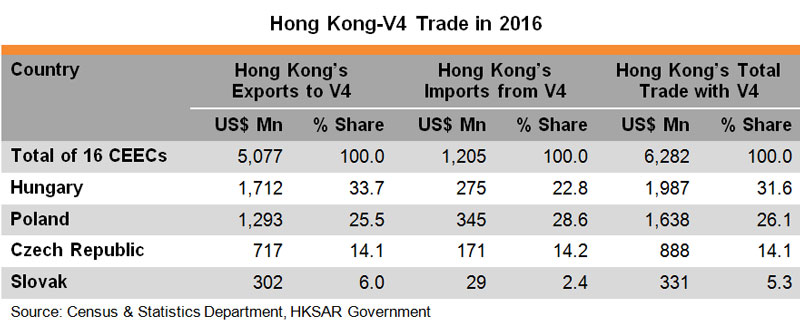 As the vibrant Sino-V4 investment flows are playing an increasingly important and active role in nurturing V4 businesses to take on a more global perspective, more and more V4 enterprises are looking further afield in their search for new markets. This is also partly due to the dire need to compensate for the loss of the Russian market due to the ongoing economic sanctions between the EU and Russia. In this regard, Hong Kong, widely considered a safe and clear-cut gateway for V4 companies to explore the Chinese mainland market, is seeing an encouraging inflow and expansion of well-known V4 enterprises, products and brands.
The unique combination of a vibrant capital market with diverse financing channels and a large professional and financial advisory services cluster with extensive global networks and affiliations has thus made Hong Kong an irreplaceable partner for V4 investors, intermediaries and project owners hoping to take advantage of BRI and "16+1" opportunities. As a regional hub for legal services and dispute resolution underpinned by a trusted common law system and an independent judiciary, Hong Kong can be a crucial link in providing highly sought-after assurances to new-to-the-market V4 enterprises and investors.

New Positions of V4 Nations in Sino-CEE Co-operation
Strengthening Sino-V4 trade and investment flows are certainly good signs of the successful implementation of the 16+1 format and BRI in CEE. They have empowered the V4 countries to reinvent and reposition themselves in the bigger picture of Sino-CEE co-operation, while providing traders and manufacturers with far more possibilities in terms of regional distribution and supply chain management.
Poland: Profiting from Increasing Asia-Europe Rail Traffic
Poland, as the region's largest economy, has successfully captured the lion's share of the increasing Eurasian rail traffic and developed itself into a rail logistics hub for Asia-Europe cargo trains, thanks partly to the ongoing Russian-Ukrainian conflicts that have compromised the Eurasian rail traffic passing through Russia and Ukraine to Hungary or Slovakia. This, together with the nation's unrivalled advantage of being the only one among the V4 countries to have access to open sea, has made Poland a natural choice with respect to regional distribution in CEE.
New projects, such as the Pomeranian Special Economic Zone (PSEZ) in Biala Podlaska near the Polish-Belarusian border, will also further empower the country to better accommodate the increasing demand for railway track gauge change (due to the differences of the Russian broad-gauge system and the European standard gauge system), transshipment and even manufacturing processing facilities.
Riding on the better Asia-Europe rail connection, and the cheaper rail freight due to Asia-bound trains not usually being as fully loaded as Europe-bound trains, Polish companies such as vegetables and fruit growers have started to send apples and other processed food to the Chinese market by rail. This trend has also led to Hong Kong traders and service providers becoming a lifestyle showcase for Polish food and beverages including wine, beer, spirits, fruit and derivatives such as jam, juices and cosmetics.
Hungary: Leading the Way in BRI Co-operation
Hungary is the first European country to sign a memorandum of understanding (MoU) on BRI cooperation with the Chinese mainland. The country's "Opening to the East" policy is very much in line with the BRI and has been well received by investors such as China's leading electric automaker BYD, which opened its first fully-owned bus plant in Europe in the northern Hungarian town of Komarom in April this year. Meanwhile, several well-known Hungarian companies, including the world-leading Building Information Modeling (BIM) software developer and a significant player in the field of global female healthcare, have continued to grow their Asian businesses through either their regional headquarters or partners in Hong Kong.
Being the No.1 destination of Chinese outbound FDI in CEE, Hungary is also an important partner to RMB internationalisation in Europe. Home to the regional headquarters of the Bank of China (BOC), which has operated a subsidiary in the country since 2003 and maintained a full-fledged branch since 2014, Hungary was selected by the Bank to launch its first RMB clearing centre in CEE in October 2015 and its first Chinese RMB and Hungarian forint debit card in Europe in January 2017.
As regards logistics, the thrice-weekly direct cargo flights from Hong Kong to Budapest, the capital of Hungary, have made the country a possible air hub for cargo distribution in CEE, while the ongoing project of the high-speed Budapest-Belgrade rail line (which is expected to achieve substantial progress this year) and its further extension to Skopje, the capital of Macedonia, and the Greek capital Athens, will afford the landlocked country a better connection with seaports in the Adriatic and Mediterranean Seas. There is also the already serviceable China-Europe land-sea fast intermodal transport route connecting Hungary with the Greek Port of Piraeus operated by China COSCO Shipping.
The Czech Republic: Boom Time for China-Led M&As
Having one of, if not the best flight passenger connections with the Chinese mainland among CEECs, the Czech Republic welcomes more Chinese tourists (more than 300,000 in 2016) than any other country in the region. The increased belly cargo capacities plus the new cargo flights routing from Hong Kong to Prague have also enabled Chinese express delivery companies to better fulfill the cross-border e-commerce bonanza.
Boosting one of the densest rail networks in Europe (after Luxembourg and Belgium), the Czech Republic has also attracted many multinationals such as Foxconn and Amazon to set up regional logistics centres. As a leading global producer of wheelsets, wheels, axles and other wheelset components for rolling stock, Czech companies are also heavily involved in the expanding Eurasian rail development. One such company, which won the MTRC contract to supply wheels for MTR passenger trains in 2015, opened its first Asia office in Hong Kong in September 2016.
Aside from tourism and logistics, Czech Republic sees a wide array of Chinese-led M&A deals spanning sport, real estate, airlines, travel agencies, hotels, breweries and most recently a DIY and gardening chain. Ongoing deals, including the takeover of the Group Skoda Transportation, the biggest producer of railway vehicles in CEE, by China Railway Rolling Stock Corporation (CRRC), are expected to open the door for Chinese manufacturers to march into the European market, source of technology and pool of talents. Some of the M&A deals have been done through the corporate structures of Chinese enterprises in Hong Kong, while at least one famous Czech glass and lighting company has set up a holding company in Hong Kong to stay close to both the production base in the Chinese mainland and the rosy residential and commercial property market in Asia.
Slovakia: BRI Investment and the Route to Modernisation
Slovakia, with the highest per-capita car production in the world, has been a magnet for auto-related investment in CEECs. All three established car producers – Volkswagen, Peugeot Citroën and Kia – and their tier 1 and tier 2 suppliers are constantly expanding their manufacturing plants in the country, while the investment project Jaguar Land Rover (starting production in 2018) has become the largest business case in Europe during the last seven years.
The recent acquisition of the country's largest steel mill in Košice by He-Steel Group of China, the world's second largest steel maker, has not only helped the Chinese steel maker to gain a foothold in the European steelmaking industry to avoid prohibitive EU anti-dumping duties on steel imports, but also highlighted Slovakia's strategic location to facilitate manufacturing industries such as automotive and electronics that utilise raw materials coming from non-EU European suppliers such as Ukraine.
To prepare for the expected increase in rail cargo traffic between Europe and Asia and strengthen its attractiveness for international manufacturing and logistics companies, Slovakia, riding on its favourable catchment zone in between seaports in southern Europe (e.g., the Slovenian Port of Koper and the Italian Port of Trieste) and northern Europe (e.g., the Port of Hamburg), is active in developing and upgrading its infrastructure. This includes the modern transshipment facilities of Slovakian cities such as Bratislava, the country's capital, and Košice in eastern Slovakia, close to Ukraine, Hungary and Poland.
Hardware aside, the Slovakian government is keen on adopting and promoting the use of new technology such as electronic locks and electronic customs clearance systems to allow cargo owners and forwarders to facilitate a more effective means to track or trace cross-border cargo movement. Meanwhile, the country is stretching its wings wide to Asia, including, but not confined to, a plan to start a double tax treaty negotiation with Hong Kong soon.
Logistics & Supply Chain
Building & Construction
Finance & Investment
Czech Republic
Hungary
Poland
Slovakia
Eastern Europe