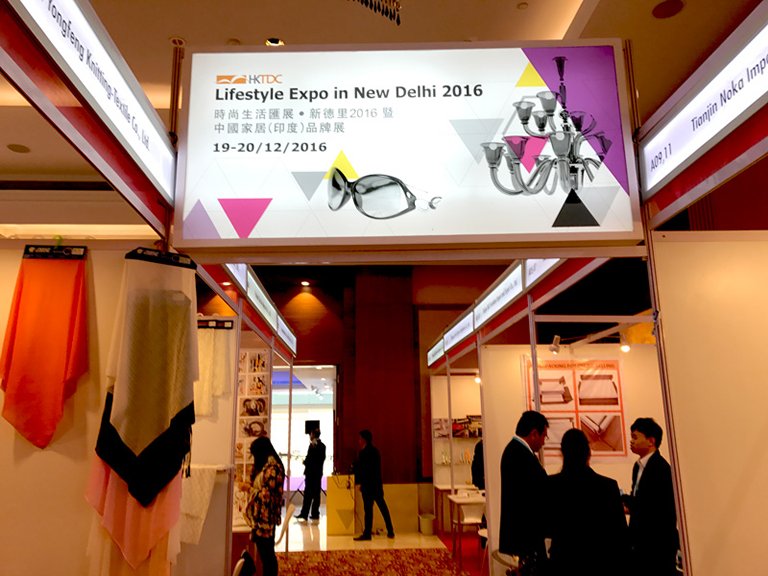 https://hkmb.hktdc.com/en/1X0AA5D8
Indian Buyers: The New Delhi Survey
Insights on Indian buyers from HKTDC's Lifestyle Expo in New Delhi
Asia has superseded the US and Europe as the main driver of global economic growth. India, currently the world's fastest-growing large economy, with about 1.3 billion people, just shy of China's 1.38 billion, is thus closely scrutinised for business opportunities by overseas companies, both inside and outside the region.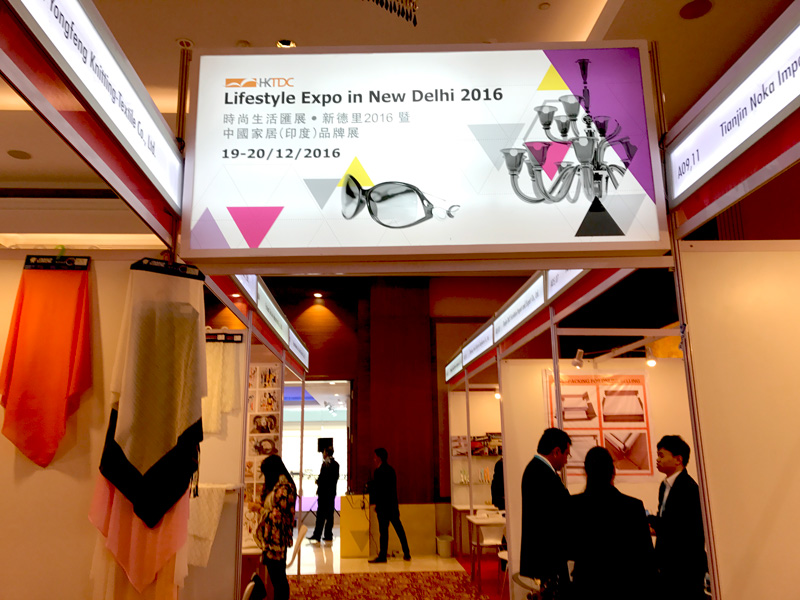 In 2016, India was the fourth largest export market for Hong Kong, rising to its third largest market for the first three months of 2017. The value of exports from Hong Kong to India rose 40% year-on-year, a much better rate of increase than seen in the city's other exports markets. Hong Kong and India have long enjoyed close and strong business links, as well as deep-rooted cultural ties built up over 150 years, with Indians moving to the city throughout its history and acting as agents for Hong Kong-India trading.
HKTDC, keen to promote Hong Kong to wider Indian audiences as the gateway to the Chinese mainland and East Asia, organised its inaugural Lifestyle Expo in New Delhi in December 2016. HKTDC Research used this opportunity to gather more business intelligence on the Indian market by conducting a survey among Indian buyers, along with on-site interviews with both buyers and exhibitors.
As a pilot event to explore the potential of outbound trade fairs and promotional activities in New Delhi, the Lifestyle Expo 2016 (Expo) was on a relatively small scale compared with those inbound trade fairs organised at Hong Kong Convention and Exhibition Centre. All the same, the Expo was visited by buyers from many parts of India, not just Delhi NCT, but the neighbouring states of Punjab, Rajasthan and Haryana, the southern states of Tamil Nadu, Karnataka and Telangana, and Mumbai, India's financial and commercial capital.
Buyers' Profile
A total of 74 questionnaires were collected at the event. The majority of the respondents (55%) came from just three places, the Delhi National Capital Territory (NCT), Mumbai and Haryana.
Wholesaling and importing were the respondents' main lines of businesses. Some were engaged in manufacturing, importing and wholesaling at the same time. Around 60% of the respondents had their own brands. Half had more than 60% of their current buying portfolio in finished products.
In India, finished products imported into the country are generally taxed at rates much higher than those applying to intermediate goods, as the government works to protect local manufacturers. However, manufacturing costs for many products in India are high, because of poorly developed supply chains, aggravated by costly logistics. Interlocking regulations and bureaucracy also discourage local businesses from moving into manufacturing. To take advantage of the tariff differentials between finished and intermediate goods, many Indian companies have resorted to importing semi-finished products, then assembling and labelling those products for domestic sale.
However, some final product categories actually attract lower import duties than raw materials or parts, such as machinery, electronics and electrical goods, rubber goods, and textile products. Businesses in these sectors are primarily importers and wholesalers rather than manufacturers. Broadly stated, Indian companies tend to engage in importing and wholesaling, and those who carry out manufacturing rely heavily on imported raw materials and parts.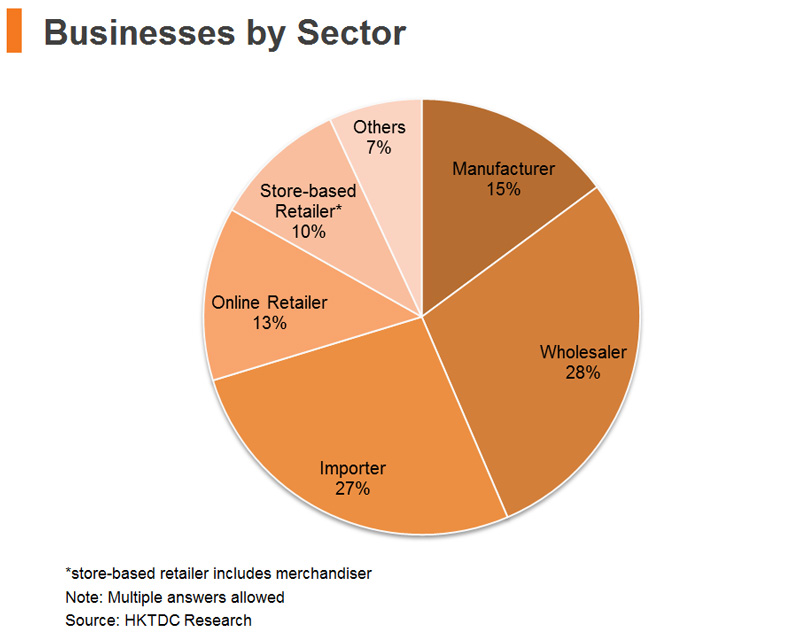 Strong interest in Increasing Sourcing in Hong Kong
Indian respondents generally ranked the Chinese mainland as the most important place for sourcing, though India came second, with only a marginally lower score. Hong Kong was ranked third among the top sourcing locations, scoring notably higher than the fourth-ranked Singapore. Indian buyers thus show great interest in doing business with Hong Kong.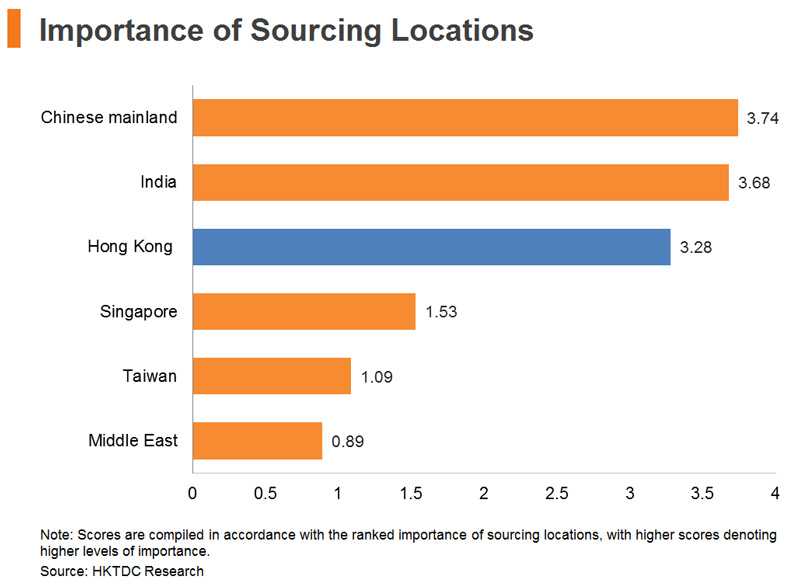 Asked about any planned change in sourcing over the next three years, the bulk of respondents said they intended to increase sourcing from the major sourcing locations, reflecting strong confidence in the future of their business. Respondents revealed the greatest desire to increase sourcing from Hong Kong, followed by the Chinese mainland and India. These three locations led fourth-ranked Singapore by a considerable margin. A small number of respondents indicated that they might reduce sourcing over the next three years, though none said they would be reducing sourcing from Hong Kong or India. The Middle East had the largest numbers of people surveyed saying they were contemplating reducing future sourcing from the region, followed by Taiwan, Singapore, and to a very small extent, the Chinese mainland.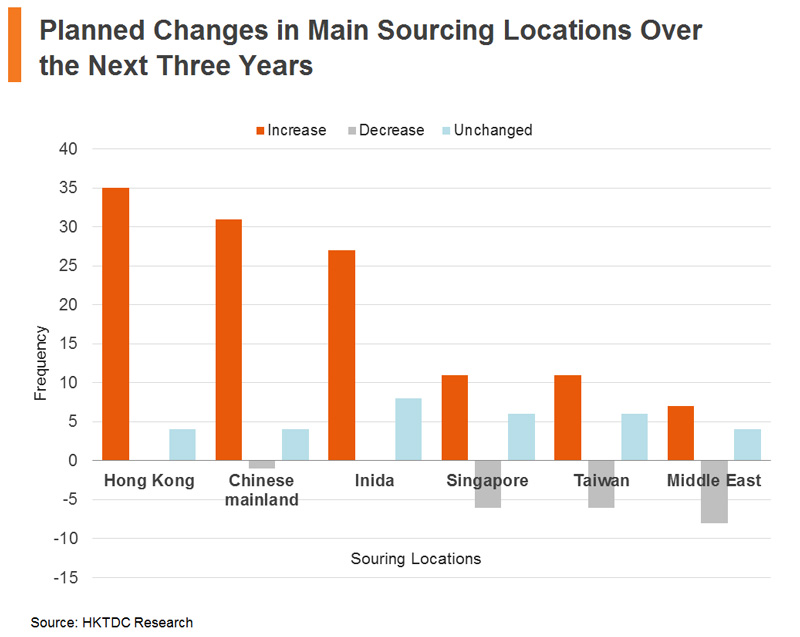 During on-site interviews with HKTDC Research, visitors to the Expo also expressed a strong interest in trading with Hong Kong. Hong Kong and Singapore were reckoned to be the most trusted sourcing platforms, given their reliability and business integrity. Interviewees believed that Hong Kong was a good platform to source products made or originated in China. There was a near consensus among Indian buyers interviewed that they were keen to have more channels to meet trusted suppliers from Hong Kong and the Chinese mainland.
Indian Buyers Seeking Product Upgrade
Survey respondents were asked to rate the relative importance of different sourcing parameters. Price, design and quality were the top three considerations, with quality regarded as the most important. Survey results also indicated that these buying preferences would persist over the next three years.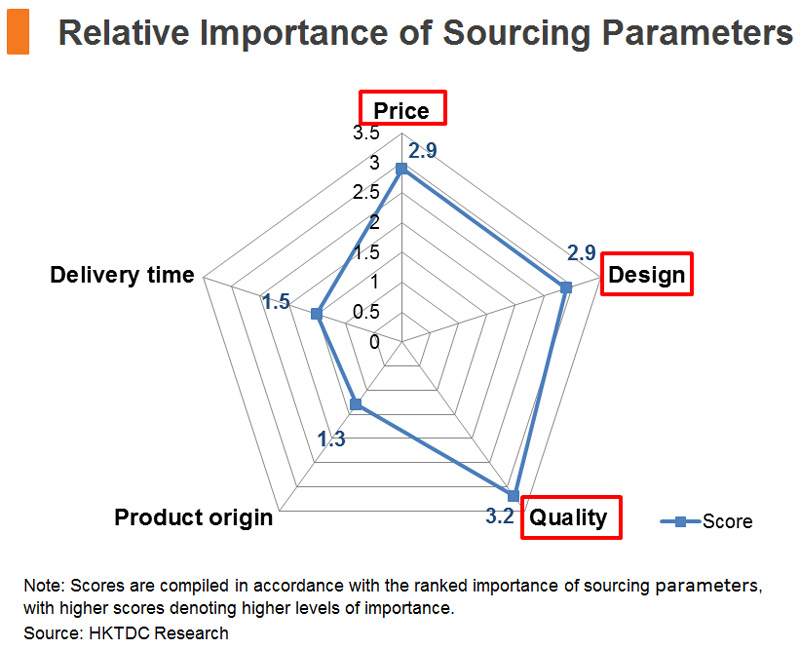 Expo visitors told HKTDC Research that, spurred by fast economic growth and growing confidence, consumers in many large cities in India were switching from basic items to products of better quality. There is already an abundant supply of cheap or basic products in India, whether they are locally produced or imported. Many visitors believed that more mid-market items, both in terms of price and quality, would now best serve middle-class consumers in big cities such as New Delhi, Mumbai, Pune and Bangalore. Indian buyers are seeking products with better design and quality, yet still affordable for their target Indian customers. Quality white goods in particular are in high demand in India, many visitors said.
However, the buyers said Indian consumers would continue to be less brand-conscious than their Chinese counterparts. For the foreseeable future, the majority of Indian consumers would rather buy products offering better value for money than pay a premium for brand names. It appears that many Indian product brand owners import their goods from China. This highlights, first, the increasing demand for original equipment manufacturer (OEM) products in India, and second, the prevalence of Indian SMEs coming up with "proprietary" brands to compete with the bigger, established brands in the Indian market.
Electronics and Gifts and Premiums are the Hot Categories
The three sectors that Indian buyers are most interested in are "electronic products", "gifts and premium", and "garments and textiles", the survey revealed. Interests in other product categories are shown in the figure below. The survey results also echo HKTDC Research's previous sector-specific study on the electronics and garment markets in India.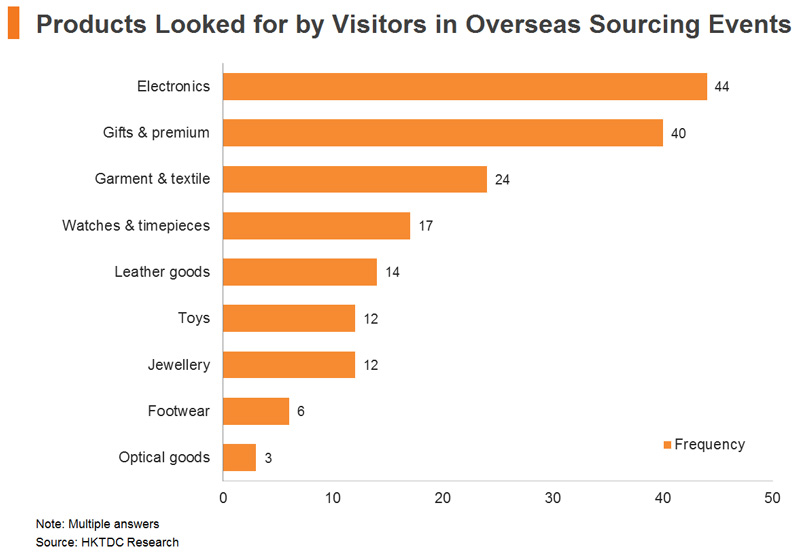 Buyers at the Expo were looking for a wide range of electronic products. Among those respondents interested in electronics, more than one-third were looking to source electronic goods abroad for assembling or manufacturing in India. Items on their sourcing list include manufacturing equipment, electronic parts, components, accessories and semiconductors. Consumer electronics, especially home appliances, are in brisk demand.
For gifts and premium, many respondents were mainly looking for corporate and luxury gifts, as a reflection of the growing purchasing power of certain Indian consumer segments. Expo visitors told HKTDC Research that many buyers in India are racing to find gifts and premium items of better quality to meet customer demands. They believed that Hong Kong is a good sourcing location for these products, as Hong Kong suppliers often offer gifts and premiums in a wide variety and of good quality.
Indian Buyers Prefers Meeting New Suppliers through Trade Fairs
The survey revealed that trade fairs were the most popular channel for Indian buyers to meet new suppliers. The Expo was designed to be a multi-product fair, and attracted many Indian buyers. However, many buyers surveyed at the Expo told HKTDC Research that they would prefer trade fairs that were more industry-specific, given their special interests in looking for targeted product categories.
More than 80% of the products sourcing done by respondents was conducted in New Delhi and Mumbai. Trade fairs held in these two Indian cities would thus prove to be the most effective channels to reach out to Indian buyers. Some Expo visitors have visited trade fairs in Hong Kong and on the Chinese mainland, which are each seen as offering distinctive advantages. Trade fairs on the Chinese mainland are always very large, which allow buyers to make more businesses contacts. In contrast, Hong Kong's trade fairs are usually smaller, yet more focused, with a good selection or critical mass of quality suppliers.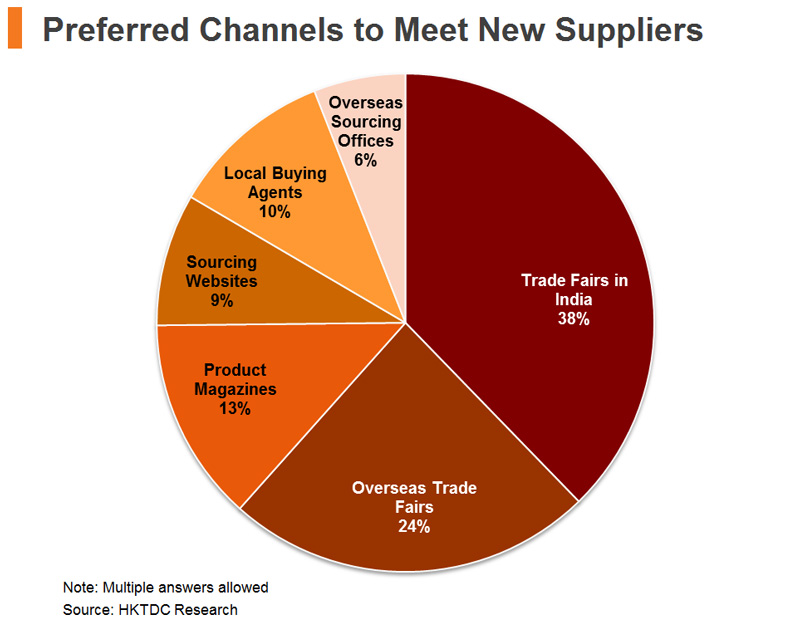 Hong Kong and Chinese Suppliers Eyeing the Indian Market
HKTDC Research also collected feedback from exhibitors at the Expo, all of whom were from Hong Kong or the Chinese mainland. The Expo brought together exhibitors of products spanning electronics, gifts & premium, baby skincare, spa products and fashion and accessories. Most of the exhibitors have been supplying to the US and European markets for many years, with some expressing a lack of confidence in doing business with India prior to coming to the Expo. They noted the generally high interest among buyers at the Expo, however, and the impression of India as a potential market is starting to improve.
The exhibitors agreed that adjustments were essential for catering to customers in the India market. First and foremost, Indian buyers are price-sensitive, and in response, sellers have to provide the option of modified products at lower price ranges compared with products sold to developed markets.
Many exhibitors pointed to the strong potential of India as a volume market, with buying order enquiries and actual orders placed both appearing to be on a large scale. There will be plenty of opportunities for Hong Kong suppliers to secure orders for considerable quantities, if they can produce their products at lower price ranges for the Indian market.
Exhibitors also agreed that the biggest challenges of doing business in India were to have a good understanding of the local business environment and the right channels for business matching. They believed that some form of business partnership with an Indian company would be crucial for anyone looking to break into the market. High custom duties mean some exhibitors are also interested in setting up joint-venture assembly plants in India to serve the local market. Trade fairs like the Lifestyle Expo New Delhi serve as a good platform for meeting potential customers and partners, and exhibitors agreed they would like to see larger and more specialised trade fairs that could link them up with Indian buyers.
Electronics & Electrical Appliances
Gifts & Premiums
Household Products
India
Other Asian Countries