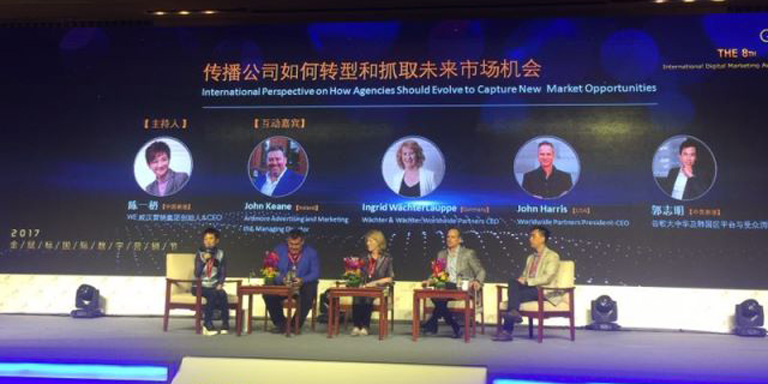 https://hkmb.hktdc.com/en/1X0AA47H
Marketing China to the World
The world is its oyster for Hong Kong-based WE Marketing Group, the first Chinese-managed global marketing network.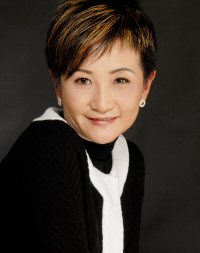 After successfully launching many global brands to Chinese mainland consumers, Hong Kong's WE Marketing Group is now poised to help mainland multinationals go global. A substantial investment by conglomerate HNA Media & Entertainment Group has opened new doors for the China-focused brand agency, which already has a turnover of Rmb4.5 billion (in 2016) and about 250 staff.

Company CEO Viveca Chan, a marketing specialist with 37 years' experience, co-founded WE Marketing Group in 2005 with seven other partners, with a view to help global brands localise, and local brands globalise.

Earlier, as Chairman and CEO of Grey Global Group China, Ms Chan was among the first generation of advertising professionals to access the mainland in 1989. "Having previously worked in Canada, I had ample experience building leading global and local brands," she explained. "My years at Grey also gave me good training in entrepreneurial skills as I started a lot of specialised companies including PR, event marketing, interactive, digital advertising and customer relationship management (CRM) for Grey."
Best of East Meets West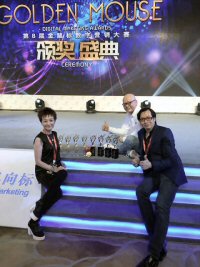 WE – a name that reflects the company's ambition to be the best of East meets West – was established to be the first global marketing network managed by Chinese.

From its Hong Kong headquarters and offices in Shanghai, Beijing, Nanjing and Guangzhou, the business grew fast, spearheaded by experienced managing partners. In its first year alone, the company built successful cases for Roewe in Shanghai, Mercedes Benz in Beijing, Ocean Park in Hong Kong, and real estate clients in Nanjing.

"WE has the experience and capability to be the lead agency for global clients such as Estee Lauder, Lufthansa and Visit California in Greater China, which is very rare for local independent agencies," Ms Chan added. "We have also developed global campaigns for big local clients like ICBC."

Joining Worldwide Partners – the leading global network of independent agencies – from the outset gave WE access to a network of more than 60 agencies across more than 40 countries, sharing best practice and clients.

"As an independent agency, we were able to move quickly to capture new market opportunities," she said.
Digital Revolution
In 2011, Ms Chan started WE Digital to tap the growing popularity of social media on the mainland.

"At that time, international agencies only knew Facebook and Twitter, which are banned in mainland China. They did not pay attention to Weibo [the Chinese equivalent]," Ms Chan explained.

A partnership with digital marketing agency Engauge USA enabled the signing of global clients like Cisco, M&M and Campbell's soup. Today, WE Digital clients include the Hong Kong Tourism Board, Lufthansa, Towngas China and HNA Group.

"In 2013, seeing the popularity of e-commerce in China, I started WE Commerce with two young local partners who had their own e-commerce company with sales of over Rmb9 billion," said Ms Chan. "From our first client, Kjeldsens Butter Cookies, we have added many other clients and built solid teams in Guangzhou and Shanghai."

As the only ad agency that offers e-commerce design and service, and to be the client's online distributor with capabilities in inventory, warehousing and logistics, "our uniqueness is the ability to combine branding and online sales capability, and CRM with the data we were able to collect and manage," Ms Chan said.
Whole Customer Lifecycle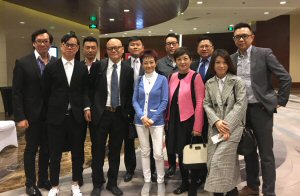 In 2014, WE Technology was formed with a small team of software developers to support the group's IT needs in marketing.

"In short, WE can manage the whole customer life cycle, from planning [research, insights] to product concept, corporate strategy and planning, integrated communications (advertising, media, PR, events), e-commerce to data management and CRM," said Ms Chan.

Hong Kong, where it all began, remains the group's headquarters due to the city's favourable tax system and ease of doing business. "From Hong Kong, it is simpler and more efficient to manage global operations," explained Ms Chan.

WE's China expertise, coupled with its ability to attract large global and local clients, caught the eye of HNA Media & Entertainment Group, which acquired 51 per cent of WE Marketing Group, including WE Digital, in March 2017.

HNA itself grew from a regional Chinese airline 24 years ago to a major global conglomerate, ranking among the Fortune 353 in 2016 and likely to ascend to the Fortune Top 100 this year, according to Ms Chan. WE is HNA's first acquisition in the marketing services area.
Perfect Match
"WE and HNA share a common vision: to build a leading marketing services network originated in China," Ms Chan said. "We are proud to have the opportunity to build the first global marketing communications network with Hong Kong as our base.

"WE has marketing expertise and network connections, HNA has the financial and M&A expertise – a perfect match."

As HNA builds its entertainment and media assets, there is great synergy as the line between content, entertainment and gaming is increasingly blurred, Ms Chan continued.

Twenty-two years ago, the group's major clients were Western multinationals entering China. "Now, it will be Chinese multinationals going global," Ms Chan said. HNA itself is a good example, she added.

With its global resources, collaborative business model, brand marketing experience and China market knowledge "I believe WE will be best positioned to capture this opportunity."
Related Links
HNA Group
WE Marketing Group
Public Relations
Advertising Services
Hong Kong
Mainland China